Be the hit of the party serving a bread basket filled with this tender Garlic Focaccia. It's soft and fluffy, yet redolent in garlic and the bit of sea salt.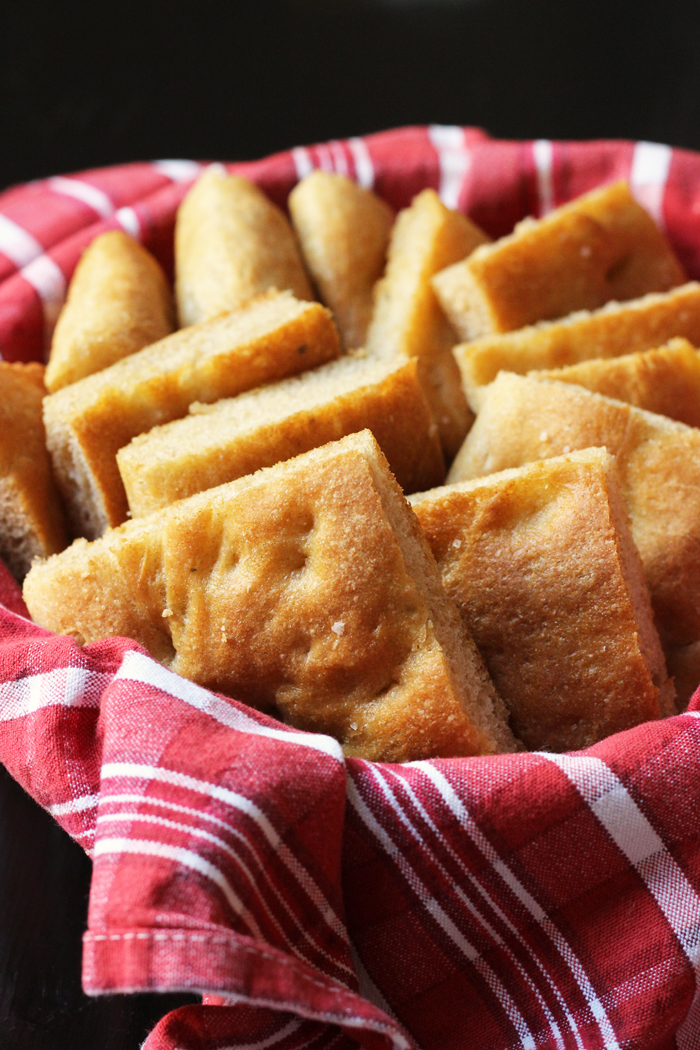 I first tasted focaccia when I was 20 years old, working in Brigitte's Bakery on State Street in Santa Barbara. Brigitte's not only sold the bread in their shop and restaurant, but also to other restaurants along the major shopping thorough fare. Back in the day, Barcliff & Bair made an exceptional sandwich on Brigitte's focaccia.
Both restaurants have now changed hands and names, but the memories remain for me! I was just cutting my gourmet teeth of foods that I had never ever heard about.
Funnily enough, now that I've been baking my own focaccia for over 15 years, my kids don't even call it that. I can't even believe I'm going to tell you…
But, at our house the nickname for this dish is Baby's Bottom. (Because it's so soft.) I'm not sure when that moniker originated, but it stuck. And it always gets a double take from dinner guests.
We also serve larvae and bloody arms on occasion, but that's for another post. We're not your average family.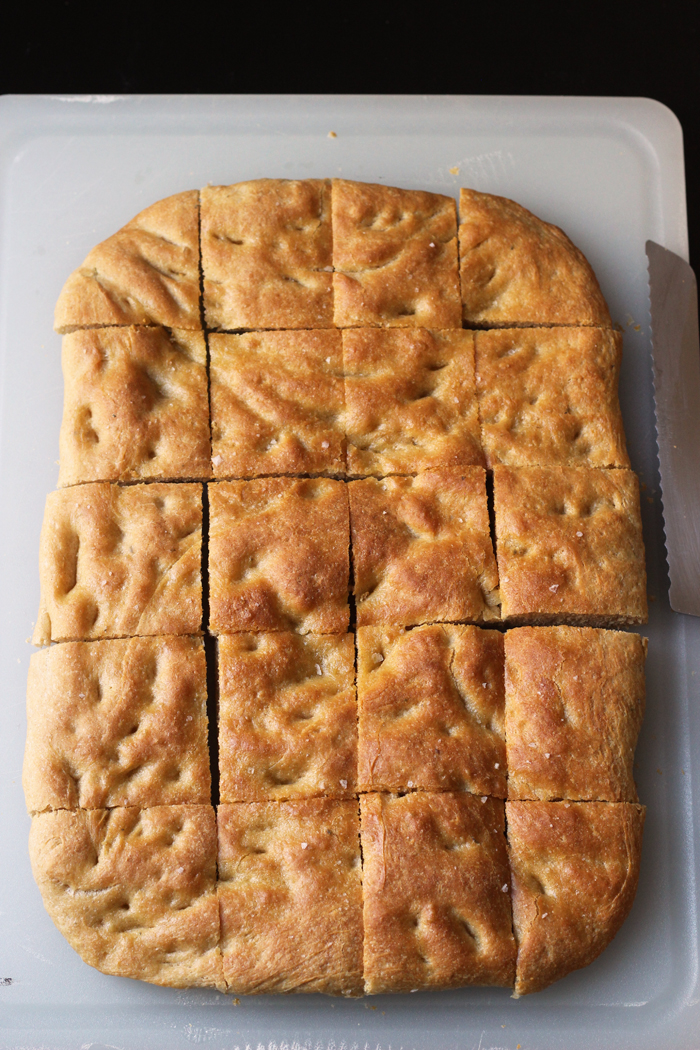 I can't take all the credit for this recipe. The basic idea is based on a recipe from my all-time favorite bread machine cookbook and then I tweaked it a little, using whole wheat flour and changing up the preparation a little bit.
Garlic Focaccia is a regular staple around here and there are rarely leftovers. But, when there are, they make great croutons. Watch this video to see how easy it is to make croutons.
Serve this soft, flavorful bread as a side dish or as a base for pizza or sandwiches. I've even wrapped the dough around string cheese sticks and pepperoni for some very yummy pizza snacks.
Garlic Focaccia to Fill Your Bread Basket
Be the hit of the party serving a bread basket filled with this tender Garlic Focaccia. It's soft and fluffy, yet redolent in garlic and the bit of sea salt.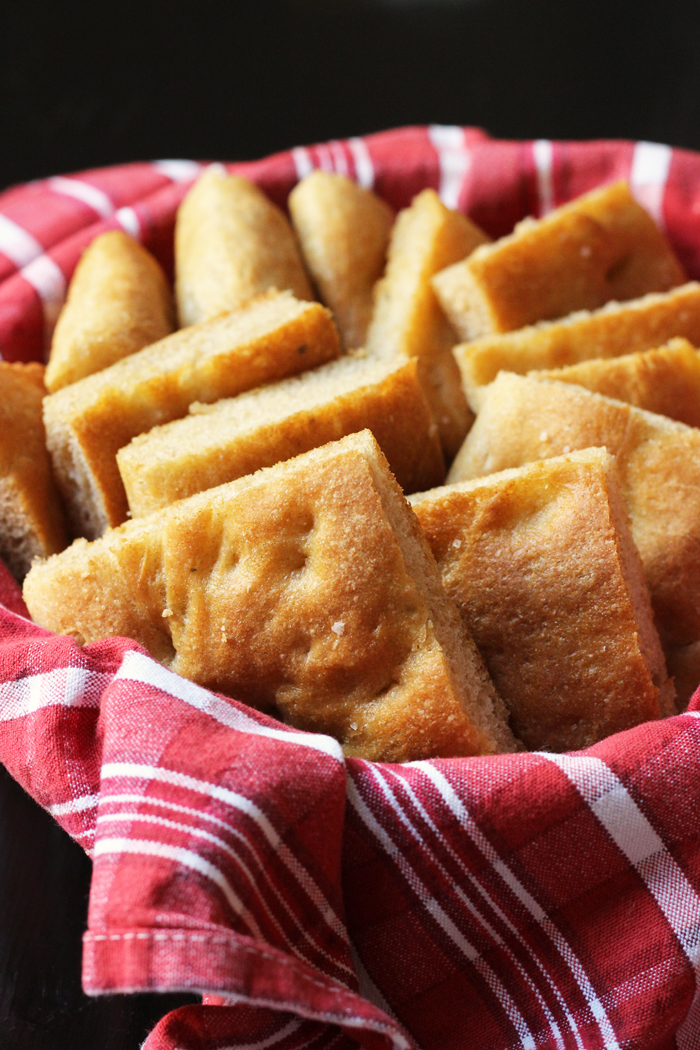 Preparation Time:1hour 10 minutes
Cook time:15 minutes
Total time:1hour 25minutes
8 to 12 servings
Ingredients:
1 1/4 cup warm water

2 1/2 teaspoons yeast

1/4 cup plus 2 Tablespoons olive oil

2 1/4 cups unbleached flour

1 cup whole wheat flour

1 1/2 teaspoons salt

1 teaspoon garlic powder

1/4 teaspoon dried oregano

coarse sea salt
Instructions:

Stand mixer directions: Pour the warm water into the mixer bowl and sprinkle the yeast over the top. Allow the yeast to proof for five minutes. Add 2 tablespoons oil, the flours, 1 1/2 teaspoons salt, garlic powder, and oregano. Knead with the dough hook, until a smooth dough ball forms. Remove the dough to a greased bowl and let rise until doubled in bulk.
Bread machine directions: Assemble ingredients (except the 1/4 cup olive oil and coarse salt) in the pan of your bread machine according to the manufacturer's recommendations. Set for "dough."
Prepare the pan by lining a rimmed sheet pan with parchment paper and pour 2 Tablespoons olive oil over the surface of the parchment.
When the dough is ready, turn it out onto prepared sheet. Flip it over so that both sides are "oiled." Spread the dough in pan, poking it to get it to cover the pan. Set the pan on a wire rack. Cover loosely with plastic wrap and allow to rise, at least 30 minutes, but more if possible.
About 30 minutes before baking, preheat the oven to 450°. Remove the plastic wrap and drizzle the remaining olive oil over the top.
Sprinkle with the coarse salt and bake for 15 minutes, or until golden brown.
Enjoy immediately or wrap the cooled bread in foil and freeze for longer storage.
Originally published January 13, 2010. Updated May 6, 2017.