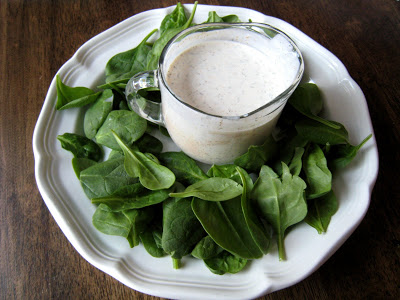 The Pantry Challenge has certainly stirred some creative juices in me – at least most days. Thanks to great produce sales, our family has been eating lots of fresh fruits and veggies. Truth be told, my kids don't really care for cooked vegetables, so we eat a lot of salads and veggies and dip. Having a yummy dip or dressing is a great way for my family to enjoy more vegetables than we normally would.
This recipe for yogurt-dill dressing was actually born out of our desire to treat our Kansas friends to Fish Tacos. I wanted to have the white sauce that I've enjoyed when we've eaten fish tacos at restaurants. An internet search produced several different variations, which of course, I've tweaked. This dressing was great on tacos, a yummy sidekick for pizza, delicious with grilled steak and fresh pita bread sandwiches, and it also works as a salad dressing.
If you try it on something else, I'd love to know what!

Yogurt-Dill Dressing
1/2 cup plain yogurt
1/2 cup mayonnaise
1 teaspoon dried dill weed
2 cloves minced garlic
1/4 teaspoon cayenne pepper
1/4 cup lemon juice
1/2 teaspoon cumin
Combine all ingredients. Chill until ready to serve.
Want the dish on delicious ways to act your wage?
Subscribe to GCE in a reader
or
via email
.