Plain yogurt is a good cheap eat that you can enjoy plain as well as in cooking and baking. It's a must-have in our kitchen.


It wasn't until we found ourselves buried in debt that I really gave plain yogurt a chance. Previously, I bought the more expensive sugared varieties in individual packaging.
Once I started to drastically cut my grocery budget, I became a little more cut-throat in my yogurt buying: I only bought store brand on sale or a name brand on sale with a coupon.
Now that I'm trying to clean up our family's diet, I prefer the plain variety without all the added junk.
Buy Plain Yogurt
As it turned out the store brand's flavored varieties were pretty gross and they were filled with ingredients and fillers I didn't want my family to eat. So, I started buying plain yogurt which had the great price, but without all the additives I wanted us to avoid.
Yogurt as a main dish
I doctor it up with fresh fruit or jam or even maple syrup or honey. My older children were slow to catch on at first, but the younger ones were totally on board from the start. In fact, they love it with maple syrup as does my husband. He makes it a regular lunch or afternoon snack.
As for me, I love to make parfaits with berries and granola.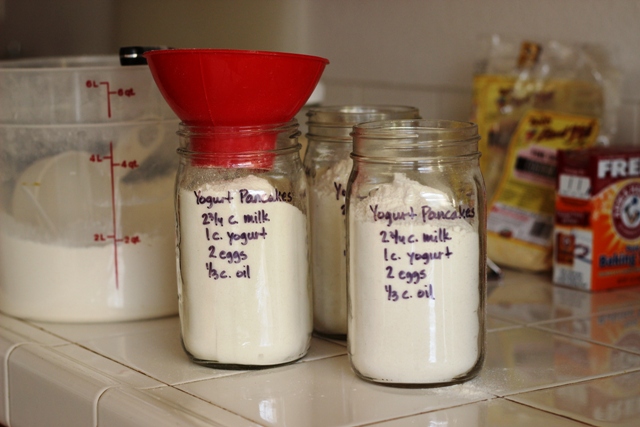 Yogurt in recipes
I've also used plain yogurt as a substitute for sour cream in dressings and in baking. It's a key ingredient in Mix and Match Muffins and Chocolate Banana Marble Cake as well as our favorite topping for fish tacos, Yogurt-Dill Dressing. My kids love the Yogurt Pancakes that are in the Good Cheap Eats cookbook. (affiliate link)
Yogurt makes Fish Tacos into Happiness on a Plate. Plain yogurt is also a fantastic base for marinades like this Buttermilk-Yogurt Marinade or Tandoori Chicken.
My target price is $0.50 per individual cup or $2-2.50 for a large carton of regular yogurt, $3-3.50 for Greek. Costco tends to have the best price on the latter.
The full fat version from Mountain High is divine in parfaits, but I typically opt for the nonfat Fage for the extra boost of protein. I've also learned how to make yogurt myself!
I don't clip as many coupons as I once did, but I'm sure to stock up when I see sales and especially when I have coupons for our favorite brands, like Fage or Mountain High.
Either way, plain yogurt is a healthy and economical ingredient. Most definitely a good cheap eat.
Do you use plain yogurt in your cooking?
This post was originally published on July 19, 2010. Pricing information has been updated.