Grilled Shrimp or Fish Tacos are super easy to prepare and packed with flavor. Make a few freezer meal kits of spice and seafood, and you can enjoy these fish tacos at the drop of a hat.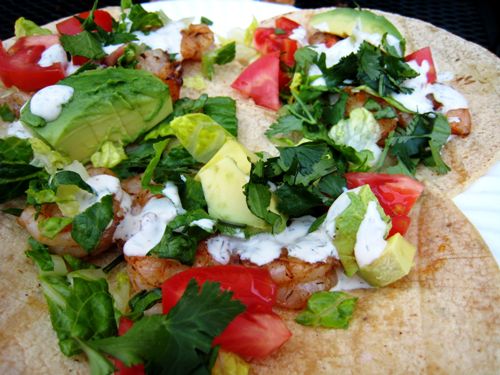 I was never in love with fish tacos until we moved to San Diego. One random Saturday afternoon we wandered into a little taco stand in La Jolla. A lot of La Jolla is upscale and ritzy. To be honest I often feel quite out of place. It's very reminiscent of Beverly Hills.
This taco place was not. It was actually a 1960s tract house that had been converted into a restaurant, with the 1960s decor to match — right down to the shag carpet and the armed dining chairs on wheels. It was pretty trippy. Especially since I don't think they were going for the retro look.
However, the food was fantastic. We ordered both grilled and fried fish tacos, and they were fantastic. The white sauce contrasting with the juicy tomato, acrid onion, and crisp fish just made it "Happiness on a Plate."
And I don't even like fish.
We've since tried our hand at making fish tacos at home. Since we're trying to eat better, we haven't busted out the deep fryer, but instead, have settled for grilled fish tacos instead. Hubs makes up a batch of corn tortillas while I add this spice mix to a bowl of shrimp or rub it onto shark or cod steaks. We add shredded lettuce or cabbage, diced tomato, chopped onion, Yogurt-Dill Dressing, and some avocado if we have it.
And you know what the result is? That's right. Happiness on a plate.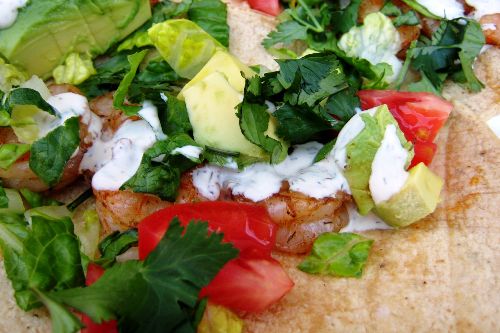 Grilled Shrimp or Fish Tacos
Whole 30/Paleo Tweak: substitute lettuce or cabbage leaves for the tortillas, make the dressing with only mayonnaise, no yogurt.
1 pound shrimp, peeled and rinsed OR 2 fish steaks, such as cod or shark
2 Tablespoons olive oil
1-2 teaspoons Spicy Seafood Rub, depending on how hot you want it
one dozen corn tortillas, preferably homemade
shredded lettuce or cabbage
diced tomato
chopped white onion
diced avocado
lime wedges
1 batch Yogurt-Dill Dressing
In medium bowl, toss shrimp with oil and spice rub OR if using fish, brush steaks with oil and rub with spice mix. Allow to marinate while you heat the grill. Grill until done.
If using fish, slice fish steaks into slices that will fit in tacos. Assemble tacos as you like. Serve with lime wedges. Use plenty of the yogurt dressing. It makes it super special.
To make this as a freezer meal, store the spice mix and the package of seafood together in a larger bag as a kit to keep in the freezer until ready to prepare. See more about meal kits here.

Do you plan on enjoying these tacos with a glass of wine? Not sure what to pair with it? Head over to the Wine4.Me Blog to see some wine suggestions to pair with these delicious tacos.
Have you ever had a Fish Taco you loved?