Enjoy the ease and out-of-this-world taste of home cooked fish when you use this simple warm and spicy fish rub for seasoning.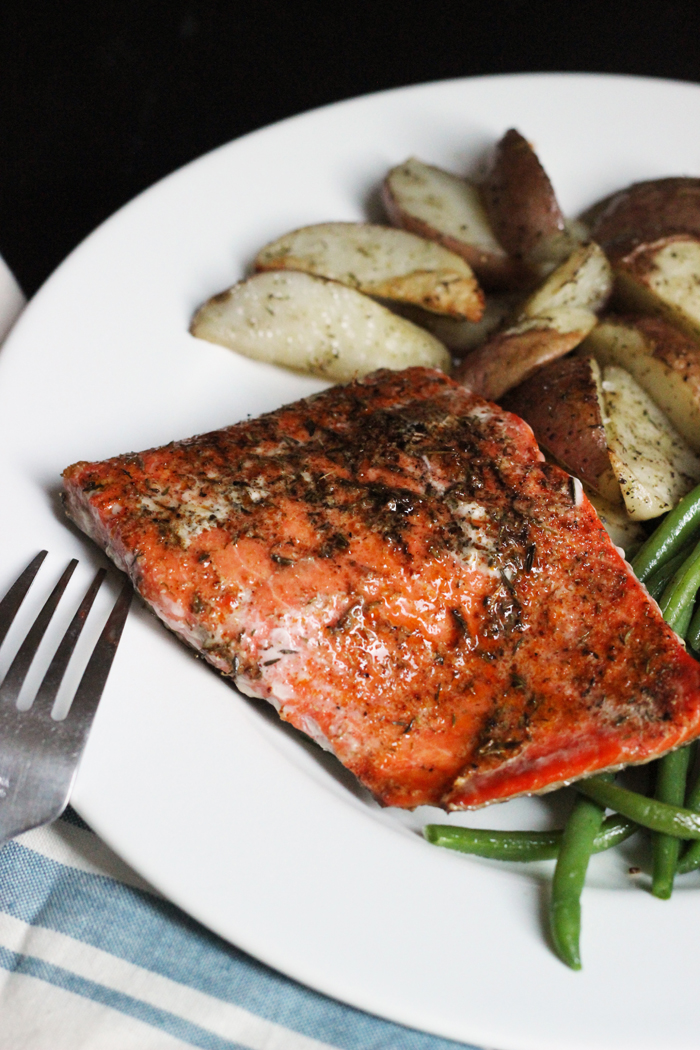 Fish is one of the easiest meals I make. Brush fish fillets or steaks with avocado oil; season heavily with a custom spice blend, and let my husband do the cooking on the outdoor grill.
I love it for its ease and simplicity as well as practically non-existent clean up. If I cook up a mess of vegetables or some rice, we've got a quick and easy meal that takes little time.
Of course, it often requires three different kinds of fish to feed my family of eight. My elder sons and I prefer salmon; my husband tuna or mahi mahi; the youngest kids lean toward something very mild and tender, like tilapia. Thank goodness I can buy fish by the piece or even individually frozen so that everyone can have what he prefers!
Fish doesn't need a lot of fuss. That's the beauty of it. Whether it's an herb butter to create an instant sauce or a homemade spice blend, a fish dinner is simple, real food.
I've been making homemade spice blends for a very long time. No expensive jarred mixes or foil packets for this chick! Making a custom spice blend takes just a few minutes and it really speeds up meal prep. No measuring and messing around — just quick and easy flavor. Bonus: you get to control what goes into the mix! No excess preservatives or fillers!
This Warm and Spicy Fish Rub is no exception. It mixes together in minutes and packs a great punch. The ginger, cayenne, and garlic give it a little kick which is a nice for livening up the taste buds. Go light if you're timid on the spice scale or rub it in thickly if you like some heat. You can grill, saute, or broil the fish pieces and serve with a few lemon wedges. Easy peasy.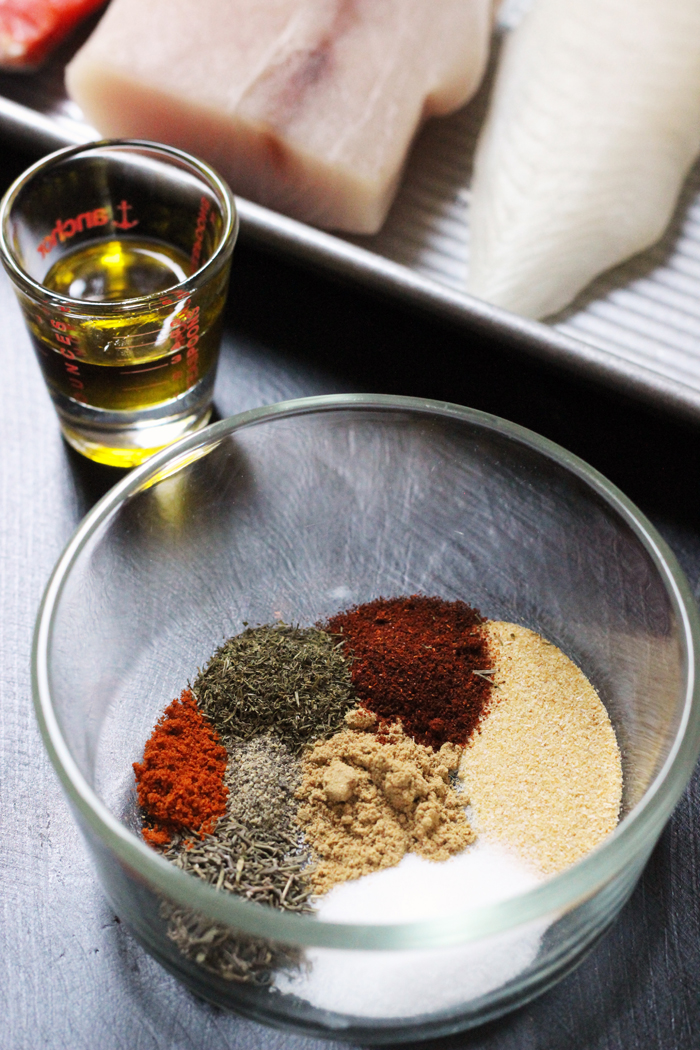 How to make this good and cheap:
Here are some of the strategies you can use to make this recipe more economical:
Stock up on ingredients when they are on sale. When I find regular kitchen staples on sale, I buy a lot. I'm currently using a price book to track prices and that's saving me money. For this recipe, keeping an eye on the price of fish and bulk spices can help keep the price down.
Buying in bulk – Using dried herbs and spices within 3 to 6 months is key to maintaining their flavor. It would make sense to buy small bottles, however small bottles are pricier than larger ones. For herbs spices that I use in great quantity, I buy large packages from Costco or Amazon. I fill my small jar and then store the larger package in the freezer to extend its shelf life. For spices I use infrequently, I buy small amounts from the bulk jars at the health food store. In this way, I always have potent dried herbs and spices.
How I make this recipe easy:
One of the great things about cooking fish is that it cooks so quickly and needs little work in its preparation.
This recipe really couldn't be easier than it is, but having the right kitchen tools can really make your time in the kitchen more enjoyable. Over time, I've honed my collection so that they are perfect for my needs.
For this recipe, I rely on a supply of mason jars with plastic lids for storing my spice mixes
Warm and Spicy Fish Rub
Enjoy the ease and out-of-this-world taste of home cooked fish when you use this simple warm and spicy fish rub for seasoning.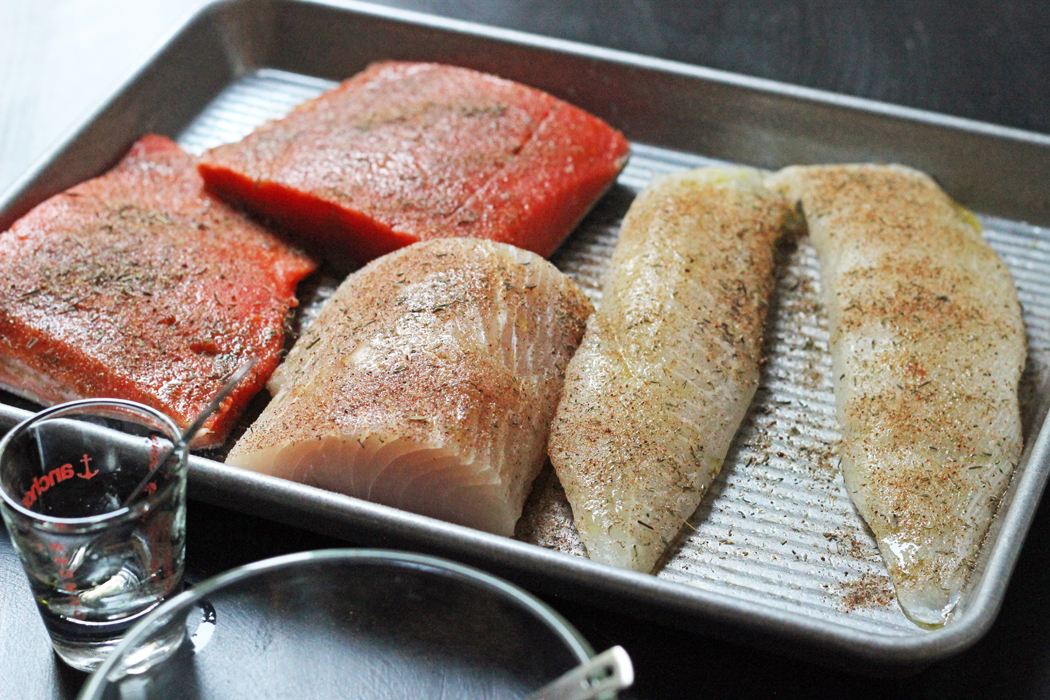 Preparation Time:5 minutes
Cook time:10 minutes
Total time:15 minutes
6 servings
Ingredients:
1 teaspoon garlic powder

1 teaspoon salt

1/2 teaspoon paprika

1/2 teaspoon dried dill

1/2 teaspoon dried thyme

1/2 teaspoon ground ginger

1/8 teaspoon cayenne pepper

1/8 teaspoon freshly ground black pepper
Instructions:

In a small bowl, combine all the ingredients. Store in an airtight container in the cupboard or freezer.
To serve: Brush fish steaks or fillets with oil. Sprinkle a generous amount of seasoning on the fish and rub it in. Cook the fish over a hot grill until it begins to flake. Alternatively, you can broil or saute the seasoned fish. You can tell the fish is done when it pulls apart easily.
Serve immediately.
This recipe was originally published October 5, 2011. It's still amazingly delicious! Some things never change. 😉
What's on YOUR plate?
What's on Your Plate? is designed to be a conversation amongst good eaters.
Tell us about a recent meal. Did it meet with rave reviews? Or did it bomb? What side dishes did you pair with the star of the show? Did you try a new ingredient? Find the groceries at great prices?
What's on YOUR Plate?
Share with us a recent meal you prepared. Either link it up below or tell us about it in the comments. Please make sure that you link to www.goodcheapeats.com in your post so others know where the dinner party is.
And don't forget to visit the other good eaters participating today. I'm sure you will be inspired to make all sorts of Good Cheap Eats at your house.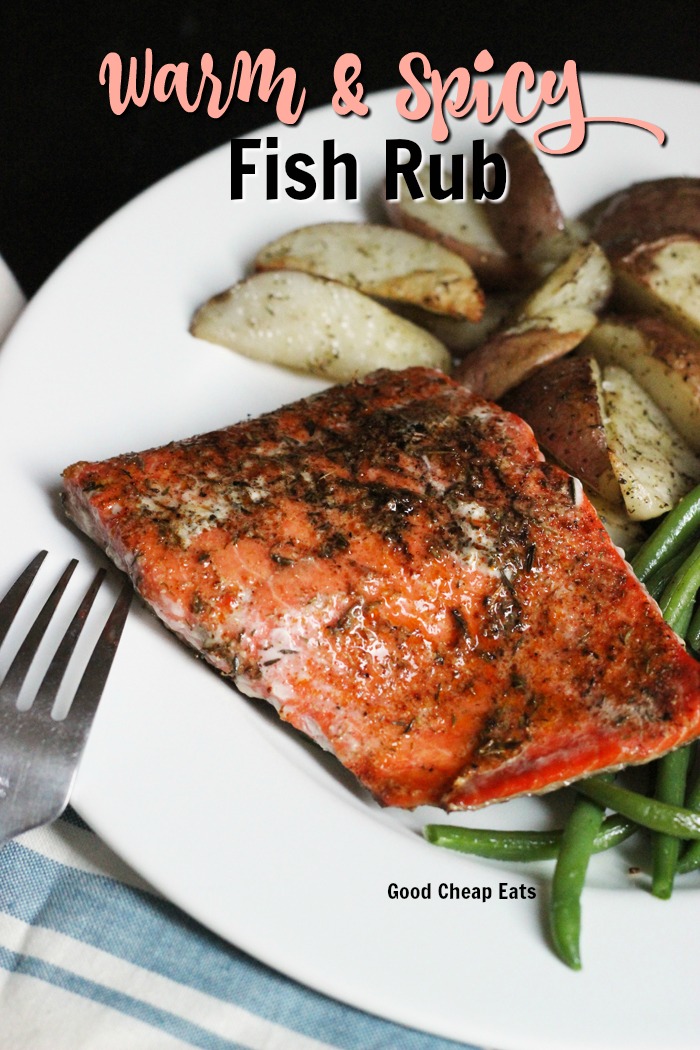 Are you looking for more good cheap eats?