Cooking fish in a skillet is a quick and easy way to get dinner on the table. Check out this simple method.
Jump to:
Fish is considered by many to be the ultimate lean protein. Touted for its health benefits, fish boasts such nutrients as omega-3 fatty acids, vitamins D and B12, calcium, and a host of minerals.
It's so tasty and it's healthy? I'm pretty much down with making more fish recipes, aren't you?
It's recommended that we eat fish twice a week, but how in the world do you cook it? You can certainly fry it. Whoever said no to a tasty plate of fish and chips? And you can grill it, too.
But, for ease, I suggest you cook fish in a skillet.
Why cook fish in a skillet?
Cooking fish in a skillet is easy and doesn't require any special equipment other than a frying pan.
It allows for quick prepping anytime and almost anyplace as you can heat said frying pan on the stovetop, over a campfire, on a campstove, or on a hotplate. With some care, you could even cook fish in the instant pot using the saute function.
By contrast, deep frying fish requires copious amounts of oil and a deep fryer or a heavy pot and thermometer. Grilling fish requires an outdoor grill, possibly a fish basket or grill mat, and fair weather.
Sautéing or pan frying fish in a skillet is the way to go when you need something quick and easy.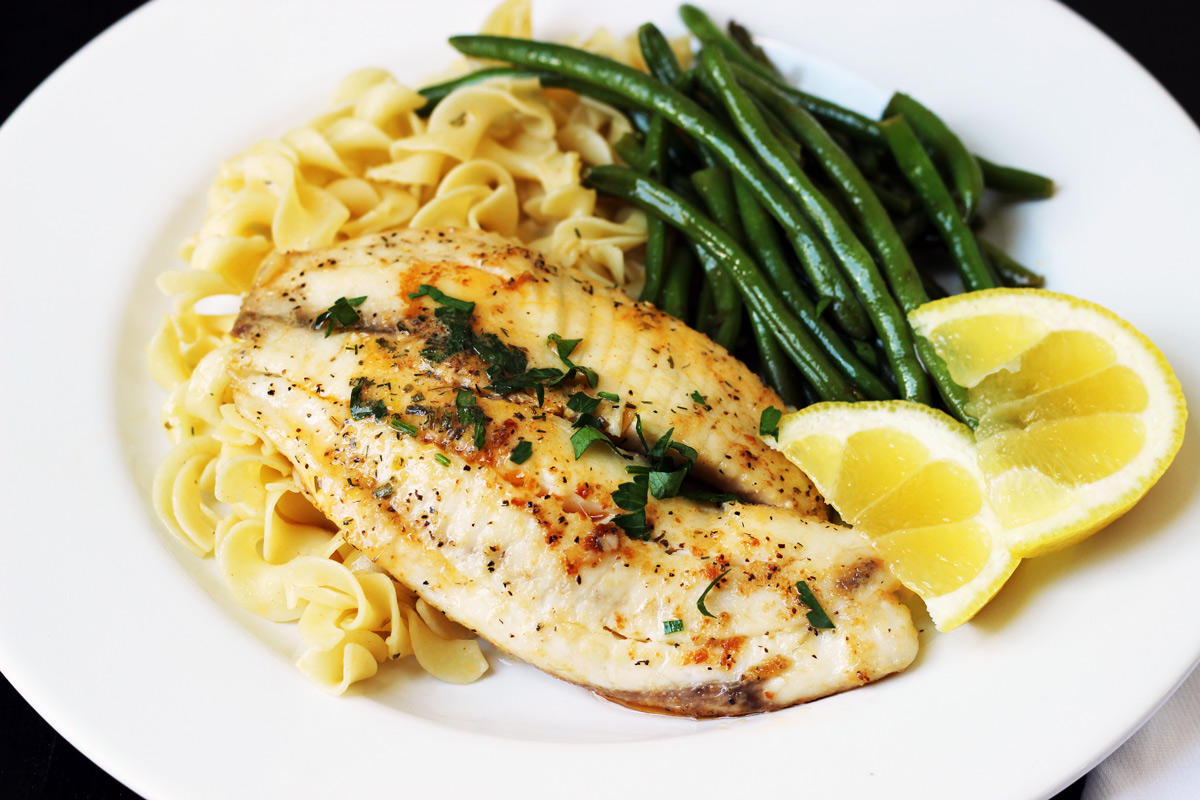 Serving suggestions
There is no shortage of Easy Fish Recipes, but fish doesn't have to be complicated, despite what you've heard. A healthy protein on its own, fish is super simple to prepare.
It can be seasoned lightly with just salt and pepper or generously doused with this Warm & Spicy Fish Rub. Cajun Spice Blend is also a good seasoning.
Top your cooked salmon or tilapia with a pat of Herb Butter for an instant sauce. You can serve cooked fish with salsa or a homemade Greek Yogurt Tartar Sauce.
Tuck your panfried fish into tacos or slide it onto a Fish Taco Salad for a low-carb alternative.
Ingredients
To cook your fish in a skillet, all you need are:
oil, butter, or some other cooking fat – You can use cooking spray, but be generous lest the delicate fish stick to the pan
fish fillets or steaks – There are any number of varieties of fish available at the grocers. Consult this seafood guide for what's most sustainable for where you live and keep an eye out for sales.
salt, pepper, or other seasoning – I typically make my own seasoning blends with what's in the spice cupboard. You can vary them to suit your tastes and any flavor profile.
Instructions
The process is simple!
Season the fish with your favorite seasoning mix or just salt and pepper.
Heat the oil or other fat in a nonstick skillet.
Add the fish pieces, skin side up, to the skillet and cook 4 to 5 minutes. Flip and continue cooking until the fish pulls apart easily, another 4 to 5 minutes.
Remove the fish from the heat and serve with optional toppings, such as herb butter, tartar sauce, salsa, or lemon wedges.
Make-ahead instructions
If you like you can cook fish for meal prep. Be sure your fish is very fresh; it won't smell fishy. Cook as directed. Divide into meal prep containers and allow the steam to blow off. Cover securely and store in the fridge until serving, up to 3 days.
Fish can be served cold or warm, depending on your preferences.
What to do with leftovers
Fresh fish will not smell fishy, so if your fish is already strongly aromatic, eat it up the first night.
Otherwise, leftover cooked fish should be good for about 2 to 3 days. I typically box it up for meal prep lunches so that we can easily reheat and eat.
If you like, you can serve leftover cooked fish in tacos, wraps, salads, or soups. It's delicious stirred into a creamy soup, like this Chunky Potato Soup with Bacon & Tarragon.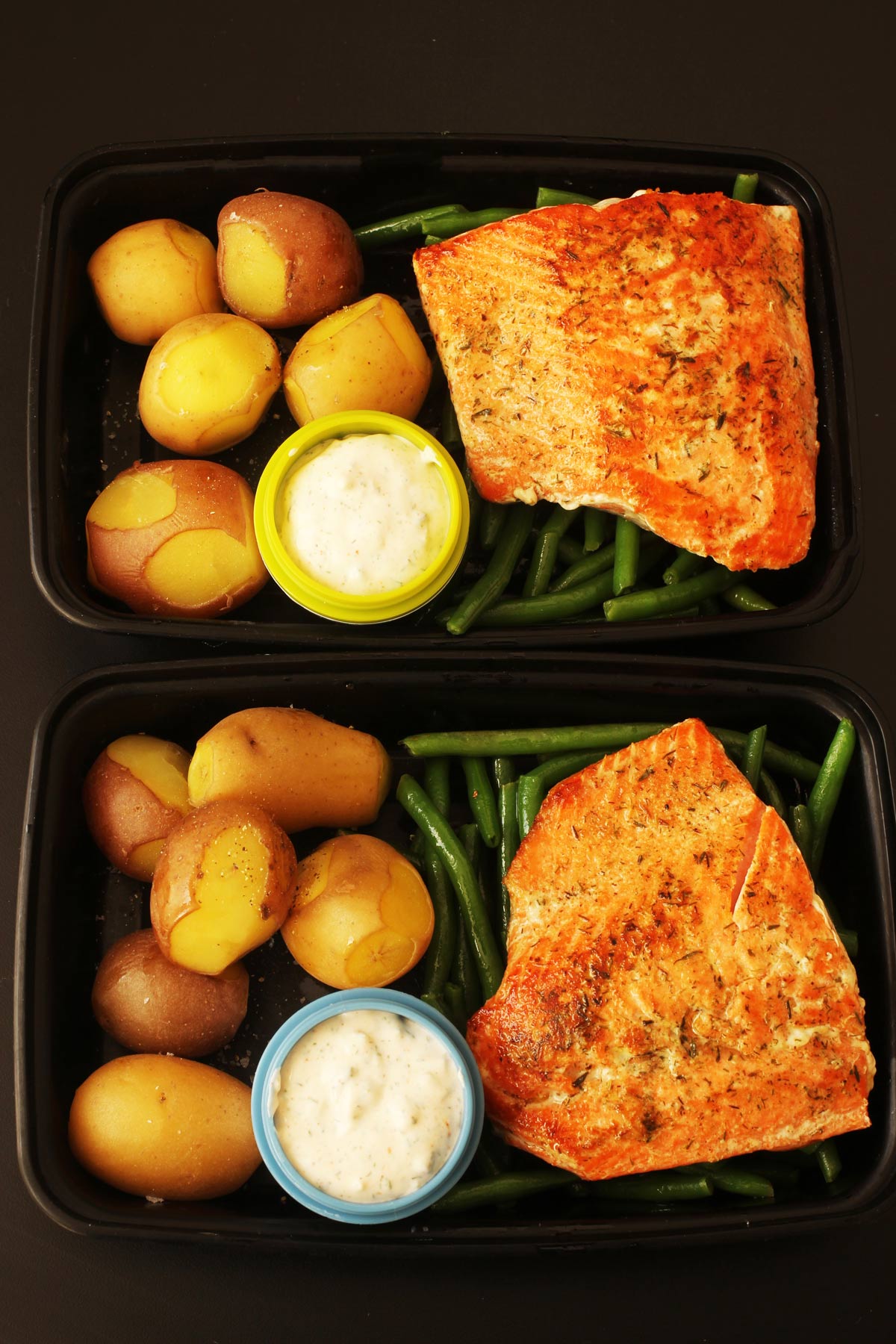 Recipe costs
The cost of this recipe largely depends on how much you pay for the fish itself, a protein that can range from $3/lb for tilapia to $9-20/lb for salmon. The cost of the cooking oil and spices is quite minimal by comparison.
If you have the equipment and live near a water source, fishing can be a great way to supply yourself with ample fish, however, it can be a pricey "hobby" if you're hiring a boat or paying for processing.
Kitchen equipment
You don't need much in the way of equipment to cook your salmon or tilapia in a skillet, but having good quality equipment can make or break the experience. Here's what I use: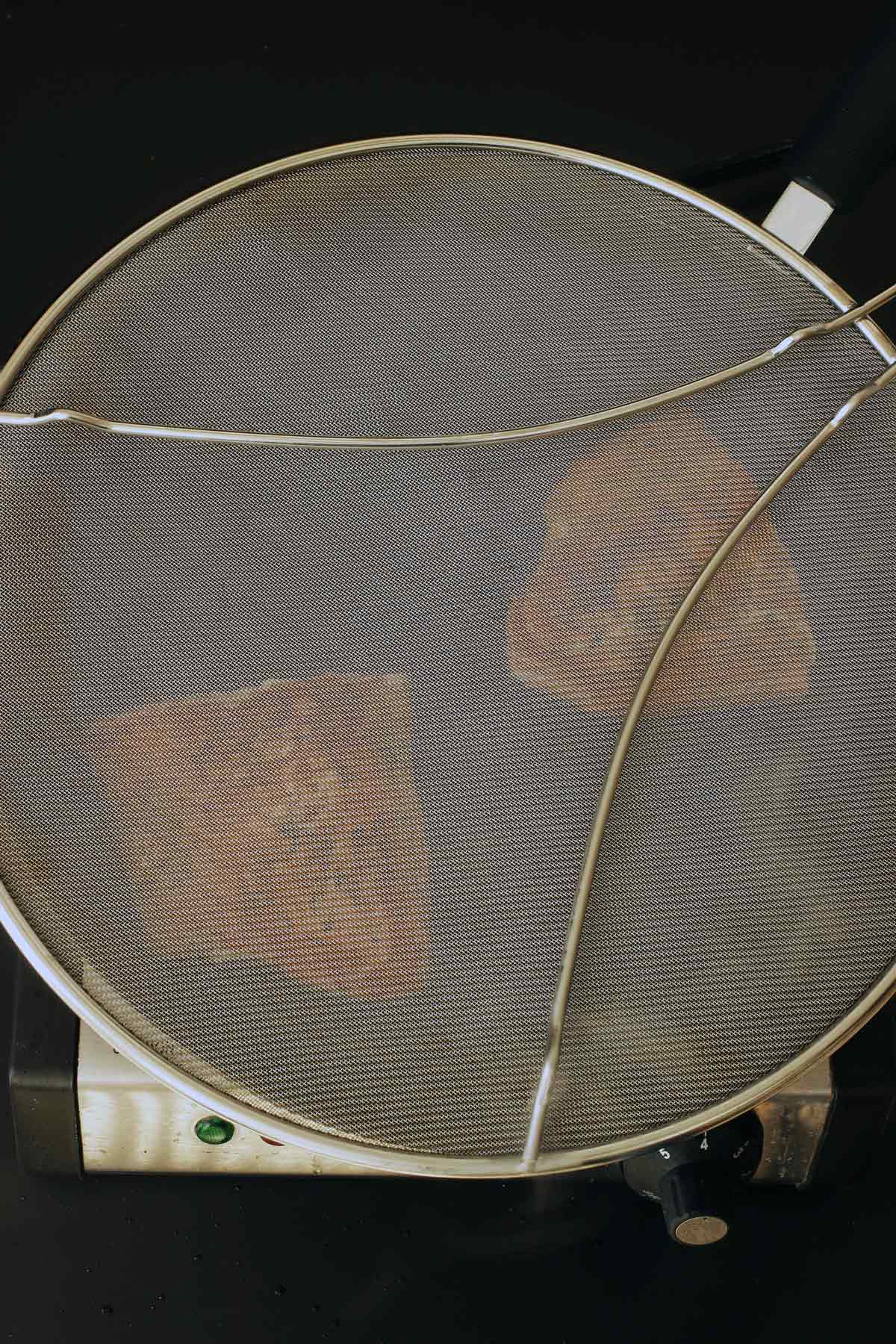 How to Cook Fish in a Skillet
Cooking fish in a skillet is a quick and easy way to get dinner on the table. Check out this simple method.
Ingredients
2

filets

fish of your choice

3 to 6 ounces each

seasoning of your choice

, such as fish rub or salt and pepper

1

tablespoon

olive oil

or butter

optional toppings for fish

, such as tartar sauce, herb butter, lemon slices, etc.
Instructions
Season the fish with salt, pepper, or other fish seasoning

In a large nonstick skillet, heat the oil until shimmering. Place the fish in the hot pan and cook 4 to 5 minutes. Turn, and continue cooking until the fish pulls apart easily, about 4 minutes more. 

Remove the fish from the pan and serve with optional toppings.
Notes
Promptly store leftovers in an airtight container in the refrigerator, for up to 3 days.
Nutritional values are approximate and based on 1 piece of fish.
Nutrition
Calories:
62
kcal
|
Fat:
7
g
|
Saturated Fat:
1
g
|
Sodium:
1
mg
|
Potassium:
1
mg
|
Calcium:
1
mg
|
Iron:
1
mg