Meal prepped lunches are a great way to save you time, money, and effort, whether you work at home or away. Whether you're looking for a healthy meal prep or just an alternative to higher priced fast food, these lunch recipes you can make ahead of time are perfect for weekday meals.
With everything from Turkey Lettuce Wraps to Instant Pot Mac and Cheese, your tastes are covered in these easy and cheap meal prep ideas. Check out these tips and meal prep lunch recipes for lunch box inspiration.
Jump to:
Ah lunchtime….
Lunchtime can be a welcome break during a harried day — a sweet respite from the hassles of work. But the prices at fast food these days are crazy, making fast food no longer an affordable option.
Make your meal free from stress and high prices, too, with make-ahead, meal prepped lunches. Meal prepped lunches can be easy, delicious, and affordable! It just takes a little meal planning and prep to get you going.
Why It Matters
Packing your lunch during the workweek is a great routine that allows you to save money, eat well, stick to your food preferences, and save time. You don't need to stand in line at a restaurant, mess around in the kitchen when you're hangry, or settle for something less than delicious because you're in a hurry.
Since you can plan your meal prepped lunches in advance, you can make sure they fit your budget. Want something low carb, like Thai turkey lettuce wraps? No problem. Prefer a Greek chicken meal with lots of hummus and pita? You can have that, too.
The beauty of prepping your own lunch is that the sky is the limit for what you can make! And yes, even if you're a novice in the kitchen, you can still make a great meal.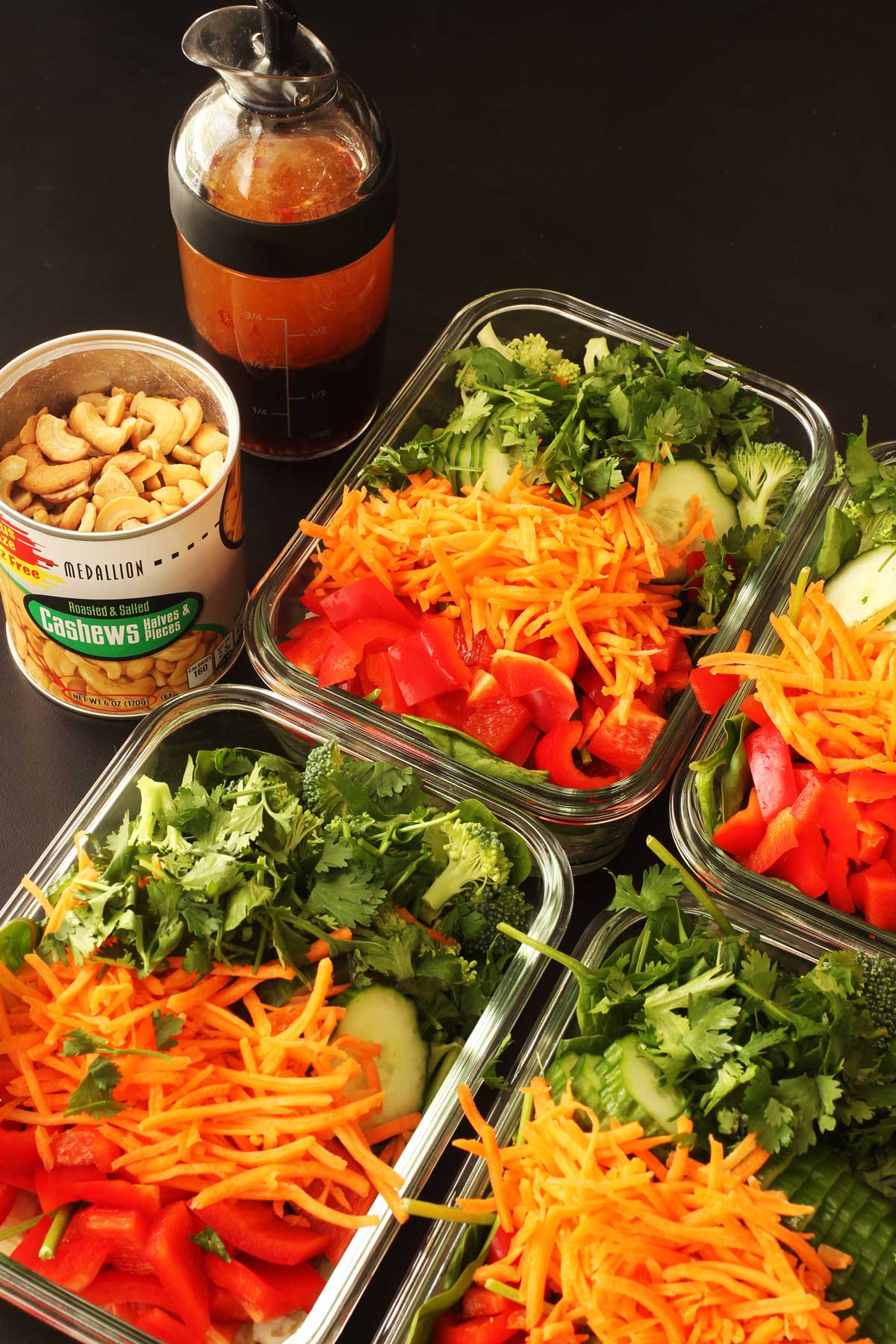 Tips for Success
Start simple.
Certainly, if you're just starting out with meal prepped lunches, don't feel like you have to do a lot. Start with one recipe that you can vary just a little bit so that you can enjoy something slightly different each day.
Good starting recipes are DIY Pasta Salad or meal prep salads that can be easily changed each day, but contain enough common ingredients to make the prep work simple. Meal prep bowls of rice with veggies and meats are also a great starting spot.
Prep many items at once to save time and energy costs.
The more you can group your motions, the easier it will be and the less energy you use. This is so true with meal prepped lunches. Make it easy to do!
Consider a chicken meal prep of meat, veggies, and potatoes. You can even cook the components on one sheet pan to save prep time and clean up. Vary the veggies and sauces for each day to keep things exciting. Instant Pot Pasta with Sausage & Cheese is a definite quick win.
Choose meals you love.
It's not going to save you any money if you make things you don't really like. Chances are good you'll just chuck it after a few disappointing meals.
If cold sesame noodle salad is a favorite of yours, learn to make it yourself as a salad meal prep. It may take a few tries to get the recipe just the way you like it, but the time investment will be worth it over the long haul.
Focus on just one or two main proteins.
Keep to simple meal prep ideas for best success. You can meal prep chicken or beef to use in dishes in a myriad of ways. Think about your favorite flavor profiles and how you can vary the sauces or toppings in lunch bowls and other meal prepped lunches.
Avoid Sog City.
What will get soggy? While most foods that you enjoy eating the next day can be meal prepped for lunch, consider if there are sauces or toppings that might make the dish soggy. You'll want to store those ingredients separately and assemble them right before eating.
For example, egg, tuna, or chicken salad can make the bread too wet if assembled many hours before eating. So, it's best to store the salad in a container with a lid and package the bread in a bag. Be sure to pack a spoon and put the sandwich together right before eating.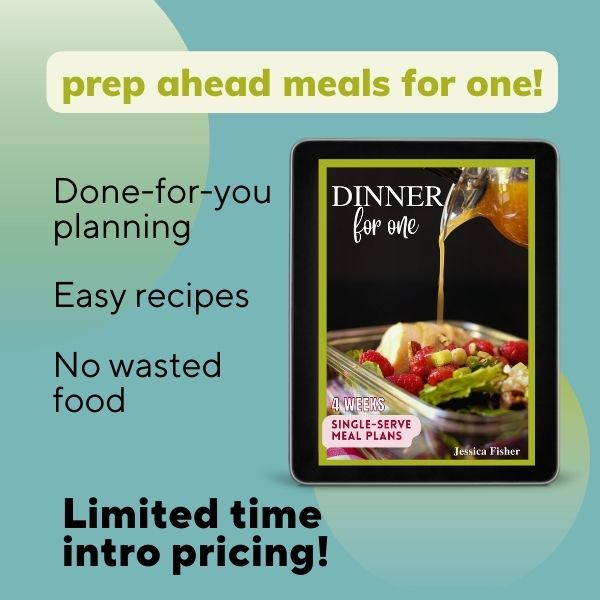 Storage Ideas
How you store your meal prepped lunches matters to the experience — and how long you'll stick with it.
At first it's great to use what you have as you test out your systems and what will work best for the life you live. After that, you may want to level up your meal prep and upgrade your storage containers.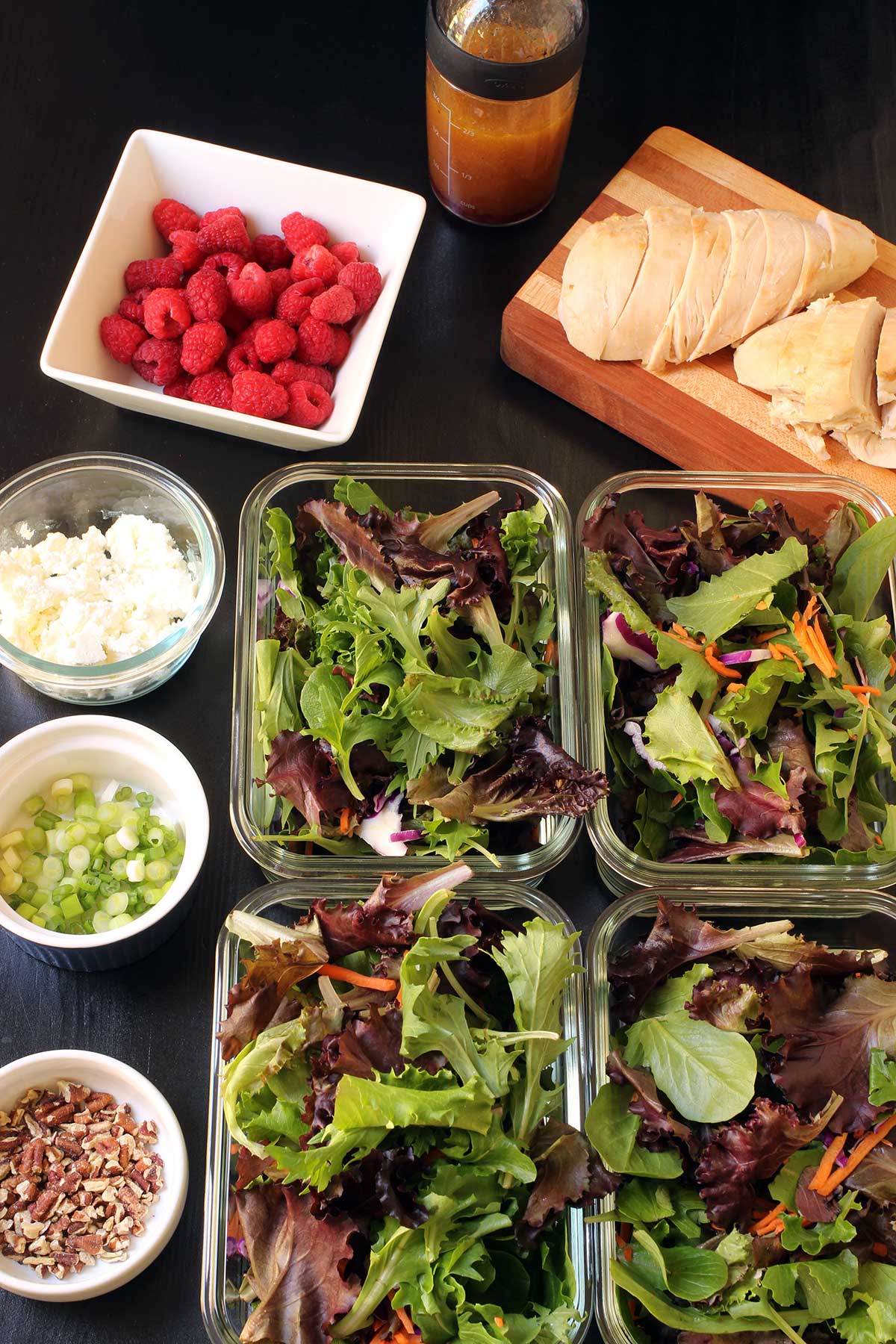 Purchasing meal prep containers
Choose identical, uniform containers. When everything stacks neatly together, it's easier to store, before and during use. Plus, if all the lids are the same, you won't waste a lot of time searching for the top to a certain container.
Bonus: if you like the aesthetics of your containers, you're more likely to use them. Use = more meal prepped lunches = more money saved!
Choose locking lids. Many food containers, especially those with divided compartments can leak, making a mess of your workbag. Choose containers with well-sealing lids, particularly around separate compartments.
For ease and best success, focus on using containers that you know are microwave- and dishwasher-safe.
Reusing plastics
If aesthetics don't bother you then repurposing ingredient containers (think yogurt, cottage cheese, gelato, etc) may be an economical choice. However, keep in mind that many of these containers are not microwave safe and will melt when you try to reheat your lunch.
FAQs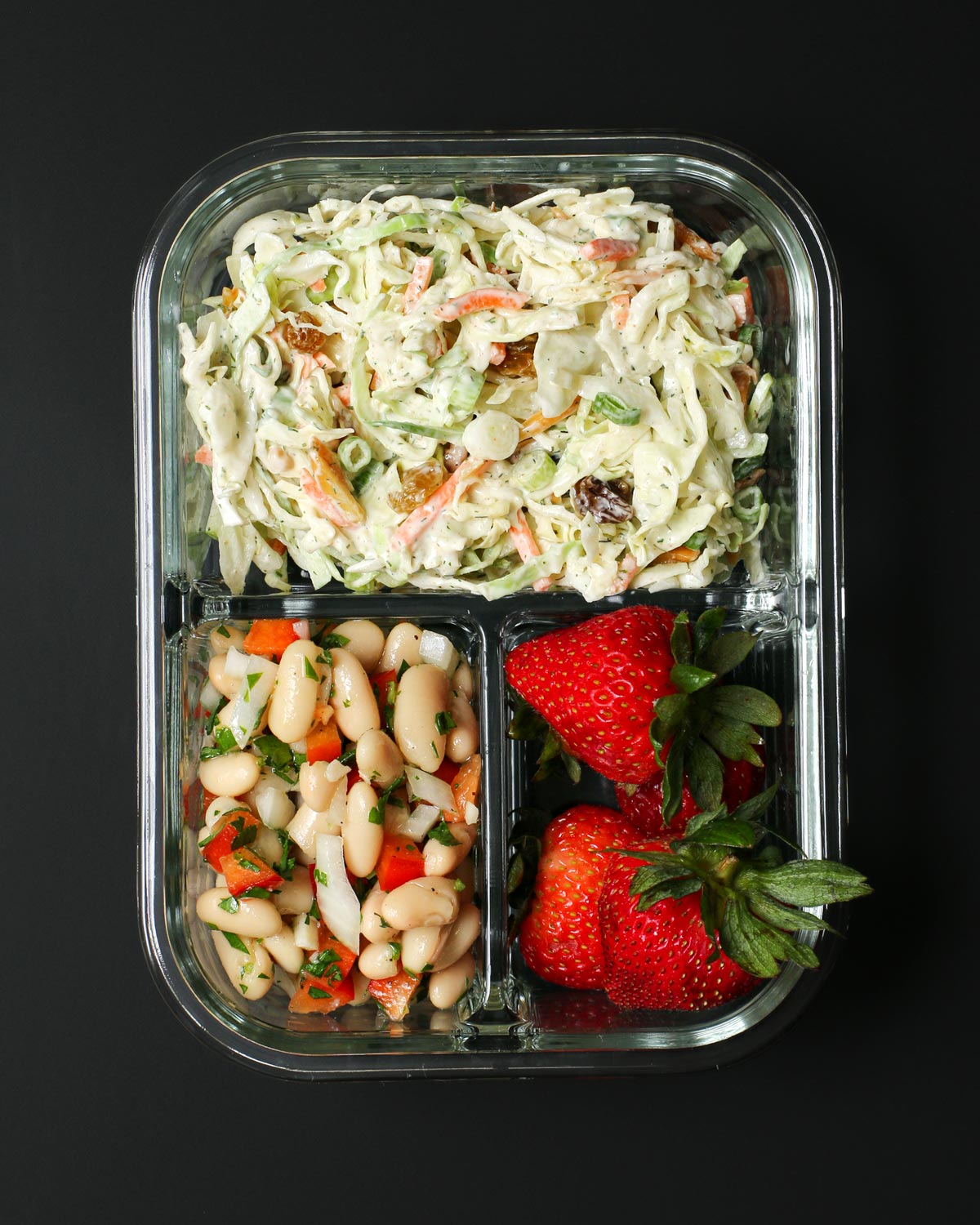 Recommended Recipes
Check out these winning meal prep recipes that are great for packing.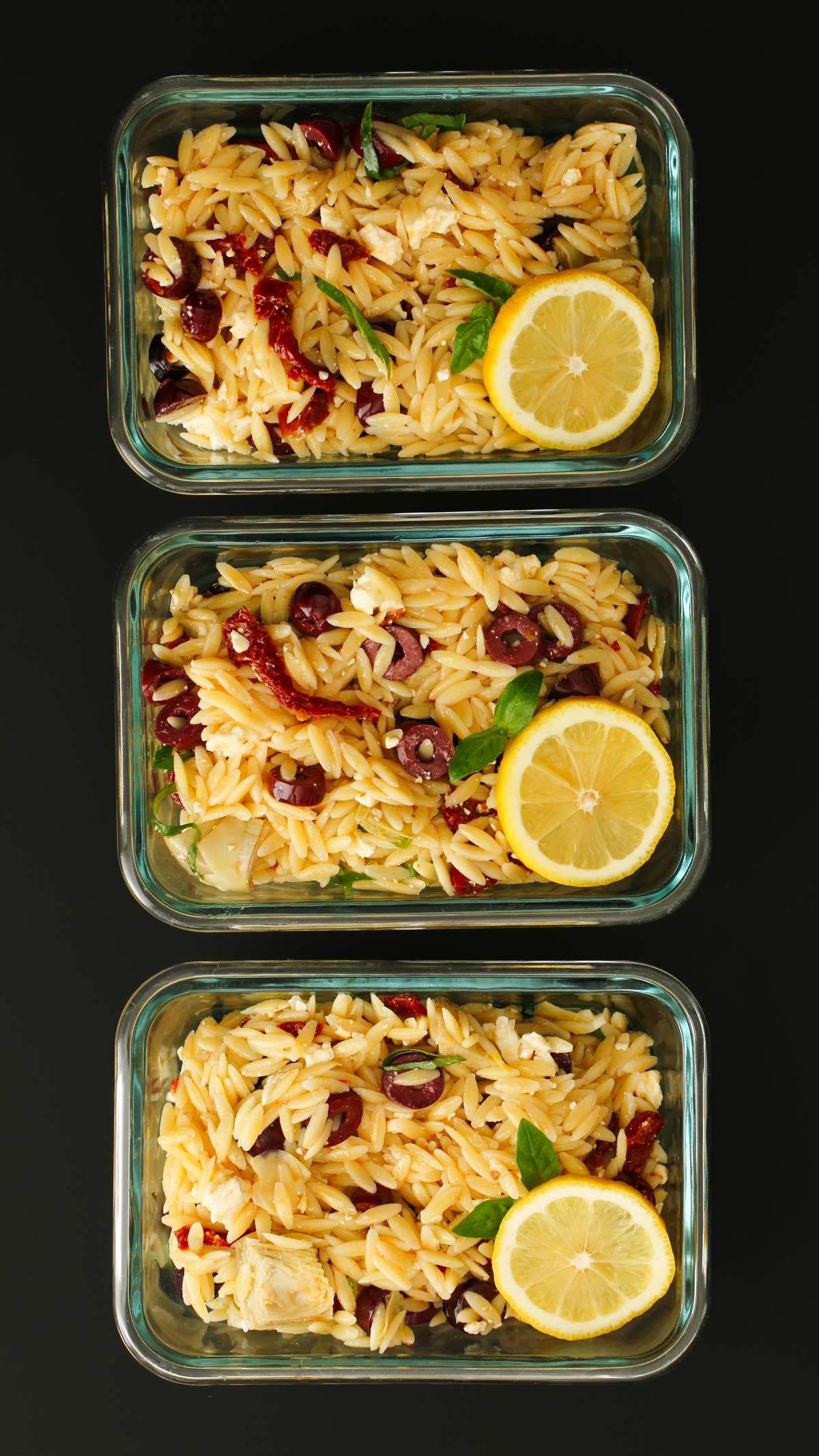 More Meal Prep Ideas
This post was originally published on November 7, 2020. It has been updated for content and clarity.