Want a Quinoa Salad that will make you swoon? This would be it. It's one of my favorites to make for a hearty, protein-packed lunch.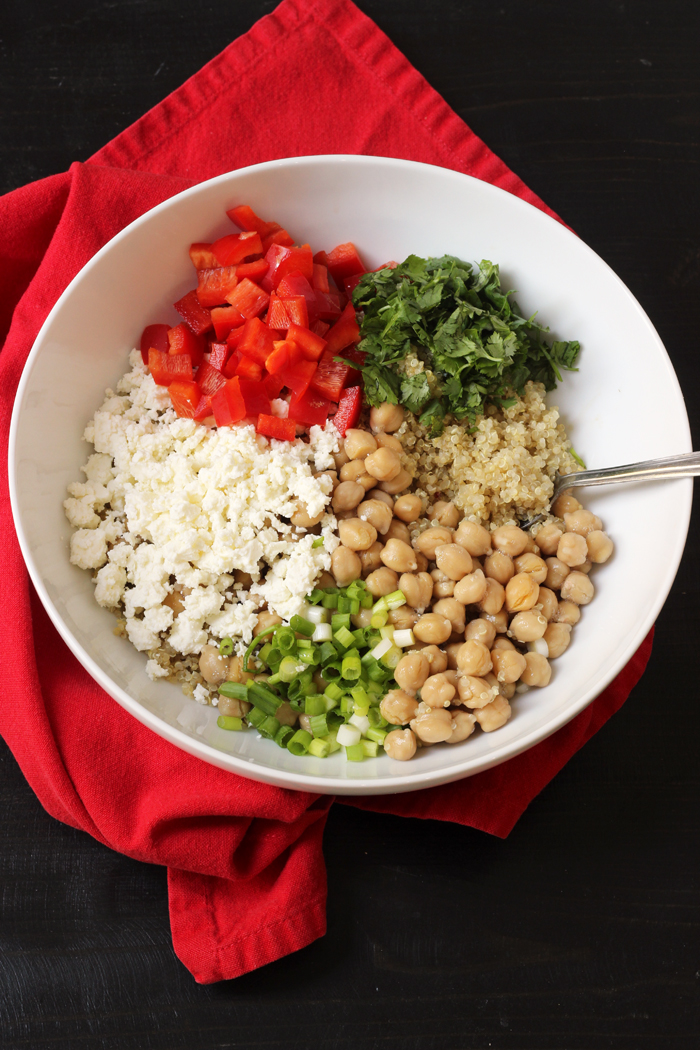 When I first met quinoa, I was a reluctant fan. I knew it was really nutritious, but the taste was a little bland. And then I learned some fun ways to cook with it, like this and this and this, and then I was definitely in the Quinoa Camp. Once I made this Quinoa Salad, I became a full-blown, raving fan.
This Quinoa Salad combines some of my favorite things: scallions, feta cheese, red bell pepper, cilantro, garbanzo beans, and tangy Dijon Vinaigrette with the hearty, protein-packed psuedo-cereal of South America, otherwise known as quinoa (pronounced keen-wah). It is awesome-ness incarnate.
You can tell this salad makes me do a happy dance, right? I highly encourage you to make it as soon as you ever can.
How I make this good:
Whenever possible I like to cook with plain old ingredients. While the convenience of mixes and canned sauces is nice, I feel better about feeding my family just real food whenever possible. (Go here for some of my reasons on all that.)
This recipe is one of my very favorites. I crave it fortnightly. It's just plain old good food: quinoa, garbanzo beans, red bell pepper, feta cheese, scallions, cilantro, and a homemade Dijon Vinaigrette. Nothing processed here!
I'm pretty partial to Bob's Red Mill Quinoa as it has already been rinsed and doesn't taste bitter like other brands can. I follow the directions on the package, but during the rest period, I place a paper towel between the pan and lid. This absorbs the steam and extra moisture in the pan so that it's fluffy and beautiful quinoa.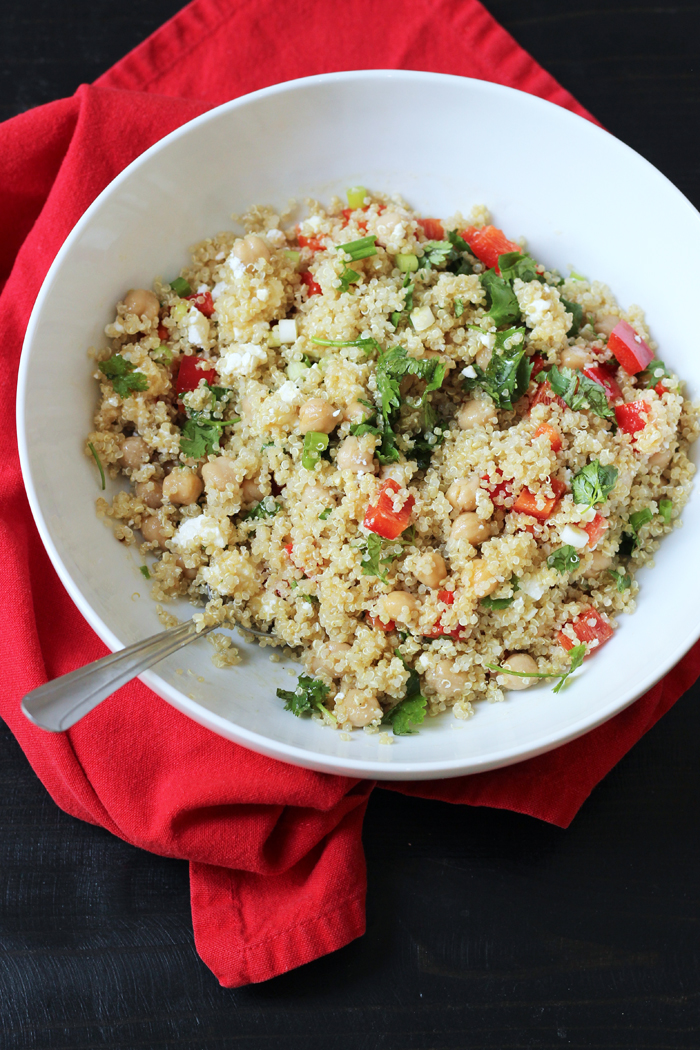 How I make this cheap:
Here are some of the strategies I use to make this recipe more economical:
Do a price comparison. I know that Costco is the best place to buy ingredients like bell peppers and feta cheese when there isn't a great sale elsewhere. I keep track of prices so that I know who has the best deal where.
Stock up on ingredients when they are on sale

. For instance, when I see a great price on garbanzo beans or quinoa, I buy a lot. The same goes for red bell peppers. Sprouts has had them for 50 cents a piece at different times this summer. I've bought 10-12 at a time!

Use more affordable alternatives. Quinoa, unfortunately, is not cheap. I recently stocked up when Sprouts had it 30% off its regular price. Still, the total was pretty stiff. While its best made with quinoa — lots of extra protein there — you could also make this salad with rice or orzo. Still very tasty, just not exactly the same.
Store your cilantro so that it lasts! Most recipes only call for a handful of the fragrant herb, so stretch that purchase as far as you can.
Tools I use to make this recipe easy:
This is a pretty straight-forward salad. You don't need any fancy equipment, just make it.
However, having the right kitchen tools can really make your time in the kitchen more enjoyable. Over time, I've honed my collection so that they are perfect for my needs. Here are the tools that I like to use in this recipe.
Print Recipe
Quinoa Salad
Want a Quinoa Salad that will make you swoon? This would be it. It's one of my favorites to make for a hearty, protein-packed lunch.
Ingredients
3

cup

cooked quinoa

1

cup

garbanzo beans

2

oz

feta cheese crumbles

(1/2 cup)

1/2

red bell pepper

for 1/2 cup chopped

2

tbsp

chopped green onions

2

tbsp

fresh cilantro (chopped)
Instructions
Cook the quinoa according to package directions. Cool completely.

Place the quinoa in a large mixing bowl. Add the garbanzo beans, feta cheese, bell pepper, scallions, and cilantro. Add enough vinaigrette to moisten. Toss gently. Adjust seasonings and add more vinaigrette if desired.

Chill until ready to serve.
Notes
Store leftovers in the fridge, covered, for up to 4 days.
Nutrition
Calories:
145
kcal
|
Carbohydrates:
21
g
|
Protein:
6
g
|
Fat:
4
g
|
Saturated Fat:
2
g
|
Cholesterol:
8
mg
|
Sodium:
112
mg
|
Potassium:
204
mg
|
Fiber:
4
g
|
Sugar:
2
g
|
Vitamin A:
353
IU
|
Vitamin C:
12
mg
|
Calcium:
68
mg
|
Iron:
2
mg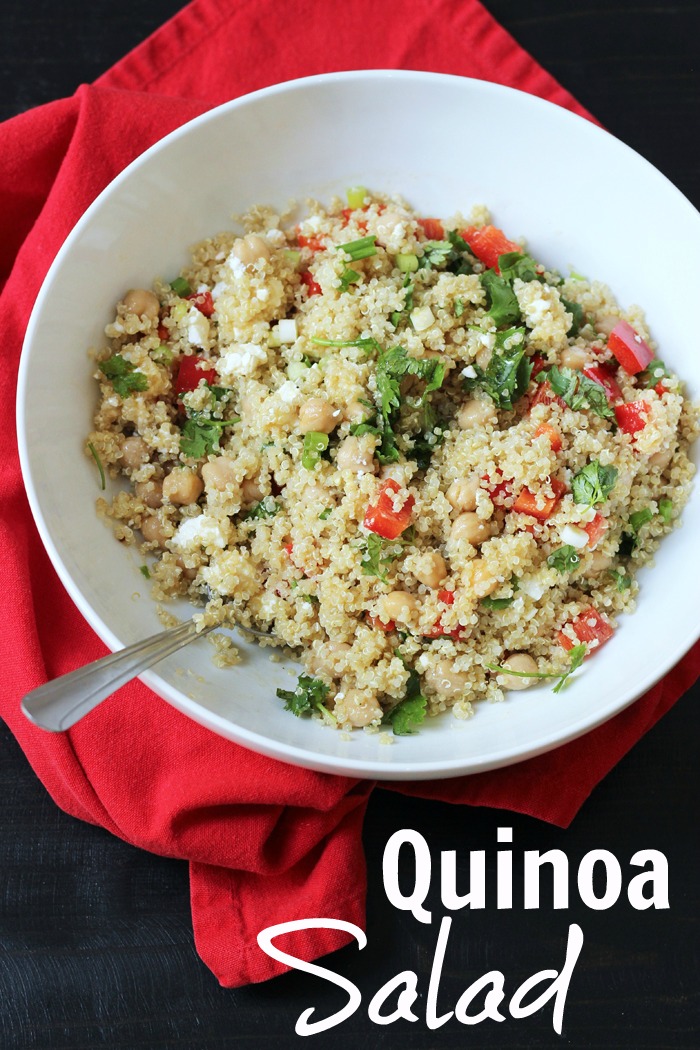 Are you looking for more good cheap eats?