This Easy Slow Cooker Chili really is easy. Cook up meat and onions, open some cans, dump some spices, and walk away.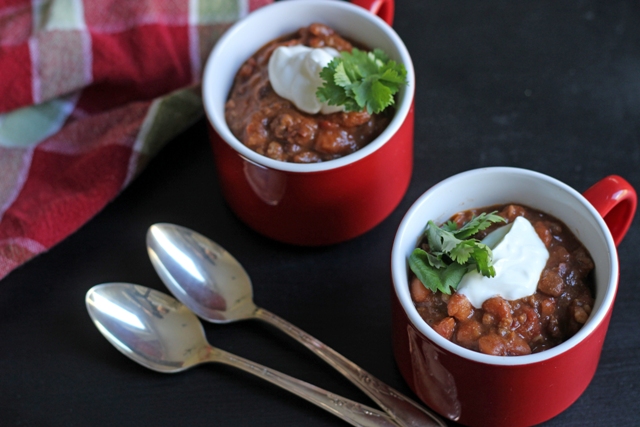 I've been leaning on my slowcooker a lot lately, particularly for soups and chilis. These are recipes that lend themselves well to slow cooking and allow me to do other things while they do the work.
This Easy Slow Cooker Chili really is easy. Cook up meat and onions, open some cans, dump some spices, and walk away.
Now, please don't balk at the "cook up meat and onions" part. This is really crucial. I know folks just want to toss it all in the pot, but a quick saute can lend your dish all kinds of texture and flavor. Don't skip it.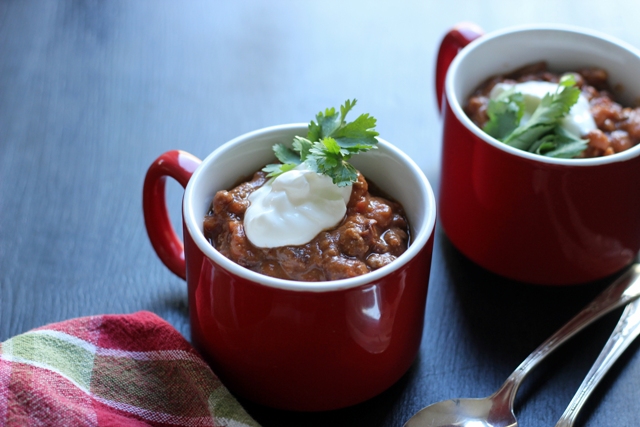 One ingredient that might be new to you is masa harina. It's the corn flour that I use for making tamales and tortillas. It's available in the baking and Mexican food aisles of most grocery stores. It goes on sale often at the holidays so grab a couple bags and stash them in the freezer for long storage.
Since I like thick chili (as opposed to watery), I stir in a few tablespoons of masa harina. It thickens the chili, adds a bit of flavor, and still keeps it gluten-free if that's your bag. You can just as easily omit it if you like.
This is the ideal meal to throw together before you leave for the day. Come home, warm some rolls or bake some cornbread, and hunker down for the night with a nice hot bowl of red.
(And yes, it does have beans. I know chili connoisseurs will say beans have no place in chili. Sorry. Call it Spicy Beef and Bean Stew if you want. It's all good.)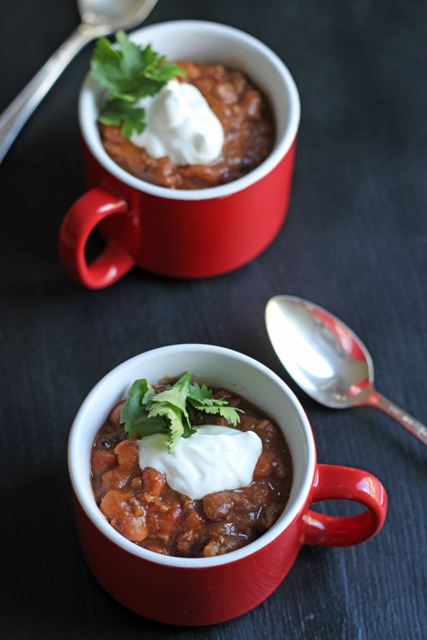 Easy Slow Cooker Chili
Ingredients
1 1/4

lb

ground beef

or ground turkey

1/4

onion

(for 1/4 cup chopped)

2

29-ounce can

pinto beans

drained

1

30-ounce can

black beans

drained

8

oz

tomato sauce

1

14.5-ounce can

petite diced tomatoes

1

cup

water

1

tbsp

chile powder or ground chile

1

tsp

ground cumin

1/2

tsp

dried oregano

1/4

tsp

ground cayenne pepper

2 to 4

tbsp

masa harina

this thickens the chili and adds flavor, but it can be omitted if you prefer
Instructions
In a large skillet, brown the ground beef and onions over medium-high heat until the meat is cooked through and the onions go clear, about 10 to 15 minutes.

Using a slotted spoon, transfer the meat mixture to the crock of a 6-quart slow cooker. Add the beans, tomatoes, tomato sauce, water, and spices. Stir to combine.

Cook on LOW for 6 to 8 hours or on HIGH for 4 hours.

Remove the lid and stir in enough masa harina to thicken the liquid to your desired consistency.

Chili can be chilled and frozen in an airtight container for up to 2 months.
Notes
Nutritional values are approximate and are based on 1/8 of the recipe using ground beef. Refrigerate leftovers promptly and use within 4 days.
Nutrition
Calories:
316
kcal
|
Carbohydrates:
26
g
|
Protein:
20
g
|
Fat:
15
g
|
Saturated Fat:
6
g
|
Cholesterol:
50
mg
|
Sodium:
691
mg
|
Potassium:
801
mg
|
Fiber:
9
g
|
Sugar:
4
g
|
Vitamin A:
556
IU
|
Vitamin C:
10
mg
|
Calcium:
82
mg
|
Iron:
5
mg