Now that you have this easy homemade chili seasoning recipe, you'll never need to buy a chili seasoning packet again. DIY spices are healthier, delicious, and simple.
One of the things that I've realized over the years is that food doesn't have to be complicated. To read food magazines, watch TV shows, or follow food influencers on social media, you might think otherwise. But, really?
Good food is pretty simple.
Take for instance one of the easiest meals on the planet to make, Easy Chicken and Green Beans. There are only four ingredients! Simple, delicious, and easy to prep. The secret?
The secret is in the seasoning.
If you've got some homemade seasoning mixes on hand, you can combine any proteins, beans, and veggies together to create a great meal. In my recent survey, many of you commented how much you love the spice mixes here on Good Cheap Eats.
Well, I've got a new one for you to add to your bag of tricks!
Chili Seasoning
Chili Seasoning is one of the most common mixes you'll find packaged commercially — and often one of the most expensive in a fancy pants store — but it's also one of the easiest and cheapest to make yourself!
With just a handful of herbs and spices, you can prepare a Homemade Chili Seasoning in just minutes. Keep it on hand to flavor chili, of course, but remember that it's delicious in stews, casseroles, sauces, and roasted meats.
Any recipe that calls for a packet of chili seasoning is a recipe you can make with your own homemade version.
Homemade Chili Seasoning
When I was growing up, homemade chili was a regular Sunday lunch. After church, my mom would stop at the grocery store and send me in to grab canned beans, ground beef, and a packet of seasoning mix. Back at home, we'd cook up the meat, stir in the beans and spices, and let it simmer for 30 to 60 minutes.
I remember how good it tasted, especially ladled over a bowl of Fritos and topped with cheese. So yummy!
Now, you can easily enjoy a Sunday bowl of chili — without the packet of sodium, MSG, and preservatives.
I confess. I still like it over Fritos. 😉
What spices go in chili?
Traditional chili spices include
chili powder (ground, dried chiles)
garlic powder
onion flakes
oregano
salt
pepper
cayenne
cumin
Is taco seasoning the same as chili seasoning?
There is definitely some overlap between chili and taco seasoning mixes, isn't there? It really depends on what you like. My chili seasoning has more chili powder in comparison to other ingredients than in my taco seasoning.
How do you make chili seasoning?
The process for making chili seasoning is super simple.
Measure out the herbs and spices.
Combine them in an airtight container.
Store the spice mix in a cool, dry place.
To use: stir several tablespoons into a batch of chili and adjust to taste.
How to make this good and cheap:
Here are some of the strategies you can use to make this recipe more economical:
Stock up on ingredients when they are on sale. When I find regular kitchen staples on sale, I buy a lot. I'm currently using a price book to track prices and that's saving me money. For this recipe, keeping an eye on the price of bulk spices can help keep the price down.
Buying in bulk – Using dried herbs and spices within 3 to 6 months is key to maintaining their flavor. It would make sense to buy small bottles, however small bottles are pricier than larger ones. For herbs and spices that I use in great quantity, I buy large packages from Costco, Smart & Final, Vitacost, or Amazon. I fill my small jar and then store the larger package in the freezer to extend its shelf life. For spices I use infrequently, I buy small amounts from the bulk jars at the health food store. In this way, I always have potent dried herbs and spices.
How I make this Chili Seasoning Recipe easily:
This recipe really couldn't be easier than it is, just mix up the spices in a bowl! But having the right kitchen tools can really make your time in the kitchen more enjoyable. Over time, I've honed my collection so that they are perfect for my needs.
For this recipe, I rely on a supply of mason jars with plastic lids for storing my spice mixes.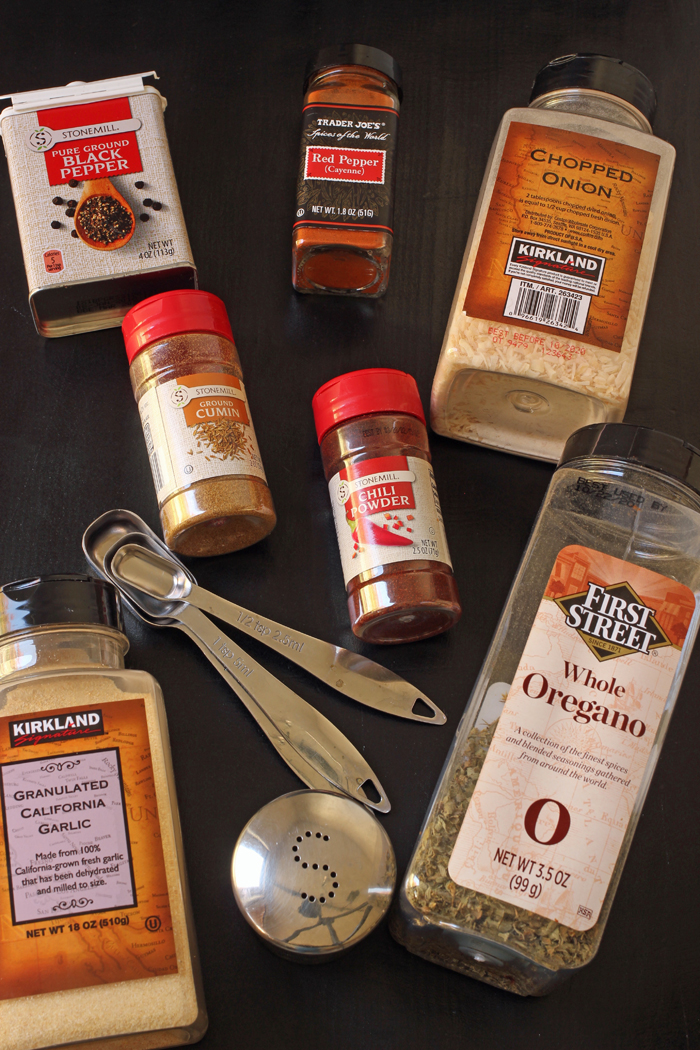 If you prepare this recipe, be sure to take a picture and hashtag it
#GOODCHEAPEATS
. I can't wait to see what you cook up!
Chili Seasoning
Now that you have this easy homemade chili seasoning recipe, you'll never need to buy a chili seasoning packet again. DIY spices are healthier, delicious, and simple.
Keyword:
chili, chili seasoning mix, homemade spice mix, seasoning mix, spice, spice blend, spice mix
Ingredients
1/4

cup

chili powder

1

tablespoon

ground cumin

1

tablespoon

onion flakes

1

tablespoon

dried oregano

1

tablespoon

garlic powder

1

teaspoon

salt

1/2

teaspoon

ground black pepper

1/2

teaspoon

cayenne pepper (optional)
Instructions
In a medium bowl combine all the herbs and spices until well mixed. Store in an airtight container in a cool, dry place.

To use: stir 1 to 2 tablespoons mixture into a pot of chili. Can also be used in soups, stews, and sauces.
Nutrition Facts
Chili Seasoning
Amount Per Serving
Calories 85
Calories from Fat 18
% Daily Value*
Fat 2g3%
Sodium 2344mg102%
Potassium 347mg10%
Carbohydrates 17g6%
Protein 4g8%
Vitamin A 577IU12%
Vitamin C 4mg5%
Calcium 149mg15%
Iron 6mg33%
* Percent Daily Values are based on a 2000 calorie diet.