Bake an authentic seed cake and read The Hobbit.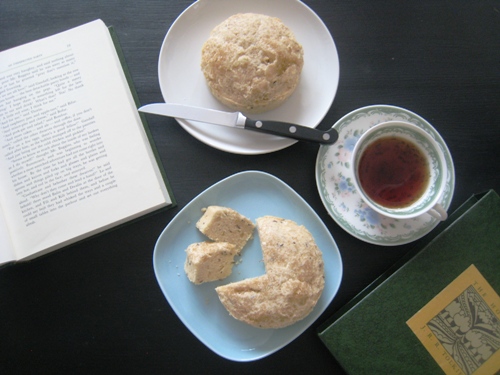 Of all literature, JRR Tolkein's Middle Earth tales, The Hobbit and The Lord of the Rings, top the list for enrapturing my entire family. From my little girls to my older-than-me husband, we Fishers all love the hobbit folk and their funny ways.
Sometime this month, we're going to head to the movie theatre to watch the first installment of The Hobbit. But, before we do, we're testing out a number of hobbit-like recipes.
A few weeks ago, I posted my beloved SamWich. Over on the Mushroom Channel this week, I shared a breakfast to tempt any of the Shirefolk. Today, I present authentic seed cakes, worthy of any dwarf.
Seed cakes figure prominently in the Unexpected Party that Bilbo hosts for the band of dwarves that come knocking at his door. I did a fair amount of research about the cake before I made one. I was surprised to find out that the seed involved was caraway! Nowadays we associate the caraway seed with rye bread, but in olden days it was standard in a cake, much like a pound cake.
I took a seed cake recipe from Mrs. Beeton's Book of Household Management, 1861, and updated it for modern times. The result was quite interesting. Here's the original recipe:
A VERY GOOD SEED-CAKE.1776. INGREDIENTS – 1 lb. of butter, 6 eggs, 3/4 lb. of sifted sugar, pounded mace and grated nutmeg to taste, 1 lb. of flour, 3/4 oz. of caraway seeds, 1 wineglassful of brandy.
Mode
.—Beat the butter to a cream; dredge in the flour; add the sugar, mace, nutmeg, and caraway seeds, and mix these ingredients well together. Whisk the eggs, stir to them the brandy, and beat the cake again for 10 minutes. Put it into a tin lined with buttered paper, and bake it from 1–1/2 to 2 hours. This cake would be equally nice made with currants, and omitting the caraway seeds.
Time.—1–1/2 to 2 hours.
Average cost, 2s. 6d.
Seasonable at any time.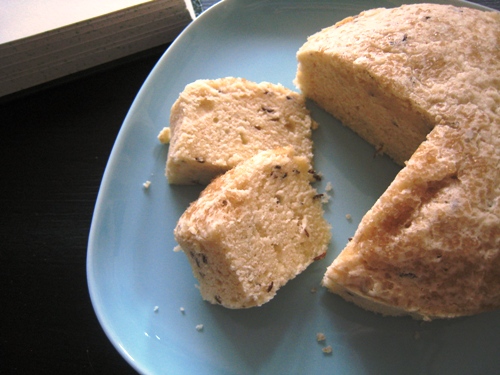 My kids love rye bread with caraway seed, so it was hard to get over that savory association. You can certainly make the cake without caraway or substitute poppy seeds, something we might try next time. Or as Mrs. Beeton suggests, use raisins instead of seeds.
But this is a more authentic "seed cake," similar (I hope) to what the dwarves might have been expecting as they sat in Bilbo's parlor.

Recipe: Bilbo's Seed Cakes
Ingredients
2 sticks butter, softened
1 cup sugar
3 eggs
2 cups unbleached, all-purpose flour
1 tablespoon caraway seeds
1/4 teaspoon each nutmeg and cinnamon
1/4 cup brandy
4 teaspoons demerara sugar
Instructions
Preheat the oven to 300°. Grease four 4 1/2-inch springform pans.
In a large mixing bowl cream together the butter and sugar until light and fluffy.
Add the eggs, one at a time, scraping the bowl in between additions.
In a second bowl, whisk together the flour, caraway seeds, and spices.
Add half the flour mixture to the butter mixture, stirring well.
Add the brandy and combine.
Add the remaining flour mixture, being sure not to overmix.
Spoon batter into prepared pans. Sprinkle 1 teaspoon demerara sugar over the top of each cake.
Bake for 35 minutes or until a tester comes out clean. Cool on wire racks.
For freezing: Wrap cooled cakes in plastic wrap and place in a ziptop freezer bag. Freeze. To serve, thaw cakes, wrapped, at room temperature.
Preparation time: 10 minute(s)
Cooking time: 35 minute(s)
Number of servings (yield): 12
What's your favorite food in The Hobbit?
This post does include Amazon affiliate links. If you make a purchase through those links, I am paid a small amount in way of advertising fees.