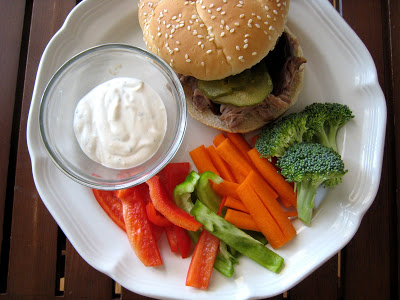 Living in Kansas City, our family developed a taste for BBQ flavors. I had never had a BBQ sandwich before we lived there. They're simple to make and very filling. They aren't best friends for those on healthy diets, but for once-in-awhile, they are a great treat.
This recipe makes great use of the crockpot. Simply season the meat and and let the slow cooker do the work. At the end of the day, shred the meat and use as a sandwich filling with BBQ sauce and dill pickles. Delish!
Pork roast goes on sale regularly for less than a dollar which makes this a great budget meal. A huge jar of dill pickles is available at Costco for about $3. And I'm often able to pick up bottled BBQ sauce for free after sales and coupons. If you make your own buns, this can be quite a good (&cheap) eat.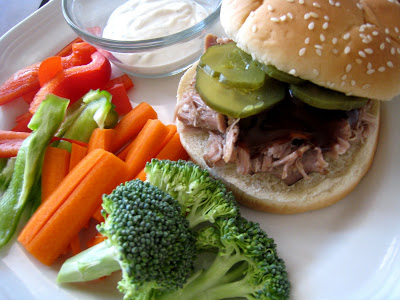 Price Breakdown:
2 pounds boneless pork shoulder roast – $2
salt, pepper, and garlic powder – $0.10
hamburger buns – $1.50
BBQ sauce – free
dill pickle slices – $0.25
Total cost for 8 sandwiches = $3.85!
Recipe: BBQ Pork Sandwiches
Ingredients
2 pounds boneless pork shoulder roast
salt
pepper
garlic powder
hamburger buns
BBQ sauce
dill pickle slices
Instructions
Place pork roast in crock pot. Season generously with salt, pepper, and garlic powder. Turn to low and cook for 6-8 hours.
Remove meat from slow cooker, reserving juices for another purpose, such as chili or soup. With two forks, shred meat.
Assemble sandwiches by placing generous amount of pulled pork on hamburger bun. Top with BBQ sauce and dill pickles
To freeze: the shredded meat can be frozen for a later date. Simply cool and store in an airtight container. Chill completely before freezing. To serve: thaw completely in the refrigerator. Reheat and serve.
Number of servings (yield): 8
For more budget meals, visit the
$5 Dinner Challenge
.