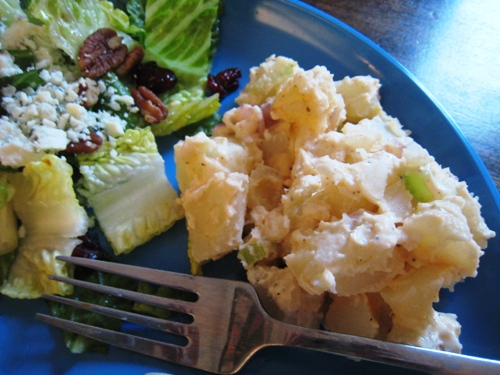 Potato Salad is one of those summer dishes that is filling without heating you up. It goes great with grilled meats, sandwiches, and salad buffet meals. And, it's a great after-anything kind of snack.
Once upon a time, our local grocery store deli served the best potato salad. Tangy, but not too sweet. And hubs and I both devoured it. For years since then I've tried a variety of other deli potato salads, hoping to find that old favorite from my memory. And I always came up short.
Recently, I was able to conjure it up on my own. The trick?
Rice vinegar.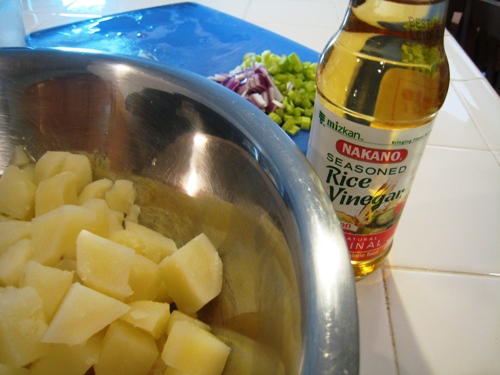 Sweet yet slightly acidic, rice vinegar adds a little zip to salads without breaking into a sweat. Perfect for summertime.
I use rice vinegar quite often, usually the Nakano brand because it's one of the most affordable brands in my neck of the woods. I stock up when I see it on sale, making it a regular pantry staple at my house.
Typically, I use it in Asian cooking, like in Summer Rolls or Potsticker Dipping Sauce. But now that I know I can use it in other dishes, I'm wondering if there are no limits!

Recipe: Deli Potato Salad
Ingredients
4 pounds russet potatoes, peeled and cubed
1 cup mayonnaise
1 teaspoon dried dill
1 teaspoon salt
1 teaspoon Dijon mustard
1/2 teaspoon paprika
1/4 teaspoon black pepper
1/4 teaspoon celery seed
1 teaspoon chopped garlic
1/4 cup rice vinegar
1/2 cup chopped red onion
1/2 cup chopped celery
Instructions
In a large stockpot full of salted water, bring the potatoes to a boil.
Boil the potatoes until they are tender.
Meanwhile in a small mixing bowl combine the mayonnaise, dill, salt, mustard, paprika, black pepper, celery seed, and garlic. Whisk until smooth.
Drain the potatoes and place them in a large mixing bowl.
Drizzle the rice vinegar over the hot potatoes.
Add the red onion, celery, and mayonnaise sauce to the bowl.
Fold gently to combine the ingredients.
Cool slightly at room temperature before chilling in the refrigerator.
Adjust the seasonings before serving.
Preparation time: 40 minute(s)
Number of servings (yield): 12
Welcome to What's On Your Plate?!
What's on Your Plate? is designed to be a conversation amongst good eaters.
Tell us about a recent meal. Did it meet with rave reviews? Or did it bomb? What side dishes did you pair with the star of the show? Did you try a new ingredient? Find the groceries at great prices?
What's on YOUR Plate?
Share with us a recent meal you prepared. Either link it up below or tell us about it in the comments. Please make sure that you link to www.goodcheapeats.com in your post so others know where the dinner party is.
And don't forget to visit the other good eaters participating today. I'm sure you will be inspired to make all sorts of Good Cheap Eats at your house.
Disclosure: Nakano has provided compensation for my time spent writing this post. All opinions are my own.