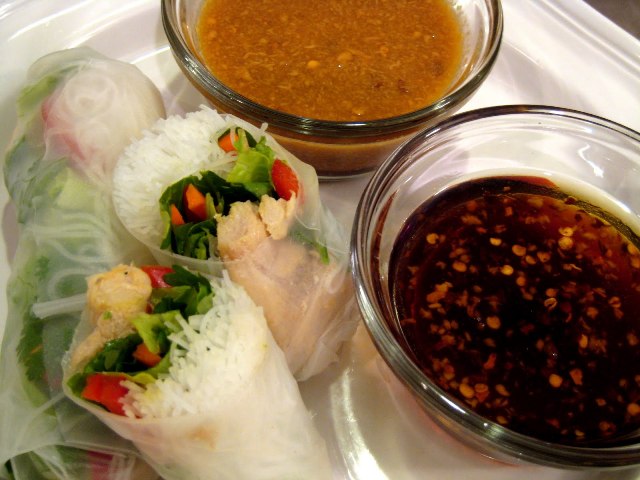 One of my favorite treats is the Vietnamese Chicken Salad Rolls at Pei Wei. They are an occasional indulgence. When I saw that Katie had made some summer rolls, I decided to try making them myself. I was amazed at how easy it was to do. And how delicious!
Years ago I had seen this recipe in Fine Cooking. Recently, I remembered it and used it as my basic guide for constructing the rolls, but instead of following their recipe I took the flavor components from my favorite Chinese Chicken Salad recipe and incorporated them into summer rolls. I made one dipping sauce similar to the dressing. And for good measure, I made a second dipping sauce, similar to the sauce in my kids' favorite, Peanut Butter Chicken.
These rolls were so good! Our family loved feasting on them while watching a combination of Nascar, Golf, and Baseball on Saturday night, especially since our favorite flavors were featured.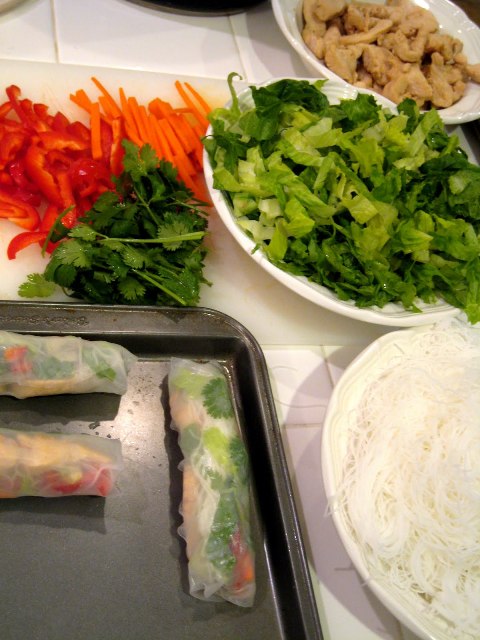 The trick to this recipe is to prepare all your filling ingredients ahead of time so that you can assemble rolls in quick succession of one another. The rice paper can dry out quickly. We've all been talking about them and wanting to enjoy them again soon. To become a conversation topic is to become a regular good. cheap. eat. around here.
Recipe: Summer Rolls
Ingredients
3 Tablespoons rice vinegar
2 Tablespoons soy sauce
1 garlic clove, minced
1 teaspoons wasabi powder
1/4 teaspoon crushed red pepper
1/4 cup vegetable oil
2 Tablespoons sesame oil
4 boneless, skinless chicken breasts, sliced into 1/4? slices
1 pkg rice paper rounds
1 red bell pepper, cored and sliced into matchsticks
2 carrots, peeled and sliced into matchsticks
1 bunch of cilanto, washed and pat dry, stems removed
1 package rice noodles, softened in warm water
1 romaine heart, washed and sliced thin
Instructions
Combine vinegar, soy sauce, garlic, wasabi, and crushed red pepper in large bowl. Slowly whisk in oils. Add chicken, turning to coat. Allow to marinade for at least 20 minutes. Heat saute pan and add chicken and marinade. Cook chicken over medium heat, stirring often. Remove from pan and allow to cool completely.
Assemble all ingredients at work station: chicken, vegetables, cilantro, rice papers, rice noodles. Heat water in a large skillet. Soften rice paper one at a time by holding in warm water for 15-30 seconds. Shake off excess liquid and place on work station. Place small amounts of ingredients across center of paper. Fold over one end, tuck in sides, and roll until filling is encased in rice paper round. Place on cookie sheet and cover with a damp cloth. Continue rolling rice papers with fillings until you have as many as you want or until ingredients are exhausted. Feel free to customize fillings as you prefer. Serve with dipping sauces.
Number of servings (yield): 8
Ingredients
6 Tablespoons rice vinegar
3 Tablespoons soy sauce
2 garlic cloves, minced
2 teaspoons wasabi powder
1/2 teaspoon crushed red pepper
3/4 cup vegetable oil
3 Tablespoons sesame oil
Instructions
Combine vinegar, soy sauce, garlic, wasabi, and crushed red pepper in small bowl. Slowly whisk in oils.
Ingredients
1/3 cup rice vinegar
1/3 cup oil
2 Tablespoons peanut butter
1 Tablespoon soy sauce
1 Tablespoon honey
1 teaspoon grated ginger
1/2 teaspoon crushed red pepper
Instructions
Combine all ingredients in small bowl.
As a
FoodBuzz
Tastemaker, I am offered from time to time
different products to try out
and experiment in recipe making. Recently, I received a $30 gift certificate to
Asian Food Grocer
. I had such a good time browsing the website and choosing ingredients that I might not otherwise buy, including
some Asian candy
for the kids. They loved the soda candy and chocolate Pocky!
I was really impressed with the prices at Asian Food Grocer. They were much lower than what I pay at my local grocery store. The items came within 2-3 days and were packaged better than I could have done it myself! I will definitely be heading back to their site. We love Asian flavors, but I'm not very experienced in preparing traditional meals. But, after my recent success with summer rolls, stand back. FishMama's going Asian!