Potstickers are an easy appetizer or main dish that you can make from scratch or buy in the freezer section. Make this homemade potsticker dipping sauce for a special extra touch that comes together in just minutes.
We want to eat well and save money. Making your own Take-Out Fake-Out dishes can allow you the best of all worlds. This Potsticker Sauce is a great way to jazz up your meals without the high cost of eating out. Add it to your list of 40+ Romantic Dinner Ideas to Cook at Home.
Jump to:
When you're looking for a quick and easy meal, it's pretty normal to look toward the freezer section of your grocery store. There are so many tempting entrees, appetizers, and desserts that lurk there. Unfortunately, their pictures often look better than their actual contents.
However, one practically fail-proof freezer section item is the frozen potsticker. They cook up quickly, are available in pork, chicken, and meatless varieties, and give you that restaurant feel without the pricy bill.
Potstickers are one of our family's favorite quick and easy convenience meals. While getting out of debt years ago, I discovered it as an easy, fun fix that didn't break the bank.
I confess, I don't make the dumplings from scratch. I buy a bag from the freezer section. But, I do make the potsticker dipping sauce.
A homemade potsticker dipping sauce comes together in just a few minutes, yet it elevates a humble frozen food to something extra special. Potstickers are great served on their own for a game day appetizer or part of a Rice Bowl are definitely high on the list of favorite good cheap eats.
Why Make This
It's an affordable option. A ginormous bag of frozen potstickers or gyoza costs about $10 and can serve our family at least twice, making it a pretty decent bargain for a convenience food.
It's delicious. Dipping sauces can range from savory to sweet, nutty to soy-based. This potsticker sauce is made up of soy sauce, rice vinegar, sugar, sesame oil, garlic, ginger, pepper, and red pepper flakes. It's a perfect mix of savory-sweet with a little kick from the ginger, garlic, and red peppers.
It's a quick fix that feels special. It is so nice on a busy night to get rice cooking in the instant pot, toss a bag of stir-fry veggies into a skillet, and start some potstickers in a pan. Mixing up a flavorful potsticker dipping sauce takes little time and is one way to enjoy the flavors you love without a lot of hassle.
Ingredients
Here's what you'll need to make Potstickers and Dipping Sauce: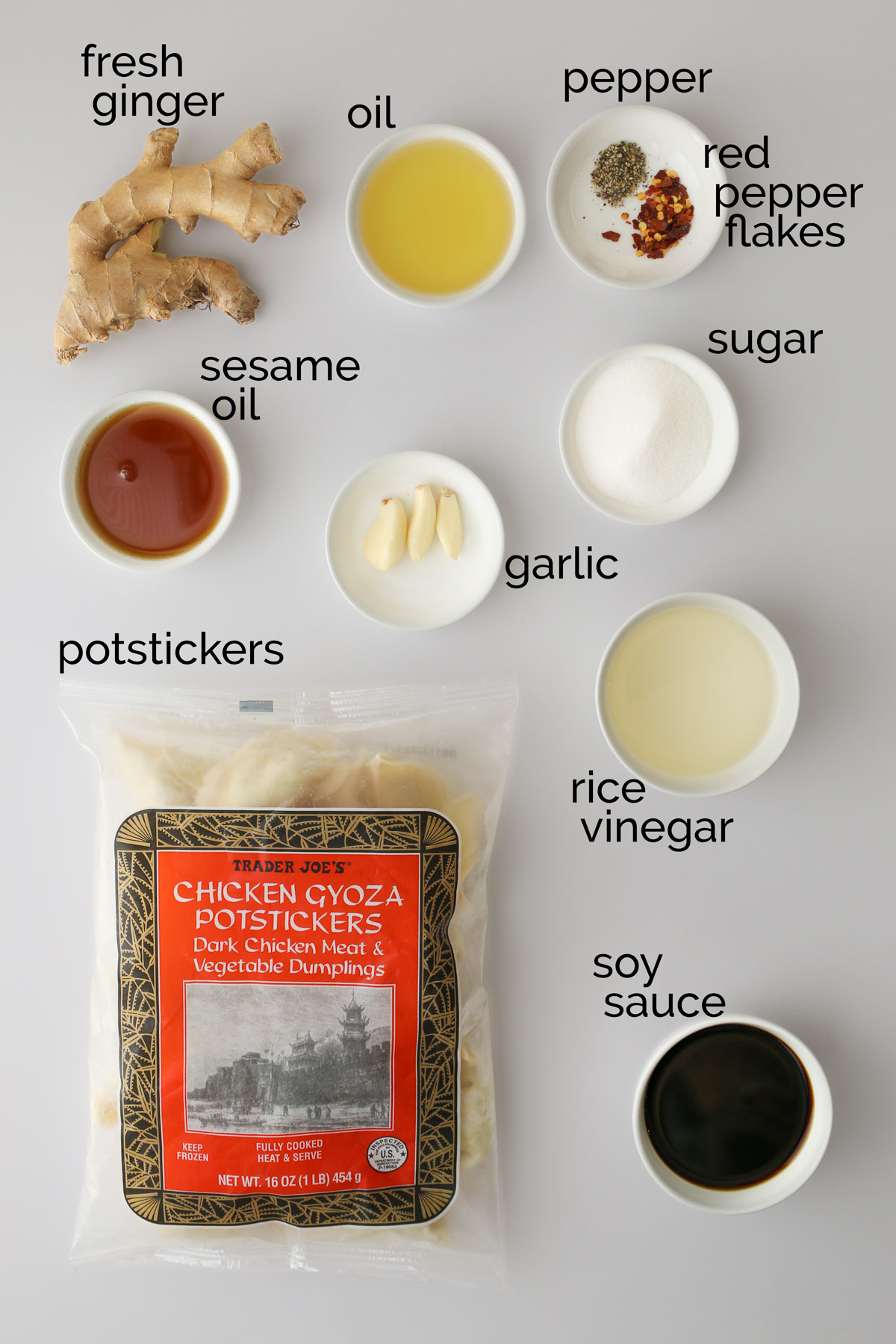 frozen potstickers – You can make your own, but frozen potstickers are a nice cheat. Ling Ling is a great name brand, while ALDI and Trader Joe's both sell their own labels fairly affordably.
neutral oil – You can use whatever neutral cooking oil you normally use, such as avocado, canola, or sunflower.
soy sauce – I like to use low sodium soy sauce or sometimes tamari if I need to make the sauce gluten-free. If you're avoiding soy, coconut aminos are a fair substitute.
rice vinegar – Rice vinegar is traditional and offers a little bit of sweetness and acid together to help balance the sauce.
sugar – I use granulated sugar or honey to add just a little extra sweetness to the potsticker sauce recipe. You can also use brown sugar if that's what you have.
sesame oil – This is a very flavorful oil and also the priciest ingredient in this dipping sauce recipe. A little goes a long way. You'll find best pricing at an Asian market or possibly Trader Joe's.
aromatics – Fresh garlic and ginger really bring the flavor to this sauce. You can use the jarred variety, but fresh will usually have the best flavor. Remember you can freeze both garlic and ginger, so if you won't use up all that you bought, toss them in the freezer.
pepper – Both black pepper and red pepper flakes give this potsticker sauce a little bit of spiciness. If you want to level up, you can stir in some sriracha sauce as well.
Optional garnish: If you want to dial up the aesthetics, garnish the sauce with slivered green onions or toasted sesame seeds.
Step-by-Step Instructions
Potsticker sauce comes together quickly! Here's how to make it: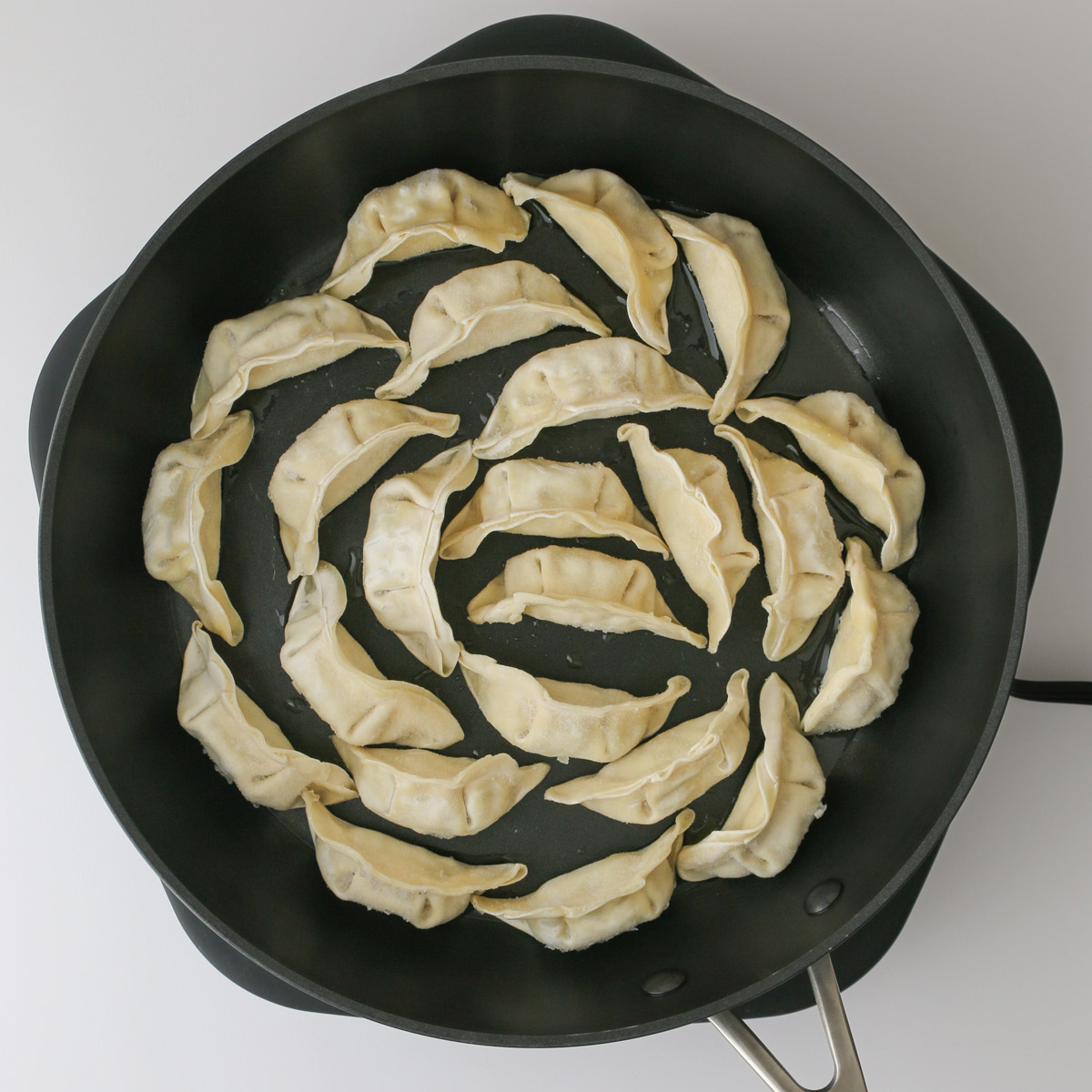 Combine the soy sauce, rice vinegar, sugar, sesame oil, garlic, ginger, black pepper, and red pepper flakes in a saucepan or microwave-safe dish.
Heat over medium heat or microwave until hot.
Stir to combine.
Transfer the sauce to a small bowl before serving with potstickers. The sauce is also good with egg rolls.
FAQs
What tastes good on potstickers?
Potstickers are delicious with soy sauce or a special dipping sauce. You can make your own or choose from a variety of bottled sauces. Frozen dumplings sometimes come with a sauce packet, but homemade is best!
What is potsticker sauce made of?
Potsticker sauce usually features soy sauce, rice vinegear, sesame oil, and seasonings like red pepper flakes.
Is potsticker sauce vegan?
Potsticker sauce is vegan provided no animal products like fish sauce or oyster sauce are used. Also, you may want to make sure you use a vegan sugar.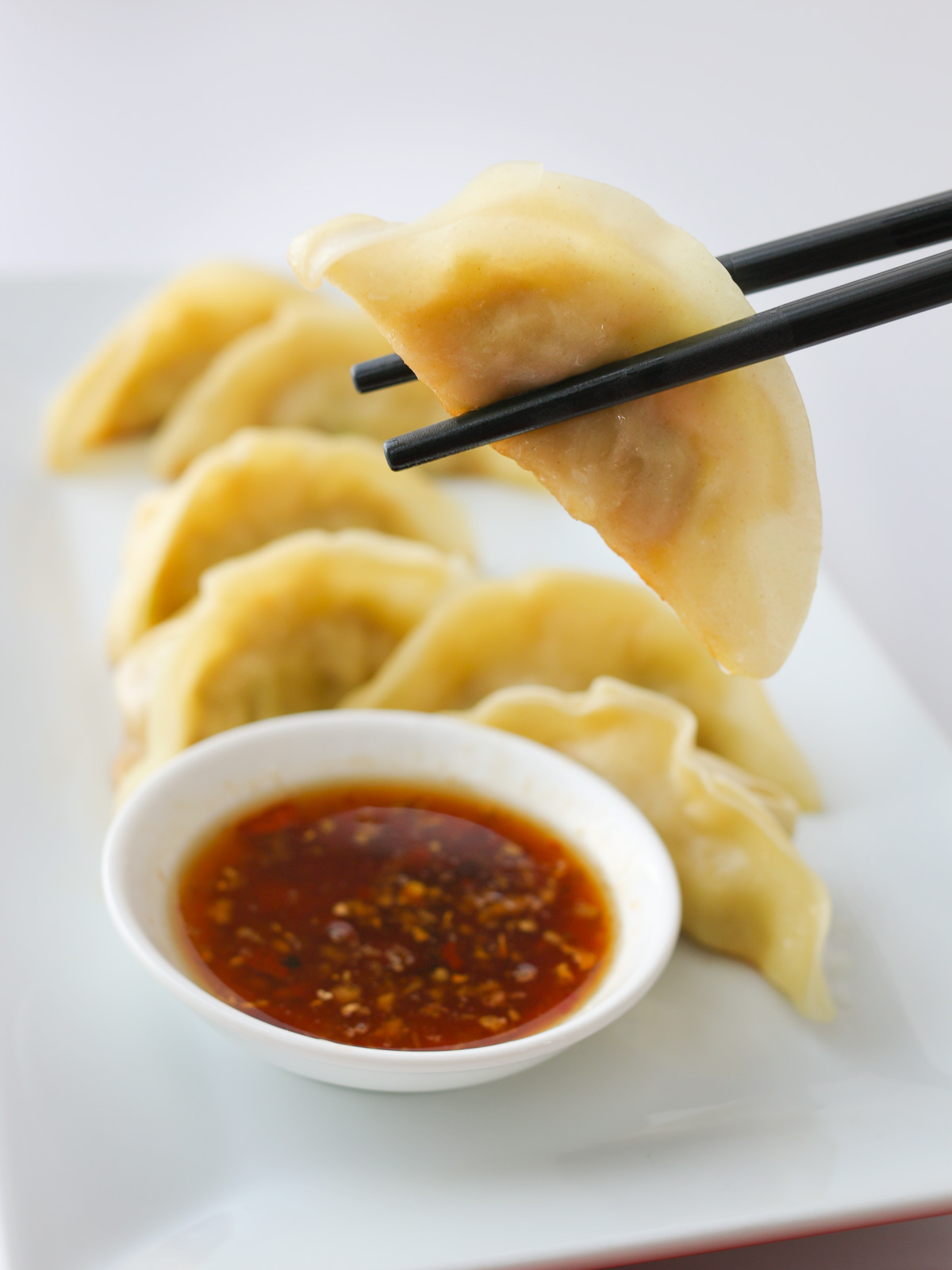 More Take-Out Fake-Outs
Hungry for more ideas? Check out my post over on The Kitchn about 10 different things to do with frozen potstickers.
Potsticker Dipping Sauce
Potstickers are an easy appetizer or main dish. Dress them up with this homemade potsticker dipping sauce that comes together in minutes.
Ingredients
2

tablespoon

neutral oil

1

16-ounce package

frozen potstickers

⅓

cup

soy sauce

¼

cup

rice vinegar

2

tablespoon

granulated sugar

2

tablespoon

sesame oil

3

clove

garlic

minced

1

tablespoon

fresh ginger (chopped)

¼

teaspoon

black pepper

¼

teaspoon

red pepper flakes
Instructions
Heat the oil in a large skillet. Add the potstickers, according to the package directions.

1 16-ounce package frozen potstickers,

2 tablespoon neutral oil

While the potstickers are cooking, combine the soy sauce, rice vinegar, sugar, sesame oil, garlic, ginger, and peppers in a glass dish and microwave until warm. Alternatively, heat over low heat in a small sauce pot.

⅓ cup soy sauce,

¼ cup rice vinegar,

2 tablespoon granulated sugar,

2 tablespoon sesame oil,

3 clove garlic,

1 tablespoon fresh ginger (chopped),

¼ teaspoon black pepper,

¼ teaspoon red pepper flakes

Serve the potstickers with the dipping sauce.
Notes
Nutritional values may vary, depending on the potstickers purchased. Refrigerate leftovers promptly and store in a covered container in the refrigerator for up to 4 days.
Nutrition
Calories:
378
kcal
|
Carbohydrates:
54
g
|
Protein:
9
g
|
Fat:
15
g
|
Saturated Fat:
3
g
|
Cholesterol:
5
mg
|
Sodium:
1610
mg
|
Potassium:
50
mg
|
Fiber:
3
g
|
Sugar:
11
g
|
Vitamin A:
37
IU
|
Vitamin C:
13
mg
|
Calcium:
48
mg
|
Iron:
2
mg
This post was originally published on December 30, 2010. It has been updated for content and clarity.