Have a hankering for Chinese take-out tonight? Mix up a batch of this Homemade Vegetable Chow Mein. You'll enjoy a great dish ready in under 30 minutes and save some money, too!
For as long as I can remember, my children's childhood favorite — and my childhood favorite! — takeout has been Chinese food. Please note that I am talking about Chinese-American food.
Disclaimers aside, ever since I was a little girl, getting Chinese takeout was such a treat. Such a treat!
In my hometown there was a family owned restaurant called Lui's Kitchen that made delicious food. Their Sweet and Sour Chicken was my favorite. Today chow mein and orange chicken from Panda Express are where it's at.
However, due to my daughter's nut allergy, we only go when she's otherwise occupied for meal times. How sad is that?!
Even then it's not worth the risk. Once I kissed her cheek after eating Kung Pao (with peanuts!) and worried for hours that it would harm her.
So, instead of indulging ourselves with Panda, I'm learning to make my own Chinese food at home! Not only is it absolutely safe for my daughter to enjoy, but it's also cheaper! Even dining out on a budget, it can still be pretty pricey!
I've had to do a fair amount of experimenting to get it to the point that my family enjoys it as much as they do takeout. This Vegetable Chow Mein is one of the winners. We even had it for Chinese New Year recently.
What noodles are best for vegetable chow mein?
I tried several different recipes I found online, did some tweaking, and found that we prefer this combination over the dozens of others that crossed my path. After spending big bucks over the years on different kinds of noodles, turns out that angel hair pasta is the people's choice.
Traditional chow mein uses an egg noodle, but my people said this tastes most like Panda. Go figure.
I love it that it's really a simple dish with ingredients that I can easily keep on hand all the time. Cabbage keeps well for a long time and it often goes on sale throughout the year, so keep an eye open for it. I hope you love this chow mein as much as we do!
What ingredients do you need to make this chow mein recipe?
Avocado Oil (but you can use another neutral tasting oil)
Sesame Oil
Onion
Celery
Coleslaw Mix
Angel Hair Pasta
Soy Sauce
Brown Sugar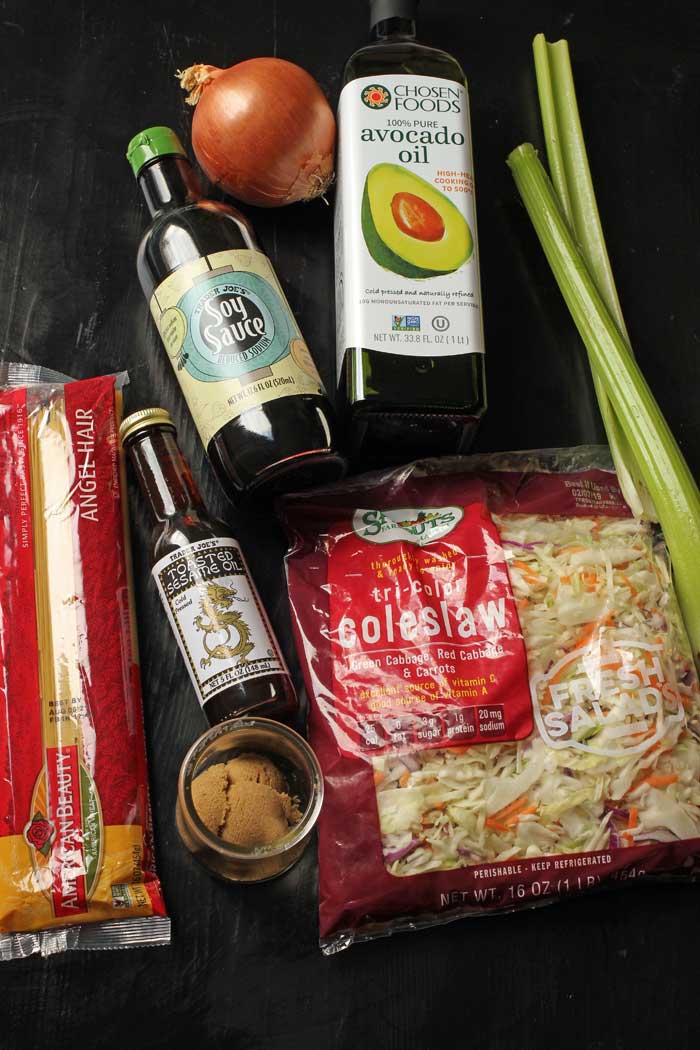 What is chow mein made of?
Chow mein is a Chinese-American dish of stir-fried noodles, meat, and vegetables.
This particular vegetable chow mein recipe contains all easy to find ingredients: angel hair pasta, cole slaw mix, onion, celery, avocado oil (you can use whatever neutral cooking oil you normally use), soy sauce, sesame oil, and brown sugar.
What is the difference between chow mein and lo mein?
Chow mein is made with stir-fried noodles while lo mein is made with boiled noodles, tossed with stir-fried ingredients.
Is this authentic chow mein?
I think this is a trick question. I've looked at lots of different recipes for chow mein and few of them resemble what I've had at Chinese-American restaurants. Technically, this recipe is lo mein, but no one calls it that. You know what I mean?
Over the years, I've tried several different kinds of noodles, spending big bucks to buy the special noodles from the Asian food aisle, and consistently, my family says they like this version best AND that this version tastes most like their favorite take-out, Panda Express.
If you're looking for a Panda Express copycat, then this recipe is for you!
Can you freeze chow mein noodles?
You absolutely can! It makes for a great freezer friendly dinner, especially when you serve these with potstickers.
You can freeze this chow mein in your freezer for several months. Then thaw in the refrigerator and reheat in a wok or skillet. If it's dried out, you can add extra sauce.
What other vegetables can you add to this vegetable chow mein recipe?
You can definitely jazz up this chow mein with more vegetables. Here are a few ideas:
snap peas
bell peppers
mushrooms
green onions
bok choy
broccoli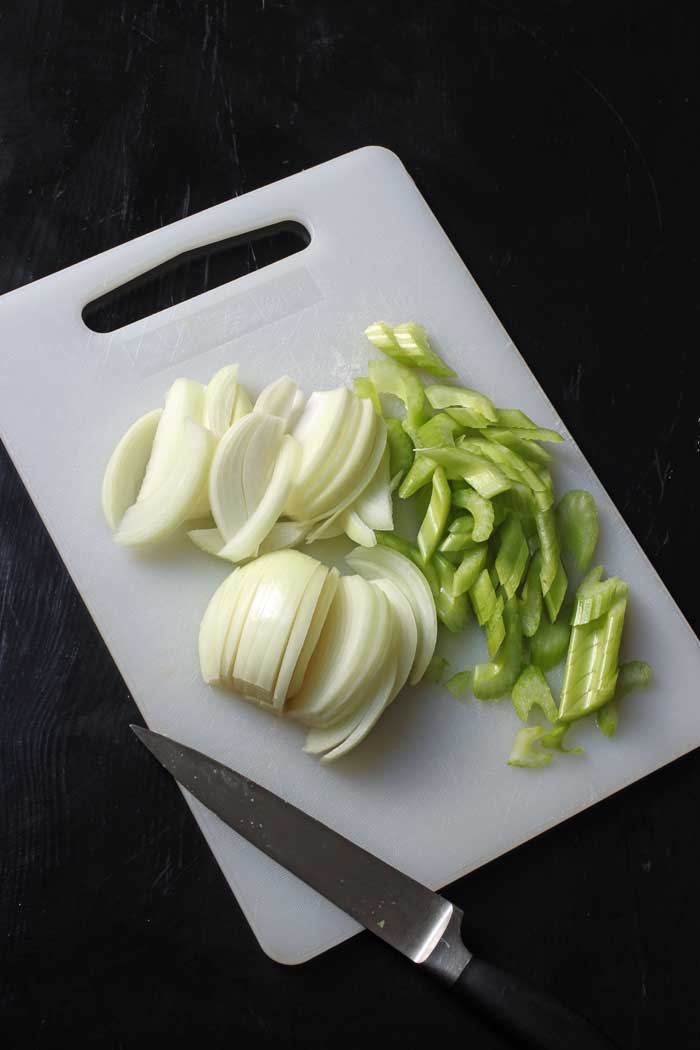 How do you make chow mein?
I'm a firm believer in assembling all your ingredients before you start. In this way, you can make sure you have everything you need and avoid getting halfway through only to find out you're missing a crucial ingredient.
Not that that has ever happened to me before. Ahem.
I also like getting all the chopping and slicing out of the way. You'll notice that the onion is cut in half and then sliced from blossom to stem end.
Cut the celery ribs at a diagonal angle. This increases the surface area of the celery pieces and helps them cook faster.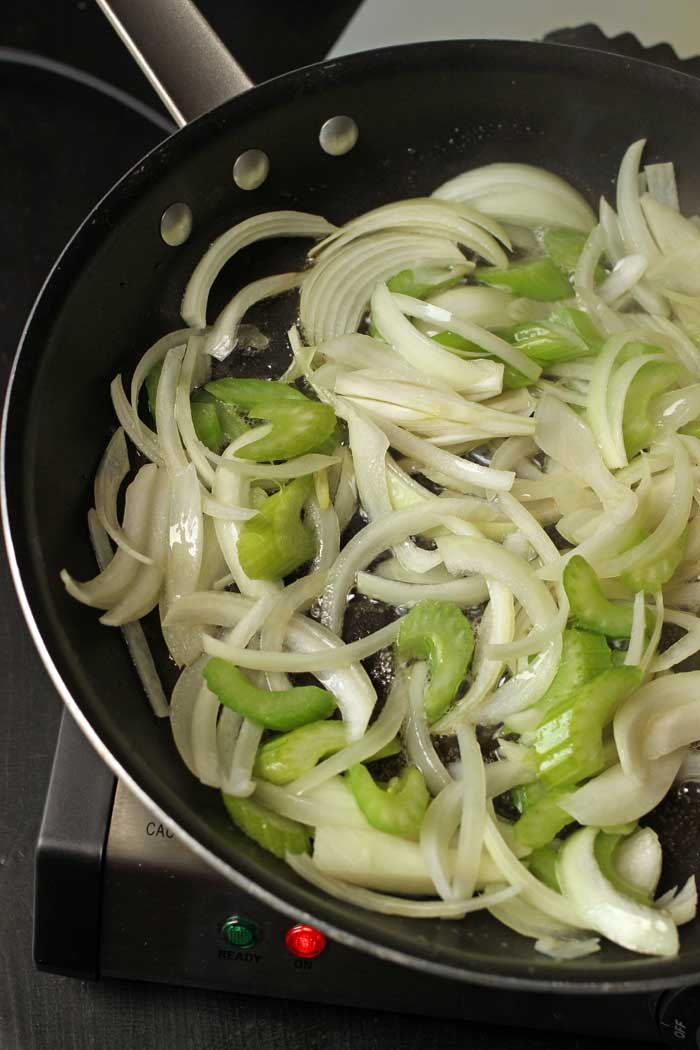 Heat the oil in a skillet and cook the celery and onion until the vegetables are tender, about 3 to 5 minutes.
Then add in the cole slaw mix.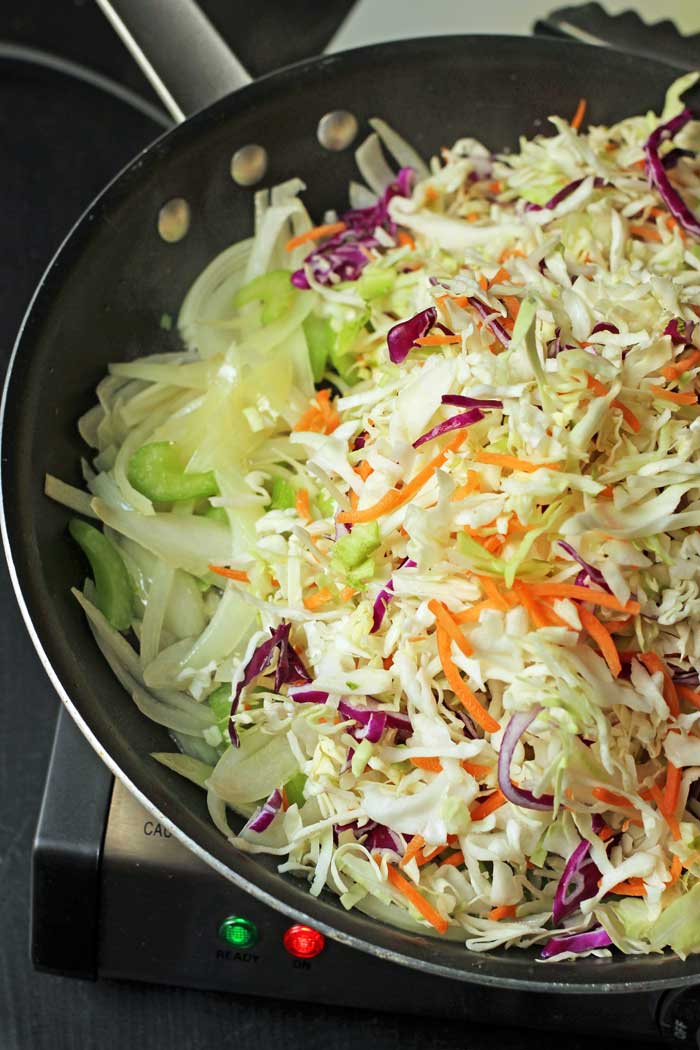 You don't have to use cole slaw mix, you can chop cabbage and shred carrots, but I find that these pre-prepped bags are super easy and cheap.
Don't worry if yours has purple cabbage or not — some do, some don't — I like the color, but to be honest, I don't think purple cabbage is traditional for chow mein.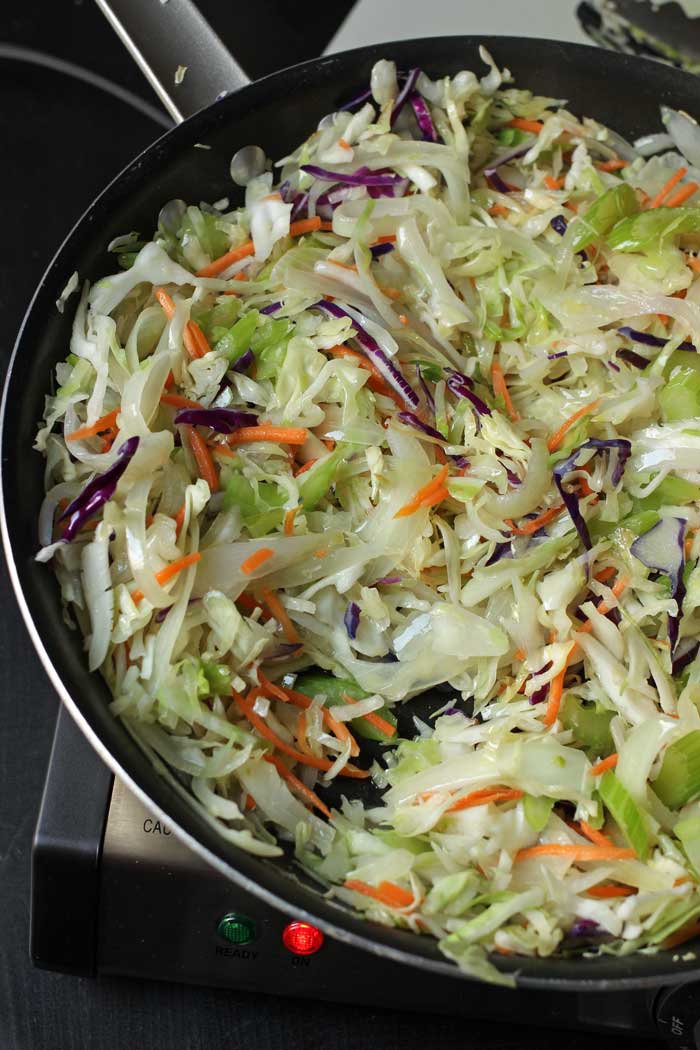 When you first add the cole slaw mix your skillet will likely overflow. Don't worry. Cabbage cooks down pretty quickly and "wilts" so that it looks like you have a lot less than you started with.
While the veggies are cooking in the skillet, boil the noodles just until al dente. They're going to cook more when you add the vegetables and sauces, so don't worry if they are slightly underdone.
Better than being mushy, I always say.
Once the noodles have cooked, return them to their pot and add the vegetables and sauce (soy sauce mixed with brown sugar). Cook over medium heat, tossing and mixing everything together.
You want to distribute the sauce and the veggies in and amid all the noodles. This may take some maneuvering, but it's worth it!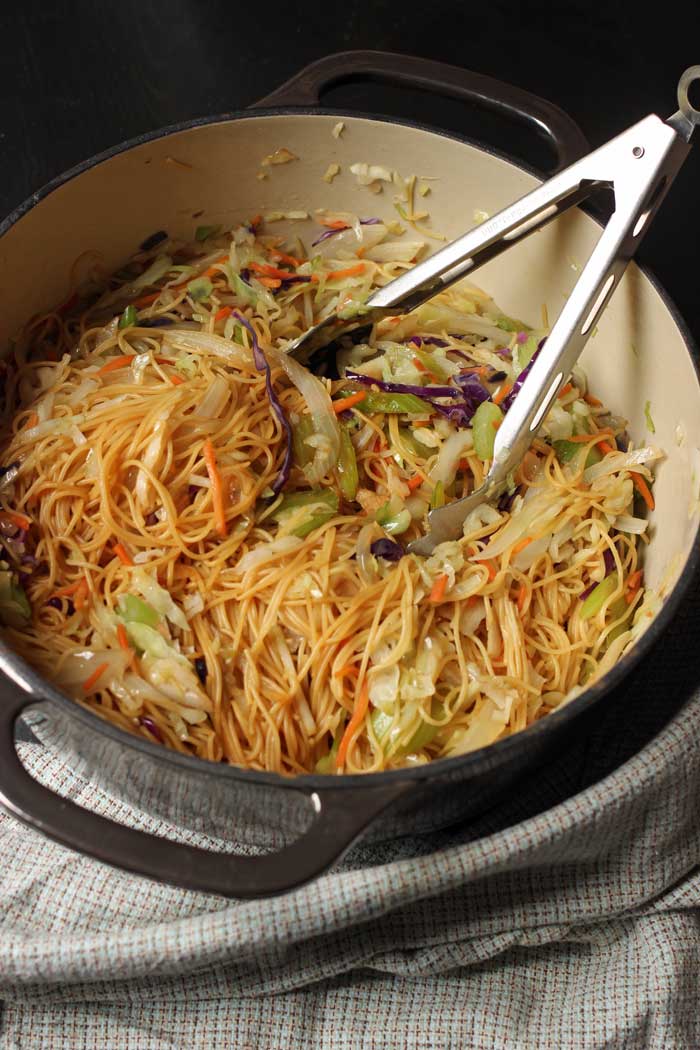 How to make this good and cheap:
Here are some of the strategies you can use to make this recipe more economical:
Stock up on ingredients when they are on sale. For instance, when I see a great price on pasta, I stock up and plan my meals around noodles.
Compare prices. Keeping a price book is helpful so that I can know a good deal (for sure) when I see it. For instance, Trader Joe's is the best place for me to buy sesame oil and soy sauce.
Snatching up manager specials. Cole slaw mix is regularly marked down at my store, making it even cheaper than it normally is.
How I make this recipe easy:
Having the right kitchen tools can really make your time in the kitchen more enjoyable. Over time, I've honed my collection so that they are perfect for my needs. Here are the tools that I use for this recipe: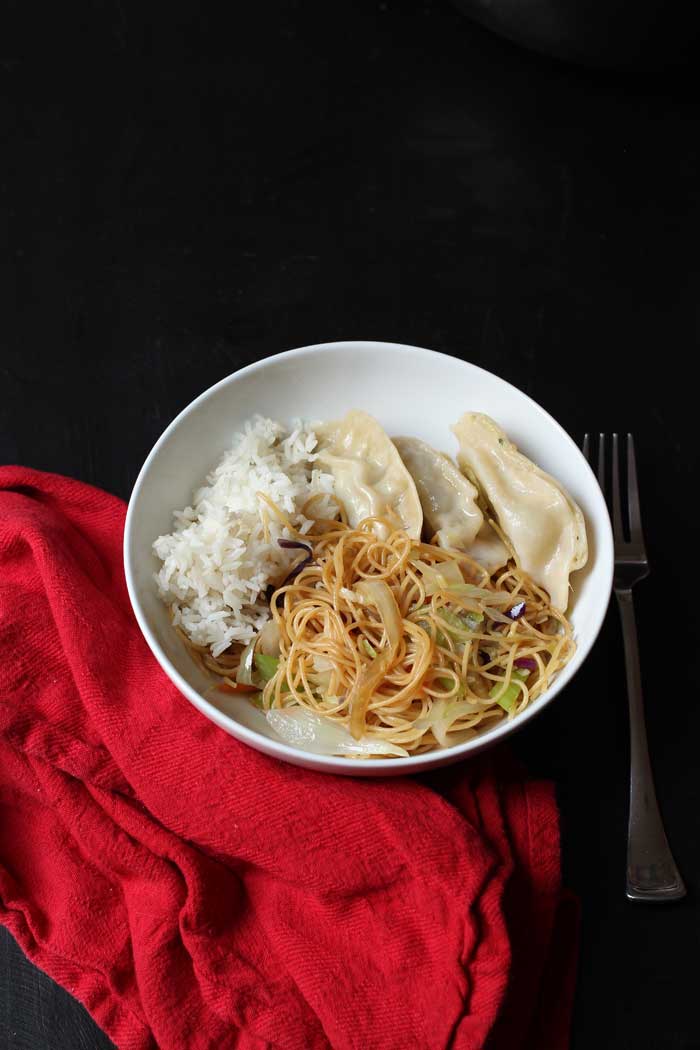 Homemade Vegetable Chow Mein
Have a hankering for Chinese take-out tonight? Mix up a batch of this Homemade Vegetable Chow Mein. You'll enjoy a great dish and save some money, too!
Ingredients
3

tablespoon

neutral oil

2

teaspoon

sesame oil

1

onion

sliced

2

rib

celery

sliced on the diagonal

1

16-ounce package

cole slaw mix

1

lb

angel hair pasta

½

cup

soy sauce

2

tablespoon

brown sugar
Instructions
In a large skillet, heat the oils until shimmering. Add the onion and celery and cook, stirring, until tender, about 3 to 5 minutes.

Add the cole slaw mix, and continue to cook, stirring, until the cabbage is wilted and the onions have started to turn clear, about 5 to 7 minutes more.

Cook the pasta in a large pot of boiling salted water. Cook just until al dente.

Meanwhile, combine the soy sauce and the brown sugar in a small dish, and stir until the brown sugar is dissolved.

Rinse and drain the pasta and return it to the pot on low. Add the soy sauce mixture and the sautéed vegetables. Cook, tossing to combine the noodles with the soy sauce and vegetables. Serve immediately.
Notes
Note: leftovers are good for up to 4 days in the refrigerator.
Nutrition
Calories:
305
kcal
|
Carbohydrates:
50
g
|
Protein:
9
g
|
Fat:
7
g
|
Sodium:
825
mg
|
Potassium:
273
mg
|
Fiber:
3
g
|
Sugar:
7
g
|
Vitamin A:
55
IU
|
Vitamin C:
21.8
mg
|
Calcium:
43
mg
|
Iron:
1.4
mg