Make it a fake-out night with this Simple Chicken Stir-Fry and Vegetables. This one-dish dinner comes together quickly with chicken, mushrooms, onions, peppers, and cabbage.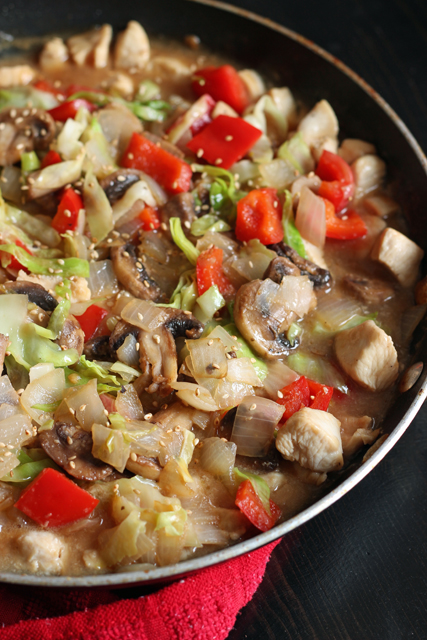 When I was a child, my family would go out to eat on a weekly basis. In our (then) tiny little Santa Clarita Valley, there were few chain restaurants; most dining establishments were locally owned and family-run. Dad would often decide that we were going to Lui's Chinese Kitchen for dinner.
It seems we were always waiting in restaurants — hungry. At Lui's they would bring you a pot of tea — with real leaves — and a bowl of chow mien noodles. It was all we knew of Chinese food, but we loved it. We would choose two or three different entrees as well as both kinds of rice. My mouth is watering, just thinking about it.
Chinese food, at least American-Chinese food, has always been a favorite of mine. Thanks to peanut and walnut allergies in our family, we don't risk getting Chinese take-out anymore, but we still love to eat it. Slowly, I'm developing my repertoire for making it at home.
This dish is super easy quick to prepare. If you've got a rice cooker, get it going. I find that it takes the rice-making procedure off my hands and out of mind. I set it and forget it and then move on to other things. Like the chicken and vegetables! From start to finish it should take you less than 30 minutes — and it will be delicious.
I use mushrooms and red bell peppers because I like those vegetables. Feel free to switch things around if you like. You can also use pea pods, bean sprouts, thinly sliced carrot, or broccoli. Go with what you got.
Keep an eye out for sales on cabbage in the next week or two. Cabbage isn't just for corned beef! March is a great month for stir-fries.
Simple Chicken Stir Fry with Vegetables
Simple Chicken Stir-Fry and Vegetables is a one-dish dinner that comes together quickly with chicken, mushrooms, onions, peppers, and cabbage.

Preparation Time:25 minutes
Cook time:15 minutes
Total time:25 minutes
serves 6
Ingredients:
2 tablespoons soy sauce

2 tablespoons cornstarch

2 tablespoons cooking sherry

1/2 cup plus 1 tablespoon chicken broth

2 pounds boneless, skinless chicken, chopped

freshly ground black pepper

2 tablespoons vegetable oil

1 cup sliced mushrooms

1 red bell pepper, chopped

1 medium onion, chopped

1 cup shredded cabbage

1 tablespoon fish sauce

1 tablespoon sesame oil

toasted sesame seeds for sprinkling

hot cooked rice, for serving
Instructions:

In a large mixing bowl, combine 1 tablespoon EACH of the soy sauce, cornstarch, cooking sherry and chicken broth. Add the chicken to the bowl. Stir gently and season to taste with black pepper. Set aside.
In a large nonstick skillet heat the vegetable oil until shimmering. Add the mushrooms, pepper, and onion, and cook until the vegetables are tender and starting to brown slightly, about 7 minutes. Add the cabbage in the last minute of cooking and cook until just wilted. Remove the vegetable mixture to a dish and tent with foil to keep warm.
Add the chicken and accumulated juices to the skillet and cook until the chicken is cooked through, about 5 minutes.
In a small mixing bowl, combine the 1/2 cup chicken broth, the fish sauce, the sesame oil, and the remaining tablespoons of soy sauce, cornstarch, and sherry. Blend this cooking sauce well and add it to the skillet with the chicken. Simmer until thickened, about two minutes. Stir the vegetables back into the mixture. Serve over hot cooked rice.
Tools I use for this recipe:
Black and Decker rice cooker
Ergo Chef chef's knife
nonstick skillet
Ergo Chef cooking tongs
*