The chill of fall is a call to cozy breakfasts. Check out these great morning meals, including a recipe for Raspberry Cornmeal Breakfast Cake.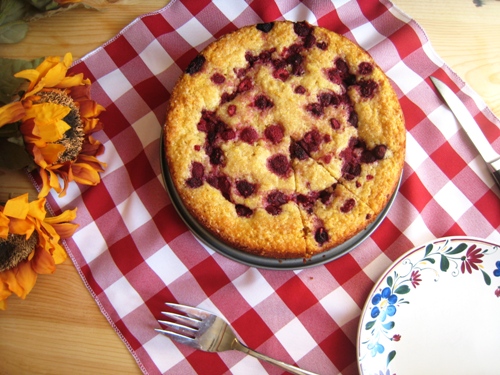 Fall is supposed to be a little chilly. Fall started over the weekend. San Diego didn't get the menu.
Oh, we've had a chilly morning or two, but the afternoons have been warm. I don't think fall weather will arrive until Christmas. Thanks okay. I'll just pretend.
Whether or not you have true autumnal temperatures where you live, the shortening of the days, the lengthening of the nights, and the increasing chill in the air do make us want a cozy breakfast. Am I right?
Here are five great breakfast to enjoy this fall. They are some of our favorites. Keep scrolling for a new recipe, too.
I can't stand oatmeal that drips. I've witnessed friends order oatmeal at restaurants and I've wondered if that is really how folks make oatmeal. 'Cause that's not how I make oatmeal.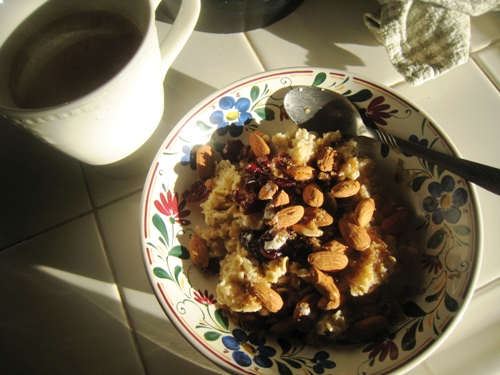 Mine has texture, almost like rice. It's definitely not mushy. We like it with brown sugar, dried cranberries, and nuts. Oh, and a drizzle of cream. Some of us might even add a few chocolate chips.
Want Not Mushy Oatmeal? Yes, I'm sure you do.
Eggs poached on a bed of spinach and leeks? Yes, please.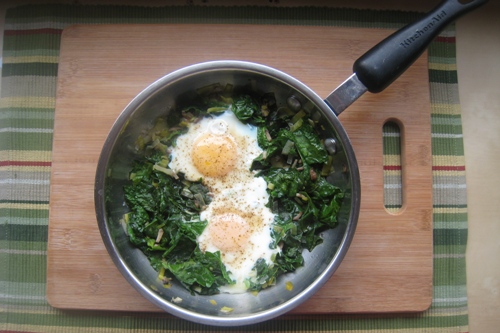 I've been counting the days until hearty spinach and leeks fill our produce box. This breakfast is sooo amazingly good. I'm going to try it with arugula this week. Skillet poached eggs with greens? Fabulous.
Raspberry or Apple Oatcakes
My kids are not big on the baked oatmeal in a large pan. But, when I made individual oat cakes? They disappeared.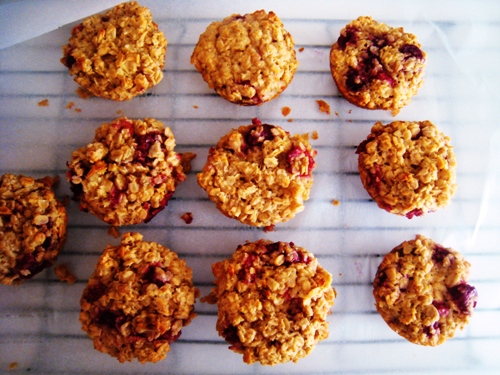 I've made these with raspberries as well as apples. I've baked them the morning of serving or frozen them to enjoy a different day. Any and every which way, my kids love these. Follow this recipe for Cinnamon Apple Oat Cakes. Sub whatever fruit you want, like berries, for the chopped apple if you want to switch things up.
When I lived in France, one of my favorite breakfasts to buy at the boulangerie on my way to the bus stop was a chausson aux pommes, the equivalent of an apple turnover.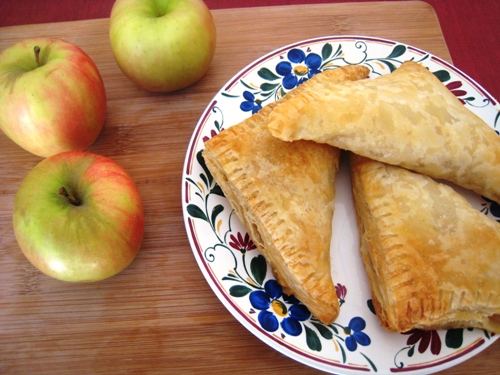 These Apple Turnovers are just as easy, if not moreso, than a walk to the corner bakery. I found puff pastry in the $4 range at Walmart recently which is a good price point to shoot for.
Raspberry Cornmeal Breakfast Cake
This cake is an easy adaptation of cornbread. A smattering of raspberries and a sprinkling of turbinado sugar make it a little more fanciful for those fall mornings when you need a little pick-me-up. Make the mix in advance so that mixing this up in the morning can be done lickety-split.
While we tend to associate berries with summertime, some varieties of raspberries are actually in season in the fall. Feel free to use frozen if you can't find fresh or substitute a different type of fruit.
Raspberry Cornmeal Breakfast Cake
The chill of fall is a call to cozy breakfasts. Check out these great morning meals, including a recipe for Raspberry Cornmeal Breakfast Cake.
Ingredients
1

cup

plain Greek yogurt

1/2

cup

neutral oil

2

egg

1/4

cup

milk

1/2

cup

cornmeal

1 1/2

cup

whole wheat pastry flour

1/2

cup

granulated sugar

1

tbsp

baking powder

1/2

tsp

salt

1

cup

raspberries

frozen is okay, do not thaw

1

tbsp

demerara sugar
Instructions
Preheat the oven to 350°. Grease an 9-inch springform baking pan.

In a large mixing bowl combine the yogurt, oil, eggs, and milk. Whisk to blend.

Add the cornmeal, the flours, sugar, baking powder, and salt. Mix well. Pour batter into prepared pan.

Sprinkle raspberries and sugar over the top of the batter.

Bake for about 38 to 40 minutes or until golden and a tester inserted comes out with a few crumbs attached.
Notes
Promptly store leftovers in an airtight container in the refrigerator, for up to 3 days.
Nutritional values are approximate and based on 1/8 the cake.
Nutrition
Calories:
341
kcal
|
Carbohydrates:
42
g
|
Protein:
7
g
|
Fat:
18
g
|
Saturated Fat:
2
g
|
Cholesterol:
46
mg
|
Sodium:
181
mg
|
Potassium:
361
mg
|
Fiber:
4
g
|
Sugar:
17
g
|
Vitamin A:
102
IU
|
Vitamin C:
4
mg
|
Calcium:
128
mg
|
Iron:
2
mg