Are you hosting a holiday brunch this season? Feeling a little overwhelmed. Here's the 411 on how to make it simple as well as delicious.
With the winter holidays ahead of us, we're in for a ton of fun. Or stress, depending on where you fall on the Holiday Planning Continuum.
Not on the organized and carefree side of that spectrum? No worries! I've got you covered. Let's do brunch, shall we?
Brunch is the best meal to play hostess to. You get people at the start of the day. There's no need for babysitters. And from a financial stand point, you can go cheap because it is a breakfast/lunch smash-up and not a multi-course meal featuring caviar and champagne.

Tips for Hosting a Holiday Brunch on a Budget
So, let's get to the tips! How can you make hosting a holiday brunch as easy as falling out of bed?
1. Choose a flexible, make-ahead menu.
Brunch should be a relaxing, hearty affair without too much last-minute hassle on your end. Choose a menu that's flexible, i.e. is freezer friendly or can easily be made the night before.
Ideally, go for food that isn't complicated to keep hot/cold. For instance, most egg dishes are good warm. Charcuterie and cheese platters are good for a couple hours without having to put them back under refrigeration.
Some of my favorite brunch dishes include:

2. Create a prep timeline.
If you do need to do some baking the day of serving, create a prep timeline, starting at serving time and working your way backward.
If you want to serve brunch at 10:30 and the casserole takes an hour to bake, you need to be ready to put it in the oven by 9:15.
Go through your entire menu, analyzing what can be prepped in advance and how far ahead you can do so.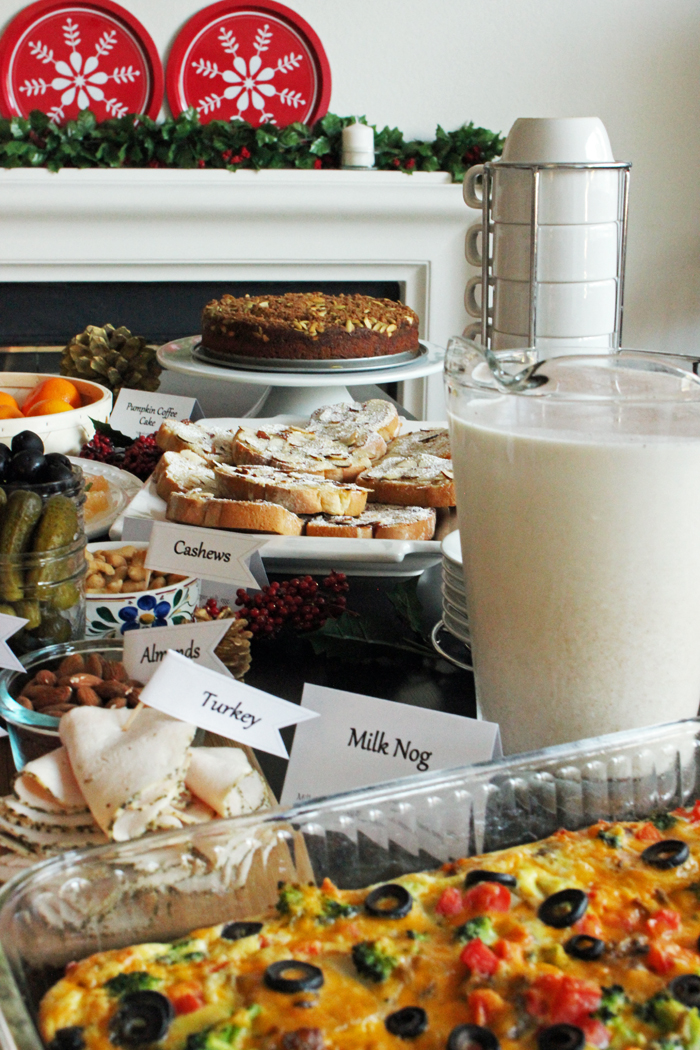 3. Label the dishes for ease of serving.
If you've got a large crowd, consider labeling all the dishes with their recipe names as well as basic ingredients. The folks at your table will so appreciate the heads-up regarding potential allergens and ingredients they might be avoiding.
4. Offer something for everyone.
While your menu can't possibly be everyone's favorite, make sure that you've got some vegan, paleo, nut-safe options in the midst. It's so much more fun for your guests to enjoy the event without worrying about what they can eat.

5. Get up early.
I know, you've got it all under control. You do! However, experience has taught me that one really can't start prepping too early for a holiday event.
If you do finish early, you can enjoy a second cup of coffee by the fire before the company arrives. So much better than scrambling at the last minute and having folks waiting around awkwardly.
6. Enjoy it!
Hopefully, you've invited people that you truly want to spend time with. Don't fret too much about the food.
What are YOUR favorite tips for hosting a holiday brunch?