The basic quiche recipe is not complicated. Eggs and cream form a luscious custard that you pour into a pie crust and customize with your favorite fillings. Learn the basics to your classic quiche recipe.
Quiche is one of our favorite Homemade Pies to make for supper. It can easily be customized to whatever you have on hand. Love eggs? Got extras? Be sure to check out our recipes for what to make with eggs.
As you may know, I was a fan of France long before I ever set foot in Charles de Gaulle airport. Ever since I was a little girl, I was fascinated by la belle France. I really don't have a good explanation for it, but there it is. Color me a francophile.
So, it was no surprise that when my mom's friend Rita introduced us to quiche, that I was all over it. Didn't matter if it looked like weird spelling, I was smitten.
I was probably ten at the time. Rita was doing some freezer cooking back in the days before it was a pinterest sensation. It was 1982, after all. She gave our family several dishes for the freezer; I'm not really sure about the occasion, but I was more than happy to have lasagna and quiche at our disposal. Rita was an excellent cook!
I can still picture the recipe card, written in Rita's handwriting on a 3×5 index card. That's how we shared recipes back in the dark ages, by the way.
I've tweaked Rita's Basic Quiche Recipe over the years with all kinds of mix-ins, but the basics remain the same: foolproof and delicious.
One of the beauties of the quiche is that it seems all fancy and elegant, but it's a very basic method that you can dress up with whatever you have on hand. It's really the perfect recipe for a pantry challenge or whenever you need to use up little bits of random leftovers.
Last week during my freezer cooking, I threw together three quiche for the freezer, using up little bits of what I had left from other recipes: shredded cheese, crumbled bacon, diced ham, chopped spinach. Voila. Awesomeness in one small storage space without a ton of work.
If you're looking to up your game in the quiche department — and I highly recommend that you do — consider these quiche recipe basics so that you can make quiche any night without much hassle or fuss: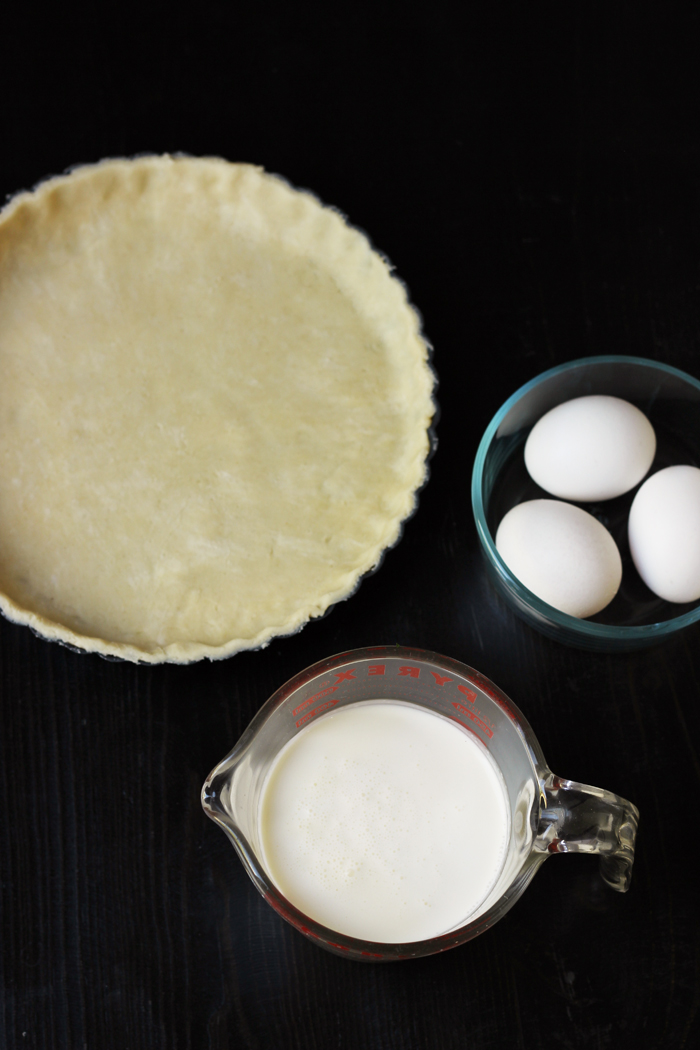 Quiche Recipe Basics
Quiche Recipe Ingredients
There are a few basic ingredients that you'll need for your quiche recipe:
a great pie crust – I typically rely on Gramma John's Pie Crust recipe. It's quick to make and easy to remember.
the custard filling – My basic quiche recipe includes 3 eggs, and 1 ½ cups cream or half and half. You can use milk but it tends to make the custard a little watery. Go for the gusto with cream or half and half. Or at the very least whole milk. Nonfat just won't cut it.
(For those of you outside the US, half and half is equal parts cream and whole milk.)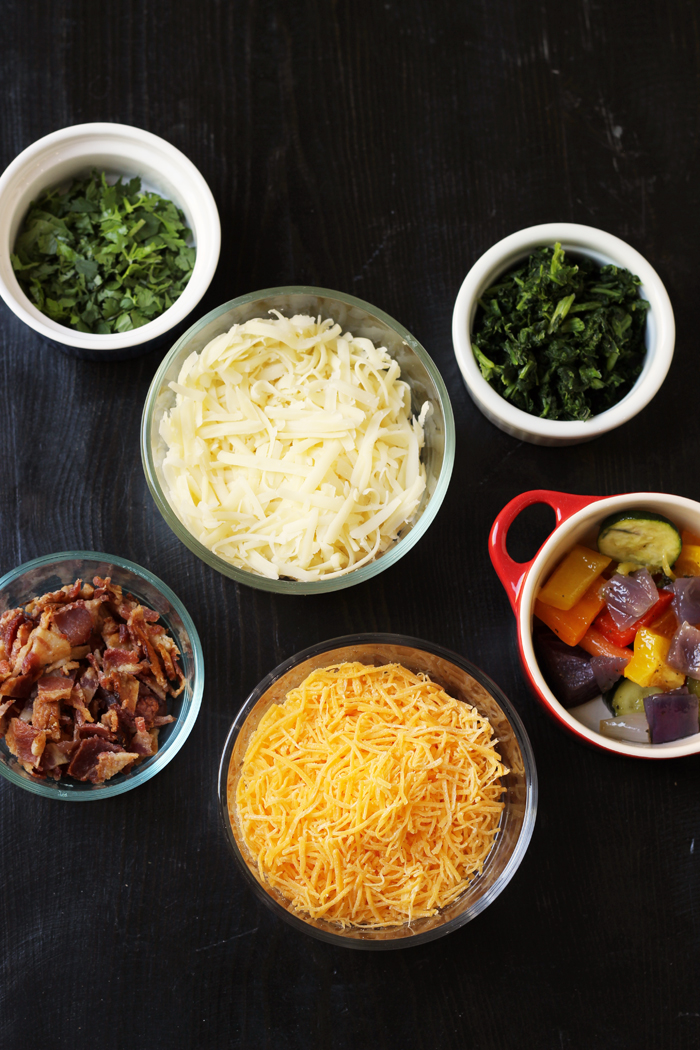 After you've got your basic custard filling, you'll want some fillings of meat, cheeses and vegetables. Obviously, go with what sounds good, but consider these options for a starting point:
meats – ham, bacon, shrimp, crab meat
cheeses – cheddar, swiss, crumbled feta or goat cheese
vegetables – sauteed or roasted artichoke hearts, asparagus, broccoli, chiles, corn, greens, leeks, mushrooms, onions, peppers, potatoes, shallots, spinach, zucchini
fresh or dried herbs and spices – basil, cilantro, cumin, nutmeg, parsley are just a few choices
Again, this is all very forgiving. Try different combinations, but especially use up what you've got. Aside from the pastry, eggs, and cream, you only need little bits of different items. Mix and match as you like!
Quiche Recipe Tools
Some folks think you can only make quiche if you have a quiche pan. That's not really true. I have one quiche pan, but we're a two-quiche family, so I use pie plates as well. It really doesn't matter what kind of pan you use, unless you want the fancy presentation of serving the quiche out of the pan.
Tools I use to make this EASY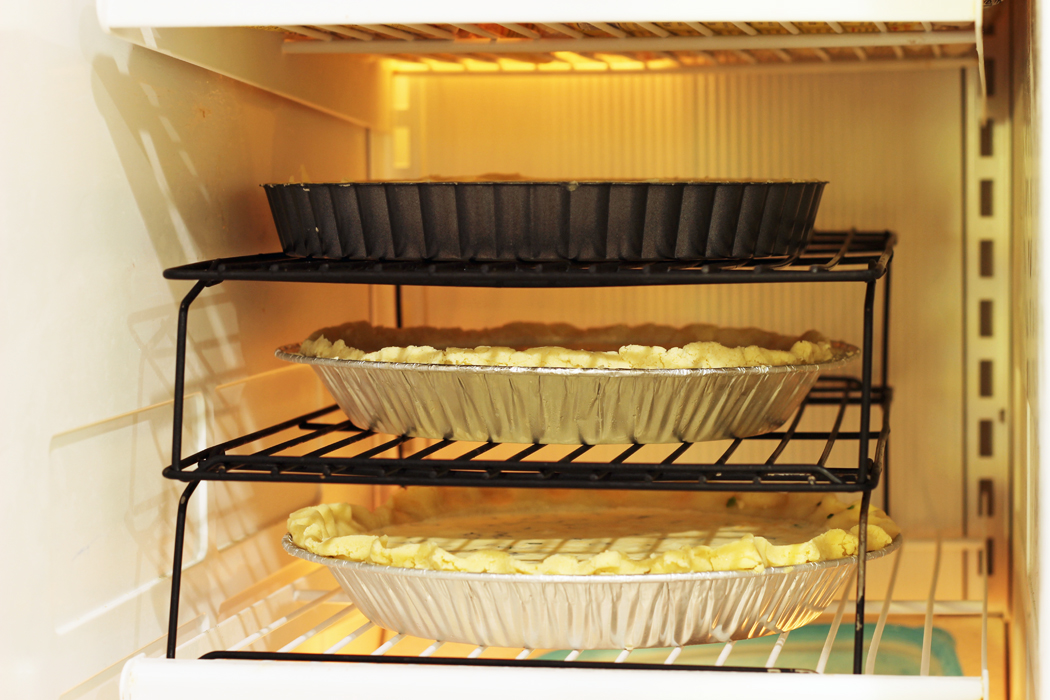 Quiche Recipe Freezing Tips
Yes, you can freeze quiche! Once you have prepared your basic quiche recipe, you can bake it, of course, or freeze it unbaked to bake at a later date. One great part about freezing quiche is that it is one of those freezer recipes you don't have to thaw before baking. Boom.
Assemble the quiche and then lay it flat in the freezer to "open freeze". Once the filling is solid, wrap it securely with aluminum foil and slip it into a ziptop freezer bag. When you're ready to bake, just remove the wrappings and slide it into the preheated oven.
Basic Quiche Recipe
The basic quiche recipe is not complicated. Eggs and cream form a luscious custard that you pour into a pie crust and customize with your favorite fillings. Learn the basics to your classic quiche recipe.
Ingredients
1

batch

single pie crust

4

oz

diced ham

cooked bacon can also be used

4

oz

cheddar cheese (shredded)

(1 cup) can also use Swiss, jack, etc.

⅛

head

broccoli

cut into ¼ cup very small florets, cooked, can also use spinach or other cooked vegetables

3

egg

beaten

1 ½

cup

whipping cream

or half and half

salt

black pepper
Instructions
Preheat the oven to 350 degrees. Place a pie or quiche pan on a small baking sheet to make it easier to handle and to catch the drips. Lay the prepared pie crust into the quiche pan and trim the edges.

Layer the meat, cheese, and/or vegetable fillings in the bottom of the prepared pan.

In a large mixing bowl, combine the eggs and cream. Season to taste with salt and pepper. Pour this mixture over the fillings in the pie shell. (This is the point at which you could freeze it, if making it in advance. Lay the pie plate on a rack in the freezer until firm. Wrap tightly with foil and place inside a labeled, ziptop freezer bag.)

Bake the quiche for 30 to 40 minutes or until set and golden. Allow to cool slightly before serving. (If baking from frozen, there's no need to thaw. Just add 5 to 10 minutes to your baking time.)
Notes
Nutritional values may vary based on ingredients used. Calculations based on ham, broccoli, cheddar, etc.  Refrigerate leftovers promptly and use within 4 days.
Nutrition
Calories:
336
kcal
|
Carbohydrates:
12
g
|
Protein:
10
g
|
Fat:
27
g
|
Saturated Fat:
15
g
|
Cholesterol:
140
mg
|
Sodium:
398
mg
|
Potassium:
152
mg
|
Fiber:
1
g
|
Sugar:
1
g
|
Vitamin A:
876
IU
|
Vitamin C:
10
mg
|
Calcium:
117
mg
|
Iron:
1
mg
Tried this Recipe? Tell us what you think!
Your reviews help us develop better recipes and give newcomers the confidence to try your favorites. Scroll down to leave a starred comment.
That's really all there is to a Quiche Recipe!
Still want more exact proportions for making quiche? Check out these recipes: