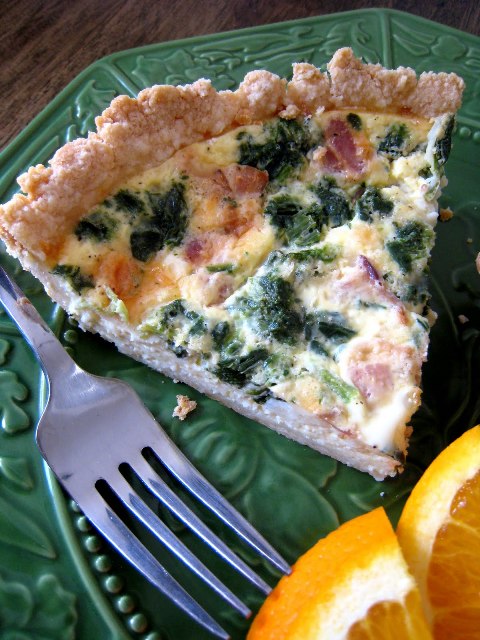 Quiche is one of my favorite egg dishes. Granted, it feels a little decadent with the pie crust and all. But, it's sooooo yummy! Years ago a friend of my mom's introduced us to quiche. (I hadn't yet made it to France.) In 1982 it was kind of a novelty at our house. Her recipe was so easy, especially since it used milk instead of cream and you could vary the ingredients to suit whatever you have in the cupboard. Here I've tweaked it so that you can have bacon and spinach – a delicious combination.
Recently I made several of these to freeze unbaked. It's a little tricky as you want to get the pie in the freezer so that it can lie flat until it freezes solid. Then rewrap it more tightly and return to the freezer. I like to wrap with foil and then place in a freezer bag. To bake after freezing, thaw completely and then bake according to directions below.
Recipe: Bacon and Spinach Quiche
Ingredients
1/4 pound grated Swiss cheese (about 1 cup)
1/2 cup chopped frozen spinach, thawed and squeezed dry
2 Tablespoons crisp, crumbled bacon
3 eggs
1 1/2 cups milk or cream
1/8 teaspoon pepper
Instructions
Preheat oven to 350°. Sprinkle cheese, spinach and bacon in the bottom of unbaked pie shell. In mixing bowl, beat eggs. Stir in cream and pepper. Pour egg mixture into pie shell.
Bake for one hour or until knife inserted in center comes out clean.
To make as a freezer meal: Put the unbaked quiche in the freezer until frozen solid. Wrap well and label. Thaw completely before baking according to directions.