Homemade blended soups can be a delicious and economical way to get enough vegetables in your diet. They are also a great way to use up leftover vegetables.
Disclosure: 
I know, you think that Spring is here, and that you can put the soup pot away. I don't think so. Soup is good food!
And besides, it's still a bit nippy out there. Despite the fact that I live in balmy San Diego, balmy is relative. I'm currently wearing a sweatshirt, long pants, and fuzzy socks. The chill lingers.
Where's the soup?!
If you're in the mood for something light, but still warming, check out this Velvety Vegetable Soup. It can be made with whatever vegetables you have on hand, plus some spices and broth. It comes together in about 30 minutes, and even a school girl can make it.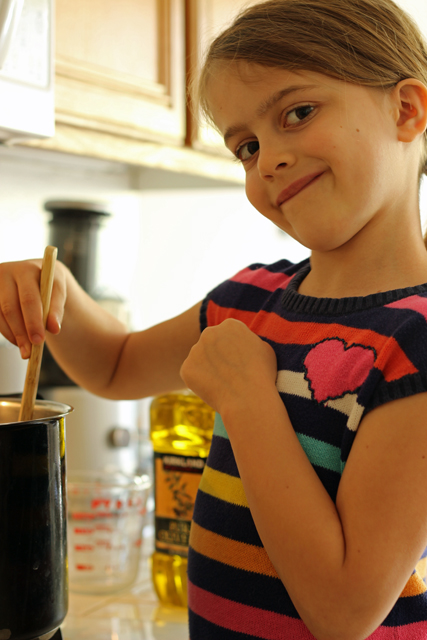 FishChick7 has been REALLY into cooking lately. So, every day this weekend I put her to work at the stove, with me standing by. She's the first child to be so persistent about learning to cook, so I'm rolling with it.
If you're not a huge fan of blended soups, I urge you to reconsider. I can never forget the time my husband and I were staying with my French family in Toulouse. They had gone to a work event and said they'd be back for supper. Unfortunately, they got held up and a few hours became most of the evening. I remembered that Michele had said she'd started a soup for supper. I was then completely unfamiliar with blended soups so when I saw a pot of broth with large chunks of vegetables floating, I was really confused. How was this soup?!
We ended up snacking on bread and cheese while we waited for our friends to return.
It was only later that I learned that she blended the soft cooked vegetables into the broth. What resulted was a velvety vegetable soup, much like this one. Serve it with bread and a salad and you've got a delicious meatless meal. Leftovers can be frozen up to 2 months.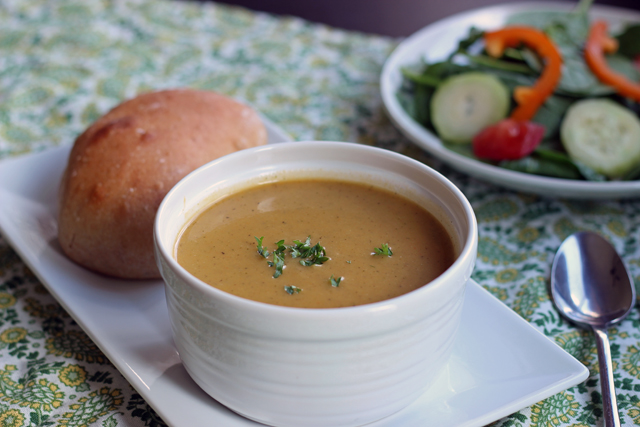 Since then I've been a HUGE fan of blended soups, particularly since I broke down and bought an immersion blender. That sucker is awesome. It is one of my kitchen must-haves.
This recipe is very forgiving. Like I said, use what you have, even if that's leftover veg from last night. If you're using already cooked vegetables, you'll be able to dramatically reduce your cooking time — and make great use of leftovers!
I've made this vegetable soup multiple times with a variety of vegetables and differing spices. I've added cream sometimes, or not. I've found that if I use a potato, it adds some creaminess without the extra fat. That's how I'm sharing the recipe today.
I used broccoli, potato, carrot, sweet potato, and celery in addition to the mushroom and onion, but remember you can use any vegetables. This is a great recipe for using up random bits. It's like a smoothie in soup form. And better than that just sounded. 😉
No matter how you make this soup, it's good food.
Recipe: Velvety Vegetable Soup
Ingredients
2 tablespoons olive oil
1/2 cup chopped onion
1/2 cup chopped mushroom
1 teaspoon garlic
4 cups chopped vegetables, such as potato, carrot, sweet potato, zucchini, celery, asparagus, green beans, rutabaga, broccoli, or cauliflower (and probably more that I'm forgetting)
4 cups vegetable broth (You can also use chicken broth or stock)
1/2 teaspoon dried thyme
1/4 teaspoon freshly ground black pepper
kosher salt to taste
Instructions
In a large stockpot heat the oil until shimmering. Add the onion, mushroom, and garlic, and saute five minutes over medium high heat.
Add the vegetables and saute another 3 minutes.
Stir in the broth, scraping up any browned bits. Add the thyme, pepper, and salt. Bring to a low boil. Reduce the heat to low and cover. Simmer for 30 minutes or until the vegetables are very tender. Remove from heat.
Blend the soup with an immersion blender or in batches in a food processor or countertop blender according to the manufacturer's directions (vent the lid!)
The soup can be cooled and packaged for freezing if you like. Chill well before placing it in the freezer. Store frozen, up to 2 months.
Preparation time: 10 minute(s)
Cooking time: 30 minute(s)
Number of servings (yield): 4
Tools to help you make great soup:
These are some of my favorite tools for making great vegetable soup:
What's your favorite kind of vegetable soup?
Disclosure: 

Make-ahead meals can make your month! Grab this month's meal plans to take it easy and enjoy great home-cooked meals.