An immersion blender is a super duper helper in the kitchen. Plus, it stores well.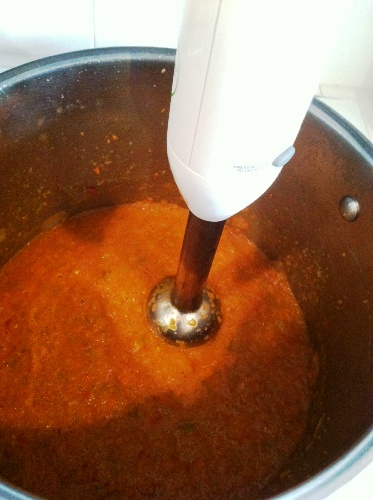 For years and years I scoffed at the immersion blender. Whatever the info-mercial promised, I wasn't interested in. I had a food processor. What more did I need?
Fast forward a few dozen years and I found myself recipe testing for my freezer cookbook. During bulk cooking sessions I found myself lugging out the food processor and all its parts to clean in order to purée a multitude of soups and sauces.
Since a freezer cooking session involves so many dishes, I was willing to do anything to reduce that load. Especially when I was bulk cooking on a weekly basis.
Enter the immersion blender, aka stick blender.
It was love at first soup. Not only did the immersion blender allow me to blend a soup without dirtying more dishes, it also did it lickety-split.
What previously was a 20-minute process that made a huge mess became a 5-minute breeze. A quick rinse of the wand in hot water and clean up was done, too.
If you make your own soups and sauces, you will appreciate the ease of use that an immersion blender provides. Plus, it compactly stores in a kitchen drawer, making it a perfect asset to a small kitchen.
In fact, you could easily use the immersion blender for smoothies and other drinks in place of a traditional one if storage space is at a premium.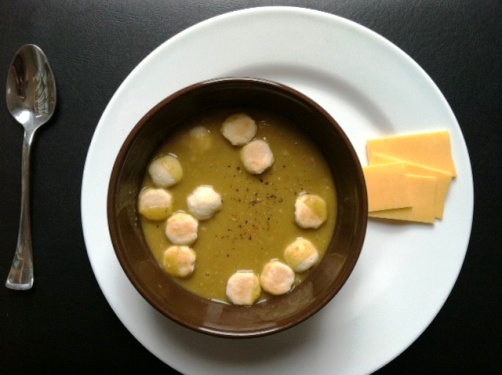 I've also used the immersion blender to disguise vegetables into tomato sauce before making chili or minestrone. That chili my family scarfed down? Yep, full of eggplant and summer squash. But no one knew because I blended it in the big metal soup pot. Bwahaha.
I use my stick blender for these favorite recipes:
and a myriad of random things that I want to disguise from my children
Buying an Immersion Blender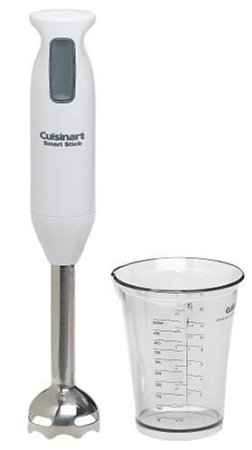 I bought mine, a Cuisinart Smart Stick on Amazon for about $20 a few years ago. I watched it for several weeks before I took the plunge. It has totally been worth the investment.
What's your experience with an immersion blender?
Love it or hate it? Do tell.
Disclosure: This post does include Amazon affiliate links. If you make a purchase through those links, I am paid a small amount in way of advertising fees.