While you can cook with just a hot plate and a knife, having a few small kitchen appliances can help you cook at home more easily and save you money.
I own fifteen small kitchen appliances. That's probably a lot by many standards. It's probably not what one would expect in a frugal kitchen.
But, here's the thing. I spend a lot of time in the kitchen and have learned at least one important thing:
Having the right tool for the job makes a huge difference.
Now, have I prepped meals with nothing more than a hot plate and a cheap knife I bought at the corner Monoprix? Yes, yes, I have.
My junior year in France was where I first started building my repertoire of recipes to cook at home in a closet-sized kitchen with just a hot plate and a knife. Since then our family has traveled for long periods away from home and away from my kitchen. I know that you don't need much to make great meals.
But, I've also learned that I am more likely to want to cook at home—and therefore save money—when I've got the right tools for the job. To that end, I shop around, compare prices, research my options, and then make sure that each small kitchen appliance I buy can prove its worth.
This year—the 26th since we got married and 11th since we got out of debt—has been the year to replace many of my favorite small kitchen appliances. Many have done their duty in the Good Cheap Eats kitchen for a decade or more.
As they've started to wear out, I've realized their value and often times replaced them with the exact same model. They were that suited for my purposes!
I bet you, too, with all the cooking at home this year, have learned which small kitchen appliances are worth it for you and which aren't. Here are mine.
Small Kitchen Appliances That Save Me Money
Alternate title: Small Kitchen Appliances I Wouldn't Want to Live Without.
Below you'll find my favorite kitchen tools as well as the specific model I own. If you'd like to jump to a specific one, you can do so here: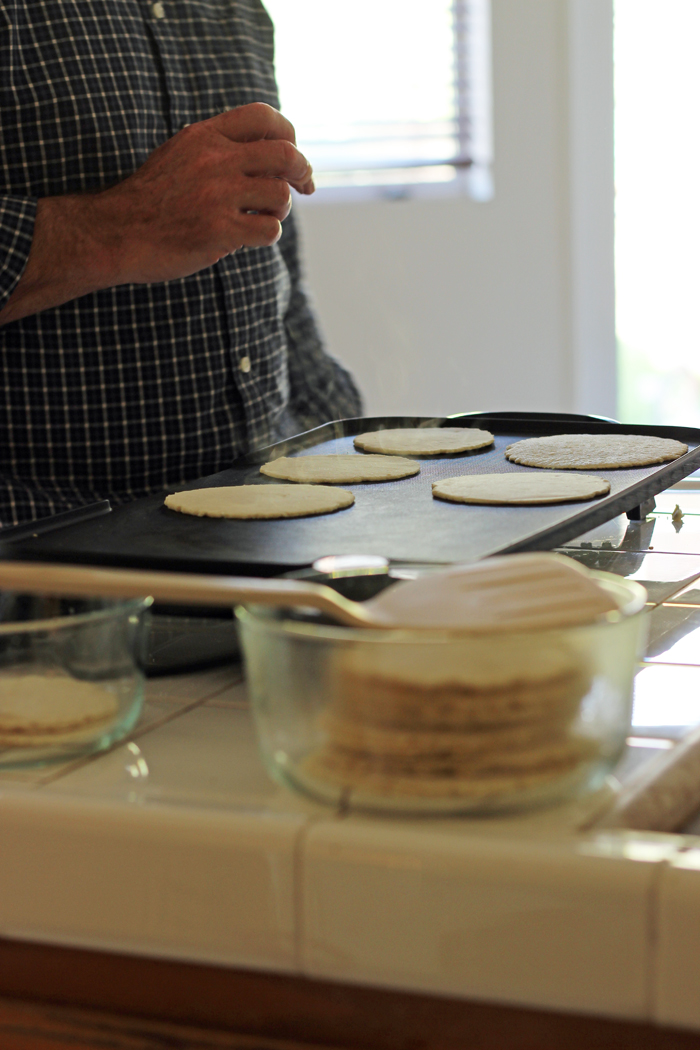 The Electric Griddle makes quick work of meal prep.
What is an electric griddle?
An electric griddle is just that, a long griddle that plugs into the electric socket instead of being heated on the stove.
Buying an electric griddle was my first foray in out-of-the-normal small kitchen appliances. My husband rolled his eyes when I came home with it, but he slowly came to see the light.
An electric griddle can cook up to 8 pancakes or tortillas as a time as well as multiple sandwiches or quesadillas. You can even cook a full breakfast on it, provided yours has a drip tray to catch grease.
Do you need an electric griddle?
You could use an electric griddle if you frequently cook things such as tortillas, pancakes, sandwiches, and quesadillas in large batches.
Do you need a lot of space for an electric griddle?
Maybe. There are some models that fold up or have removable sides so that the base unit is the same size as a cookie sheet. We store ours atop a cabinet out of the way, so it's not a big issue.
What's a good brand of griddle?
I have always had good success with the Presto brand. I just bought our third. Each of the previous have lasted 7-8 years. I just unboxed this Presto electric griddle this weekend.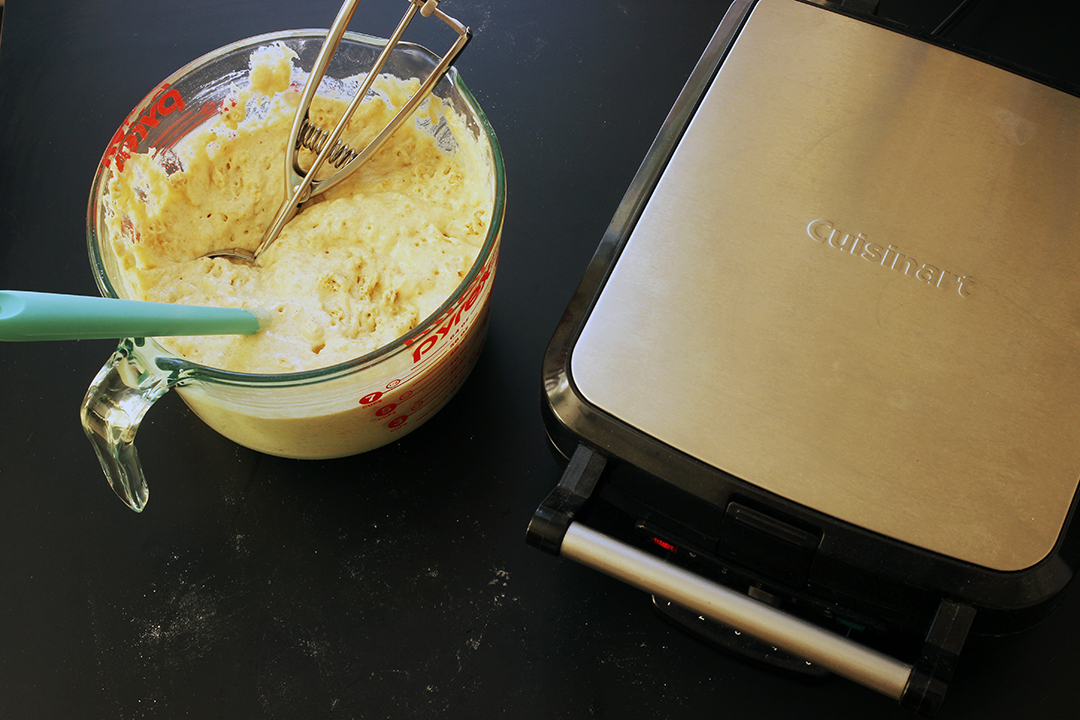 My Waffle Maker makes many people happy at once.
Waffles are fun food. Even when I sneak zucchini into the waffle batter. My kids have always loved waffles as a fancy breakfast with berries and whipped cream or an easy portable snack.
Having a large waffle maker means I can make many at one time, for batch cooking or simply to keep the masses happy.
What is a waffle maker?
A waffle maker is an electric contraption that cooks waffles, from 1 to 4 at a time. You pour the batter onto the bottom plate, close the lid, and the batter cooks in the shape of a waffle. They come in Belgian and traditional styles.
Some waffle makers do other things as well such as act as a griddle or panini press.
Do you need a waffle maker?
You only need a waffle maker if you enjoy eating waffles often. You can buy frozen waffles at the store if you're not into eating them on a regular basis.
Do you need a lot of space for a waffle maker?
Waffle makers range in size. Ours have always been small enough to fit in a cupboard. Often they will stand on their sides, allowing you to make use of vertical space.
What's a good brand of waffler maker?
We are on our second Cuisinart waffler that makes 4 large Belgian-style waffles. The first one lasted almost ten years. I just replaced it with this waffle iron.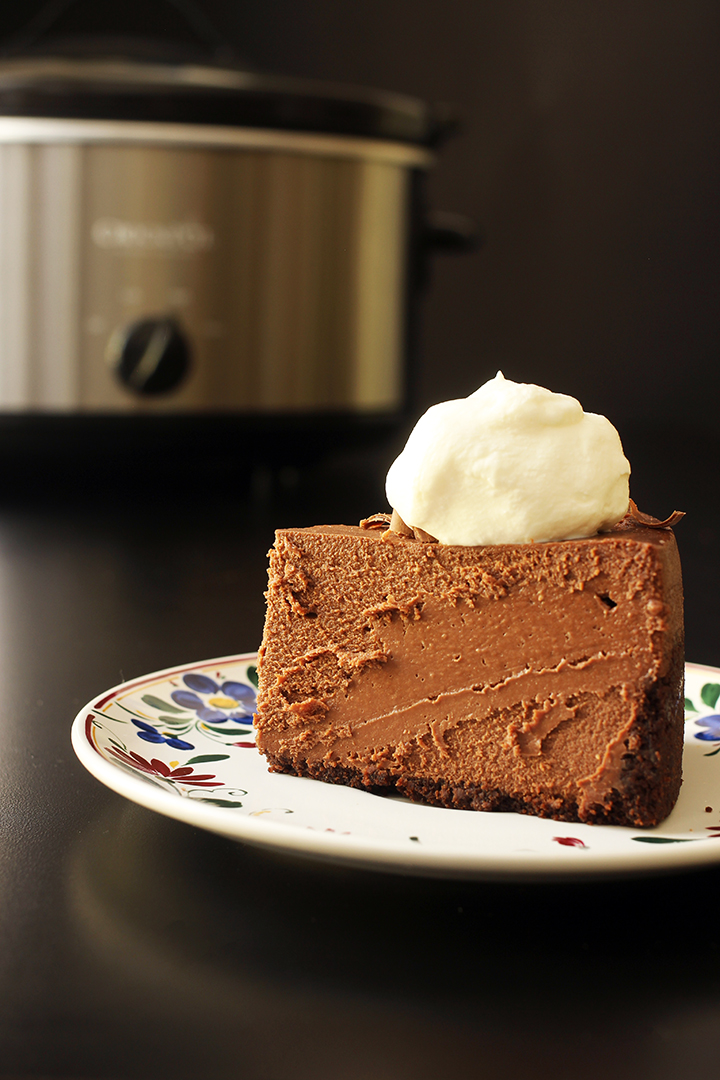 The Slow Cooker rocks my world, especially with cheesecake.
The slow cooker has rocked my world with how amazing Slow Cooker Chocolate Cheesecake is. Wowza!
Seriously, you can use a slow cooker all month long without much effort. It cooks while you do other things!
We have taken the slow cooker on vacation with us, domestically, to help us save money on travel food costs and used it at potluck meals as a way to keep things hot without a lot of fuss. I've even heard of folks using their slow cookers in their cars and while camping!
What is a slow cooker?
A slow cooker is an electrical appliance consisting of a ceramic crock placed within a metal sleeve heating element. Slow cookers are tremendous for long cooking and braises, but can do well also for shorter timed recipes when monitored closely.
Do you need a slow cooker?
If you like to cook roasts, beans, sauces, soups, or stews from scratch, a slow cooker will come in very handy. Likewise if you do a lot of potlucking.
If your cooktop is small or you like to bulk cook, a slow cooker will give you extra space for any number of dishes.
Do you need a lot of space for a slow cooker?
Standard slow cookers are about the size of a large pot. If you've got room for a large pot, you're good to go. That said, they do come in a number of sizes, all of which should fit in a kitchen cupboard.
What's a good brand of slow cooker?
While many of the slow cooker reviews out there recommend other name brands, I have always owned the Crock-pot brand. They do a fine job for what I'm making and are generally affordable and long lasting.
I own these: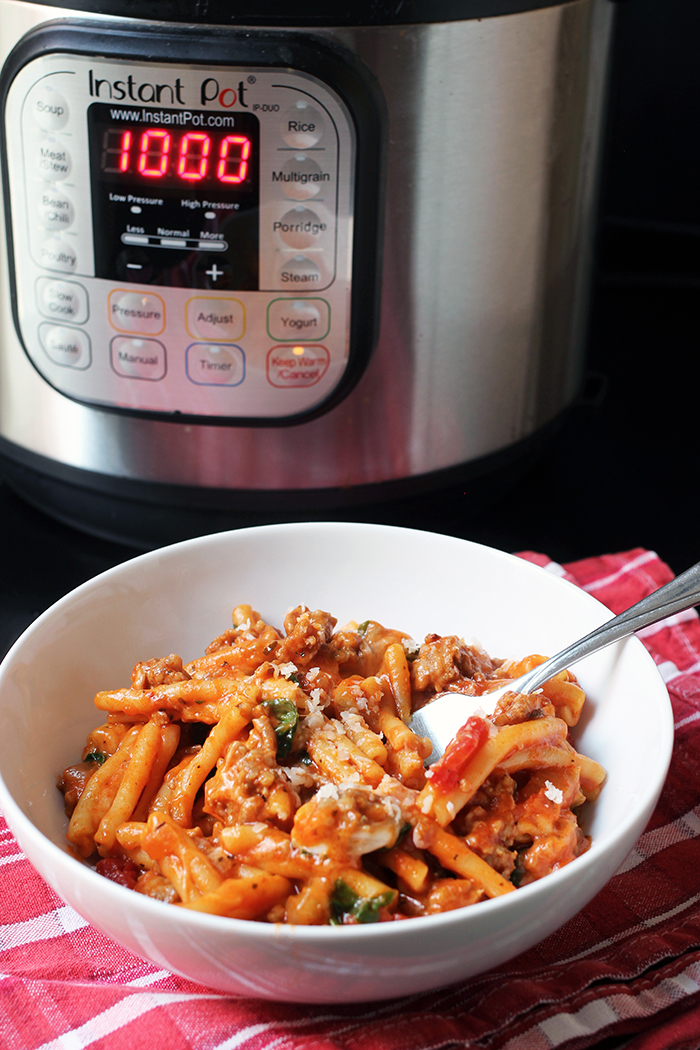 An electric pressure cooker will make so many things—hands free!
I received my first electric pressure cooker years before the trend took off and was truly skeptical when it did. However, once I cooked rice in the instant pot as well as instant pot black beans, I was a believer. Instant Pot Hard Cooked Eggs are also amazing.
What is an electric pressure cooker?
An electric pressure cooker is a pressure cooker that has its own heating element as opposed to one that cooks on the stove. Electric pressure cookers are said to be safer than stovetop ones.
While billed as a multi cooker—Instant Pot has added multiple functions to their machines, such as rice, bean, yogurt, and slow cooke—it tends to work best as a pressure cooker.
Do you need an electric pressure cooker?
I would like to say no, but the truth of the matter is that my first one broke, I waited a few months to see if I really missed it, and I did. So, I know I need one. As for you, if you cook eggs, beans, rice, chicken, and pasta on a regular basis, I guarantee that an electric pressure cooker will help.
Do you need a lot of space for an electric pressure cooker?
Electric pressure cookers do take up a fair amount of space. Mine doesn't fit easily in the cupboards; I have to store the lid separately.
Measure your storage space and compare it to the dimensions of the machine you're thinking of buying if you want to make sure you can put it away versus leaving it on the counters.
What's a good brand of an electric pressure cooker?
Instant Pot tends to be the most popular brand. I have also owned one made by Power Cooker.
I currently own this model of Instant Pot.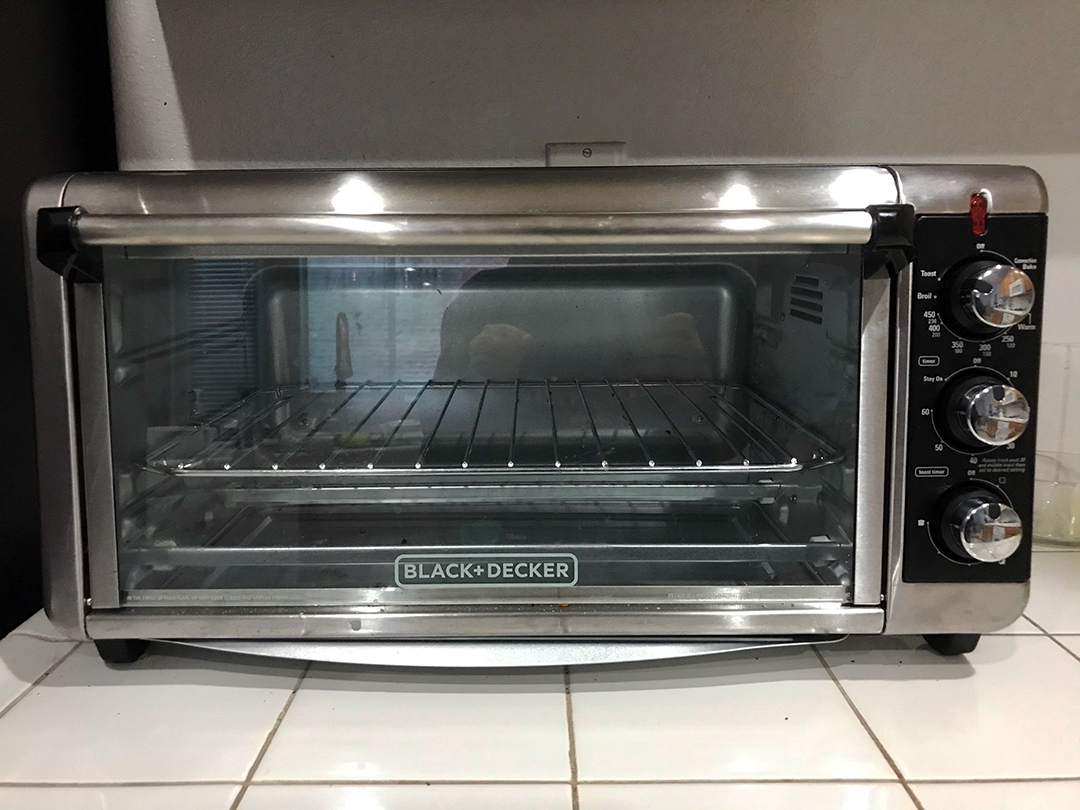 My toaster oven does more than toast!
We're on our third toaster oven in about 16 years. I just bought the newest one, so it appears that last two averaged a life span of about 8 years each. I waited a couple months before getting this new replacement so I could do more research and see if we wanted to upgrade to a pricier air fryer/convection oven. For the money, I decided to stick with the classic, albeit cheap, toaster oven. And I'm glad I did!
We use this all the time, every single day, multiple times a day. It toasts bread and bagels, reheats pizza and other leftovers, and can even function as a full-fledged oven. I made sure to get one that would fit a 9×13-inch pan. It fits the bill for small baking jobs.
What is a toaster oven?
A toaster oven is a small electric, counter top oven that can toast, broil, and bake.
Do you need a toaster oven?
Whether or not a toaster oven is for you will depend on the space you have and how often you like to toast and bake. A toaster oven is more versatile than a pop-up toaster.
Do you need a lot of space for a toaster oven?
Toaster ovens are about the size of countertop microwaves, though they can range in size. It will need to be stored on the counter, so consider this before making your purchase.
What's a good brand of toaster oven?
I looked at a lot of toaster ovens this fall and read a lot of reviews. I ended up going with the same brand we've had the last two times: Black and Decker.
This is the toaster oven we own.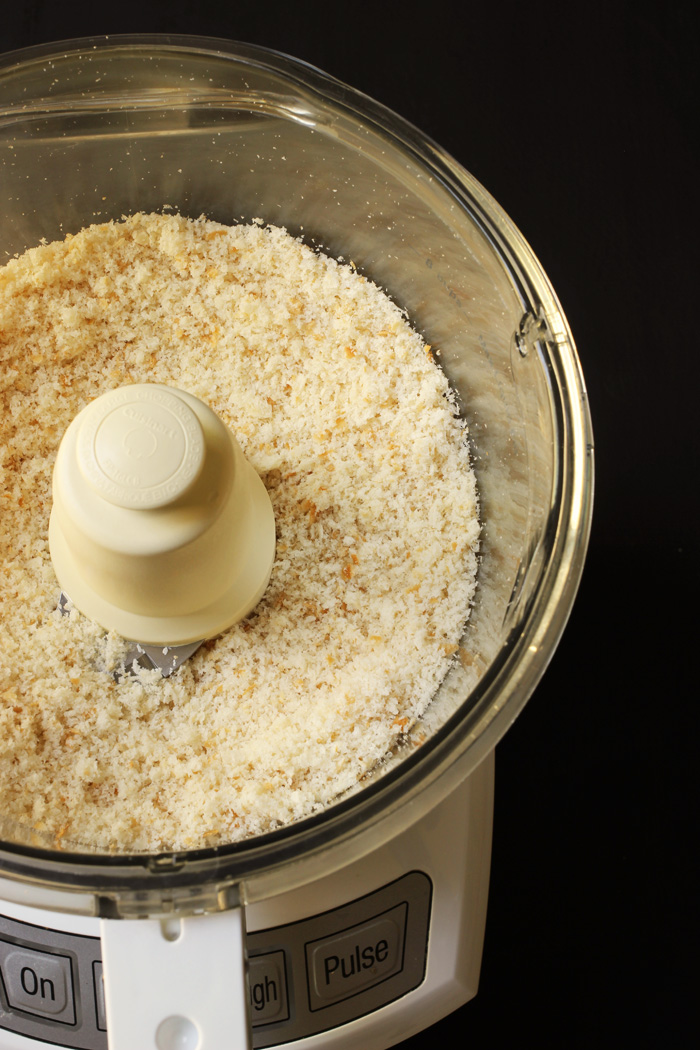 The food processor is a whiz at many things!
My first food processor was the original Cuisinart, like the very first model! An elderly family friend was downsizing her home right about the time we got married and gave me hers. It was a war horse and lasted a good ten years under my watch.
I replaced it with the base level Cuisinart that would have lasted much longer. Somewhere after we went debt-free I treated myself to an upgrade that I didn't really like because it was hard to clean, so I continued using the basic version until the bowl had broken in too many spots. Replacement parts were too much so I've been using my bells-and-whistles version (similar to this one) that has since been discontinued. I wonder why. LOL
What is a food processor?
A food processor is an appliance that can slice and dice, chop and grind, shred and puree many foods as well as knead dough. Food processors usually come with both metal and plastic blades as well as slicing and shredding disks.
I regularly use my food processor to shred cheese, chop or slice vegetables, mix salsa and pie dough, and grind bread crumbs and nuts.
Do you need a food processor?
If you batch cook, meal prep, or do a lot of scratch cooking and baking, a food processor will save you a lot of time and effort. The parts are usually dish washer safe, so clean up shouldn't be too much of a hassle.
Do you need a lot of space for a food processor?
Depending on the size of processor you buy you will need some dedicated storage space. Bryan built me a custom drawer in a kitchen cabinet that is strong enough to hold the base, bowls, and attachments. It makes it easy to find everything I need.
What's a good brand of food processor?
Cuisinart was the first brand to bring food processors to the US from France. It's the brand I've always owned. Except for my bells-and-whistle version being hard to clean, I've always been happy with it.
This is a great starter Cuisinart.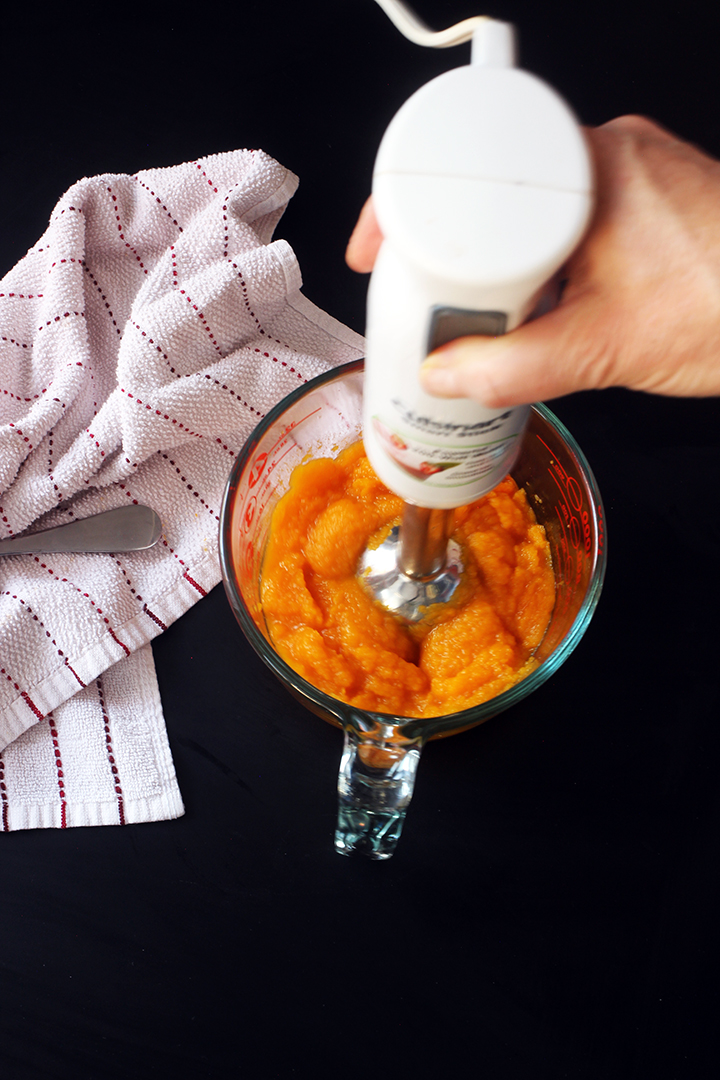 Why didn't I buy an immersion blender sooner?
Stick blenders were all the rage in the 90s yet I resisted ever buying one. They looked ridiculous.
About ten years ago I decided to give it a try. I found a Cuisinart Smart Stick for less than $25 and tried it out. I've been smitten ever since. I am loathe to wash extra dishes and this blender makes it easy to blend without dirtying the blender or food processor.
What is an immersion blender?
An immersion blender is a hand held blender blade on a stick that can be immersed into food and blend it in a pot or bowl or the cup that comes with it.
Do you need an immersion blender?
If you blend food regularly for sauces, baby food, and purees, you will find an immersion blender very handy.
Do you need a lot of space for an immersion blender?
This is one of the few small kitchen appliances that is super easy to store. It fits in a kitchen drawer and takes up hardly any space.
What's a good brand of immersion blender?
I've only owned one, a Cuisinart Smart Stick and so far it's lasted almost ten years. I'll be sad when it goes, but I will definitely replace it. While I love the brand, their current models are a little pricey. If I were replacing today, I'd be tempted to try this Mueller version. It gets good reviews.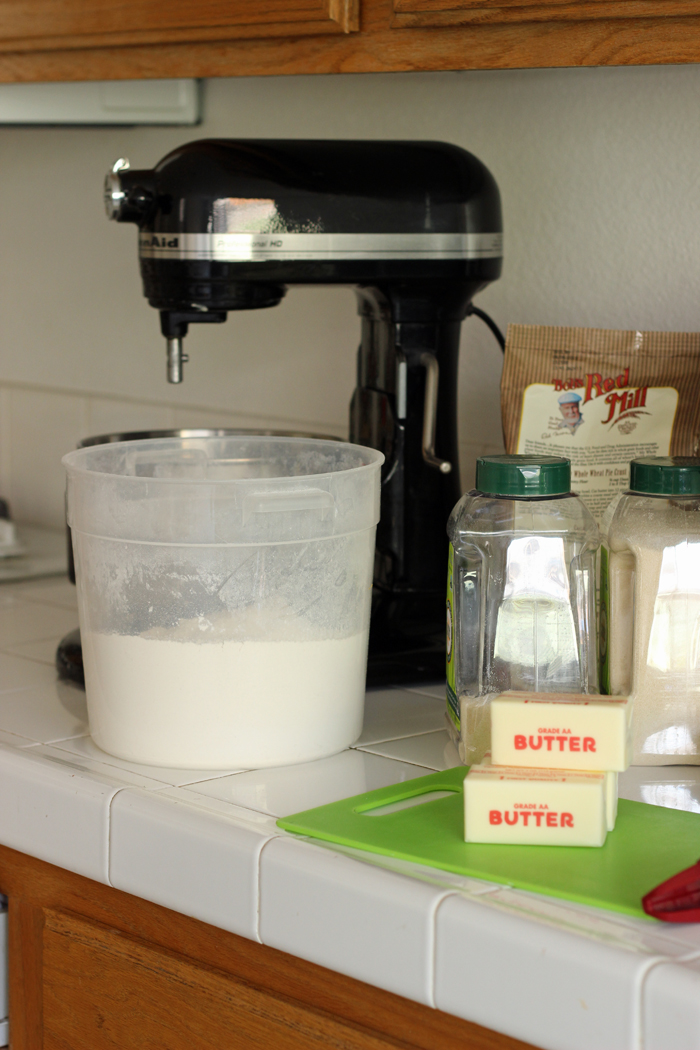 A good stand mixer will stand by you.
Every home baker dreams of a stand mixer majestically poised on the counter. It's a badge of honor, telling the world that you know your bread from your butter.
Earlier in my bread baking career I was a fan of the bread machine, but by the time we went through our fourth machine in about a dozen years, it was time to move on.
What is a stand mixer?
A stand mixer is an apparatus with a motor that you attach a mixing bowl and attachments to knead, stir, or whip. A stand mixer eliminates your need to hold any of the elements, allowing for hands free food prep.
Do you need a stand mixer?
If you bake often, a stand mixer could come in handy, especially if you bake in bulk batches.
Do you need a lot of space for a stand mixer?
A stand mixer is likely going to need dedicated counter top space. They are not small or light machines, making them difficult to move around easily or often.
What's a good brand of a stand mixer?
I have owned two KitchenAid stand mixers. The first, a 6-quart model from Costco. We repaired it a few times, but it bit the dust after about 14 years in action.
I upgraded to the 7-quart Pro Line version a few years ago. I bake so much at one time, it made sense to get the larger model. It's currently out of stock—and almost $200 more than I paid for it in 2018.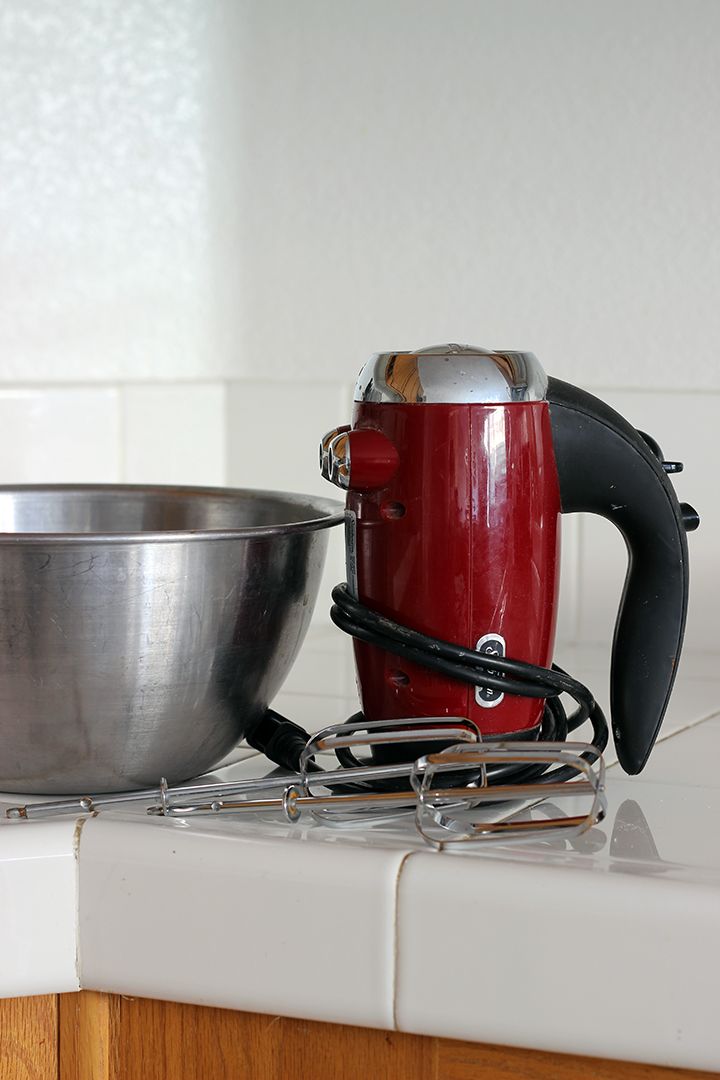 A hand mixer can be really handy!
What is a hand mixer?
A hand mixer is an electric beater that you hold in your hand to mix cakes and other batters. It's handy for smaller jobs that still need a little elbow grease.
Do you need a hand mixer?
If you don't have the space for a stand mixer, then a hand mixer will come in very handy. Additionally, there are some recipes that are too small for a stand mixer, making a hand mixer a good asset.
Do you need a lot of space for a hand mixer?
Most hand mixers and their beater attachments can fit in a kitchen drawer or cupboard, limiting the storage space needed.
What's a good brand of hand mixer?
I have had good results with the two hand mixers I've owned. The first was a cheap model I bought at Kmart during college. The motor far outlived the beaters which were no longer available to replace.
The same is true for the Sunbeam I purchased on Target clearance a good ten years ago (similar to this one). The motor is holding strong while the beaters are, well, taking a beating. The rubber coating handle has started to disintegrate so Bryan wrapped it with electric tape. We'll see how long we go!
A hot water kettle keeps things simmering.
What is a hot water kettle?
A hot water kettle is an electric hot water pot perfect for heating water without a stovetop.
Do you need a hot water kettle?
We love our hot water kettle! We've actually purchased pots overseas when we were traveling and taken ours on vacation domestically. It's so handy for making hot drinks, oatmeal, soups, and other hot dishes when you're stuck for kitchen access.
I even have one in my room so I don't have to go downstairs to make my tea!
An electric hot water kettle also frees up space on the stove top. Most models have an automatic shutoff making them a bit safer than a stovetop kettle.
Do you need a lot of space for a hot water kettle?
A hot water kettle takes up a bit of space on the counter, but not too much.
What's a good brand of hot water kettle?
We have had many brands of kettles, unfortunately, because they aren't the longest lasting of small appliances. That said, we use ours multiple times a day so that could contribute to their shorter life span.
The current model we have in the kitchen is this one; We've had this model since 2013 that we use upstairs.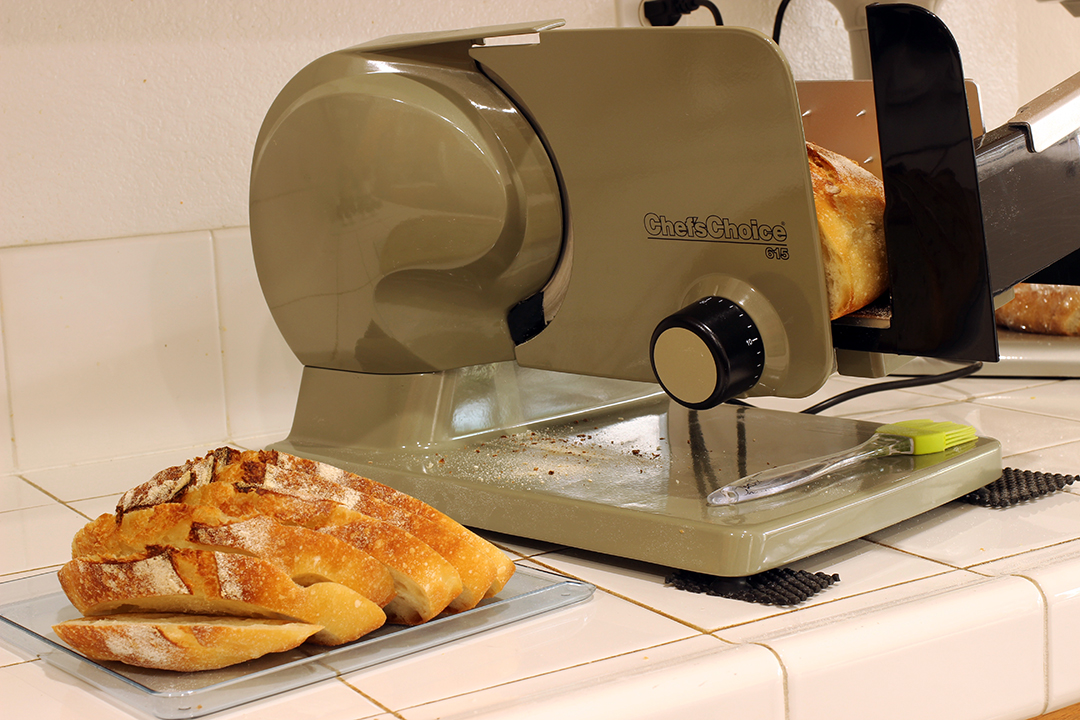 A food slicer will make it easy to slice bread, meats, and cheese.
What is a food slicer?
A food slicer is an electric machine that slices bread, cheese, meats, and other foods evenly to your desired widths.
Do you need a food slicer?
This is definitely on the low end of priorities for most home cooks, especially if yours is a small household. I purchased ours a couple years ago after I started baking all my own sourdough bread. We prefer the even slices that the food slicer makes.
Plus, I buy large deli roasts of turkey and ham at Costco and slice those on the machine as well.
If you cook for a lot of people on a regular basis, a food slicer might be a good thing to own, but it's definitely not a priority.
Do you need a lot of space for a food slicer?
A food slicer does take up a fair amount of space. I store it on a shelf in my kitchen. My parents always stored theirs in the cabinet above the fridge.
What's a good brand of food slicer?
I did a lot of research before I bought ours, and ended up with the now discontinued Chef'sChoice 6150000 Food Slicer. I believe this one may be similar.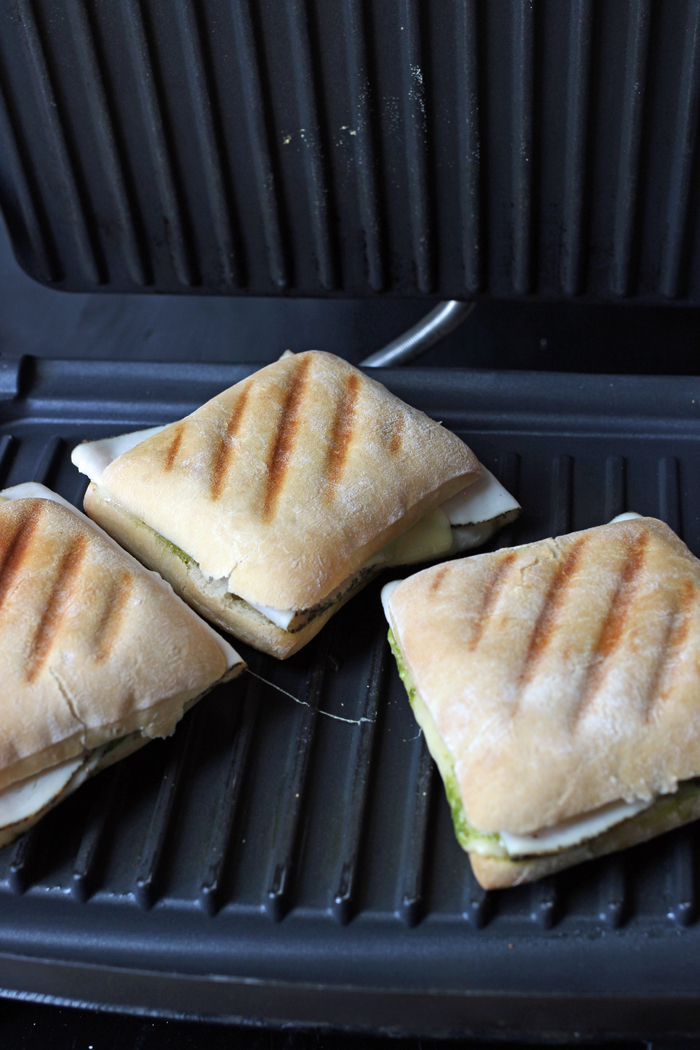 We can indulge with easy grilled cheese in the Panini Press.
What is a panini press?
A panini press is a two sided grill used for pressing food, such as sandwiches, between the two plates, thereby cooking both sides at once.
Do you need a panini press?
We have had our panini press for about ten years and use it at least weekly. It makes it easy to make grilled cheese sandwiches and panini without a lot of hassle. It was a gift, so I'm not sure I would have ever bought one myself, but we do like it.
Do you need a lot of space for a panini press?
The panini press is about the size of a waffle iron. I store them together in a cubby in my kitchen.
What's a good brand of panini press?
Our Hamilton Beach model doesn't appear to be available anymore, but this one looks similar.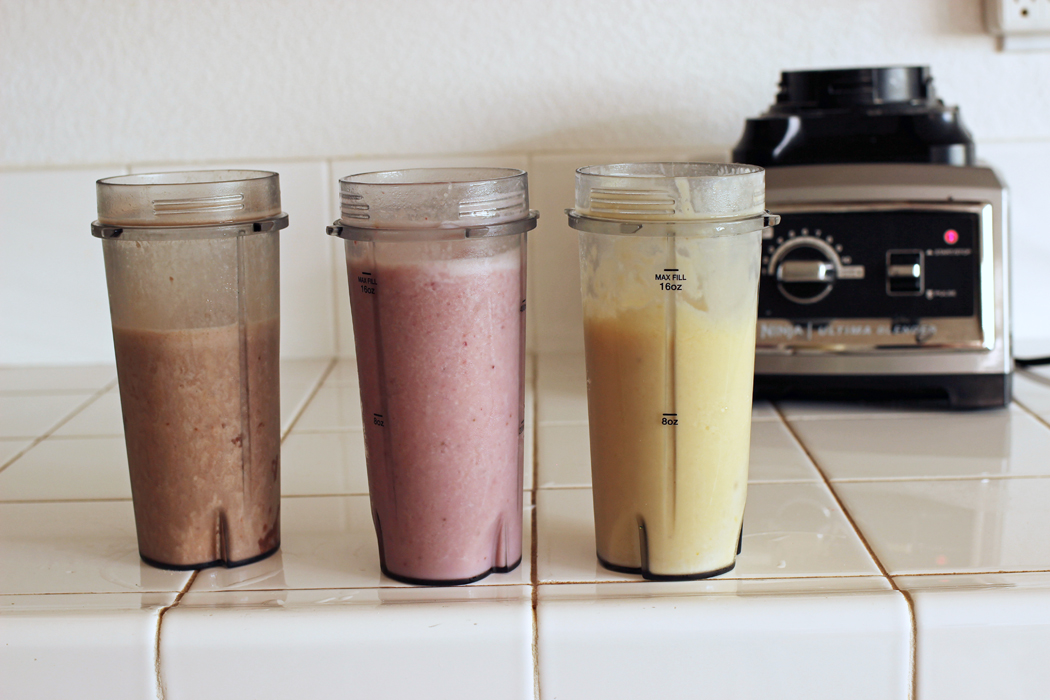 My kids use our High-speed Blender every single day.
What is a high speed blender?
A high speed blender is a ramped up blender designed to liquify foods much better than a traditional blender. Often they will come with single serve cups.
Do you need a high speed blender?
If you make a lot of smoothies, which my kids do on the daily, a high speed blender is super handy.
Do you need a lot of space for a high speed blender?
I store my blender base in the corner cabinet of the kitchen with the pitcher, all the cups, and blades nearby.
What's a good brand of high speed blender?
There are lots of expensive blenders out there. I can't justify the cost. I was gifted a Ninja Ultima Blender six years ago that continues to work well. It is similar to this model which I consider to be rather affordable as far as blenders are concerned.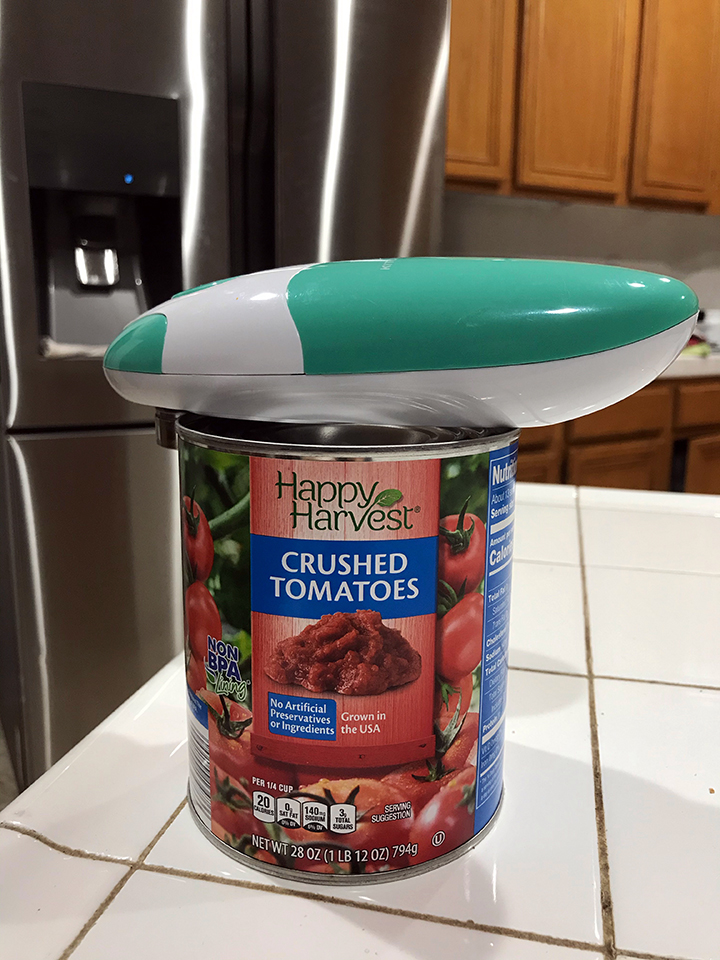 Open cans hands-free with an Electric Can Opener.
What is an electric can opener?
An electric can opener attaches to the can and allows for hands-free opening of the can. Some models do so without leaving a sharp edge, making it a handy tool to let kids use to open cans.
Do you need an electric can opener?
My daughter rolled her eyes when I bought the Kitchen Mama last month, but I'd been honestly been struggling with our traditional can openers. The electric takes a bit longer than the traditional, when the traditional behaves, but it hadn't been behaving for me.
Since the purchase, my daughter has agreed its value in terms of accessibility for a wide range of people, from kids to older folks to people who may have some kind of physical limitation.
Do you need a lot of space for an electric can opener?
Unlike the behemoth my parents owned in the 70s, my electric can opener fits in a drawer, so it's super easy to store.
What's a good brand of electric can opener?
I like the Kitchen Mama version I bought, though it doesn't always work perfectly.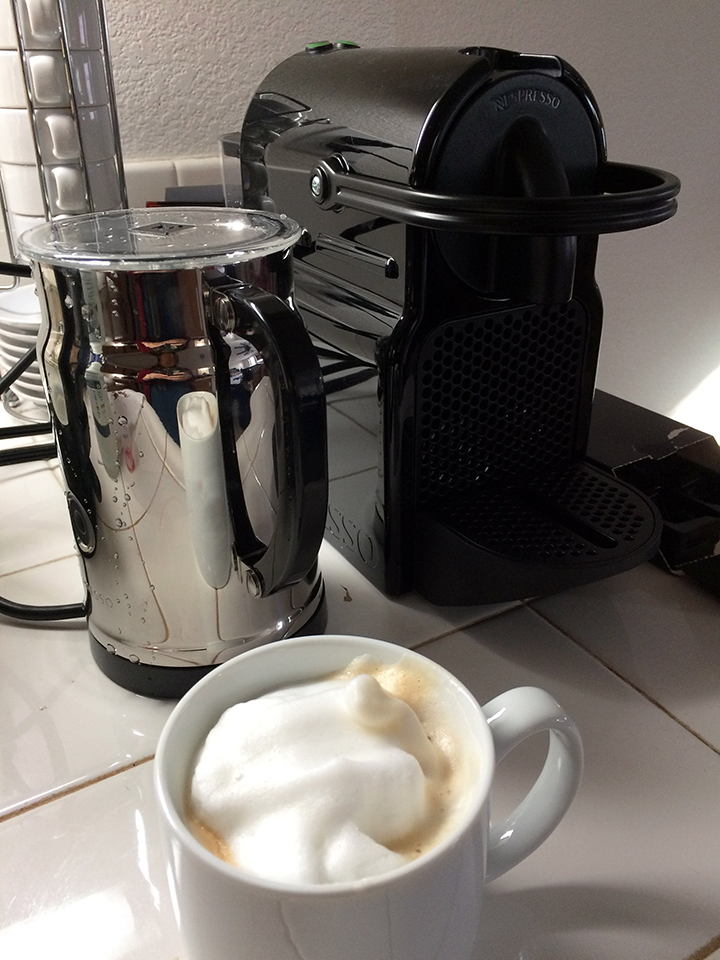 Brew a nice cuppa with a Nespresso machine
What is a Nespresso machine?
A Nespresso machine is an automatic espresso machine that uses small capsules. As a Keurig is widespread throughout the US, the Nespresso is ubiquitous throughout France.
Do you need a Nespresso machine?
Nobody needs a Nespresso machine, but they sure are fun to have! We first got interested in them during our month in France back in 2014 and treated ourselves to the Inissia model. I later looked for sales and bought Bryan one for work.
We stock up on capsules on sale. Penciled out, it runs about the same cost as our favorite ground coffee on sale.
Do you need a lot of space for a Nespresso machine?
The Nespresso machine is pretty compact and doesn't take up much space on the counter, about the same or less than a traditional coffee maker.
What are YOUR favorite small kitchen appliances?