Celebrate Easter weekend with these delicious Hot Cross Buns. They've got all the bright flavors of California, lemon and two colors of raisins.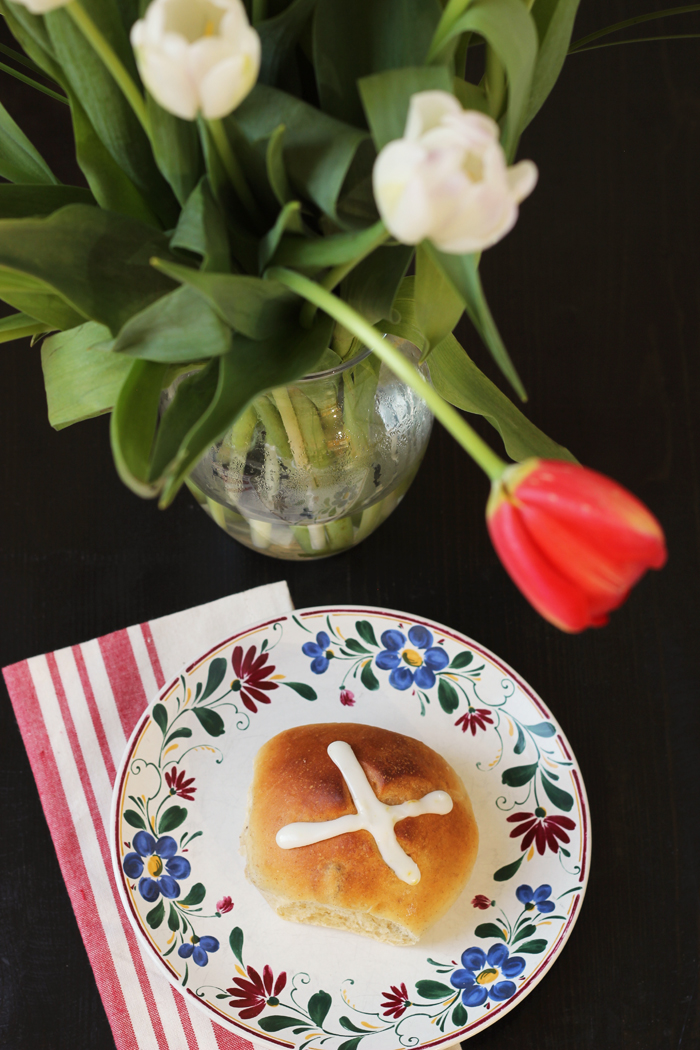 While I've been to London before, and I've got my tickets to England booked for the spring, I've never eaten an authentic hot cross bun. Or a scone. Or a Yorkshire pudding. But, I plan to remedy all that soon.
What I've lacked in actual, authentic experience, I've made up for in my love of British Literature. I've devoured books by J.R.R. Tolkein, C.S. Lewis, P.G. Wodehouse, J.K. Rowling, and a host of other Brits with initials for first names. Maybe I should start going by the pen name, J.G. Fisher. That sounds so fancy, don't it?
So, while I've not had a "real" hot cross bun, I've read about them. That should count for something. And since I love a good mashup of cultures, I set out to create a hot cross bun that reflected my home state of California. Perhaps someone will say that this recipe is too American, "too many flavors mixed up together." Perhaps….
But, they're still good. I figured since I didn't know what a true hot cross bun tasted like, I could embellish it with two truly California ingredients: lemon and raisins, and pretend that this roll knows it's not a true hot cross bun.
There is a big difference between raisins, sultanas, California raisins, and currants, but California raisins won out, of course, because they are oh-so Californian. And way easier to find where I live.
Tradition says that hot cross buns are best enjoyed on Good Friday. There's even a nursery rhyme to go along with the buns:
Hot cross buns!
Hot cross buns!
One ha' penny, two ha' penny,
Hot cross buns!
If you have no daughters,
Give them to your sons
One ha' penny,
Two ha' penny,
Hot Cross Buns![1]
So you can sing the song while you bake these, and pretend that you know what you're doing. It's okay. I won't tell on ya.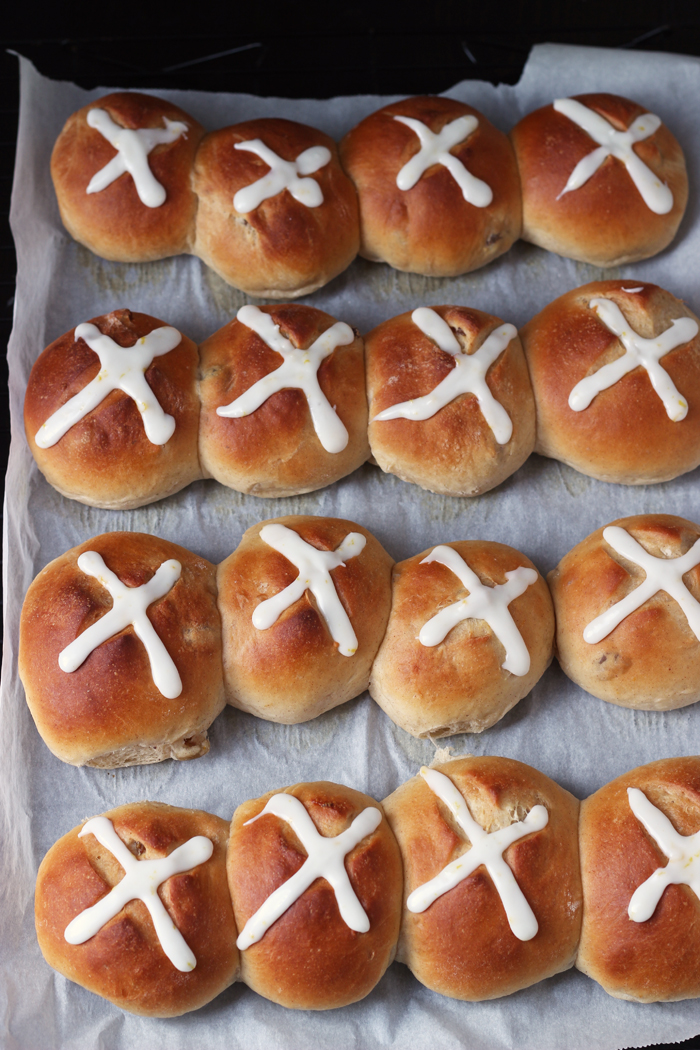 How to make this good and cheap:
Here are some of the strategies you can use to make this recipe more economical:
How I make this recipe easy:
One of the great things about scones is that you can freeze them before or after baking. If you freeze them prior to baking, you don't thaw them, just slide the frozen scones into the hot oven and add a few minutes to the baking time. If you bake them first and then cool and freeze, you can very easily thaw them overnight on the counter so they're ready when you are.
This recipe really couldn't be easier than it is, but having the right kitchen tools can really make your time in the kitchen more enjoyable. Over time, I've honed my collection so that they are perfect for my needs.
Here are the tools that I use for this recipe:
Hot Cross Buns with California Raisins
Celebrate Easter weekend with these delicious Hot Cross Buns. They've got all the bright flavors of California, lemon and two colors of raisins.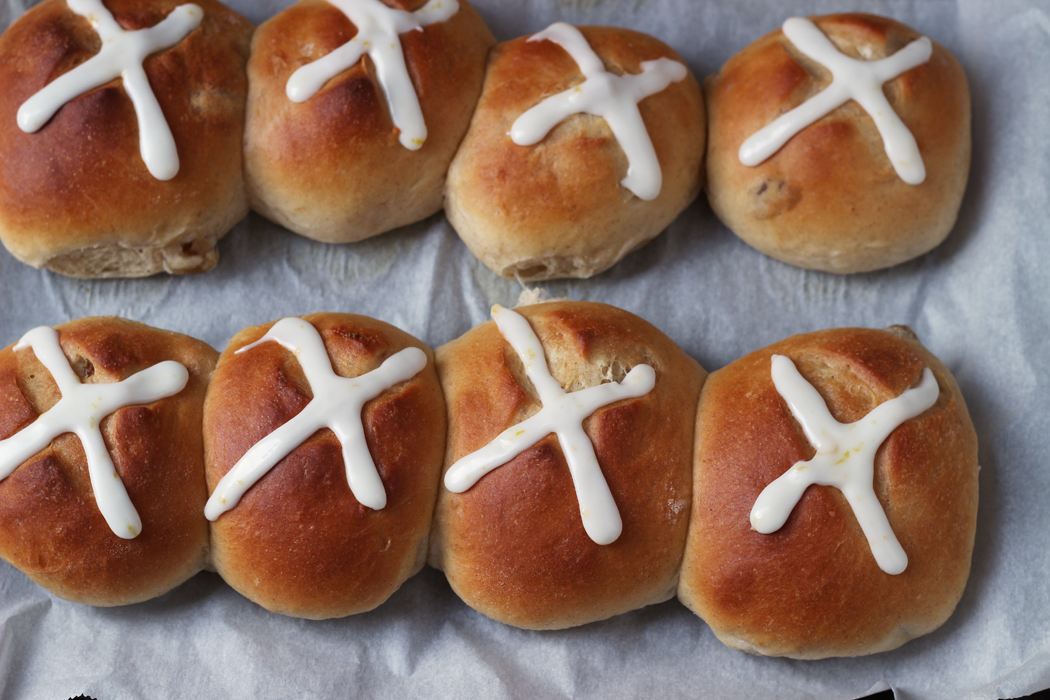 Preparation Time:2 hours 20 minutes
Cook time:20 minutes
Total time:2 hours 40 minutes
16 sweet rolls
Ingredients:
1 cup warm milk

1/2 cup melted butter

1/2 cup granulated sugar

1 tablespoon active dry yeast

2 eggs, beaten

3 cups bread flour

1 cup whole wheat flour

the zest of 2 lemons

1 teaspoon salt

1 teaspoon cinnamon

1/2 teaspoon ground nutmeg

1/2 teaspoon ground ginger

2 tablespoons raisins

2 tablespoons golden raisins

1 cup powdered sugar

1 to 2 tablespoons lemon juice
Instructions:

In the bowl of a stand mixer, combine the milk, butter, granulated sugar, and yeast. Allow this mixture to sit for five minutes while the yeast proofs.
Add in the eggs, flours, the lemon zest from ONE lemon, salt, cinnamon, nutmeg, ginger, and raisins. Stir with the dough hook until the dough comes together. Increase the speed to knead and knead the dough until a dough ball forms around the hook. The dough will still be sticky. Place the dough in a greased bowl and allow to rise until doubled in bulk, about an hour.
Alternatively, combine all dough ingredients in the pan of your bread machine according to the manufacturer's directions. Set on the dough cycle and start the machine.
When the dough is ready, transfer it to a lightly floured surface. Divide the dough into 16 equal parts.
Line a baking sheet with parchment paper.
Form each dough piece into a tight round and place them on the prepared baking sheet. Cover loosely with a tea towel and allow to rise for 60 minutes or until doubled in size.
Preheat the oven to 350 degrees. Cut a cross into the top of each roll and bake the rolls for 20 minutes or until lightly browned. Cool the rolls on a wire rack.
In a small mixing bowl, combine the powdered sugar and enough lemon juice to make a thick icing. Stir in the zest from the remaining lemon. Spoon or pipe the icing into the crosses of each cooled bun. Allow the icing to set and serve.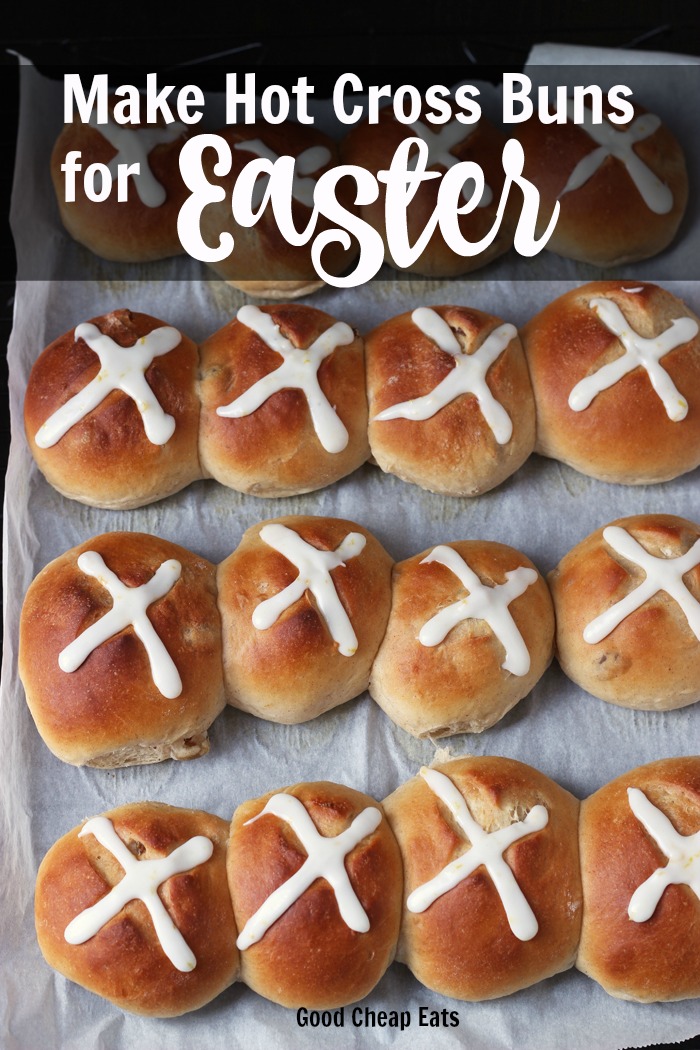 Are you looking for more good cheap eats?