The easiest Instant Pot Mac and Cheese recipe comes together in just minutes, tastes great, and feeds a crowd easily. Try this tonight!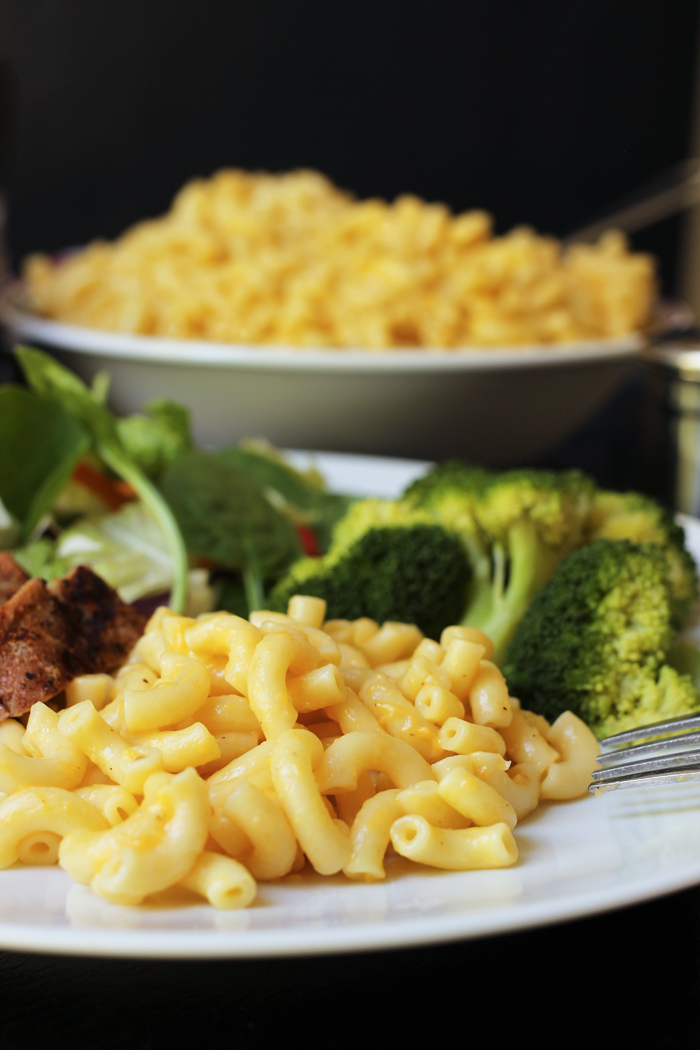 Mac and Cheese is pretty easy to make, right? Open the blue box, dump the noodles in boiling water, mix the dry mix with milk and butter….
Oh right. You want real mac and cheese. I get you. Me, too!
While I do have a nostalgic affection for boxed macaroni and cheese, I well know that homemade mac is so much better than anything that comes in a box.
I've got my pet recipes, of course — one mac and cheese baked in the oven,one stovetop mac and cheese, and my Italian twist (my Alfredo Mac and Cheese. All are delicious and easy on the budget, but this one?
This one wins the prize for easiest, most hands-free mac and cheese recipe ever!
It's the perfect side dish for meat and makes dinner prep soooo incredibly easy. I feel like I'm not doing anything!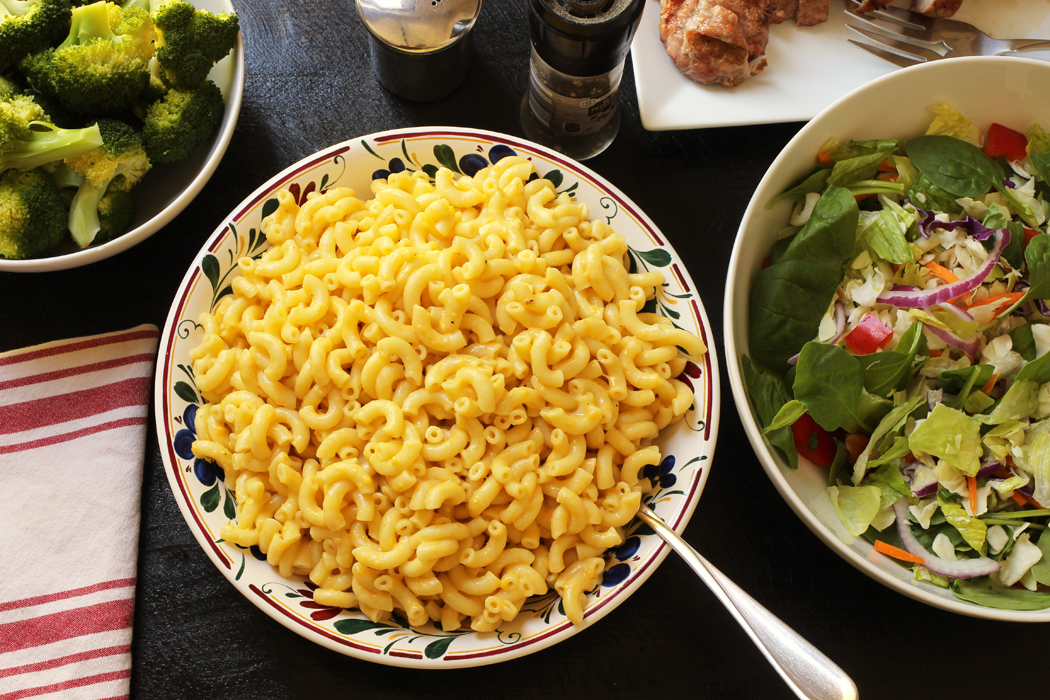 Easy Instant Pot Mac and Cheese
Seriously, making Instant Pot Mac and Cheese was a revelation to me. I've been slow to adopt the electric pressure cooker, but I've enjoyed adapting our favorite recipes to be budget-friendly pressure cooker recipes.
And Mac and Cheese is no exception!
Imagine no heavy pot of water to drain, no gunky colander to wash! Everything cooks in the same pot for easy prep and simple clean up, making for an ideal side dish or meatless main.
I adapted this recipe from my casserole-style recipe that calls for sour cream. However, wanting to reduce the fat content and increase the protein, I started playing with Greek yogurt as a substitute.
I found that we liked this just as well, particularly when I use 5% Fage Greek yogurt. It's got a higher fat content which makes it less sour tasting. We love it in this recipe!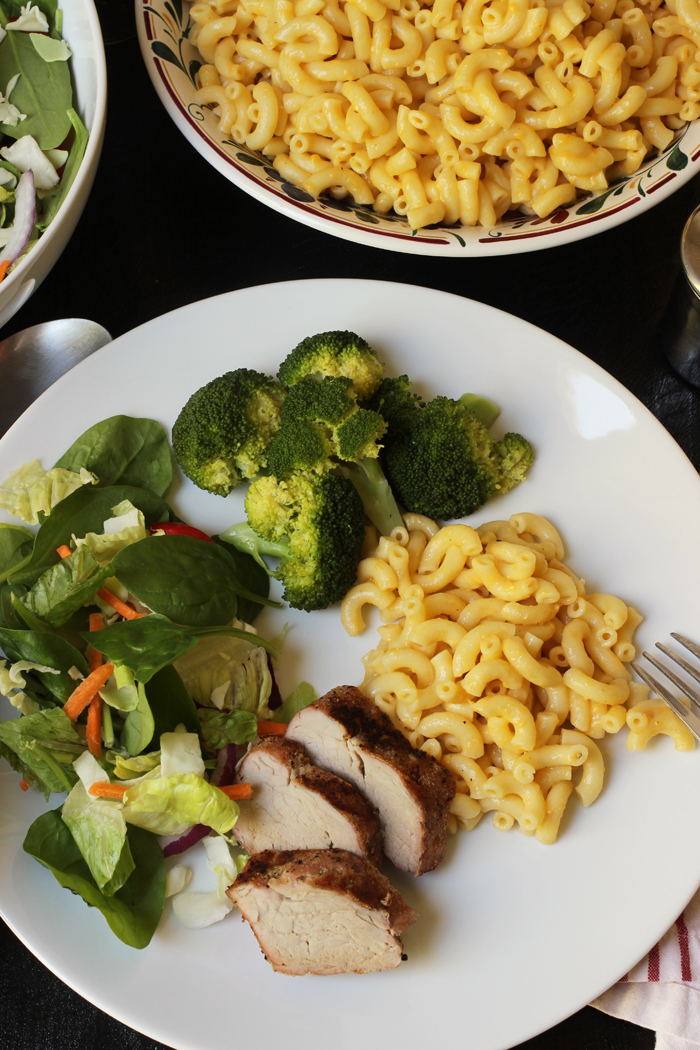 Can you cook macaroni in the Instant Pot?
Yes! Glory be! It's so easy. Just mix noodles and a liquid in the pot, secure the lid and pressure valve, and set the machine to manual for 4 minutes. Release the pressure immediately. There may be some liquid remaining, but once you stir the noodles to break them up, the water gets absorbed.
How long do you cook macaroni in the Instant Pot?
I've found that I like to cook it for only 4 minutes on manual. I've read recipes with longer cooking times and tried those, but I didn't like the mush factor.
Test the range of 4 to 6 minutes to see which you like; the shorter cooking time will result in more al dente pasta.
According to Instant Pot's official website:
Choose dry noodles with a minimum cooking time of 8 minutes (a shorter time will not pressure cook well), then cut that time in half (8 minutes becomes 4 minutes). Follow your recipe for liquid levels. Submerge pasta if possible, but do not stir.
What meat goes with mac and cheese?
Mac and cheese is a classic accompaniment to meatloaf, but I also like to serve it alongside pork tenderloin.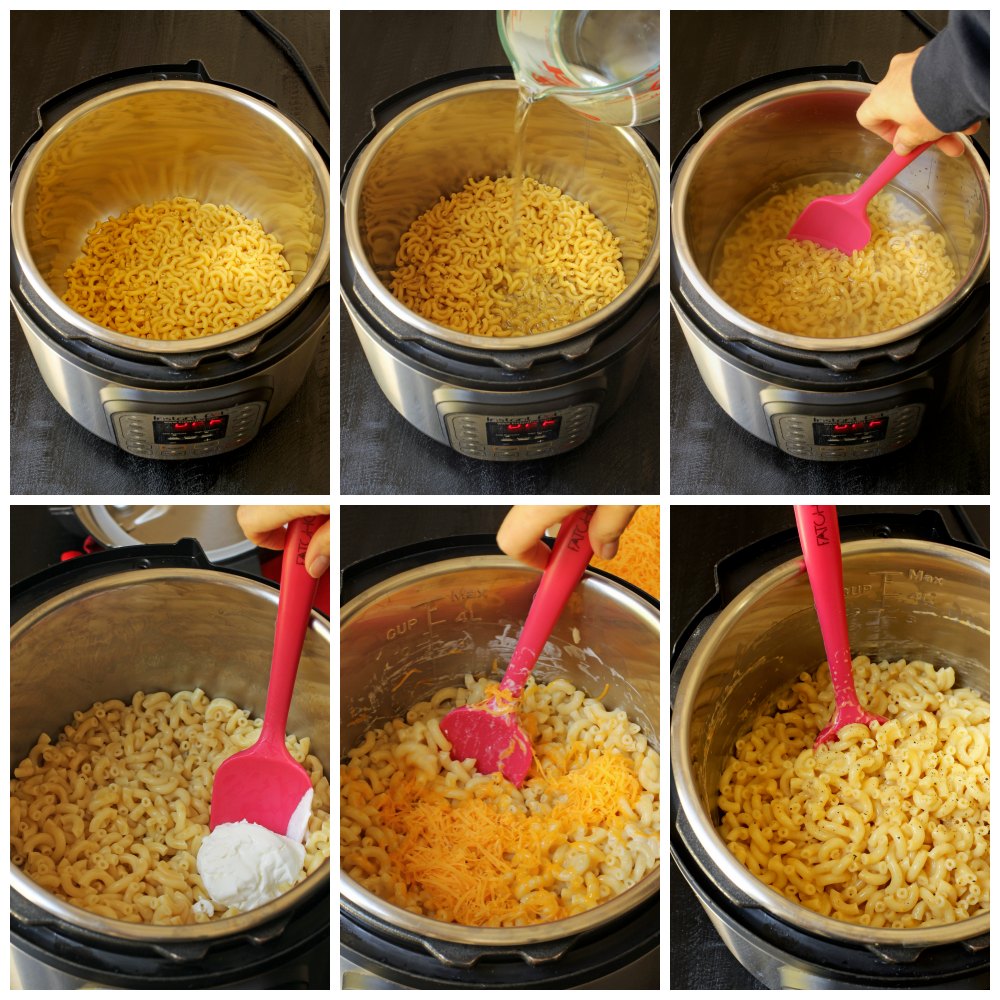 How do you make Instant Pot Mac and Cheese?
Place the macaroni and water in the pressure cooker. Secure the lid and turn on the pressure valve.
Set the machine to manual for 4 minutes for al dente pasta. Set the machine to 5 or 6 if you prefer softer noodles.
When the machine beeps, release the pressure. There will be a bit of water in the pot. Stir the noodles, breaking them up with the spoon. While you do this, the macaroni will absorb the leftover water.
Stir in the Greek yogurt and mix well.
Add the shredded cheddar cheese in handfuls, stirring between each addition.
Serve this dish immediately for best flavor and texture.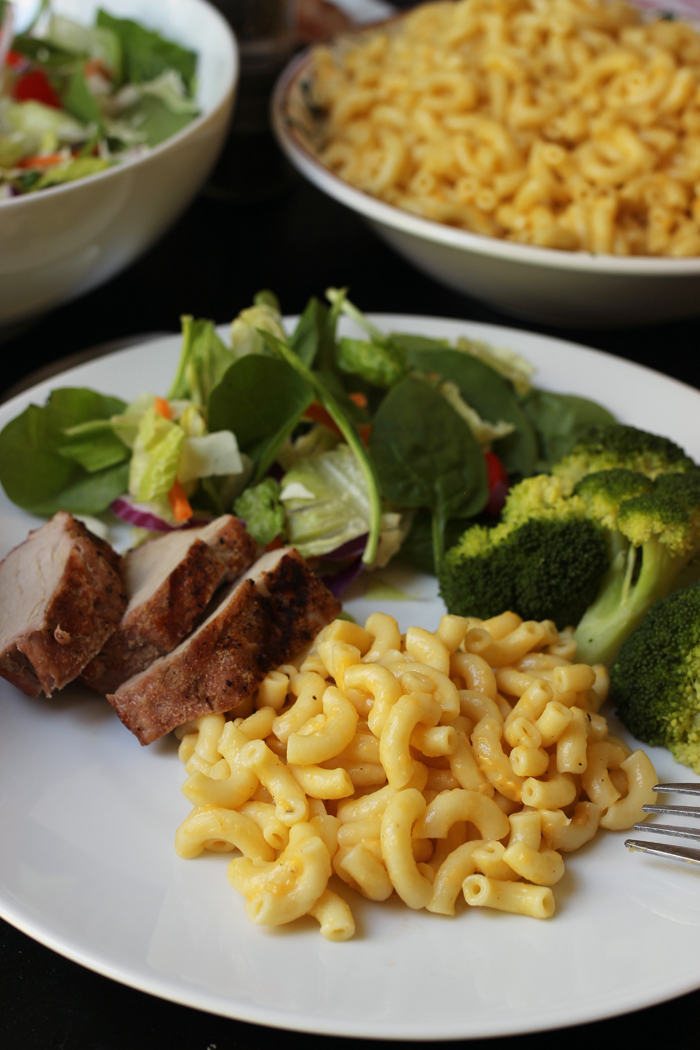 How to save money making this recipe:
I love to save money because it gives us more freedom. Developing affordable recipes was one way I helped our family get out of debt. You can get out of debt, too.
Here are some of the strategies I use to make this recipe more economical:
Shop at the right stores. Not all stores are created equal. Some charge more than others, so you need to choose wisely. Compare prices on couscous and buy it where it's offered at the best price.
Stock up on ingredients when they are on sale. When you see a great price on couscous, stock up and buy a few extra boxes to keep on hand. Storing them in the freezer will extend their shelf life.
Tools you might need to make this recipe easy:
This is a pretty straight-forward dish. I love it for its simplicity!
However, having some good basic kitchen tools can really make your time in the kitchen more enjoyable. Over time, I've honed my collection so that they are perfect for my needs. Here are the tools that I like to use in this recipe.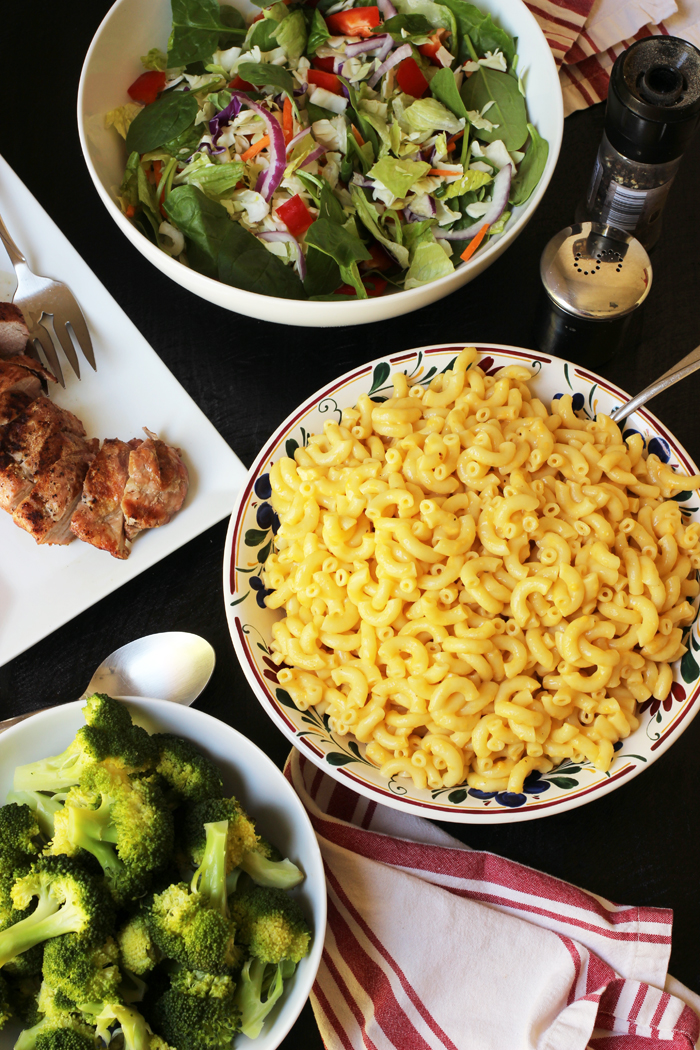 If you prepare this recipe, be sure to share a picture on social media and hashtag it
#GOODCHEAPEATS
. I can't wait to see what you cook up!
Easy Instant Pot Mac and Cheese
Ingredients
16

oz

elbow macaroni

(uncooked)

4

cup

water

1/4

cup

plain Greek yogurt

fuller fat is best

8

oz

cheddar cheese (shredded)

(2 cups) or more to taste

salt

black pepper
Instructions
Place the uncooked macaroni in the bowl of the pressure cooker. Add the water and stir to combine.

Secure the lid and close the pressure valve. Set the machine to 4 minutes on manual.

When the machine beeps, release the pressure valve, taking care not to get burned by the steam. Remove the lid and stir the noodles, breaking them up as you stir.

Stir in the Greek yogurt, mixing well. Stir in the shredded cheese in small handfuls, stirring to combine as you go.

Season to taste with salt and pepper.
Notes
Promptly store leftovers in an airtight container in the refrigerator, for up to 3 days.
Nutritional values are approximate and based on 1/6 the recipe.
Substitutions: if you don't have Greek yogurt, sour cream may be used instead.
If you don't have macaroni, you can use another short, tube pasta. Be sure to adjust the cooking time. Consult the pasta package, cut the recommended time in half and add one minute. For instance, a pasta that takes 10 minutes to cook in a pot on the stove will take 6 minutes in the instant pot.
Nutrition
Calories:
437
kcal
|
Carbohydrates:
57
g
|
Protein:
20
g
|
Fat:
14
g
|
Saturated Fat:
8
g
|
Cholesterol:
40
mg
|
Sodium:
250
mg
|
Potassium:
217
mg
|
Fiber:
2
g
|
Sugar:
2
g
|
Vitamin A:
377
IU
|
Calcium:
302
mg
|
Iron:
1
mg