A simple and easy way to save money on groceries can be found right in your spice cupboard. Mix up your own spice blends to add flavor and save money. This recipe for Jamie's Spice Mix will add zest to any meal.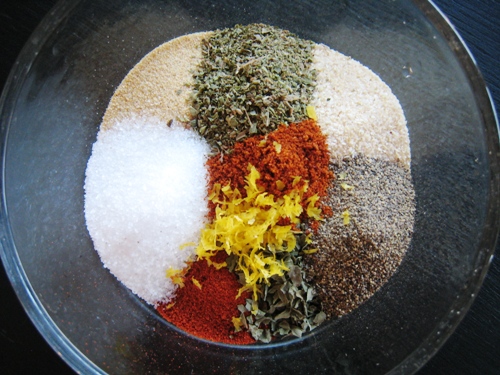 One of the ways that I dramatically cut grocery costs years ago was to switch from buying expensive spice packets and blends to mixing my own. I buy spices in bulk at a greatly reduced cost, storing the extras in the freezer to extend their shelf life.
When I want a seasoned salt or blend, I mix my own. One of my go to blends is based on what that my sister mixed up for her wedding favors years ago. I named it in honor of her. It's included in my book since it's featured in several of the recipes.
I've been using it a lot lately on pizza, pulled chicken, and other dishes. I realized that before I share those recipes, I need to share the spice blend.
This spice blend features lemon zest. In many of my early batches I used dried lemon peel that you can find in the spice aisle of your local store. Mixing this blend with dried lemon peel makes it shelf stable.
However, I have such an excess of fresh lemons that it seems silly to go buy the dried variety. When I make the blend with fresh lemon zest, I simply store the blend in a covered jar in the freezer.
This blend is fabulous on grilled meats, stirred into marinades, sprinkled on buttered pasta, and mixed into dressings. I've topped bread sticks and pizza dough with it, flavored marinara sauce with it, and stirred it into pulled chicken.
Use it in Last-Minute Pizza Sauce, Quick Meat Sauce for Pasta, and 5-Ingredient Pizza. It's also good in Lemon and Herb Rice Pilaf, Stone Soup, and Pizza Margherita.
It's versatile, flavorful, and cheap!
Jamie's Spice Mix
Mix up your own spice blends to add flavor and save money. This recipe for Jamie's Spice Mix will add zest to any meal.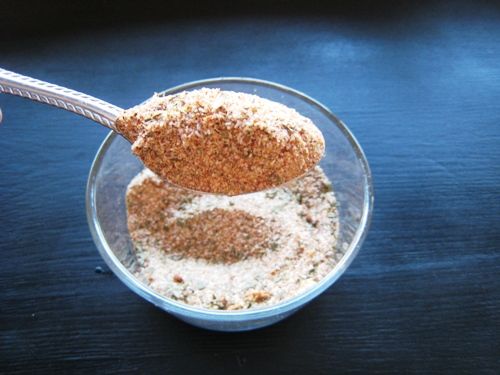 Preparation Time:5 minutes
Total time:5 minutes
about 2/3 cup
Ingredients:
2 tablespoons onion powder

2 tablespoons garlic powder

1 1/2 tablespoons paprika

1 tablespoon dried basil

1 tablespoon dried oregano

1 tablespoon fine sea salt

2 teaspoons freshly ground black pepper

1 teaspoon celery seeds

1/2 teaspoon grated lemon zest

1/2 teaspoon cayenne pepper
Instructions:

In a small bowl, combine all of the ingredients. Place the mixture in an airtight plastic container or freezer bag and store in the freezer.