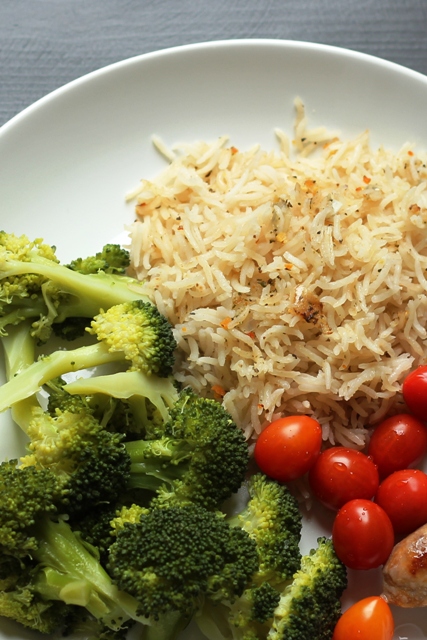 I've been playing around with rice pilaf. On a recent stroll down the rice aisle, I noticed how VERY MANY packaged rice mixes there are. Seriously? Many of these mixes are sold in the range of $2 to $3 a box for about 4 servings. Maybe.
But you can make it yourself for much less!
I've shared my Simple Rice Pilaf made with brown rice as well as my Seasoned Rice Pilaf. I usually use copious amounts of butter or oil along with rich chicken broth.
Recently, I decided to see how low I could go in making a simplified version that cost very little but still made a flavorful side dish. I reduced the oil and add-ins, but still pulled off a great dish with practically nothing. Sort of.
This recipe does call for a batch of Jamie's Spice Mix. (That's where the lemon and herb come in.) If you don't have all the ingredients on hand, you should be able to fudge a bit and omit something. (I regularly omit the celery seed.) You can also use another favorite seasoning blend if you like. I've used Trader Joe's 21 Seasoning Salute with a bit of salt added. It's very close to Jamie's Spice Mix, so it's a nice substitute if you're missing something.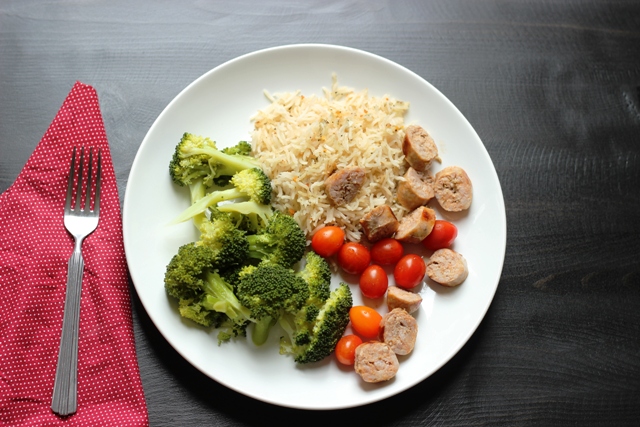 It's still real food. It's still delicious. And yet, it will help you bridge the gap between feast and famine. Leftovers are great reheated or stirred into soup. You can also halve the recipe if you don't have eight hungry mouths to feed.
This recipe is also featured in an upcoming meal plan I'll be sharing over on Life as MOM. As part of an effort to save families both time and money, the Life as MOM meal planners (aka my sister and I) are putting together weekly meal plans that cost less than $70 for the week (7 meals) AND which build on each other. I'm really excited about this new meal planning feature on Life as MOM. Stay tuned.
Recipe: Lemon and Herb Rice Pilaf
Ingredients
2 tablespoons oil
1/3 cup chopped onion
2 cups basmati rice or long-grain white rice
2 teaspoons Jamie's Spice Mix or other favorite spice blend
4 cups water
Instructions
In a large skillet with a lid, heat the oil over medium heat. Add the onion and rice.
Saute until rice the becomes opaque and the onion starts to go clear.
Stir in the spices.
Add the water and bring to a slight boil. Cover and reduce the heat. Cook for 20 minutes, covered, until liquid is absorbed. Fluff with a fork, adjust seasonings, and serve.
Preparation time: 5 minute(s)
Cooking time: 20 minute(s)
Number of servings (yield): 8