Want quick and healthy meals that you can easily pack for work, school, or road trips? Discover the beauty of bowl meals!
Bowl meals are some of my favorites. "Bowl meals?" my husband said.
Yeah, you know, rice bowls, burrito bowls, teriyaki bowls. They're a thing, don't ya know?
You might also hear them go by the names: power bowls, Buddha bowls, bowl food, grain bowls, etc.
At least they are to me. I love making bowl meals. There's something so satisfying in piling a bunch of good real food into a bowl and digging in. Best yet, I can usually make several in advance and enjoy them throughout the week.
While he may not have realized that bowl meals were what make up 75% of his lunches, my husband agrees that this method is a surefire way to save money, eat well, and not skip lunch.
And it's very important not to skip lunch!
Bowl meals aren't difficult to make, but they can get boring if you don't follow some basic guidelines.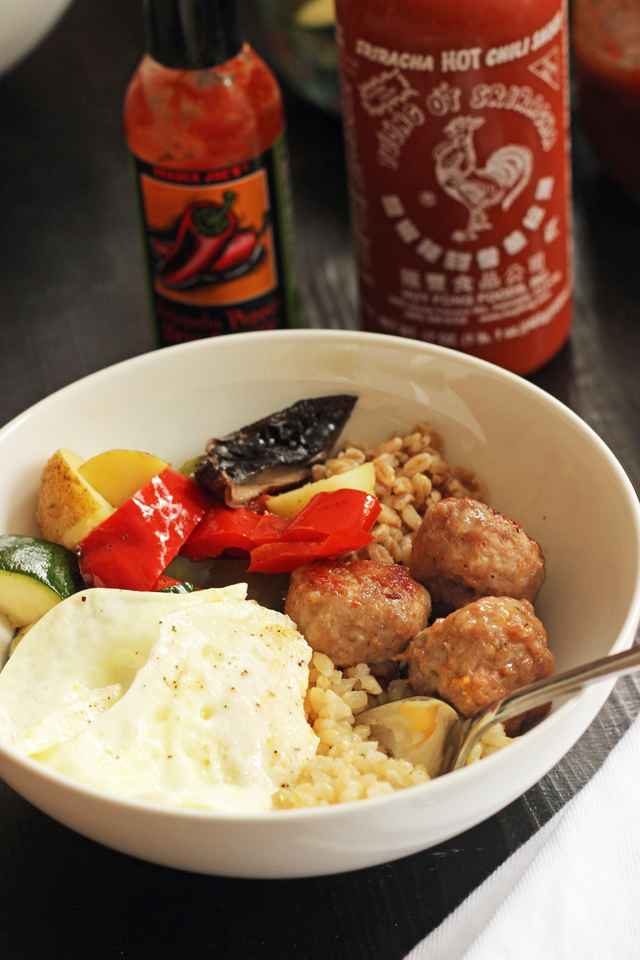 Today I thought I'd give everyone else a taste of how easy it is to make these beautiful creations.
One of the things that I love about bowl meals is that they really fit any diet. You can customize the ingredients to be vegan, vegetarian, paleo, or omnivore.
What do you put in a Buddha Bowl or bowl meal?
1. Start with a great base.
Choose a starchy base, like Spaghetti Squash, quinoa, Cauliflower Rice, rice, pasta, or even your favorite roasted or mashed potato. Polenta is also tasty!
2. Add a protein.
This can be any of your favorite cooked proteins, but consider anything from grilled chicken, fish, or meats to meatballs. Bowl meals are a great way to use up leftovers.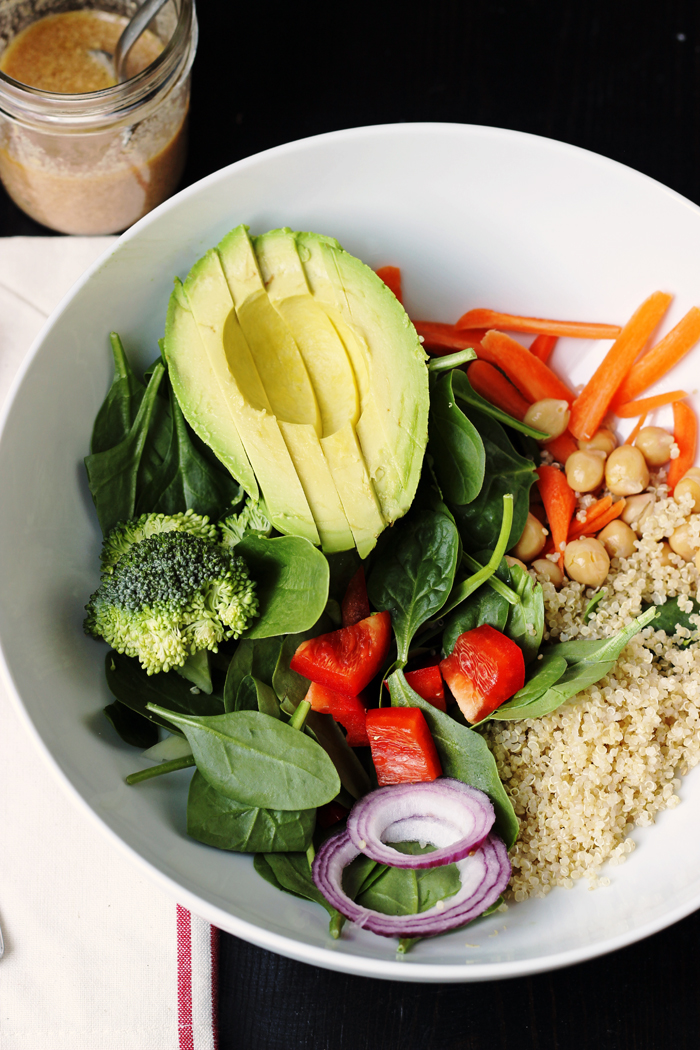 3. Pile on the veggies.
Mix and match your veggies depending on what sounds good to you. Again, any small bits from last night's dinner are excellent in here.
If your bases can be enjoyed cold, don't relegate yourself to just cooked veggies, throw on some fresh salad greens and toppings.
4. Sprinkle on some sauce.
These will determine your flavor profile, so choose wisely. Marinara sauce may not be your favorite atop mashed potatoes!
But, get creative in adding fresh salsa, enchilada sauce, or hot sauce, guacamole, soy sauce, sriracha, sweet chili sauce, or whatever cooking sauces you typically enjoy. This Carrot Ginger Dressing is the bomb!
5. Top it with healthy fats or other goodies.
Finish off your bowl meal with a little oomph from shredded or crumbled cheese, toasted coconut or nuts, toasted nuts, sliced or chopped avocado, or a dollop of dairy in the form of yogurt, sour cream, ricotta, or cottage cheese.
Be uber-cool and put an egg on it!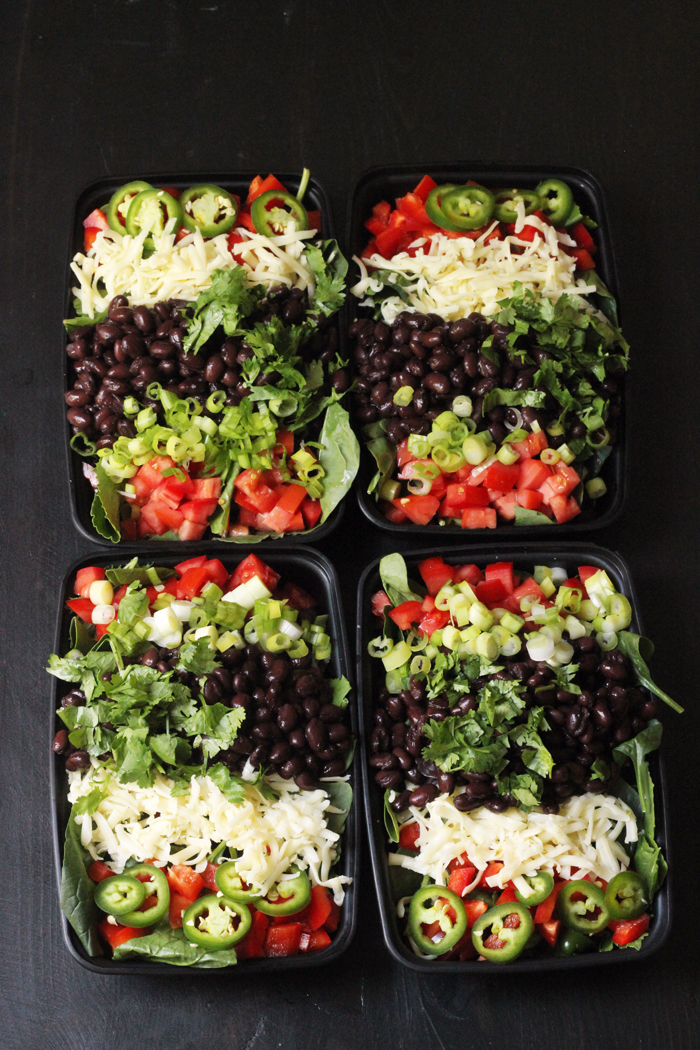 Bowl meals are great any time of day, pack easily, reheat well, and taste great. They are incredibly forgiving in terms of ingredients, and make it simple for you to avoid wasting perfectly good food.
How you pack them is extremely important, however.
Packing Tips for Bowl Meals
When I pack bowl melas for mine and my husband's lunches, I make a week of lunches at one time. I prefer to use containers that stack well. That way they take less space in the fridge and can easily be transported.
These black meal prep boxes are our favorites. They are reusable, but inexpensive enough that if one has to be recycled, it's not a huge loss. I also recently ordered these sturdier containers for freezing.
Both types are freezer-friendly and microwave- and dishwasher-safe.
In order to avoid soggy meals, consider these tips for your bowl meal prep:
Allow the steam to blow off before dishing up foods.
Layer sturdier items on the bottom, such as grains and proteins, leaving more delicate items like tomatoes and greens for the top.
Store sauces separately to prevent things from going soggy.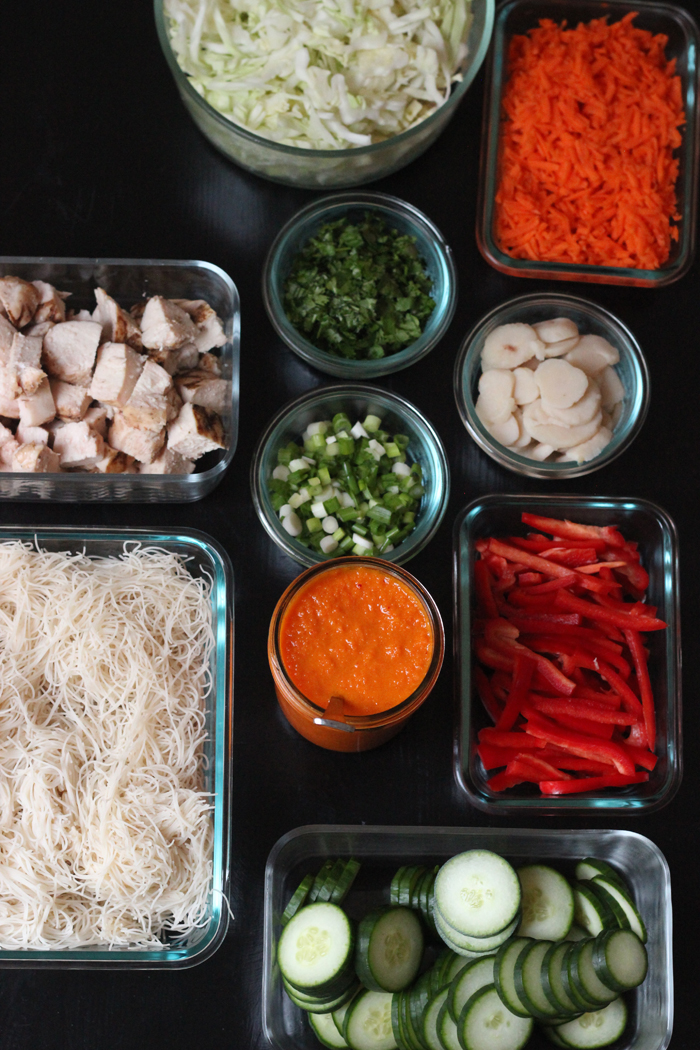 How long does a bowl meal last in the fridge?
Prepared food is good for up to four days under proper refrigeration. Discard any food that's been left out at room temperature for longer than 2 hours. Less in hot weather.
Can you freeze bowl meals?
Freezing bowl meals for another time is going to depend on what you include in the bowls. Grains, cooked proteins, and some cooked vegetables hold up very well under freezing.
However, freezing potatoes, sweet potatoes, and eggs can bring on weird texture changes. Your best bet is to freeze small quantities of the items and see if you like the texture after you reheat it.
When you do freeze bowl meals, make sure that you chill the food completely before storing it in the freezer. This will help the food freeze quickly and reduce the risk of freezer burn.
Check out these tips on what you can freeze.
Throw together some bowl meals this week and enjoy some good cheap eats! Check out these bowl meal recipe ideas for more inspiration:
What are YOUR favorite combinations in bowls meal?