A quick saute of brussels sprouts with bacon and shallots makes for a quick and flavorful side dish.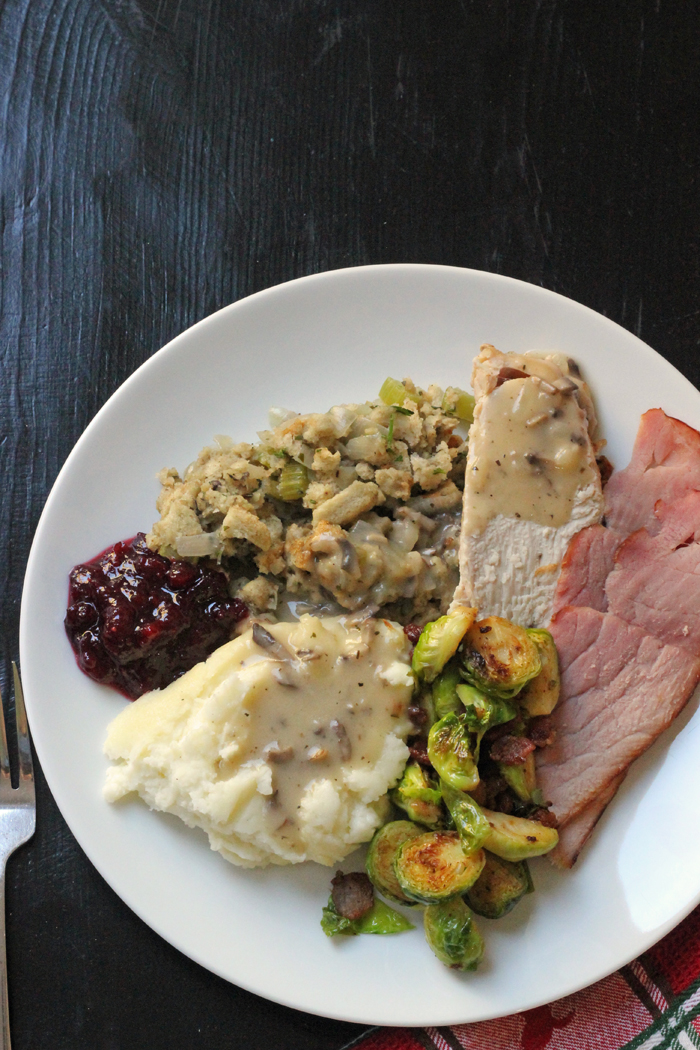 Oh the places you'll go — and the foods you'll eat when you subscribe to a CSA or produce co-op! Our family has really experienced a range of new-to-us fruits and vegetables. Lately it was brussels sprouts.
When I was a child, my mom served these baby cabbage-like guys once in awhile. From a box. From the freezer section. Sometimes with cheese.
I wasn't a fan.
About five years ago one of my children requested brussels sprouts. I can't even remember where he heard the word because it was not something hubs and I would have talked about. We weren't fans.
So, on a whim I bought a box to cook that night for dinner. From a box. From the freezer section. I was so proud of my box for wanting to try something so new and foreign. And this boy was my pickiest eater at the time!
Needless to say, it was a train wreck. No one cared for these hard, cabbagy clumps, and so we retired brussels sprouts from our kitchen. Over the years, two close friends both insisted that fresh brussels sprouts were entirely different. And I nodded and said okay. But, I was certainly not going to buy any.
But a produce co-op has a way of forcing itself — and unwanted vegetables — on you. And because I hate waste more than I hate any vegetable, I'll give it a go. (Though I must confess, when the butternut squash supply took on a life of its own, I gave one back. Same with the rutabagas.)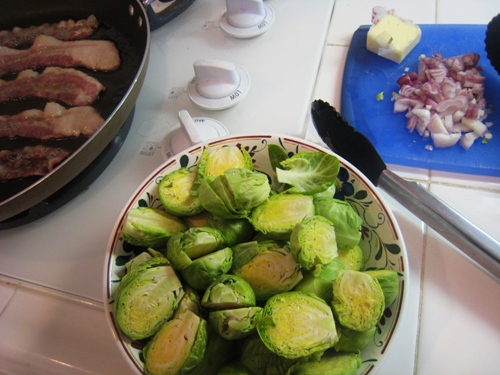 Anyway, FishBoy14, my food adventurer, and I did some research on brussels sprouts, busted out some bacon, and had a go at it. What resulted was a very pleasant surprise.
Most of my kids tried them.
Most of my kids liked them.
Bacon proved itself once again as being able to make all things good.
This is a quick and easy recipe for brussels sprouts that could make a lover out of a hater. Even hubby was a little disappointed that he missed it. I served them for lunch on a workday.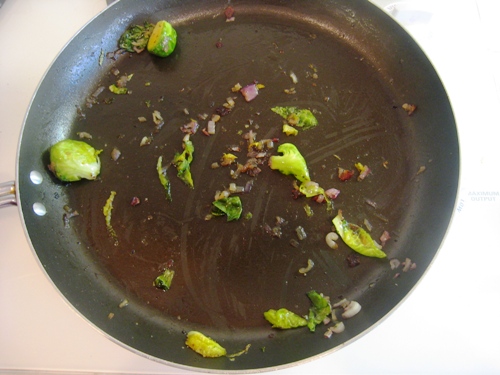 Try 'em. You'll like 'em.
Recipe: Brussels Sprouts with Bacon and Shallots
Ingredients
1 to 1 1/2 pounds brussels sprouts
5 slices bacon
1 tablespoon butter or ghee or olive oil
1 shallot, finely chopped
Instructions
Peel the outer layer off the brussels sprouts, trim the ends and cut them in half. Set aside.
In a large skillet, cook the bacon until crisp. Remove from the pan and chop coarsely.
Remove all but 1 tablespoon of bacon drippings from the pan. Add butter and melt together.
Saute the shallot in the pan and saute until starting to go clear.
Add the brussels sprouts and continue to cook on medium-high heat, until tender and starting to brown, about three to five minutes. Add the chopped bacon and stir to combine. Season to taste with salt and pepper. Serve immediately.
Preparation time: 5 minute(s)
Cooking time: 10 minute(s)
Number of servings (yield): 4