A classic side dish for roast chicken or turkey is a bread stuffing, or dressing. This Herbed Stuffing with Onion and Sage is a major crowd-pleaser and very freezer-friendly.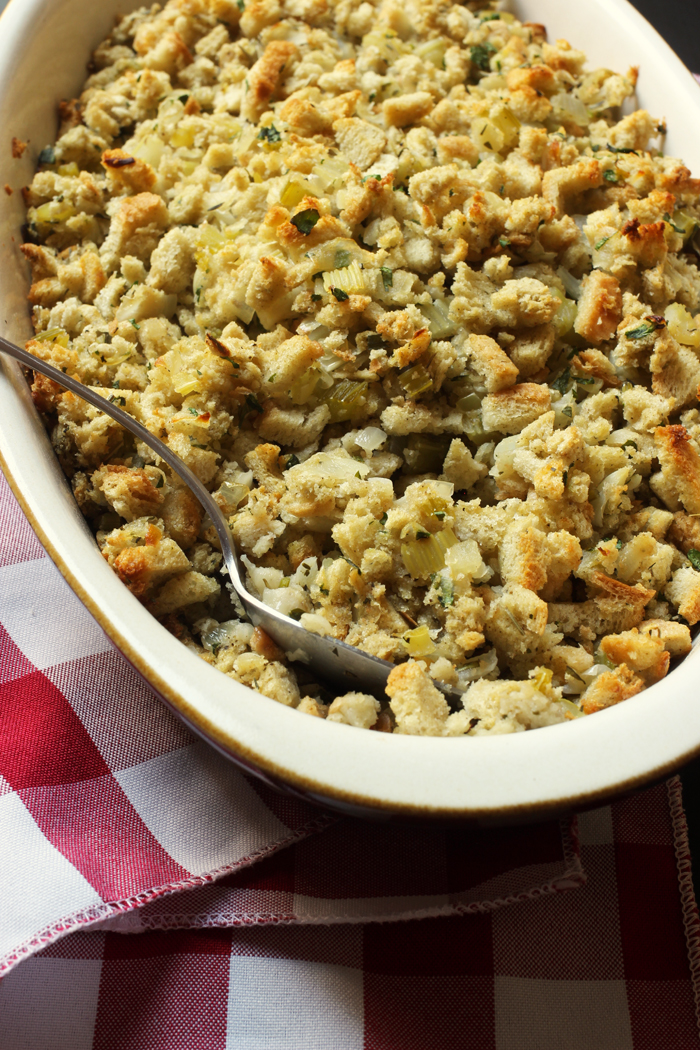 I never understood why Laura and Mary couldn't agree. One insisted that Ma make the dressing with onion. The other demanded sage. The debate was so fierce, I think those Ingalls girls might have come to blows.
Girls, girls. Why not have both?
As a mom of many, I well understand the dilemma of trying to please all the people all the time. I recently asked my kids to choose two favorite desserts for Thanksgiving. If I made everyone's favorites, I'd be making 8 desserts! Oy!
Thankfully, when it comes to stuffing, there is a way to please the masses. My herbed stuffing has both caramelized onions and sage — as well as celery, and a few other herbs to liven things up.
And while my children cannot agree on a dessert, they all agree on this recipe. You know what that means, don't you?
Yes, my friends, I have solved the quandary that dear Caroline didn't!
This is my kids' favorite and most oft-requested dish at the holidays. Six kids of varying degrees of persnicketiness? There's all the proof you need.
Herbed Stuffing with Onion and Sage
This homemade herbed stuffing recipe is super easy to make. It takes a little time investment in terms of sautéing a generous amount of onions and celery in butter, but that investment is well worth it.
In terms of sage, I lean on the dried or rubbed variety. I find this is more economical and easier to work with. However, while I use dried herbs as a money-saving hack, I find that adding in chopped fresh parsley (which is very affordable) adds a fresh, bright green element to the dish and counterbalances the dried herbs.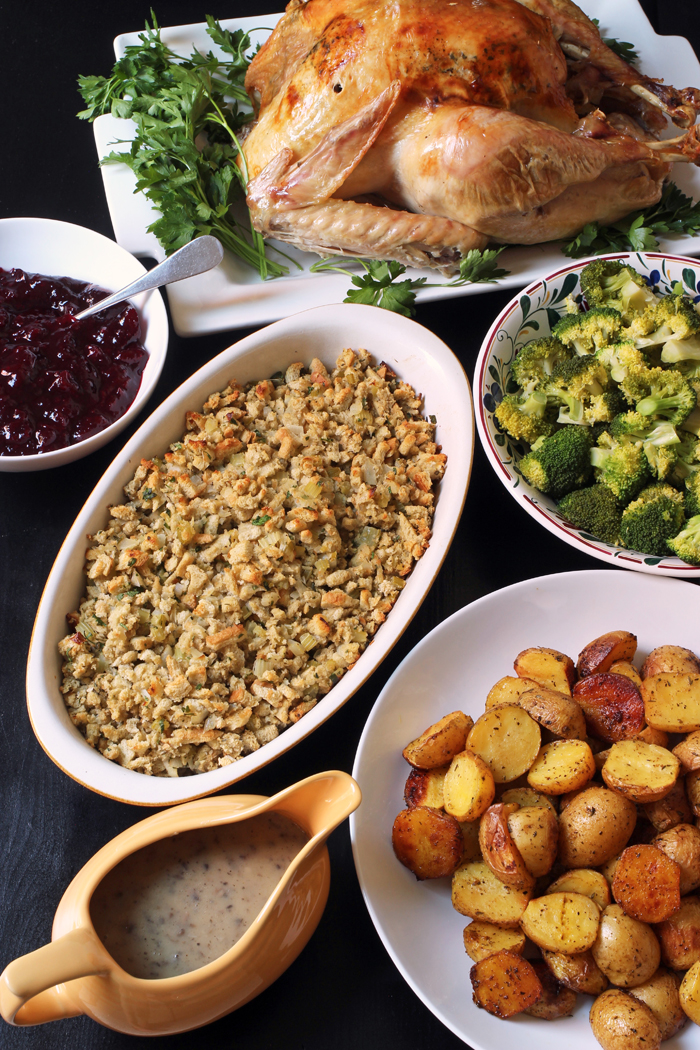 What is stuffing made of?
At its most basic, stuffing includes dry bread, butter, stock or broth, and seasonings. You'll find many recipes that include mix-ins such as cooked vegetables, sausage, fruit, and nuts.
What is the difference between stuffing and dressing?
Traditionally stuffing was the bread mixture that was placed inside the turkey or chicken before it was cooked. The juices of the bird would add extra flavor and moisture to the mixture.
Dressing, on the other hand, was that same bread mixture baked in a dish and served alongside the roast turkey.
In the last couple decades, concerns over food safety have arisen over food-borne illness resulting from stuffing that contained undercooked poultry juices.
It's recommended not to stuff the bird unless you follow some extra precautions and cook the stuffing thoroughly.
Even though you don't stuff the bird, many people still call this stuffing.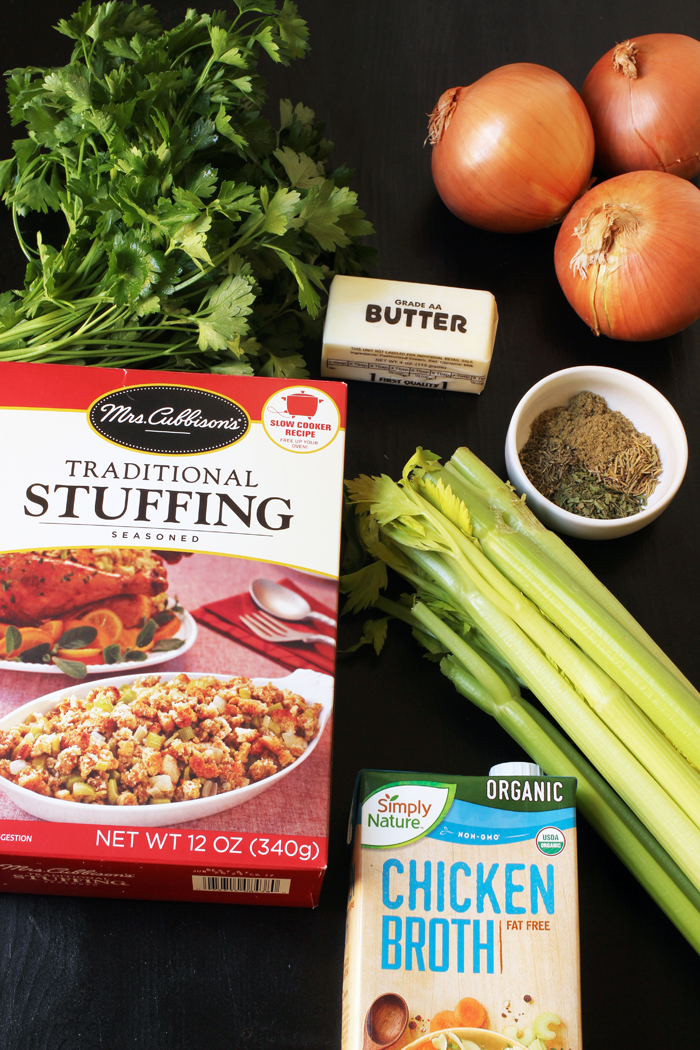 Should I cover stuffing when baking?
Whether you cover it while baking is purely a matter of personal preference. My mom and husband prefer very crispy dressing (covered) while the rest of us prefer softer dressing (covered).
If yours is a house divided, then do what I do. Cover half the dish with aluminum foil and leave the other half uncovered.
Can I use bread in this recipe?
While I generally don't use boxed products in my recipes, in this instance I like to lean on Mrs. Cubbison's dry bread stuffing. It saves the time I might spend chopping and drying bread.
You can totally make this recipe with your own bread cubes, just adjust the liquid you add if your bread isn't incredibly dry. This Mushroom & Tarragon Dressing explains how to make it with your own bread.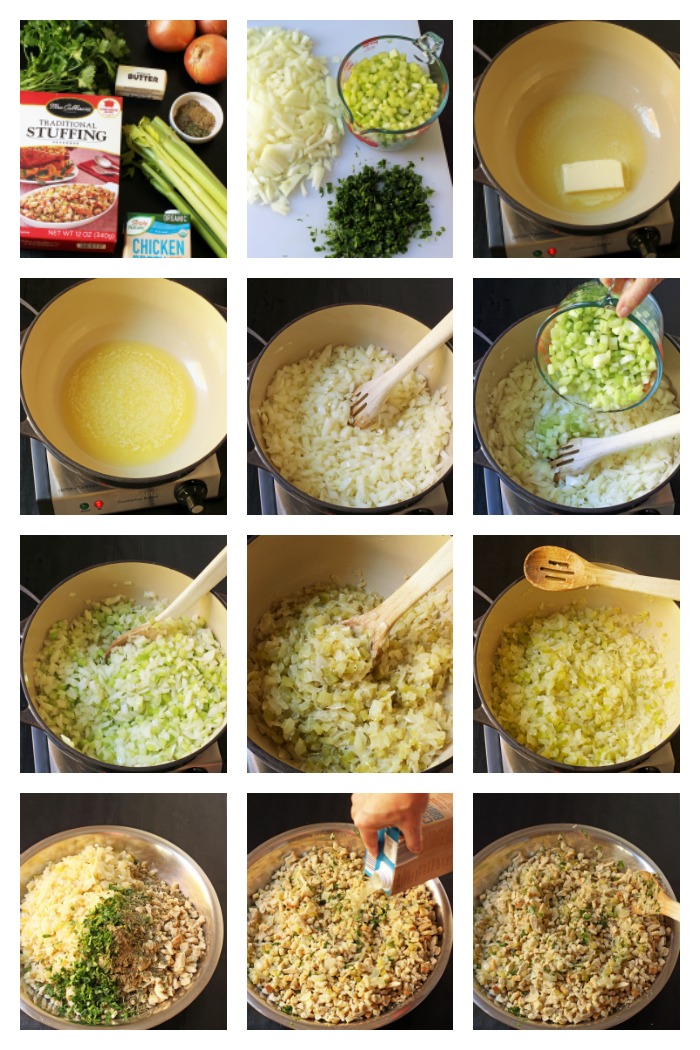 How do you make stuffing?
What makes this good are the layers of flavor and a good bread vehicle for soaking them all up.
Assemble your ingredients.
Chop the celery and onion.
Melt the butter in a heavy pot. Add the onion and celery.
Cook the onions and celery until they are very tender, a bit jammy, and lightly browned in spots.
In a very large mixing bowl, combine the bread crumbs, sautéed vegetables, herbs, and fresh chopped parsley. Stir well to combine.
Add enough chicken stock or broth until the bread is moist but not soggy. Taste as you go.
Spoon the stuffing into a greased dish and bake.
Can stuffing be frozen?
Yes! This recipe freezes very well. For years I've made my stuffing far in advance of the holidays so as to free up my time in the kitchen.
This particular recipe makes a bulk batch, making it a perfect candidate for freezing. Bake one pan and freeze the other pan for another time.
To use: Thaw in the refrigerator and then adjust the seasonings/add more broth, if needed. Then bake according to the recipe.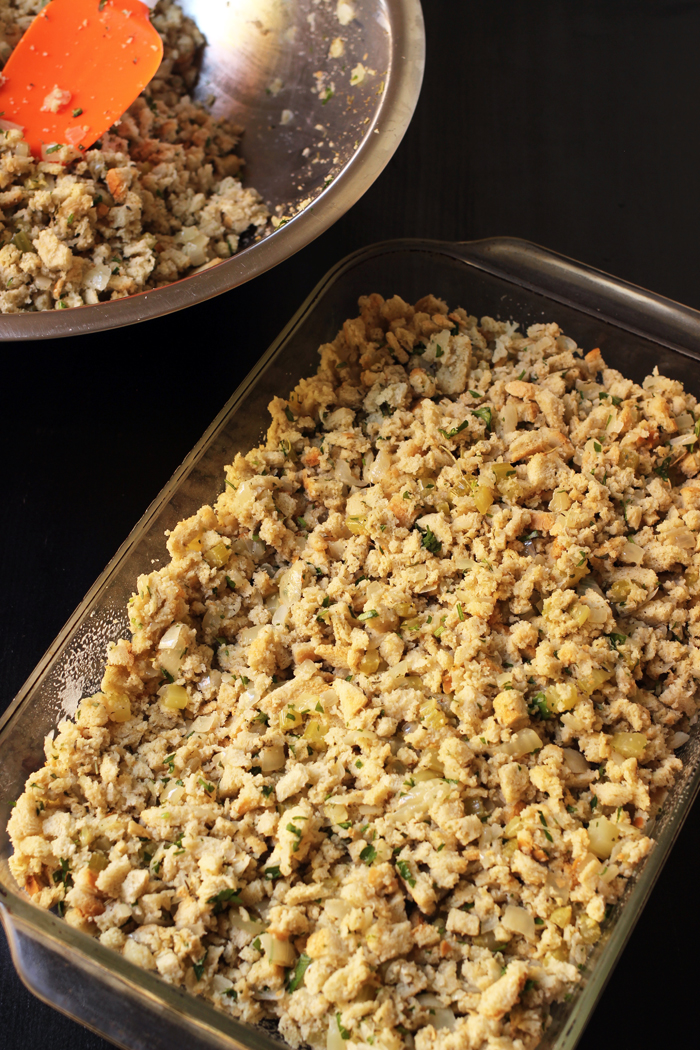 What kitchen tools do you need for this recipe?
This recipe really couldn't be easier than it is, but having the right kitchen tools can really make your time in the kitchen more enjoyable. Over time, I've honed my collection so that they are perfect for my needs.
Here are the tools that I use for this recipe: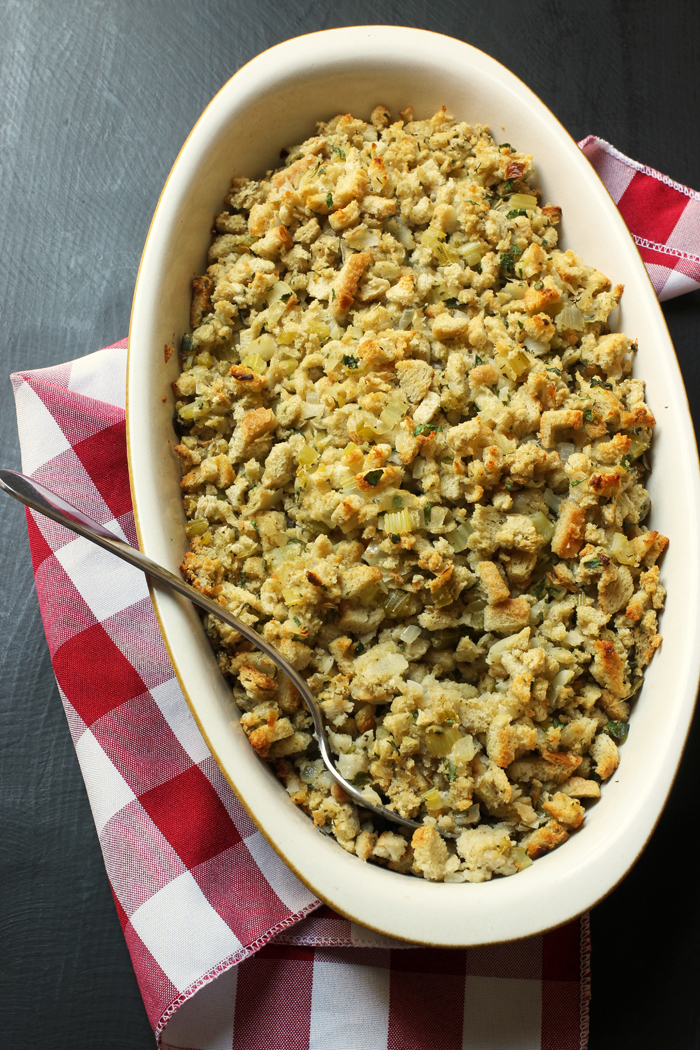 If you prepare this recipe, be sure to share a picture on social media and hashtag it
#GOODCHEAPEATS
. I can't wait to see what you cook up!
Herbed Stuffing with Onion and Sage
A classic side dish for roast chicken or turkey is a bread stuffing, or dressing. This Herbed Stuffing with Onion and Sage is a major crowd-pleaser and very freezer-friendly.
Ingredients
1/2

cup

butter

6

onion

chopped (about 6 cups)

7

ribs

celery

chopped (about 4 cups)

salt

black pepper

2

12-ounce packages

stuffing mix

such as Mrs. Cubbison's

1

cup

parsley (chopped)

1

tsp

dried rubbed sage

1

tsp

dried tarragon

1

tsp

dried rosemary

1

tsp

dried thyme

4

cup

chicken stock
Instructions
In a large heavy pot, melt the butter over medium-high heat. Add the chopped onion and celery and saute until very tender. Season to taste with salt and pepper. The vegetables will break down and start to brown a bit. This process may take up to 15 minutes or longer.

Empty the bags of stuffing mix into a large mixing bowl. Add the vegetable mixture as well as the parsley, sage, tarragon, rosemary, and thyme. Stir gently to combine. Season to taste with salt and pepper.

Add the stock, a cup at a time, until the stuffing is barely moistened.

Grease two 9x13-inch baking dishes. Preheat oven to 350 degrees.

Divide the mixture between the two pans. Bake for 45 minutes and then uncover to brown and crispen the top, according to your preferences.
Notes
Note: stuffing may be frozen prior to baking. Cover well, chill, and freeze. Thaw before proceeding with the recipe.
Leftover stuffing is good, stored in the refrigerator, covered, for up to 4 days.
Nutrition
Calories:
78
kcal
|
Carbohydrates:
6
g
|
Protein:
2
g
|
Fat:
5
g
|
Saturated Fat:
3
g
|
Cholesterol:
14
mg
|
Sodium:
114
mg
|
Potassium:
136
mg
|
Fiber:
1
g
|
Sugar:
3
g
|
Vitamin A:
399
IU
|
Vitamin C:
7
mg
|
Calcium:
19
mg
|
Iron:
1
mg