Enjoy Gingerbread with lemon sauce and cream cheese. While the cake bakes, mix up the tasty toppings for a traditional dessert that can't be beat.
Christmas is one of those occasions when you bust out some of your favorite traditional recipes. You know the ones, the ones that bring back special memories, the ones that seem only at home during the holidays.
This Gingerbread with Lemon Sauce and Cream Cheese Topping is one that my mother-in-law often made for us at the holiday time. It is simple and delicious. You will want to eat it all. At least I do.
It's amazing that a dessert so simple to make can taste so amazing. Seriously, you can whip up the cake along with both toppings in less than an hour. It's feels and tastes fancy, but doesn't take more work than opening a boxed mix.
Add Gingerbread with Lemon Sauce and Cream Cheese Topping to your holiday menu. You won't be sorry.
What is gingerbread?
Back in the Middle Ages, noblewomen would present intricately shaped and decorated honey-spice breads to their gallant knights going into battle. This became known as Gingerbread.
Modern day gingerbread takes the form of either a ginger-spiced cookie cut into shapes or a dark, moist cake flavored with molasses, ginger, and other spices. The latter is more particular to the United States, and often served with lemon sauce.
And that's what this dessert is all about — with the fantastic addition of sweetened cream cheese.
How do you make homemade gingerbread?
Homemade Gingerbread with Lemon Sauce is a fairly traditional American dessert — and super easy to make! Combine sugar and spices, enrich it with oil, molasses, and eggs. Add baking soda, water, and flour. Bake in a 9×13-inch pan and voila! A deliciously rich, spiced cake perfect for any festive occasion.
Why is it called gingerbread?
Ginger is one of the spices included in gingerbread.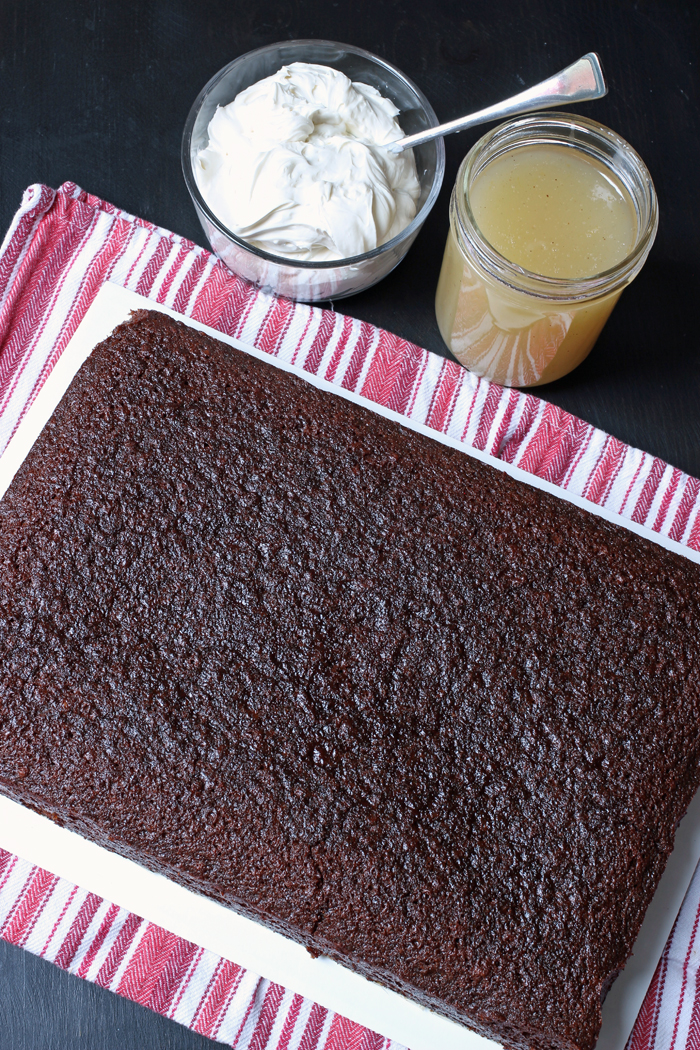 How do I make this dessert affordably?
Here are some of the strategies you can use to make Gingerbread more economical:
Stock up on ingredients when they are on sale. When I find regular kitchen staples on sale, I buy a lot. I'm currently using a price book to track prices and that's saving me money. For this recipe, keeping an eye on the price of flour and butter can help keep the price down.
Buying in bulk – It's rare that I would buy just one bag of flour. Instead I stock up when I see a sale. I also have gotten into the habit of buying cases of flour from Bob's Red Mill. I practice the same bulk buying for spices and other baking ingredients.
Watch the clearance – I often find baking ingredients marked down at my grocery store. I only buy if the "best by" date is several months in the future, which it almost always is. Recently, I picked up a jar of molasses for this cake for about a buck.
How I make easy Gingerbread?
This recipe really couldn't be easier than it is, but having the right kitchen tools can really make your time in the kitchen more enjoyable. Over time, I've honed my collection so that they are perfect for my needs.
Here are the tools that I use for this recipe: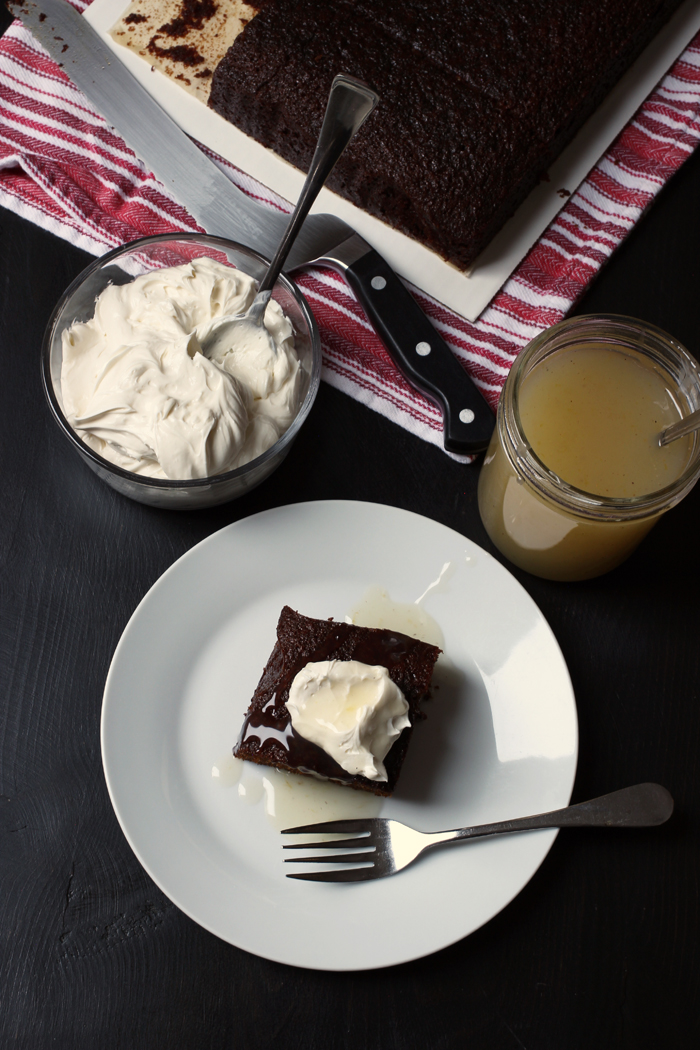 Gingerbread with Lemon Sauce & Cream Cheese
Enjoy Gingerbread with lemon sauce and cream cheese. While the cake bakes, mix up the tasty toppings for a traditional dessert that can't be beat.
Ingredients
Gingerbread
1

cup

granulated sugar

1/4

tsp

salt

1

tsp

ground ginger

1/2

tsp

ground cinnamon

1/2

tsp

ground cloves

1

cup

neutral oil

1

cup

molasses

2

tsp

baking soda

1

cup

water

boiling

2 1/2

cup

unbleached, all-purpose flour

2

egg

beaten
Cream Cheese Topping
1

8-ounce package

cream cheese

softened

1

tbsp

milk

1/4

cup

powdered sugar

1

tsp

vanilla extract
Lemon Sauce
1/4

cup

butter

1/2 stick

1

cup

granulated sugar

2

tbsp

unbleached, all-purpose flour

1 1/4

cup

water

boiling

1/2

tsp

lemon zest

dash

ground nutmeg

1 1/2

tsp

lemon juice
Instructions
To bake the cake:
Preheat the oven to 350 degrees. Grease a 9x13-inch baking pan or line it with parchment paper.

In a large mixing bowl combine sugar, salt, ginger, cinnamon, and cloves. Stir in the oil, then the molasses, mixing well.

Place the boiling water into a heatproof dish. Mix the baking soda into the boiling water and immediately stir it into sugar mixture.

Gradually blend in the flour, then add the eggs.

Pour the batter into the prepared pan. Bake for 40-45 minutes or until a tester comes out clean.

When the cake is finished baking, remove from the oven and cool on a rack.
Make the cream cheese topping.
Meanwhile in a medium mixing bowl, beat the cream cheese with the milk, sugar and vanilla. Blend until smooth.

Refrigerate until ready to serve.
Make the lemon sauce.
In a medium saucepan, melt the butter, then add the sugar and flour. Gradually add the boiling water. Add the lemon peel and nutmeg. Boil 3 minutes. Remove from heat and stir in the lemon juice.

Serve the cake with lemon sauce and cream cheese topping.
Notes
The cake is good for four days at room temperature, longer if wrapped well and stored in the freezer.
Nutrition
Calories:
447
kcal
|
Carbohydrates:
79
g
|
Protein:
5
g
|
Fat:
13
g
|
Saturated Fat:
7
g
|
Cholesterol:
58
mg
|
Sodium:
348
mg
|
Potassium:
475
mg
|
Fiber:
1
g
|
Sugar:
58
g
|
Vitamin A:
412
IU
|
Vitamin C:
1
mg
|
Calcium:
87
mg
|
Iron:
3
mg