Homemade Christmas bread, full of cranberries and baked in a paper pan is reminiscent of store bought panettone, but the dough features whole wheat pastry flour and is prepared in a bread machine.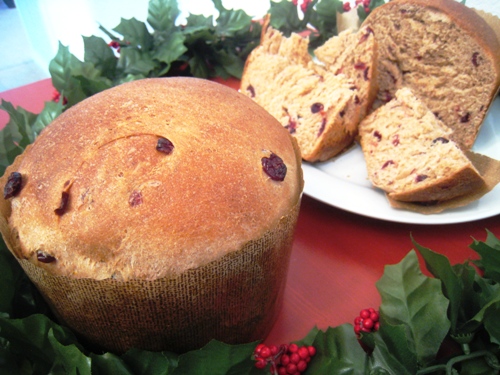 I was first introduced to panettone the year I lived in France almost twenty years ago. My French family lived in the south of the country and exposed me to all sorts of wonderful Christmas traditions, like the Buche de Noel. The Italian bread called panettone was another.
A few years after I returned to the States, I started seeing it available seasonally in specialty shops. Nowadays even the drugstore sells it. However, the bright yellow packages we've purchased have yielded some awful tasting bread. This year, rather than waste our money on those breads, I made a wanna-be panettone.
I hesitate to call my recipe panettone. While this has the fruit and the pretty paper, it does not involve the proofing and variety of candied fruit that is in the real deal. Consider this a delicious, American knock-off.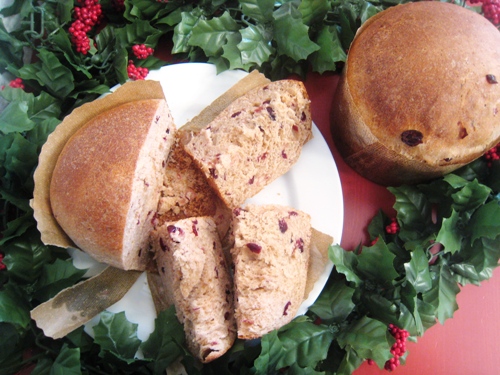 Please note that my cheater way involves a bread machine and two 4-inch panettone paper molds. But, you can form the bread dough in the traditional way and bake it in a bread pan if you prefer.
Recipe: Cranberry Christmas Bread
Summary: a panettone-like sweet bread
Ingredients
1 cup milk
1/2 cup butter, cubed
2 eggs
1/4 cup brown sugar
3 cups whole wheat pastry flour
1 cup unbleached all-purpose flour
1 tablespoon lemon zest
1 teaspoon salt
1 tablespoon yeast
1 cup dried cranberries
Instructions
Lay two 4-inch panettone paper molds on a baking sheet.
Combine the ingredients in the pan of a bread machine in the order recommended by the manufacturer. Set the dough cycle and turn it on.
When the machine beeps at the end of the dough cycle, turn the dough out onto a lightly floured surface and divide it in two pieces.
Form each piece into a tight ball and place in a paper mold. Cover and allow the dough to rise until doubled in bulk, about 45 minutes.
Preheat the oven to 350 °.
Bake the breads for 30 to 40 minutes or until golden brown. Cool on a rack before serving.
Preparation time: 2 hour(s)
Cooking time: 35 minute(s)
What's a favorite Christmas recipe of yours?