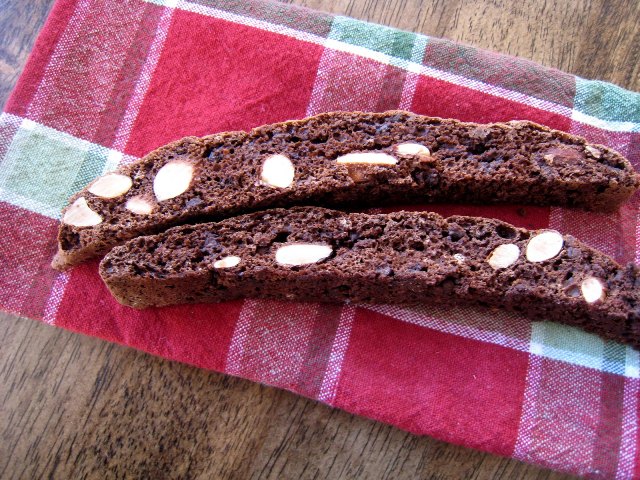 Years and years ago, my husband suggested that "we" learn to make biscotti. These twice-baked, Italian cookies proved to be super easy to make, which is a good thing since "we" became "me." But, that's okay. Biscotti are FishPapa's favorite cookie which makes them fun for me to make for him.
Recently, we've learned that we needed to make some changes to our family's diet. I did some research and was pleased to find out that our favorite biscotti recipe fit well into the heart-healthier changes we're trying to make. Almonds and dark chocolate both are considered helpful in lowering cholesterol and blood pressure. And since this recipe does not call for butter or oil, I didn't have to face the conflicting, "Which fat do I use?" question.
Everybody say "Yeah for biscotti!"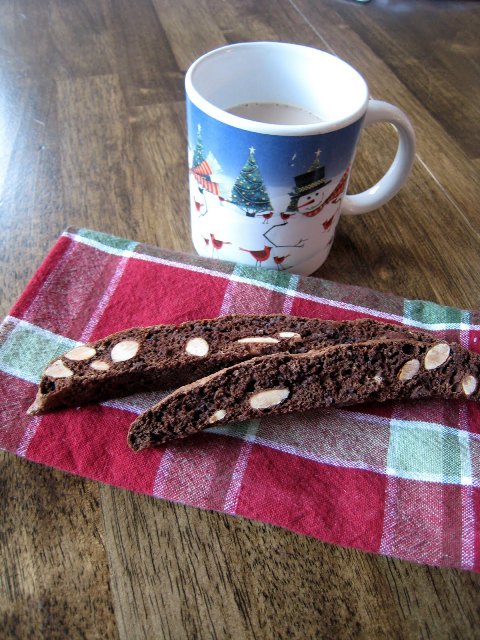 Recipe: Chocolate-Almond Biscotti
Ingredients
3 eggs
1 teaspoon vanilla
1/2 teaspoon almond extract
1 cup dark brown sugar
1 3/4 cups unbleached flour
1/3 cup cocoa
1/2 teaspoon finely ground decaf coffee (instant would work as well)
1 teaspoon baking soda
1/4 teaspoon salt
1 cup whole almonds, toasted
3/4 cup dark chocolate chips, tiny ones if you can find them
Instructions
Preheat oven to 300°. Line a large cookie sheet with parchment or a silpat mat.
In large bowl, beat eggs and extracts with hand mixer. Blend in sugar. Sift together flour, cocoa, coffee, baking soda, and salt. Mix to blend. Stir in almonds and chocolate chips.
Spoon batter into one long log down the center of parchment. Bake for 50 minutes. Remove from oven.
Leave oven set to 300°. Wait 5-10 minutes, then slice large cookie log crosswise into 1/2 inch slices. Place slices on cookie sheets and bake for 25 minutes. Turn cookie slices over and bake another 25 minutes.
Cool completely. Store in an airtight container. For longer storage, store the container in the freezer.