Ready to get baking for the holidays? Here's a cheat sheet for freezing your holiday baked goods. Make them now and enjoy them later.
Ever pull something out of the freezer and find that it's covered in a thin crust of ice? Ever thaw a loaf of banana bread to find that it's gone mushy and weird? Ever taste a previously-frozen item only to taste "freezer" instead of yummy deliciousness?
Well, as the kid says in Mr. Mom, "You're doing it wrong."
One of the most common critiques that I hear from freezer cooking skeptics is that the food comes out weird on the other end of freezing. Upon defrost, they find that their baked items have lost taste or texture.
This is, to lack eloquence, a total bummer.
You worked really hard to fill the freezer, why did your supply go south? Thankfully, freezer burn and other mishaps can be avoided if you properly cool, wrap, and freeze the items you're going to store in the freezer.
A Cheat Sheet for Freezing Baked Goods
Today let's chat about freezing holiday baked goods. There is no end to all the delicious loveliness that you can bake now to enjoy later. In fact, make-ahead is the name of the game if you want to keep your head on straight this holiday season.
Then make sure you store your frozen goods properly. Here's how: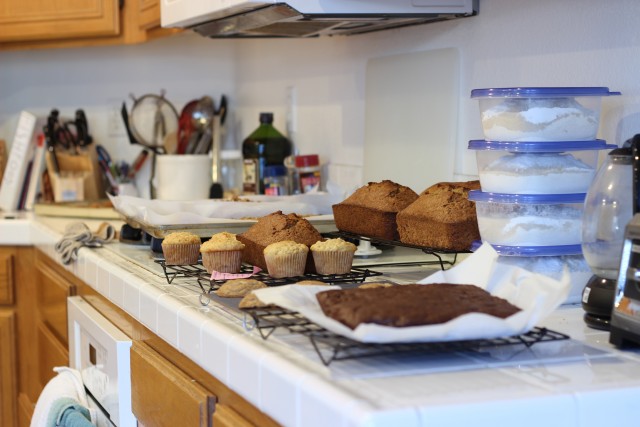 Fruit Pies
Freeze fruit pies such as apple or berry unbaked. Wrap the pie with heavy duty foil and place on a flat surface in the freezer. Don't thaw it before baking; simply place the frozen pie in a 425° oven for 15 minutes. Reduce the heat to 375° and continue baking until the crust is brown and the filling is hot and bubbly, typically another 45 minutes.
Breads/Cake/Brownies
Bake your breads, cakes, or brownies and then cool them completely on a rack. Wrap with a double layer of plastic wrap or use a single layer of plastic and slip the item into a freezer bag. Thaw, wrapped, at room temperature.
Waffles/Muffins
Completely cool the waffles or muffins on a rack. Place in a ziptop, freezer bag to freeze. Reheat in the microwave or toaster.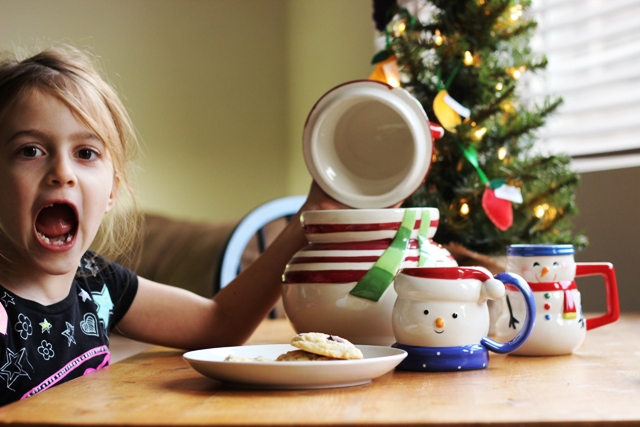 Pancakes
Completely cool the cooked pancakes on a rack. Wrap short stacks in plastic wrap and place them in a freezer bag. Reheat in microwave or toaster.
Cookies
Cookies are pretty versatile; there are several ways to freeze cookies.
Freeze the unbaked dough in a covered container; thaw in the refrigerator before forming the cookies and baking as directed by the recipe.
Freeze dough balls on a tray and then place them in a zippered freezer bag.
Freeze baked and cooled cookies in an airtight container.
–> Be sure to consult these 8 steps for better cookie baking.
Mixes
I love to make my own baking mixes. Quick breads, brownies, muffins, waffles, and pancakes all lend themselves well to mixes. Simply combine the dry ingredients for the recipe in a bag marked with the rest of the recipe directions. Store the bag of mix in the pantry or in the freezer for longer shelf life.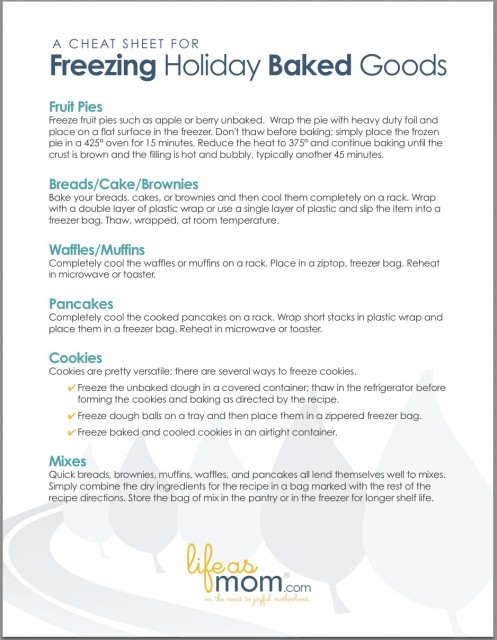 All this information is available on this printable "cheat sheet". Grab it, print it out, and stash it with your recipes or tack it to the side of the fridge for easy reference.
Favorite Kitchen Tools for Holiday Baking

a food scale – I've been using this food scale for years. It's lasting and durable and I love it. Since I learned about weighing flour instead of measuring it, it's been a game changer. How you measure your flour can greatly affect your finished product!

silpat mats or parchment paper – Whenever possible, I line my baking sheets with silpat mats or parchment. This ensures that I can get the baked good off the pan AND spend as little time as possible scrubbing pans.

sturdy baking sheets – Last year I invested in a USA sheet pan. Amazing – nothing sticks to this pan! You can even bake without parchment.

a Kitchenaid mixer – It took me a long time to fall in love with my mixer, but it is now my go-to for bread and pizza doughs as well as cookie batter, tamale masa, frosting, and whipped cream.

quick-release cookie scoops  – These are super helpful in making lots of cookie at once that are more or less the same size. (They also make great meatballs, too.)
What's YOUR favorite for freezing holiday baked goods?
Baby Cakes