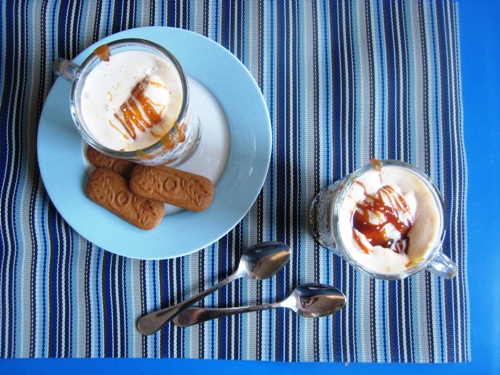 With the approach of Winter, longer nights, and cooler temps, my mind turns to warm and elegant desserts. What sounds more elegant than serving Salted Caramel Affogatos?
Affogato is just a fancy word for coffee float. A traditionally Italian version would, of course, feature gelato, but regular ice cream can work just as well. The better quality ice cream, though, the better your treat. Tradition would also dictate that you use espresso. But, in the absence of an espresso machine, feel free to use strongly brewed coffee.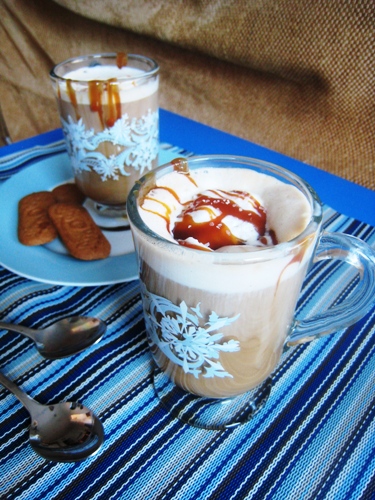 Always the skeptic when I experiment in the kitchen, hubs raised an eyebrow when I began to assemble these. But once he saw the finished product, he was a believer. Oh yes, yes, he was.
This dessert coffee is so incredibly easy, you will shock and amaze everyone who sits round your table this winter. Serve them with a few cookies or biscotti for an elegantly sweet ending to a meal.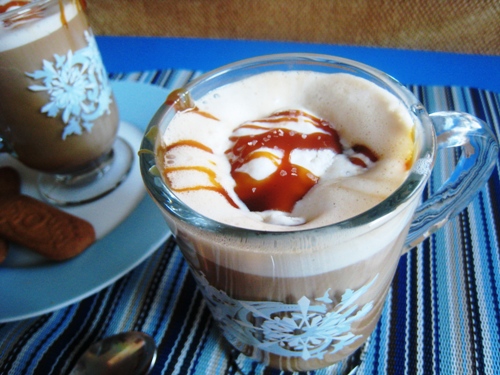 Recipe: Salted Caramel Affogato
Ingredients
2 cups hot espresso or strongly brewed coffee
2 large scoops vanilla bean gelato or ice cream
2 to 4 Tablespoons caramel sauce, warmed to drizzling consistency
2 large pinches kosher salt
Instructions
Divide the coffee into two large mugs.
Place one scoop of gelato into each mug.
Drizzle the caramel sauce over the creamy foam that forms.
Sprinkle each with a pinch of salt.
Serve immediately.
Preparation time: 5 minute(s)
Number of servings (yield): 2
What's on YOUR plate?
What's on Your Plate? is designed to be a conversation amongst good eaters.
Tell us about a recent meal. Did it meet with rave reviews? Or did it bomb? What side dishes did you pair with the star of the show? Did you try a new ingredient? Find the groceries at great prices?
What's on YOUR Plate?
Share with us a recent meal you prepared. Either link it up below or tell us about it in the comments. Please make sure that you link to www.goodcheapeats.com in your post so others know where the dinner party is.
And don't forget to visit the other good eaters participating today. I'm sure you will be inspired to make all sorts of Good Cheap Eats at your house.
Thanksgiving-themed What's On Your Plate: Next week on November 16th, we'll be sharing our Thanksgiving Menus! If you don't have one decided by that time, you can be inspired by what others share.