A Wine & Cheese Gift Basket can be a wonderful gift to celebrate many a holiday, including weddings, new babies, graduations, Christmas, and New Year's. To save money and truly customize the treats, make a wine and cheese gift basket yourself.
When you make a wine and cheese gift basket, you're gifting an experience as well as a taste sensation. In addition to commercial food stuffs, you can also tuck in homemade Chocolate Biscotti, Cheddar Coins, and S'mores Fudge.
Jump to:
When you don't want to give someone more stuff to manage, give them an experience, a break from the everyday that is both delicious and relaxing. A wine and cheese gift basket is just the thing!
Whether you're thanking your hostess for a fantastic event, celebrating the newlyweds or a new baby, or simply congratulating a friend on getting through a hard year, a basket filled with tasty goodies and pleasing libations can be both experience and nourishment in one.
Why Do This
It's quick to make. A wine and cheese gift basket is one that you can pull together rather quickly. While it's nice to bake homemade treats, sometimes it's better to let ALDI or Trader Joe's take care of that. And they can — lickety split!
A wine and cheese basket is super versatile. This is a great gift to celebrate any number of occasions and recipients. You can make subtle changes here and there to suit the situation. (I give adult versions to the couples in our neighborhood and more family-friendly baskets to the folks with kids each New Year's.)
It's easy to make in bulk. It's super easy to shop for multiple wine and cheese baskets at one time and have a fun and fancy gift ready in a matter of minutes for many different people on your list.
What You'll Need
Here's what you'll need to make a wine and cheese gift basket: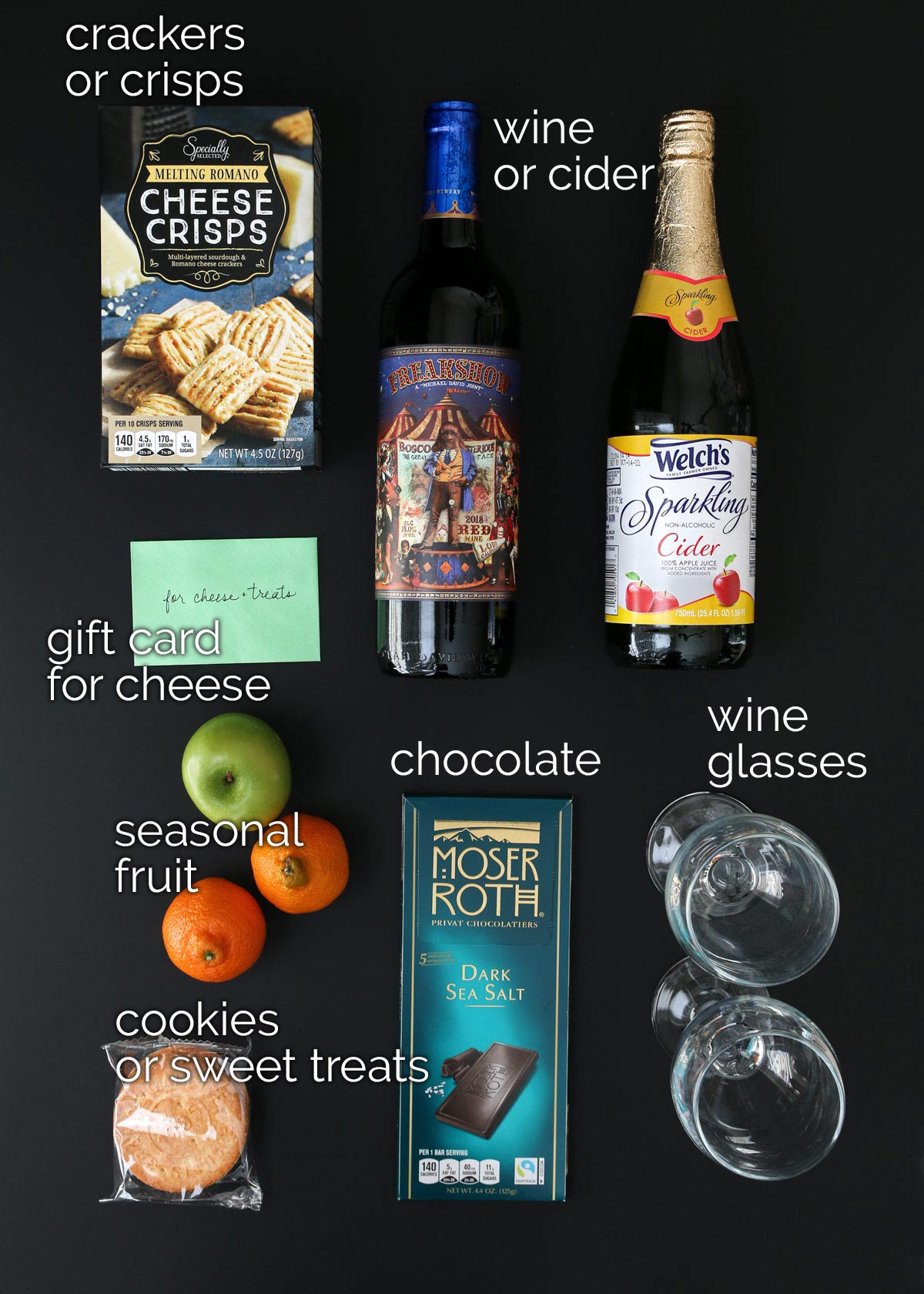 I prefer to give shelf stable gifts whenever possible to make it easier for my gift recipient to enjoy the goodies at their leisure. See the notes for other options.
bottled wine or cider – It helps to know the gift recipients' preferences. Both wine and cider (hard or soft) are appropriate for this wine and cheese gift basket.
wine glasses or goblets – There are a variety of options in stemware out there — or even stemless like these. You can even find unbreakable glasses that might be more appropriate for picnics or poolside. Tuck a pair of glasses into the basket as a fun accent.
chocolate – Chocolate is a great pairing for wine. Just be sure to grab a quality brand for your wine and cheese gift basket. Cheap chocolate will take this basket down a notch. Don't go there.
cookies or sweet treats – Include a few packets of biscuits or cookies. These butter cookies from France are amazing, but homemade will be tasty as well.
seasonal fruit – Apples and clementines are perfect fruit to pack since they are shelf stable and abundant during this season.
cheese or a gift card to buy some – Choose a variety of cheeses to include in your gift basket, but if you don't have easy refrigeration at your gift exchange or want to let the recipient decide, simply tuck in a gift card to a local cheese shop, online purveyor, or local grocery store into your gift basket.
crackers or crisps – Cheese goes well with crackers and sometimes even in crackers. They are the perfect thing to tuck into your wine and cheese gift basket.
Variations:
You can also tuck in any of the following to tweak the theme of your gift basket.
Step-by-Step Instructions
Line the basket with tissue paper.
Arrange the elements in the basket, taking care to cushion the wine glasses and bottles to avoid breakage.
FAQs & Tips for Success
What do you put in the bottom of a gift basket?
Line the bottom of your gift basket with tissue paper or paper grass to help fill the basket and cushion any fragile items.
How do you make a wine gift basket?
A wine gift basket is simple to make. Choose one or two favorite wines and include food pairings or wine accessories such as glasses and a bottle opener.
What pairs well with wine as a gift?
Chocolates, cheese, cookies, and fruit all pair well with wine for a fun gift basket.
Tips for Success
To have the most success with your wine and cheese gift basket, take these points into consideration:
Cheese generally needs to be refrigerated. Depending on the setting and occasion, you may want to give a gift card for the recipient to buy cheese rather than providing it in the basket. This can be a gift card to a cheese shop, an online purveyor, or a shop near their home.
If you will be giving cheese in the basket, vary the textures and flavors as much as possible, including a hard cheese, a semi-soft, and a soft one. Check out this guide to cheeses.
Wines can vary in price and quality. It's good to know the recipient's preferences before you shop. Take some time to read a wine guide if you're not already familiar with their likes and dislikes.
To save money on your wine purchases, it's helpful to watch for sales as well as coupons if you live in a state that allows discounts on wine. At Ralphs, my local Kroger affiliate, they offer 30% off when you purchase 6 bottles of wine. They also offer grocery rebates from time to time.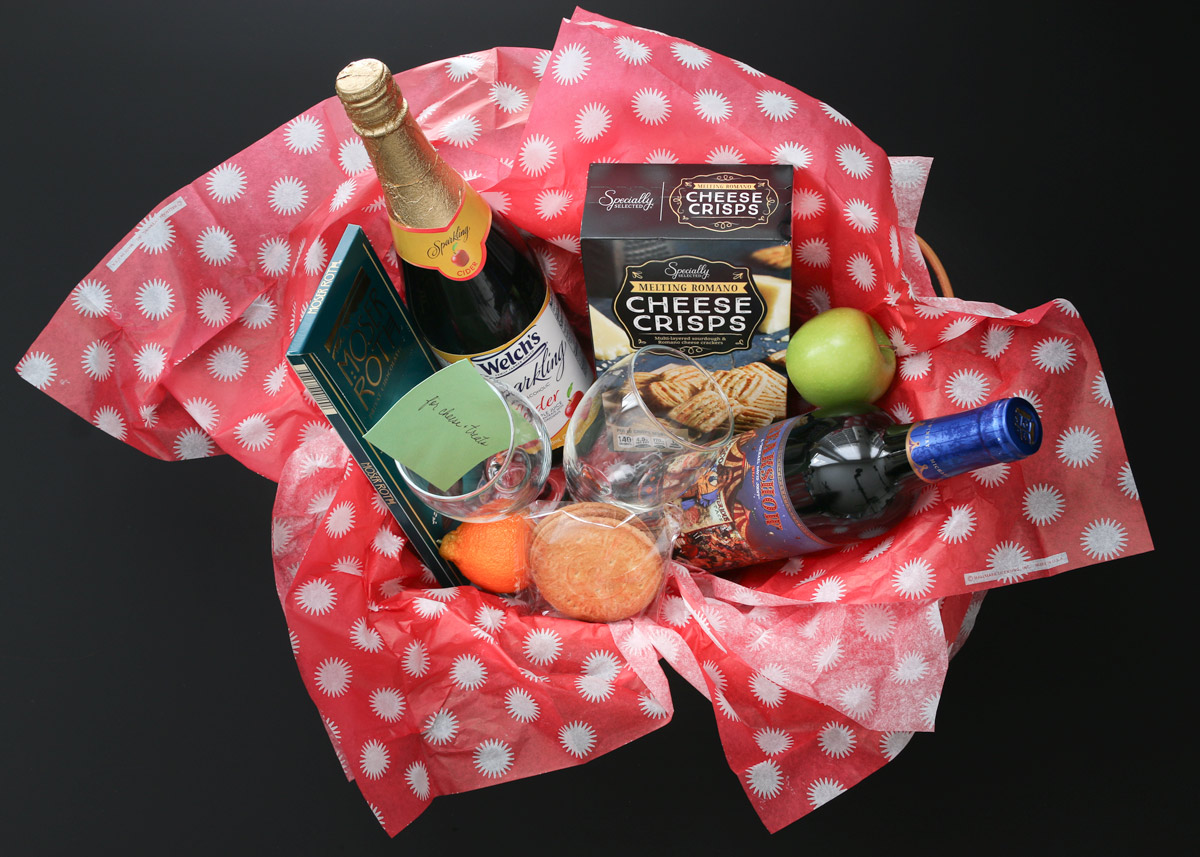 More Frugal Food Gifts
How to Make a Wine & Cheese Gift Basket
Assemble your own wine and cheese gift basket to save money and to customize the treats for your gift recipient.
Equipment
basket

tissue paper

wine glasses
Ingredients
1 to 2

bottles

wine or cider

3 to 4

pieces

seasonal fruit

1

box

crackers

1

package

chocolate

1

pacakge

biscuits or cookies

1

gift card for cheese and other treats
Instructions
Line the basket with tissue paper.

Arrange the elements in the basket, taking care to cushion the wine glasses and bottles to avoid breakage.
Notes
Variations: there are so many wonderful things that you can add to a wine and cheese gift basket. What you include will depend on how soon you'll be delivering the gift and if refrigeration is available. Consider adding kitchen utensils, picnic supplies, bath accessories, or other food gifts.
Cheese recommendations: If refrigeration is not a problem, be sure to include a variety of cheeses, especially ones that have differing textures. Some options include: brie, emmenthal, gruyere, gorgonzola, gouda, and dill havarti.
Wine recommendations: Consult the Wine4Me app for help selecting wines that the recipient enjoys.
This post was originally published on December 4, 2013. It has been updated for content and clarity.