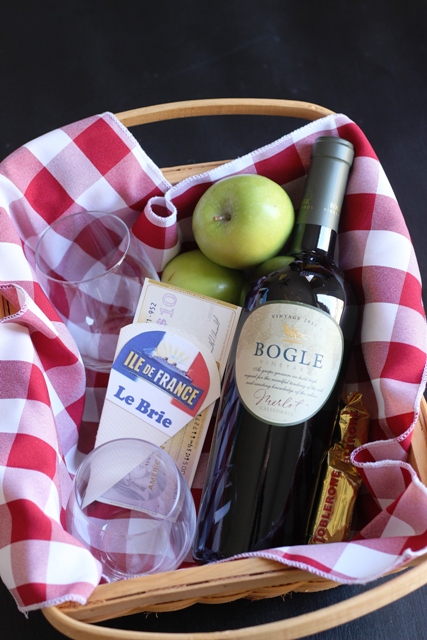 As you mark your calendar for upcoming holiday events and get-togethers, consider how you can bless your hostess (or host) ask thanks for the effort and preparations that they've invested into said shebang.
Here's a fun gift basket idea that you can pull together rather quickly, perfect for a hostess gift. It's also a great gift to give for any number of occasions and recipients. If you plan wisely, you can keep the supplies on hand for multiple baskets and have a fun and fancy gift ready in a matter of seconds.
How to Make an Easy Wine & Cheese Gift Basket
Bottled wine or cider – This is a great time to grab favorite beverages on sale. Since this is a celebratory season, wine, beers, and ciders (hard or nonalcoholic) go for much lower prices than normal. At Ralphs, my local Kroger affiliate, they offer 30% off when you purchase 6 bottles of wine. You can easily get a good bottle of wine for less than $10.
Wine glasses or goblets – I love the stemless glasses I just bought. They are similar to these. Tuck a pair of glasses into the basket for about 5 bucks.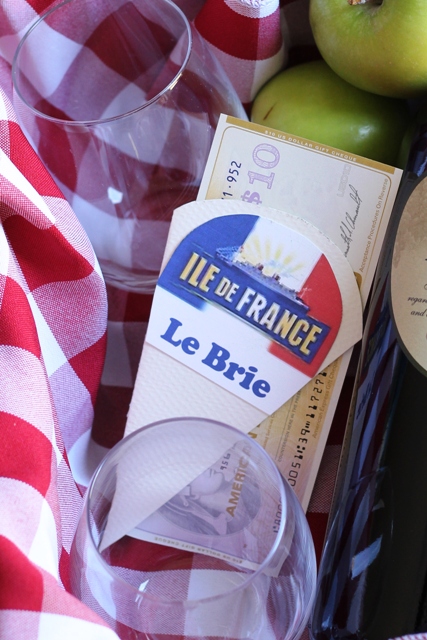 A cheese certificate – My sister made me that cute Brie card years ago when she sent me a similar wine and cheese gift at Christmas. She color printed a cheese label and stuck it on a bit of card stock. Inside, she tucked a gift card for us to go buy our own cheese. If you've got a nice cheese shop near you, grab a gift certificate from there. Yum!
Fruit – Apples and clementines are perfect fruit to pack since they are shelf stable and abundant during this season.
Chocolate – The same goes for chocolates. Just be sure to grab a quality brand. Cheap chocolate will take this basket down a notch. Don't go there.
Wrap it all up in a basket with a pretty cloth and you've got a rocking foodie gift that you'll probably want to keep for yourself.
What else would YOU add?
Other Hostess Gift Ideas:

For other gift ideas, check out my list of Great Gifts on Life as MOM.