This post is sponsored by Snack Pack pudding: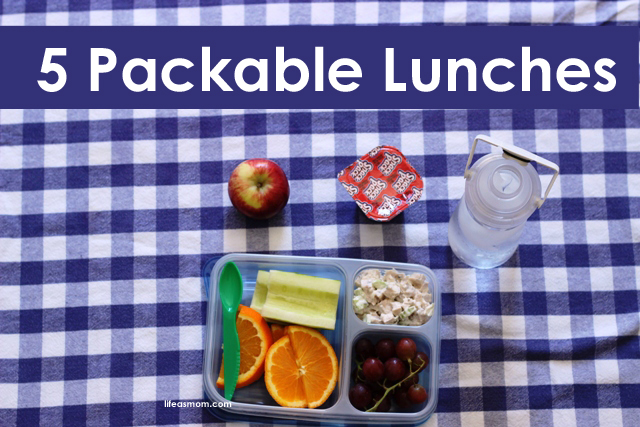 I was a child of the 70s and 80s. I went to Rosedell Elementary School. Mrs. Marcy was my favorite teacher of all time, second grade. I packed my lunch most days. One of my favorites was Tuna Salad in a pita bread with alfalfa sprouts. Yes, really. It was the 70s in California. What did you expect?
Hubs on the other hand was a child of the 60s and 70s. His mom was pretty poor when he was growing up. School wasn't fun. When we talked about school lunches the other day, he said that having a chocolate pudding cup, specifically, a Snack Pack pudding, in his lunch was a huge deal for him. HUGE. He said, "I knew there was something to look forward to."
Guess what I bought for him this week?
Back to School Lunches
Back to School means Back to School Lunches. This year, we can set ourselves up for success by taking the same meal planning strategies we use for the evening meal and applying it to lunch! Not only will you save yourself some stressing in the wee morning hours, but you'll feel better knowing that your kids have a great lunch waiting for them.
At our house I don't pack lunches because the kids eat away from home during the day. As a homeschool mom I pack lunches so that our school day goes smoother.
If I don't have to interrupt my work with one of the kids to make lunch, I can get more accomplished.
If none of us have to do a lot of prep and clean up, we can get back to schoolwork.
If a child can grab his lunch and his book and head out to the hammock for some quiet nourishment for body and soul, well, amen to that.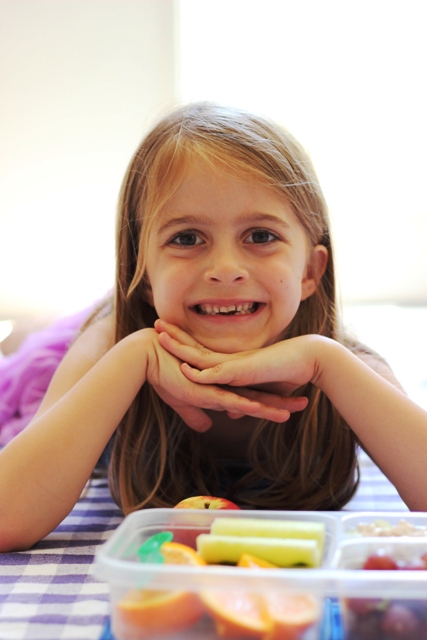 Last year I didn't utilize this strategy very well since the fridge was always so full of produce, but I'm hoping this year will be different. I'm considering putting the produce box on vacation more often — or getting a second fridge! The jury is still out, but I know that making our school day lunches ahead of time will save us time and money.
Make-ahead meals do that. Save time and money.
Our school starts soon, so I decided to plan out a week of lunches, create a shopping list, and make sure we're good to go when Monday rolls around. And I made it into printable format, just like my other free meal plans. Just sharing the love.
My kids are pretty good about having the same thing once a week, so we'll probably repeat this rotation for awhile. We did the same during the summer, and it worked really well.
5 Packable Lunches
Here's our menu, all packable items that I can make in advance and let the kids serve themselves — or each other.
can be made gluten and dairy free
This meal is quick to pull together and everyone likes it. The chicken and the buns can also be frozen, making it a very make-ahead meal. Pack the tomato separate so the bun doesn't get soggy. You can let your kids assemble it themselves.
(And if you know they won't eat the tomato, don't put it in there. Just saying. It's one thing to make them eat something when you're there to enforce it; school is a whole other ball game.)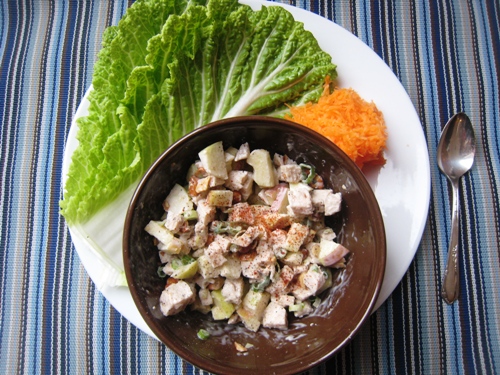 can be made gluten and dairy free
I like the low-carb option of this dish and the flavorful sweet and savory in the salad. Again, it's easy to make the chicken in advance and freeze it so that you can make quick work of the salad.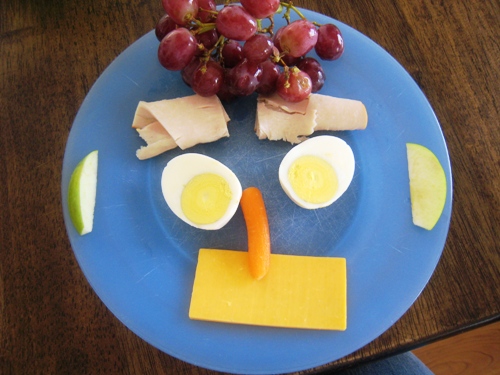 can be made gluten and dairy free or vegetarian
My kids have grown up on homemade Lunchables, basically what a snacky lunch is. Most will say it's one of their favorite lunches ever. Easy. Crackers, cheese, turkey, veggies, and fruit? What's not to love.
Slice a bunch of cheese and meat at the beginning of the week to make it easier as the days go by.
can be made gluten and dairy free
Tuna isn't the cheap protein it once was, but we love it all the same. Last year, my big boys packed it almost every time they had science class. Pack the salad separate from the bread to avoid sogginess.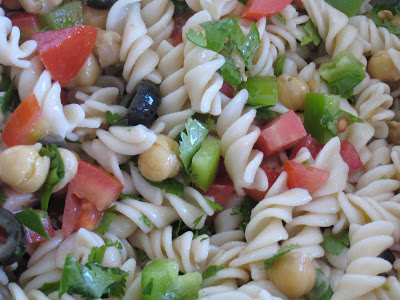 can be made gluten and dairy free
Pasta salad is a huge favorite around here. I can vary it depending on whatever we have on hand. The kids love it. You can make this with rice pasta or regular wheat noodles. It's good both ways.
Cook the pasta the day before and cool it before dressing it and adding the mix-ins. Chill overnight to help the flavors blend.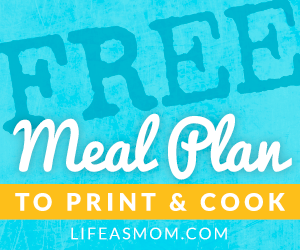 Want the lunch plan? Print out all the recipes and then go here to print the grocery list. (For more meal plans, head here.)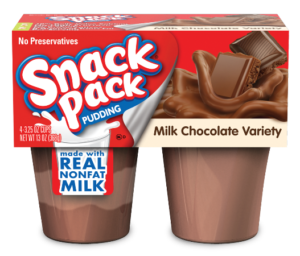 But, what about lunch dessert?
Obviously, this covers the protein and carbs. I'll add in fresh fruit and veggies and a "lunch dessert" as it's called around these parts.
Yes, I've raised dessert people. I know some folks rarely have dessert. It's a twice — sometimes three times — a day occurrence. Sometimes, it's just fruit, and sometimes it's something a little more.
What's funny is that FishPapa says that he doesn't like sweets. Unless there's chocolate around. And then? Well, there's no stopping him. Favorite pie? Chocolate cream. Favorite cake? Chocolate. Favorite pudding?
Chocolate.
Right now you can download a coupon for $1 off 3 Snack Pack 4-packs, redeemable at Walmart, expiring 10/31. These are typically priced at a $1 at Walmart, meaning that paired with the coupon you can grab some lunch desserts for a few pennies!
What about some warm fuzzies?
Mrs. Marcy always gave out warm fuzzies, little tokens of appreciation and encouragement. Remember those pompom people with feet from the 70s? She often gave us those to keep on our desk. You know those? They look like this?
Anyway, if you don't have a herd of Weepuls in your kitchen, print off these fun printable notes to slip into your kids' or spouse's lunch box.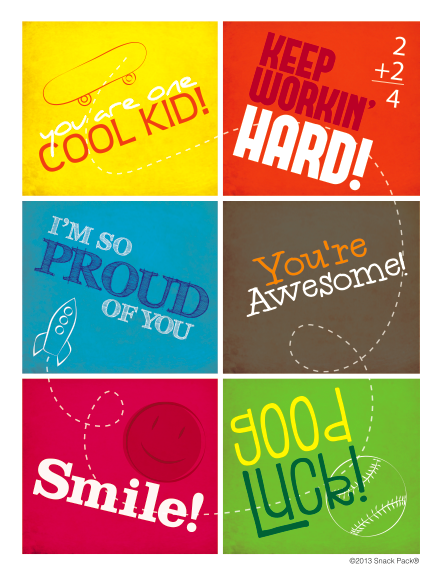 Get more BTS Lunch Inspiration
Looking for even more packable lunch ideas?
Join Andrea from Savings Lifestyle and Briana from Bargain Briana on Twitter as they share tips for making lunch boxes better this school year. We'll be giving away some lunch money to help make packing those lunches even easier.
How do YOU pack lunches at your house?
Disclosure: This post has been sponsored by Snack Pack Pudding. All opinions are my own.