Chicken Salad takes on a new perspective when served in a cabbage leaf. Fresh tasting and low carb, it's a perfect meal to add to the rotation.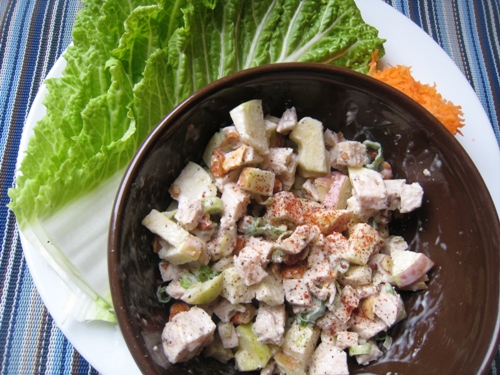 I have always been a big fan of salads and sandwiches. Put them together and … wow!
Last summer and then last month when I was counting calories and doing a Whole30, respectively, I found that serving the protein in a lettuce of cabbage leaf was a refreshing alternative to bread, tortillas, or rolls. I've served tacos, fajitas, and sandwich fillings in a leaf many a time to find that it tastes great and I don't miss the bread.
This easy to assemble meal is the perfect addition to your lunch or light dinner rotation. Chicken salad, chock full of veggies and nuts, is served in cabbage leaves instead of bread, making it low-carb, yet filling meal. It's also perfect to serve for family or guests who are going gluten-free.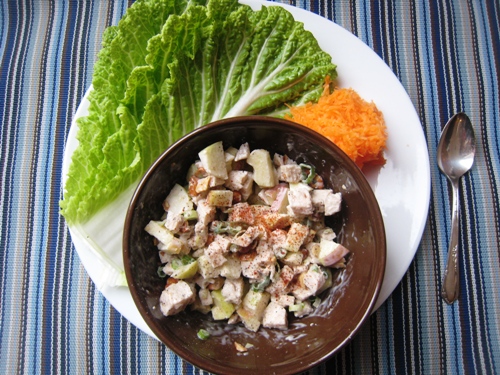 Recipe: Chicken Salad Wraps
Ingredients
2 cups cooked, chopped chicken breast
2 ribs celery, chopped
1 small apple, chopped
2 scallions, chopped
1/4 cup chopped almonds
2 tablespoons mayonnaise or more, enough to bind the salad
salt and pepper to taste
1/8 teaspoon paprika
To serve: napa cabbage leaves, shredded carrot
Instructions
In a medium sized mixing bowl, combine the chicken, celery, apple, scallions, almonds, and enough mayonnaise to bind. Season to taste with salt, pepper and paprika.
Serve with napa cabbage leaves and shredded carrot.
Preparation time: 5 minute(s)
Number of servings (yield): 2 to 4