Enjoy a simple, delicious chicken salad loaded with apples and almonds in this easy recipe for Chicken Salad Lettuce Wraps.
Looking for a tasty lunch that's not too heavy?
Want something quick and easy to prep?
Can't decide between a salad or a sandwich?
The answer to your queries is found in a super simple meal that can be prepped in minutes: Chicken Salad Lettuce Wraps.
This easy-to-assemble meal is the perfect addition to your lunch or light dinner rotation. Chicken salad, chock full of veggies, apple chunks and almonds, is served in lettuce or cabbage leaves instead of bread, making it light, yet filling meal.
It's also perfect to serve to folks who are eating gluten-free, low-carb, paleo, or whole 30.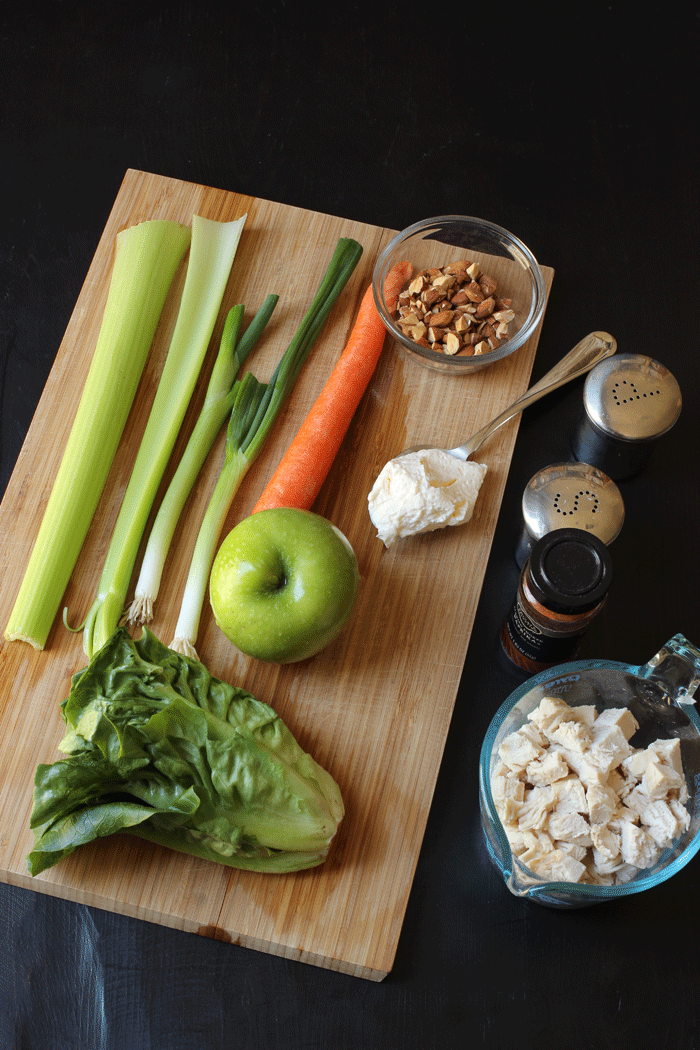 Maybe you've never given lettuce leaves much thought. I hadn't either, but then a few years ago when I realized that my metabolism had slowed down, I realized I needed to make some changes.
By doing a Whole30, I learned that serving the protein in a lettuce of cabbage leaf was a delicious, refreshing alternative to bread, tortillas, or rolls. Since then I've served tacos, fajitas, and sandwich fillings in a leaf many a time to find that it tastes great and I don't miss the bread.
There are lots of ways to fill lettuce wraps, and this chicken salad is at the top of the list.
Eating this was has proven to be so delicious, that I was compelled to plan several months' worth of these kinds of meals, focused on protein and lots of fresh veggies.
–> Find those Protein-Style Meal Plans here.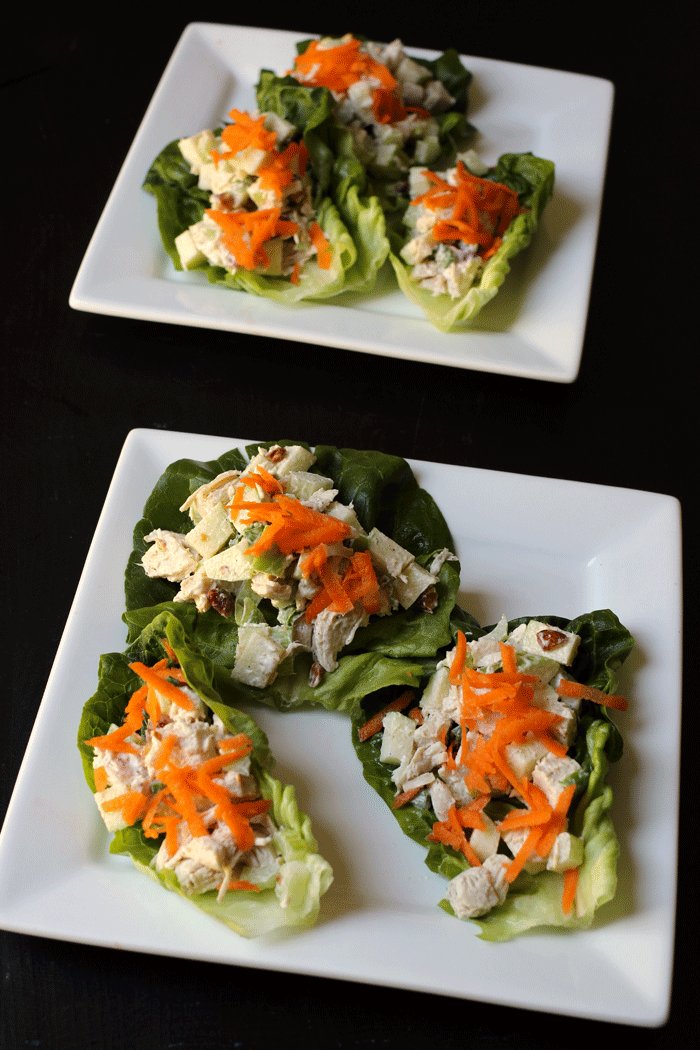 What is chicken salad?
Chicken salad is a mixture of cooked chicken, vegetables, fruits, mayonnaise, and seasonings. Many different variations exist, including adding nuts, onions, or fresh herbs.
How can you serve chicken salad?
Chicken salad can be served as a sandwich filling, in a lettuce wrap, or atop a bed of greens.
How long does chicken salad last?
Prepared chicken salad is good for up to 4 days in a covered container in the refrigerator.
Can you freeze chicken salad?
Since chicken salad is typically made with a mayonnaise-based dressing, it's not good to freeze. The mayo can separate and make your salad not so delicious anymore.
Head here for a list of what you can freeze.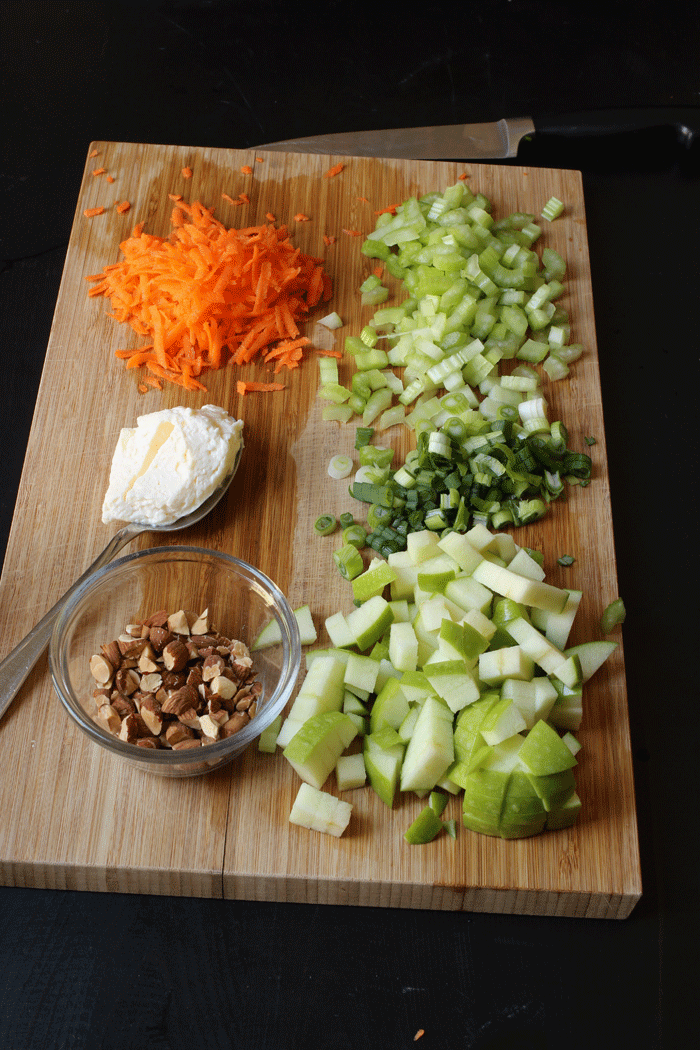 How do you make chicken salad?
Chicken salad is incredibly easy to make.
Start by cooking the chicken. You can cook the chicken yourself or use canned chicken or a rotisserie chicken. Chop the chicken into small pieces and place it in a large mixing bowl.
Chop the mix-ins. The mix-ins for this salad include chopped celery, chopped green onion, chopped apples, and chopped almonds. Add the mix-ins to the bowl.
Combine the salad ingredients. Add enough mayonnaise to hold it together and stir well to combine. If you want to be really fancy, make your own mayonnaise.
Season the salad. Season the salad with salt and pepper and a few dashes of paprika. Taste and adjust the seasonings to your liking.
Serve. You can serve this salad as a sandwich filling or pile it into lettuce leaves and top them with shredded carrot.
Store any leftovers in the fridge in a covered dish.
Can I use a fruit besides apple in this chicken salad?
This chicken salad recipe calls for chopped apple. You can use other fruits in chicken salad such as dried cranberries, raisins, chopped dried apricot, dried cherries, or even fresh pineapple. This Orchard Chicken Salad recipe with apples also contains halved grapes.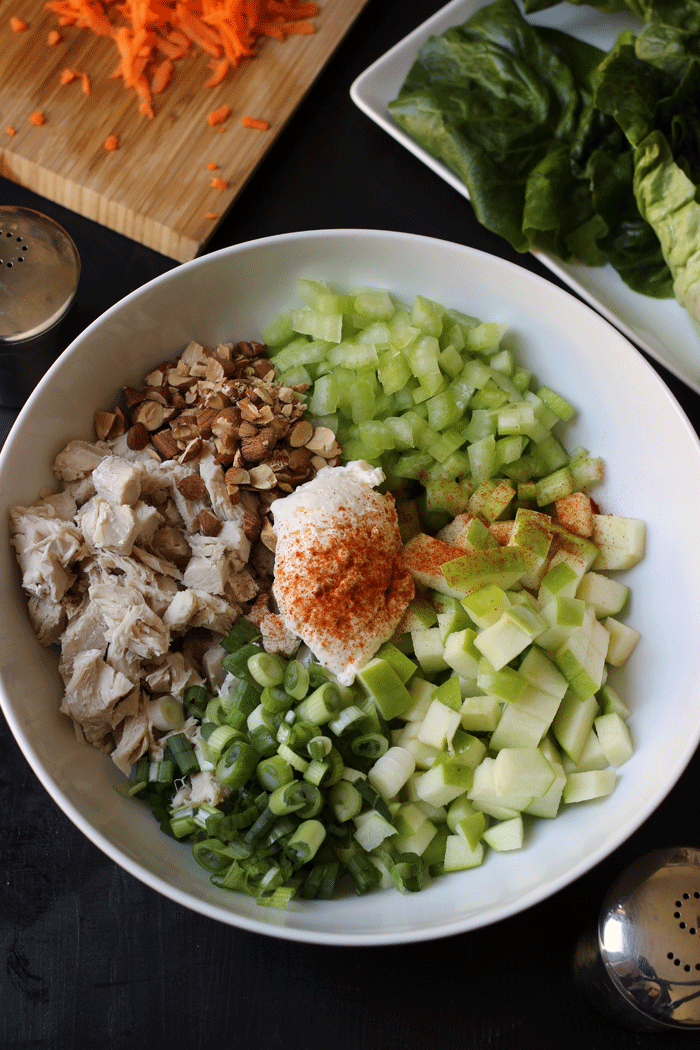 How I make this cheap:
Here are some of the strategies I use to make this recipe more economical:
Meal plan around what's on sale. Don't decide to make this when chicken is $5/pound and you have none in the freezer. Next time you see chicken on sale, add this to your meal plan!
Do a price comparison. I know that ALDI is the best place for me to buy chicken when there isn't a great sale elsewhere. I keep track of prices so that I know who has the best deal where.
Stock up on ingredients when they are on sale

. Buy extra chicken and stash the extra in the freezer so you can make chicken salad wraps whenever you want.

Boost the veg to stretch the protein. Protein is usually the most expensive ingredient in most dishes. If I need to, I often add more veggies to the salad to stretch our protein purchase farther.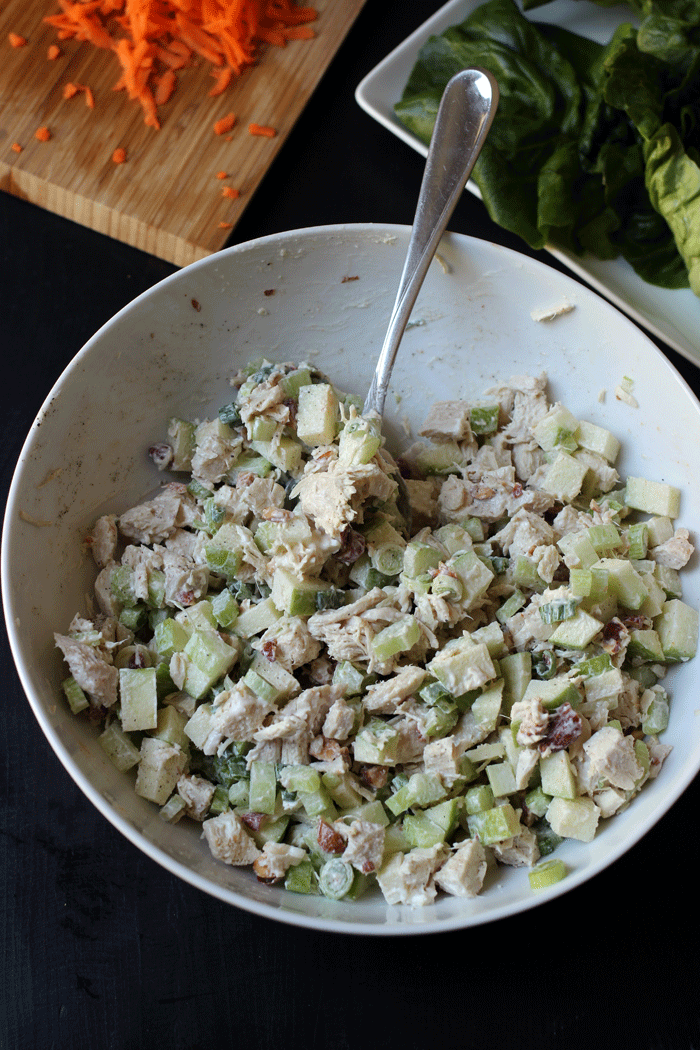 Tools I use to make this recipe easy:
This is a pretty straight-forward dish. You don't need any fancy equipment. However, having some good basic kitchen tools can really make your time in the kitchen more enjoyable. Over time, I've honed my collection so that they are perfect for my needs. Here are the tools that I like to use in this recipe.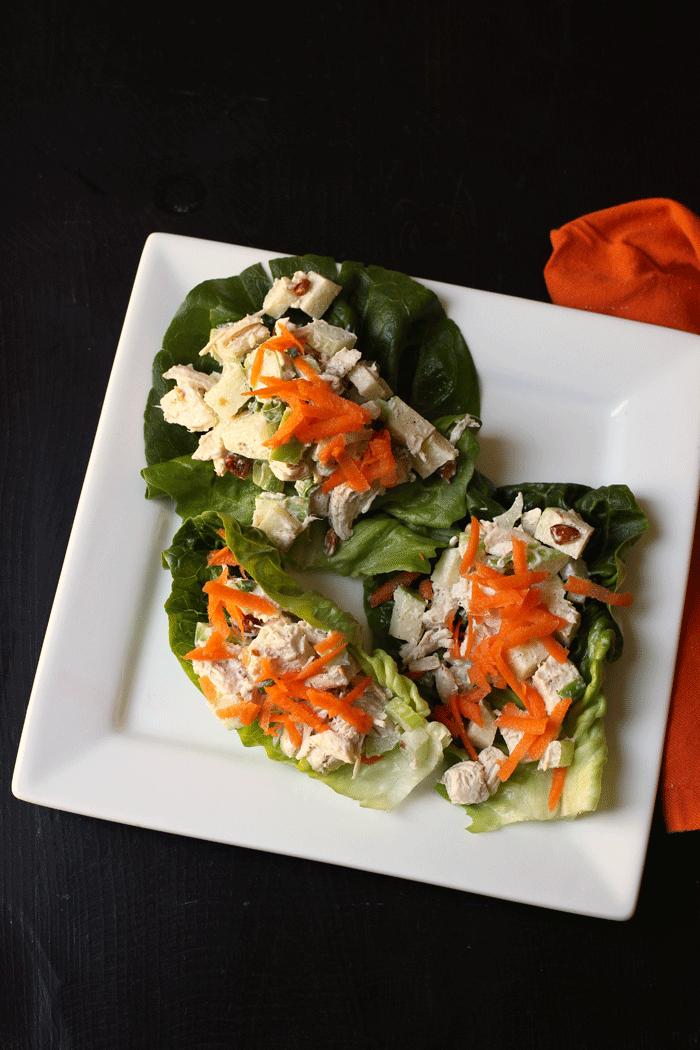 Chicken Salad Lettuce Wraps
Enjoy a simple, delicious chicken salad loaded with apples and almonds in this easy recipe for Chicken Salad Lettuce Wraps.
Ingredients
2

cup

chicken (cooked and cubed)

2

rib

celery

chopped

1

apple

chopped

2

green onion

chopped

¼

cup

chopped almonds

toasted

2

tablespoon

mayonnaise

or more, enough to bind the salad

salt

black pepper

⅛

teaspoon

paprika
To serve:
12

lettuce leaves

or napa cabbage leaves

1 - 2

carrots (shredded)
Instructions
In a medium-sized mixing bowl, combine the chicken, celery, apple, scallions, almonds, and enough mayonnaise to bind. Season to taste with salt, pepper and paprika.

Serve in lettuce or napa cabbage leaves, topped with shredded carrot or use as a sandwich filling.

Store the salad in the refrigerator before serving.
Notes
Leftovers are good for up to 4 days, refrigerated.
Nutrition
Calories:
213
kcal
|
Carbohydrates:
11
g
|
Protein:
13
g
|
Fat:
13
g
|
Saturated Fat:
2
g
|
Cholesterol:
44
mg
|
Sodium:
730
mg
|
Potassium:
460
mg
|
Fiber:
3
g
|
Sugar:
6
g
|
Vitamin A:
7995
IU
|
Vitamin C:
30.3
mg
|
Calcium:
59
mg
|
Iron:
1.6
mg