Doesn't Broccoli Cauliflower Soup sound delicious? This easy homemade version is full of vegetables and cheese for ultimate comfort in a bowl.
You can stop eating out when you learn to make your faves at home. Be sure to try our favorite Minestrone Soup with Sausage and Tortellini next!
Perhaps you need an easy lunch to pack to the office…
…or you're looking for something just a little special to serve at the next bridal shower….
Maybe you want a comforting supper to serve on yet another rainy day.
This Broccoli Cauliflower Soup suits all those occasions, and then some. Vegetables, including broccoli, cauliflower, carrots, celery, and onion simmer in chicken stock until tender. Milk and a simple roux join the party to thicken things up. A little cheddar cheese and a few chunks of cream cheese jump into the action. Then it's all blended up into creamy, cozy deliciousness.
It's a soup ready for memory making.
To remember that great day at the office when your project was deemed a success, that fun shower where your best friend was laden with gifts to make her new life more beautiful, that delicious dinner you shared with your family after dodging the rain drops to get home.
Now that's my kind of soup! It's a great one for using a lot of milk.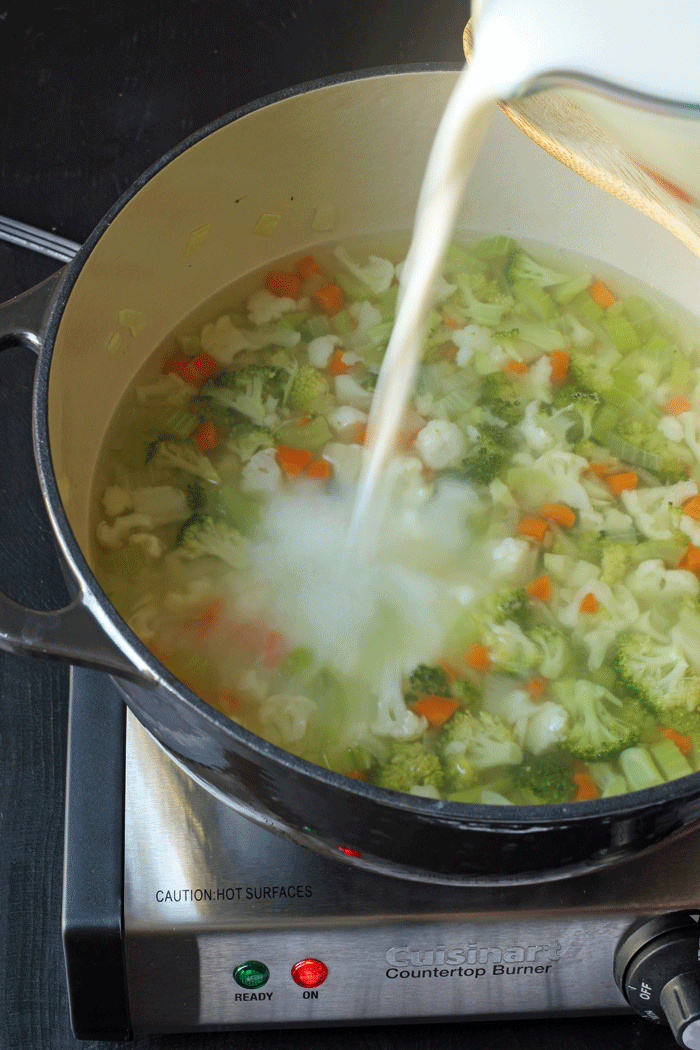 Food is strongly linked to memory, isn't it? When you think of your favorite food, you likely have a strong memory, probably positive, linked to that food.
From Proust's madeleine to Ego's ratatouille, foods can take us back in time. This soup recipe is that for me.
When I was a child, my family spent each summer driving from California to Minnesota and back again. My parents were from Minnesota and so we spent a month or two visiting the grandparents and our many aunts and uncles and cousins each year.
Most of my relatives are fabulous cooks, so it was always an eating adventure. I made pat-in-pan pie crust with my Gramma John and snuck donuts out of her freezer when she wasn't looking. I ate Aunt Peg's Scotcharoo Bars like they were going out of style. I woke up early on a summer morning so that I could eat cinnamon rolls as giant as my head.
One summer my Aunt Sandy welcomed us to her South Dakota home with a big pot of this Broccoli Caulifower Soup. It was so warm and comforting. Yum! I can still picture her cozy kitchen on that rainy afternoon.
With her permission, I'm sharing it with you, with slight adaptations.
If you love this soup as much as we do, I highly recommend you purchase A Month of Busy Nights Meal Plan. This soup recipe and 29 other simple and delicious recipes are featured in its pages.
What ingredients do I need to make this broccoli cauliflower soup?
Vegetable broth – You can use store-bought broth or try making your own your Vegetable Broth in the Slow Cooker.
Broccoli – You want one head of broccoli that you chop up.
Cauliflower – You need one head of cauliflower that you chop up.
Celery – You need 3 ribs of celery that you chop up.
Carrots – I love sneaking in extra vegetables into this soup! You need two carrots that you chop up.
Onion – I used half an onion in this soup, that I diced up.
Milk – You can use any milk you prefer here, low-fat or whole milk or a dairy free alternative. For a richer soup I would use a higher fat milk, like 2% or whole milk.
Butter – You will use butter to make a roux, which is a butter-flour paste used to thicken the soup with.
Flour – You will need some flour to combine with the butter to make a roux which is used to thicken the soup.
Cheddar cheese – You want to add the shredded cheese to the soup so it melts in and makes it creamy! If you don't have cheddar another hard cheese would also work.
Cream cheese – I love the addition of cream cheese to this soup to make it velvety and creamy!
Salt and pepper – You can season the soup to your liking before serving!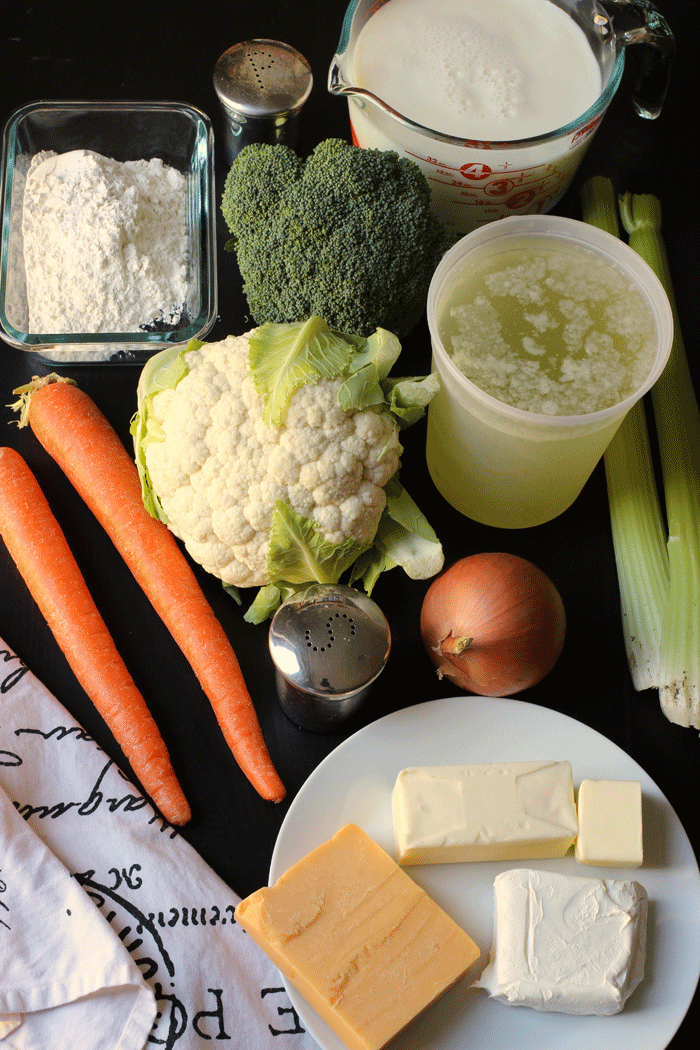 How long are broccoli and cauliflower good for?
Broccoli and cauliflower, the two, formerly unpopular vegetables that are now celebrities, are both part of the cabbage family. They don't keep as long as cabbage does, though. Store them in the refrigerator, for 3 to 5 days.
Wilting broccoli will start to yellow while aging cauliflower starts to get brown spots. Trim these off and make some soup.
How do you make Broccoli Cauliflower Soup?
Broccoli Cauliflower Soup is an easy soup to prepare. Begin by laying out all the ingredients: broccoli, cauliflower, onion, celery, carrot, chicken stock, flour, butter, milk, cheddar cheese, cream cheese, and salt and pepper.
Next prepare the ingredients: chop the vegetables and shred the cheese.
In a large stock pot, simmer the vegetables in chicken stock until tender. Add milk.
In a separate saucepan, prepare the roux by cooking the flour in melted butter. Once this is lightly browned and bubbly, whisk it into the pot.
Add the cheeses to the soup and blend it until your desired texture. Adjust the seasonings and your soup is complete.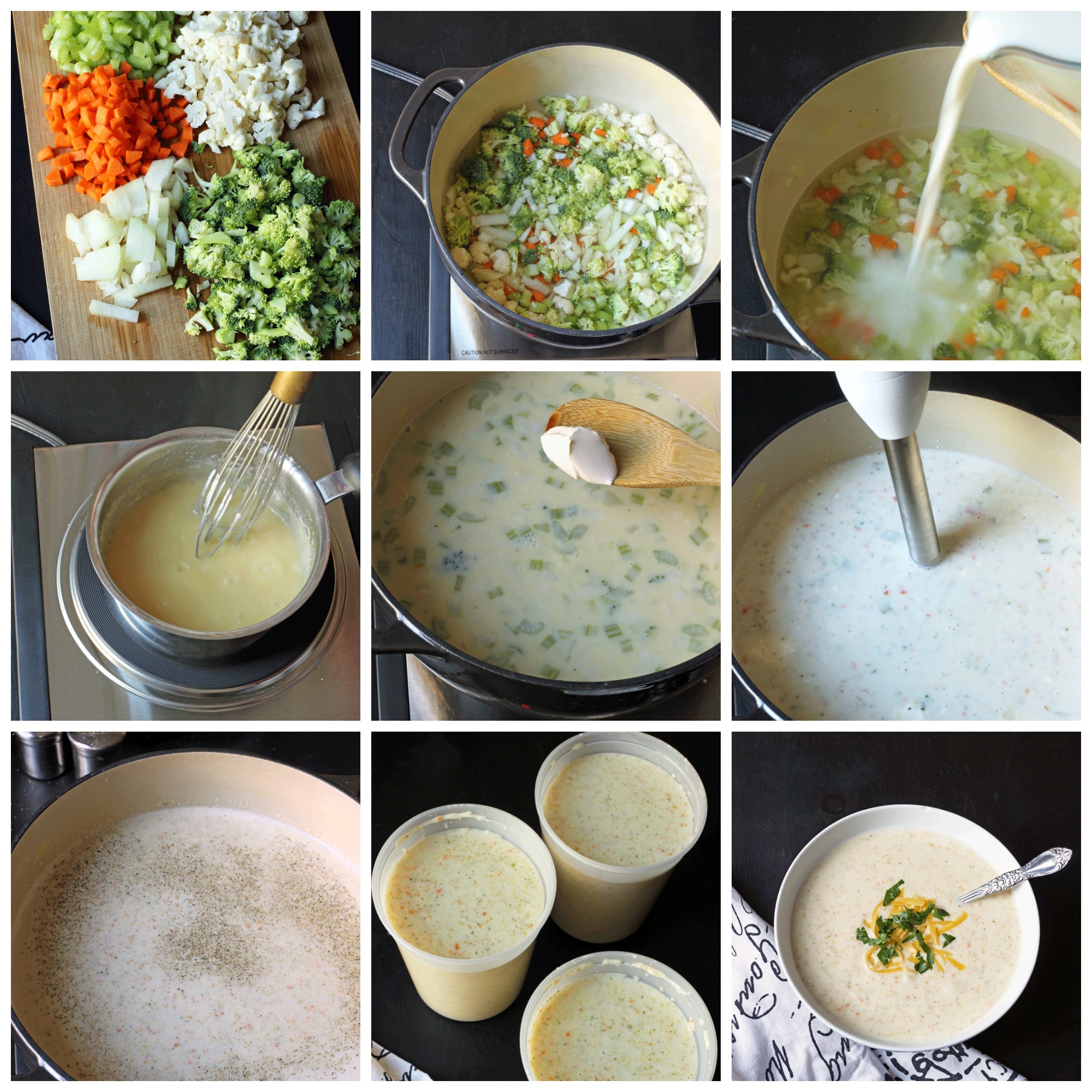 What is a roux?
For this soup you will be making a roux which is used to thicken the soup with. A roux is the foundation to make some of your favorite dishes like gravy and macaroni and cheese.
According to Taste Of Home, there are actually 3 types of roux! We are making a white roux, or a White Sauce, for this soup.
How long does Broccoli Cauliflower Soup last in the refrigerator?
Prepared soup is good in the refrigerator for up to 4 days, stored in a covered container.
Can creamy broccoli soup be frozen?
Broccoli Cauliflower Soup is great for freezing. Chill it completely in the refrigerator before storing it in the freezer. Use within 4 to 6 weeks for best texture.
How do I reheat this soup?
If you have leftovers and want to reheat them for a quick weeknight dinner then just simply warm the soup up in a Dutch Oven over low heat until warmed through.
Or you can warm up a bowl in the microwave. Just place a plate over the bowl so there isn't splatters everywhere! I like to heat up for a minute, give it a stir, then heat in 30 second intervals until it's warmed through.
Can you make Broccoli Cauliflower Soup dairy-free?
This soup recipe has a lot of dairy, but you can adapt it, though your results will be very different than the soup as directed. You can make it dairy-free by using oil instead of butter and almond milk for the milk. Omit the cheeses or use your favorite melting vegan cheese.
Can I make this a vegan soup?
You absolutely can by making some easy vegan swaps. Swap out the butter and milk for your favorite vegan brands. And omit the cheddar, or use your favorite melting vegan cheese.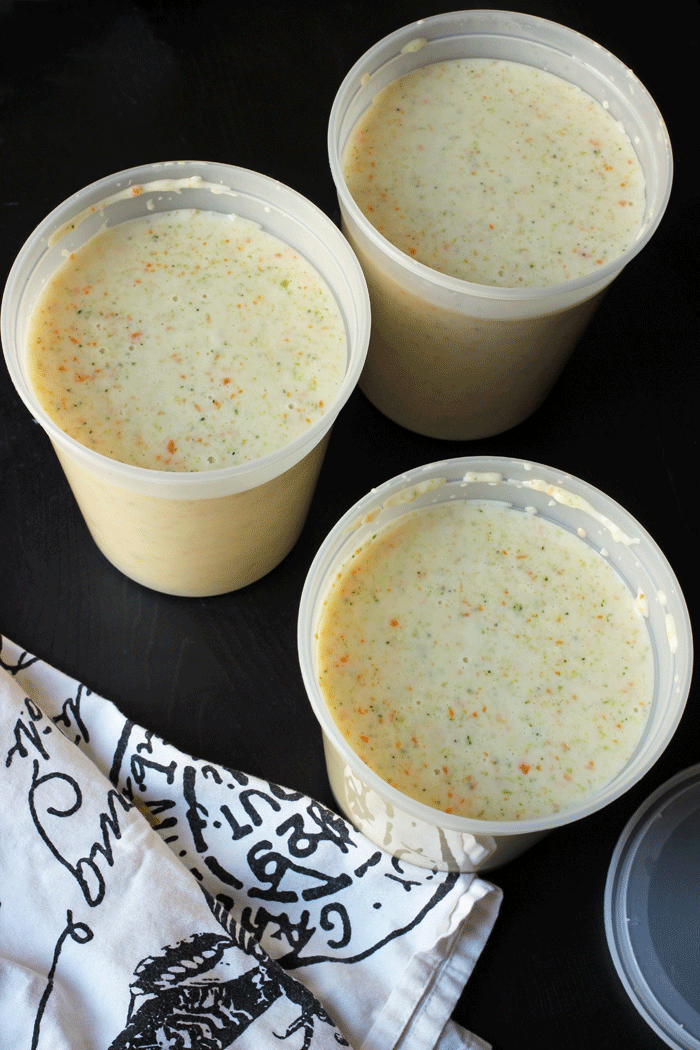 What goes well with this cauliflower broccoli soup?
I love serving this soup with some bread on the side for dunking, such as my whole wheat beer bread or Easy Make-Ahead Freezer Garlic Bread.
You can also lighten things up a bit and serve a nice side salad to go with it like Pear and Blue Cheese Salad with Maple Spiced Pepitas or a simple garden salad with Easy Homemade Italian Salad Dressing.
How to make this good and cheap:
Here are some of the strategies you can use to make this recipe more economical:
Stock up on ingredients when they are on sale. This ensures that you'll have your ingredients at the lowest possible price. Cauliflower is particularly pricey these days, due to its celebrity status. Load up on cauliflower, onions, carrots, celery, and broccoli next time you see good sales.
Price match. Check your grocery store fliers to see who has the best price on the items on your list.
Make your own chicken stock. It's practically free!
Tools I use to make this recipe easy:
This is a pretty straight-forward dish. You don't need any fancy equipment. However, having some good basic kitchen tools can really make your time in the kitchen more enjoyable. Over time, I've honed my collection so that they are perfect for my needs. Here are the tools that I like to use in this recipe.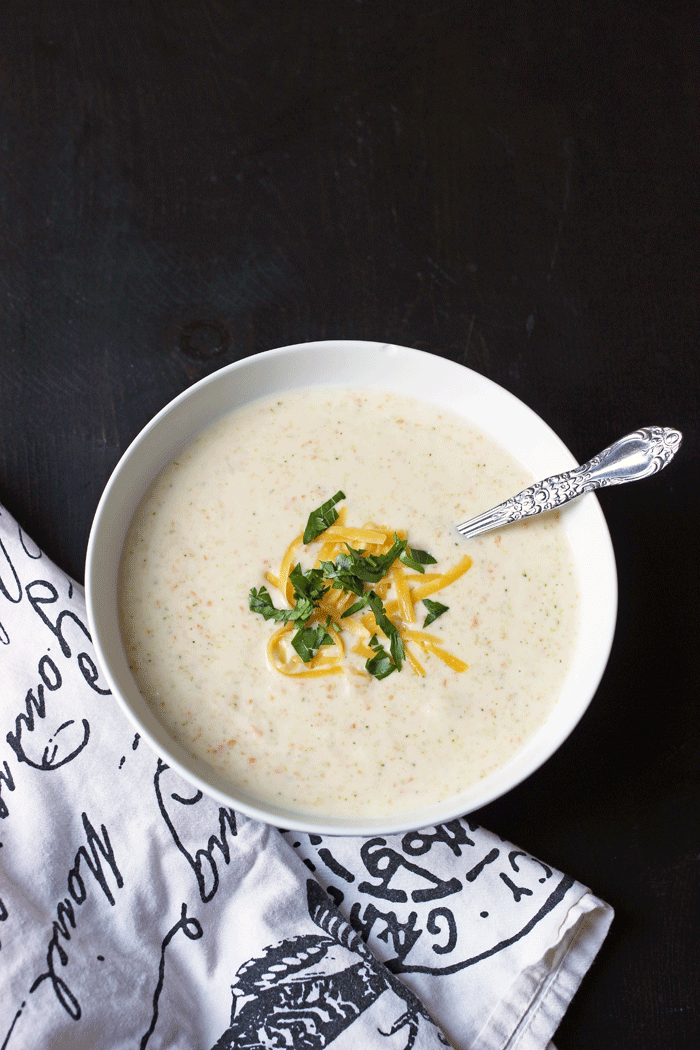 If you prepare this recipe, be sure to share a picture on social media and hashtag it
#GOODCHEAPEATS
. I can't wait to see what you cook up!
Easy Homemade Broccoli Cauliflower Soup
Doesn't Broccoli Cauliflower Soup sound delicious? This easy homemade version is full of vegetables and cheese for ultimate comfort in a bowl.
Ingredients
4

cup

vegetable broth

chicken stock

1

head

broccoli

chopped for 2 cups

1

head

cauliflower

chopped for 2 cups

3

rib

celery

chopped

2

carrots

chopped for 1 cup

½

onion

chopped

4

cup

milk

⅔

cup

butter

⅔

cup

unbleached, all-purpose flour

4

oz

cheddar cheese (shredded)

(1 cup)

4

oz

cream cheese

softened

salt

black pepper
Instructions
In a large stockpot, combine the broth and vegetables. Bring to a boil, then reduce heat. Simmer until the vegetables are tender.

Stir in the milk.

In a small saucepan, melt the butter. Stir in the flour, whisking until smooth.

Add this mixture to the stockpot, stirring until well combined. Stir in the cheeses and simmer until melted and well combined, stirring.

If desired, blend the soup slightly with an immersion blender. Season to taste with salt and pepper.
Notes
Store the soup in covered containers in the fridge for up to 4 days. Label and store it in the freezer for 6 to 8 weeks.
Nutrition
Calories:
386
kcal
|
Carbohydrates:
21
g
|
Protein:
11
g
|
Fat:
29
g
|
Saturated Fat:
18
g
|
Cholesterol:
83
mg
|
Sodium:
788
mg
|
Potassium:
549
mg
|
Fiber:
2
g
|
Sugar:
9
g
|
Vitamin A:
3874
IU
|
Vitamin C:
43
mg
|
Calcium:
296
mg
|
Iron:
1
mg
Tried this Recipe? Tell us what you think!
Your reviews help us develop better recipes and give newcomers the confidence to try your favorites. Scroll down to leave a starred comment.