Stir up a bowl of comfort with this easy to prepare Minestrone Soup with Sausage and Tortellini. It's delicious and chock full of fall harvest vegetables.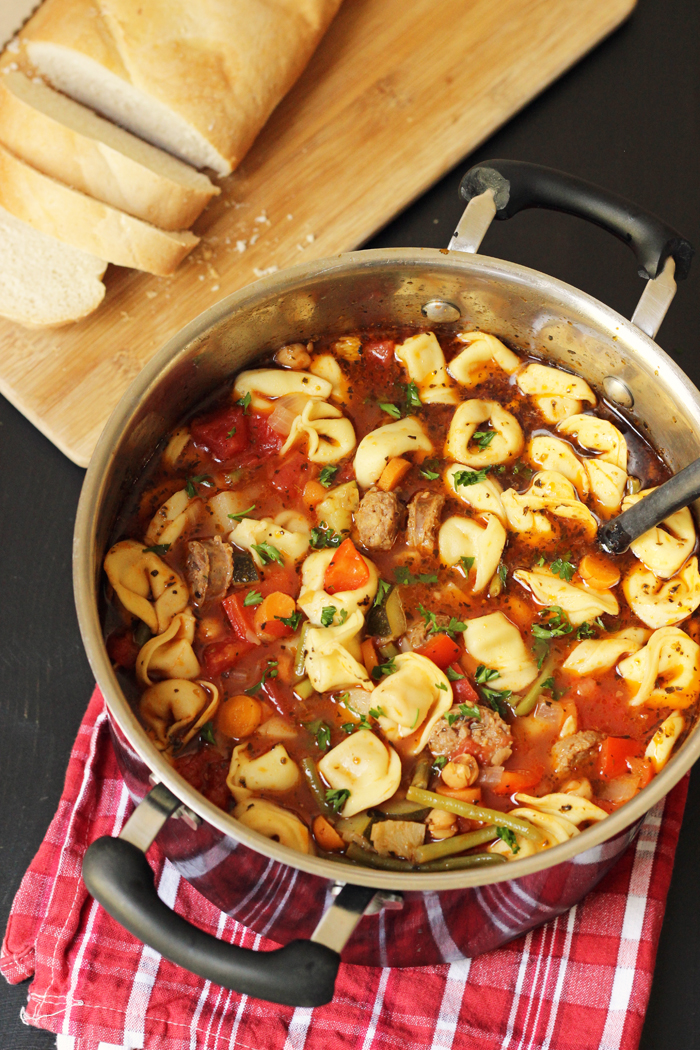 Even though California doesn't truly have the seasons in the same way the rest of the country does, we're really good at faking it. I've noticed many trees nearby that are a vivid red. I know they can't be the same kind of tree as they have in New England, but that's okay with me. I'll take my fall colors when I can get them — even when it comes after the rest of the country is blanketed in snow.
It's a rainy day here in San Diego. We've needed rain for months/years, and it's been so refreshing that every couple weeks this fall we've received a good day or two of dousing. It's the perfect day to make this Minestrone Soup with Sausage and Tortellini.
Cozy up with a pot of this bubbling soup chock full of fall harvest veggies!
This recipe is one of FishPapa's very favorites; I've been making it since we were newlyweds living in 200-square feet. Yep, one room plus a tiny bathroom. We could see the kitchen, the sleeping area, the dining area all from one spot. Many a Sunday afternoon found me stirring up a big pot of this Minestrone Soup to share with friends after soup.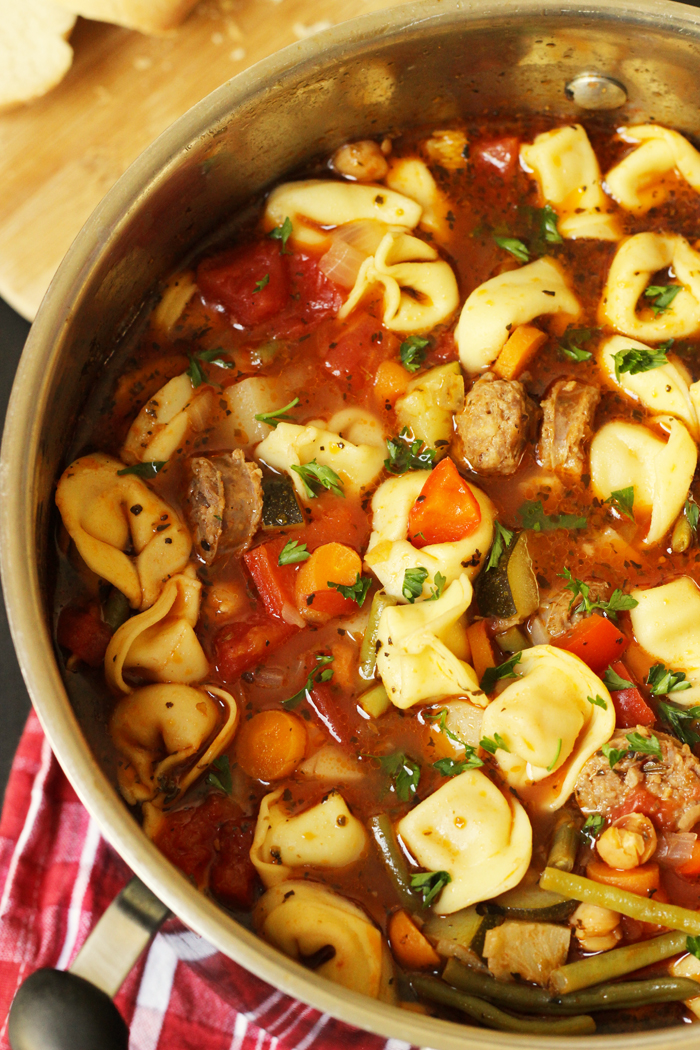 It makes use of lots of vegetables as well as Italian spices, but the best parts are the spicy sausage chunks and the cheesy tortellini. It's a stick-to-yer-ribs kind of meal. No matter where you live, you'll want to try this minestrone soup.
If you're making this in advance, hold off on adding the tortellini. They will absorb liquid until they get soggy and mushy. No bene. The soup makes a big pot, so you may have leftovers. Plan accordingly and do one of two things:
cook the tortellini separately and add them to each bowl individually…. or
remove your anticipated leftover soup prior to adding the pasta to the pot. The soup is great with or without pasta. You can add more noodles when you serve the second half.
But, if you're serving a crowd, go for the gusto. This soup will be an excellent crowd pleaser at your next big get-together.
There's also a crockpot option: Saute the vegetables in a frying pan as recipe directs, but then combine all ingredients, except noodles and meat, in the crockpot. Turn pot to low and allow to simmer during the day. Twenty minutes before serving time, adjust seasonings, turn heat to high and add pasta and meat. Leaving the cover off also allows soup to thicken slightly.
Buon appetito!
Minestrone Soup with Sausage and Tortellini
Stir up a bowl of comfort with this easy to prepare Minestrone Soup with Sausage and Tortellini. It's delicious and chock full of fall harvest vegetables.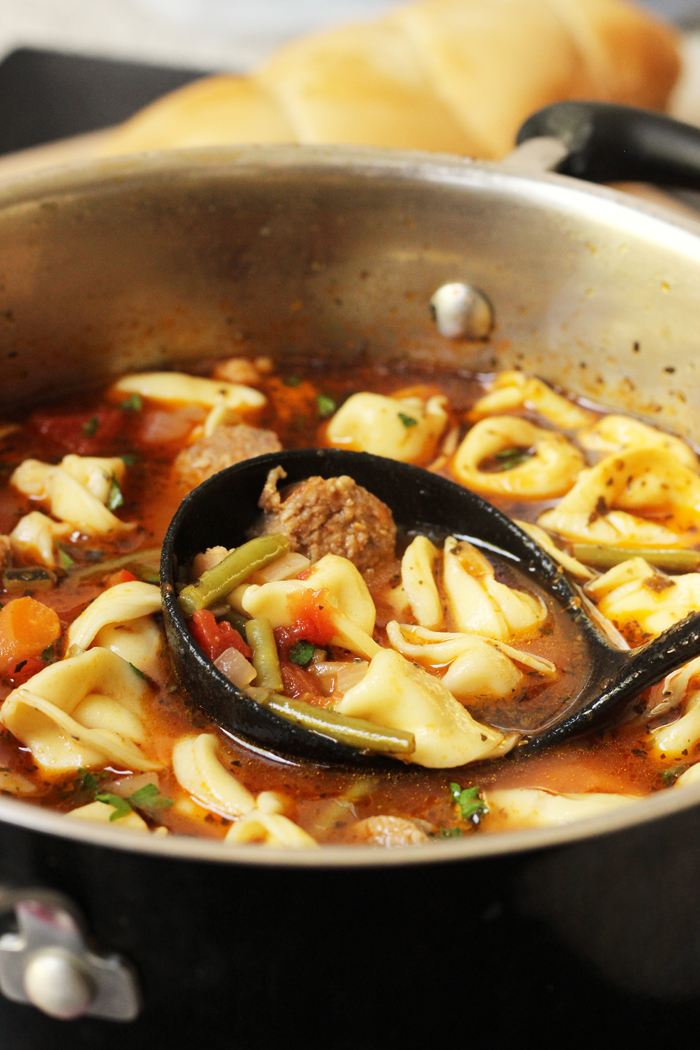 Preparation Time:20 minutes
Cook time:30 minutes
Total time:50 minutes
8 to 12 servings
Ingredients:
2 tablespoons olive oil

1 medium onion, chopped

2 large carrots, thickly sliced

3 medium potatoes, peeled and diced

1 medium zucchini, sliced and quartered

1 bell pepper, any color, cored, seeded, and chopped

8 cups beef broth

8-ounce can tomato sauce

28-ounce can petite diced tomatoes with juices

15-ounce can garbanzo beans, rinsed and drained

1 teaspoon dried oregano

1 teaspoon dried basil

fine sea salt and freshly ground black pepper

1 1/2 cups frozen cut green beans, no need to thaw

1 pound tortellini (can use 1 cup small pasta instead)

1 1/2 pounds hot or sweet Italian sausage, cooked, drained, and sliced

grated Parmesan to serve
Instructions:

Heat the oil in large pot over medium heat. Add the onion and sauté 10-15 minutes. Stir in the carrots and sauté 2-3 minutes, stirring occasionally. Add the potatoes, zucchini, and pepper, sautéing 2-3 minutes.
Add the broth, tomato sauce, tomatoes, beans, and herbs. Heat to boiling. Reduce the heat and simmer, covered, over low heat from 30 minutes to 3 hours.
Taste and adjust seasonings. Salt and pepper to taste.
15 minutes before serving, bring to a low boil and stir in the green beans and pasta. Simmer vigorously until the pasta is completely cooked. Stir in the sausage and simmer until sausage is heated thoroughly.
Serve with a sprinkling of Parmesan cheese.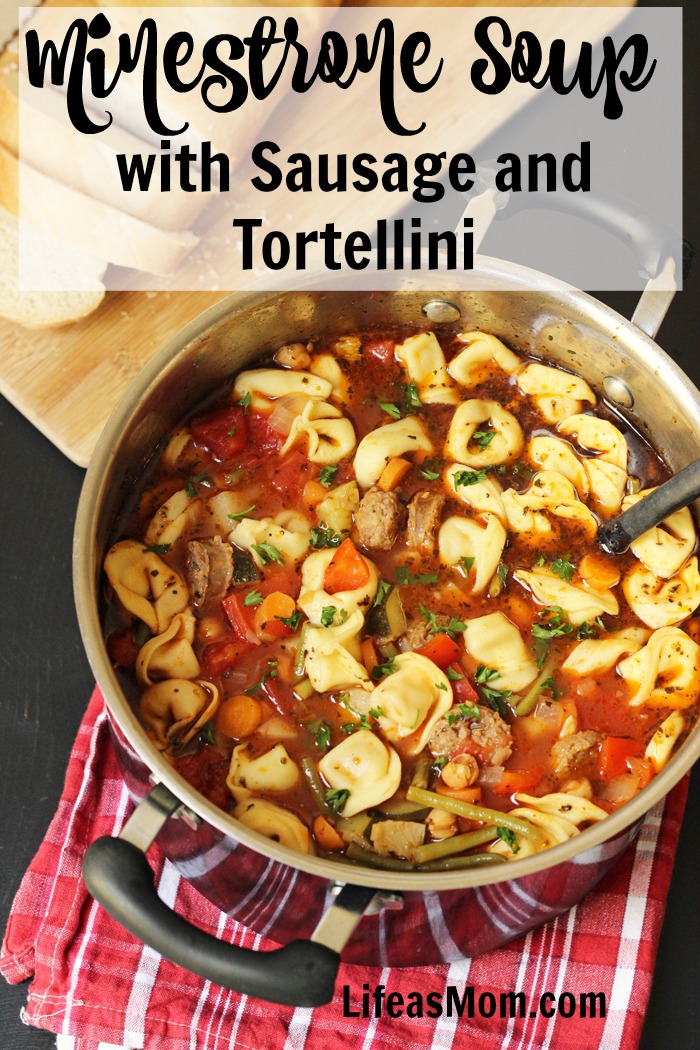 Are you looking for more good cheap eats?
Recipe originally published October 30, 2008.