Summer is an ideal time to throw a party or other festive gathering. And a build your own nacho bar is an easy appetizer or main dish to serve your guests.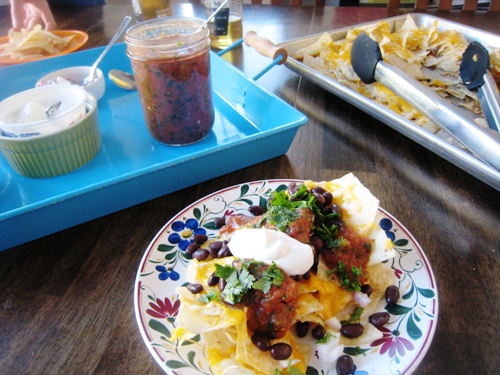 I love a good party. And I love good eats. When the two come together — with as little work and mess as possible — I am beyond happy. A build-your-own-nacho bar is ideal party food.
Build Your Own Nacho Bar
A step up from chips and salsa, a nacho bar allows folks some yummy snacks while they wait for the main event. It's very make ahead and great for cooking in bulk. Add a few more toppings and some beef or chicken and you can make your nacho bar serve as dinner.
Make this ahead of time.
Before your party, assemble small bowls full of toppings like sour cream, salsa, chopped cilantro, chopped onion, beans, avocado or guacamole, sliced olives, and sliced jalapenos. Shred an abundance of cheese.
Assemble your baking dishes. You can make individual plates of chips and cheese using pie plates or other small baking dishes. Or you can use a half sheet pan to feed many people at once.
Right before servings, place your toppings on a tray along with serving utensils. Lay out a stack of plates. Cover your baking dishes with a layer of chips and then a layer of shredded cheese. You can broil the chips until the cheese is melted for a quick dish or bake the pan for about 10 to 15 minutes at 350, or until the cheese is melted.
For easier cleanup, you can line the pan with parchment paper or aluminum foil.
Serve the hot chips and cheese, allowing diners to add their favorite toppings. Here are some of our favorite toppings: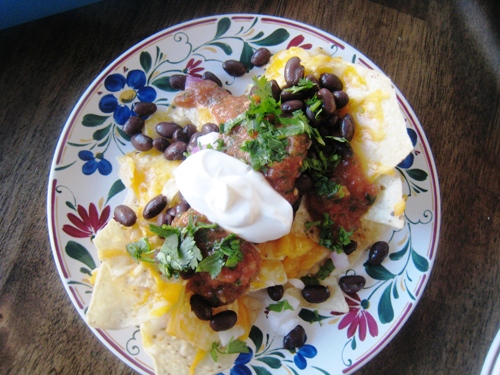 Build-your-own nachos are a great way to serve the masses without a lot of work. They are fairly inexpensive and sure to please any crowd.
What is your favorite recipe for a party?