Cinnamon Puffs come together easily with commercial puff pastry and cinnamon sugar. They are delightful with tea, but even better dipped in chocolate.
Jump to:
Cinnamon Puffs are well known at my house. They are easy to make and taste amazingly good. They look like you were all fancy in the kitchen, but you weren't. They rank high on the list of quick, last-minute desserts.
I typically have a package or two of commercial puff pastry in the freezer. It's a little splurge, but it makes it so easy for me to make Apple Turnovers or Ham and Cheese Foldovers. Remarkably, puff pastry bakes up deliciously with very few additional ingredients.
What are cinnamon puffs?
Similar to cinnamon palmiers, cinnamon puffs are puff pastry, sprinkled with cinnamon sugar and baked until crisp and fluffy. They are a fun and easy recipe to make when you don't have much time.
This recipe is so easy, you're really gonna shake your head and wonder why you haven't done it before.
Serving suggestions
I have made these whenever we wanted a quick sweet treat and just served them by their lonesome. They are great with tea or coffee.
Cinnamon puffs are also delicious dipped in chocolate fondue, kinda like a cheater version of churros con chocolate. Remember you can make chocolate fondue for just one person, so we still keep easy recipe status here.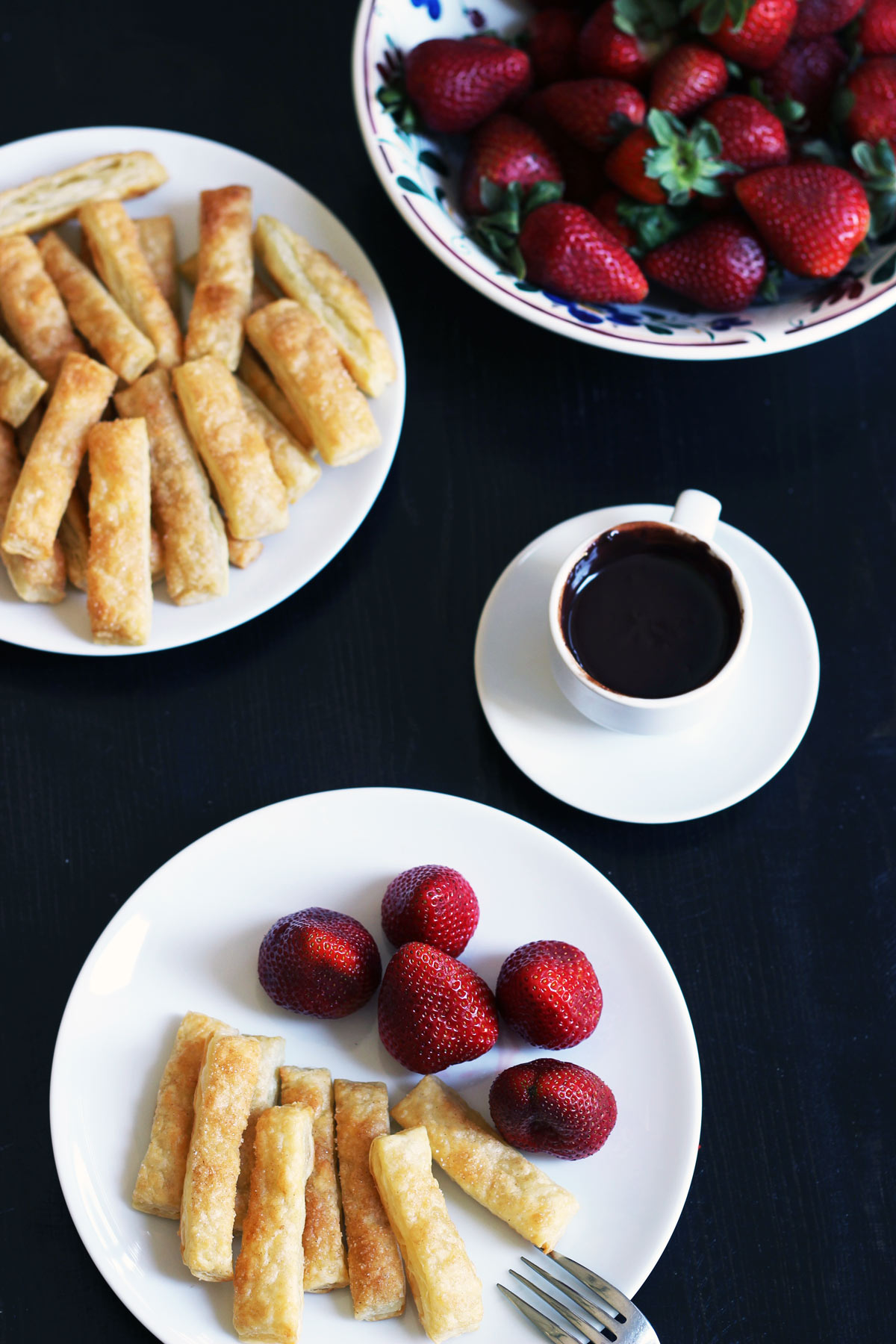 Ingredients
You only need three ingredients for this recipe:
sugar – use granulated sugar for best results
ground cinnamon
puff pastry – This is usually found in the frozen food section by the desserts. Pepperidge Farms is the main/only brand I ever see in So Cal, though ALDI and Trader Joe's seasonally carry their own brand of puff pastry. This ingredient can be pricey, depending on where you buy it.
You know how to make cinnamon sugar, right? Apparently, they sell cinnamon sugar already mixed—and I can see that as convenient for the office or on vacation—but, you can easily make your own in about two seconds.
You could also make your own puff pastry, but that wouldn't reach EASY RECIPE status. I don't think making puff pastry is hard, per se, but it's work. Buy the frozen variety and then keep it a tight secret. Let your guests think you worked hard in the kitchen.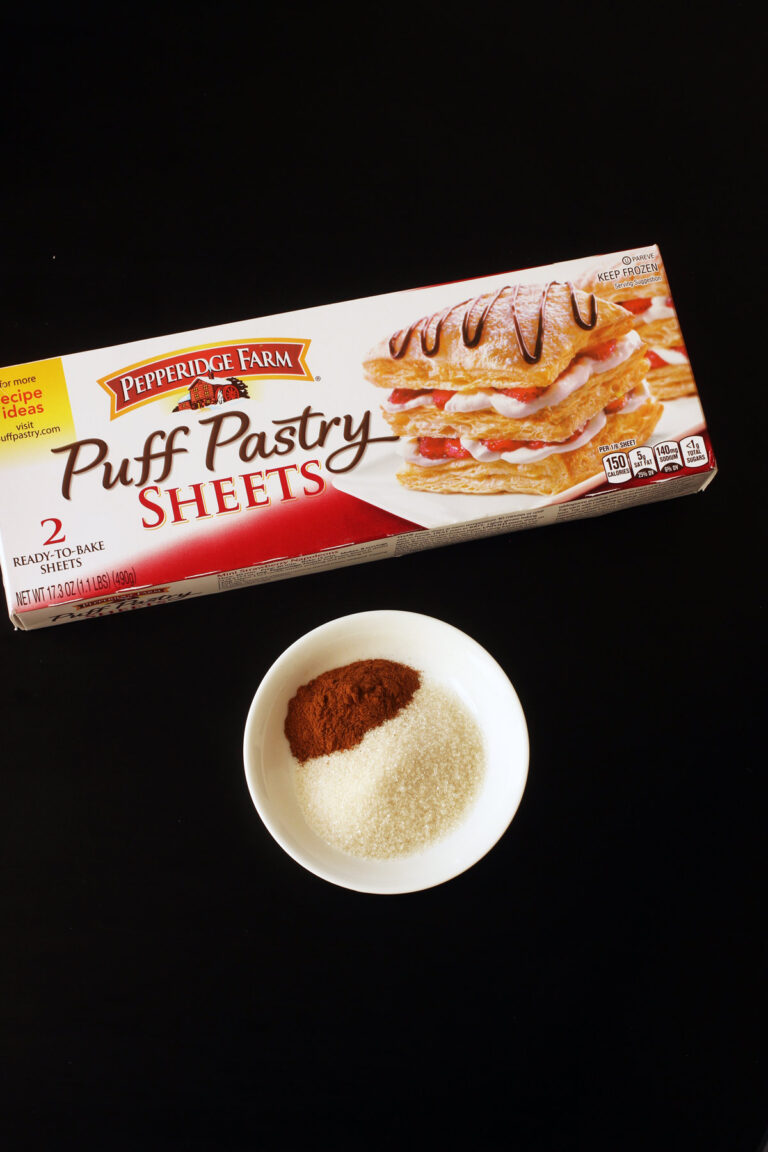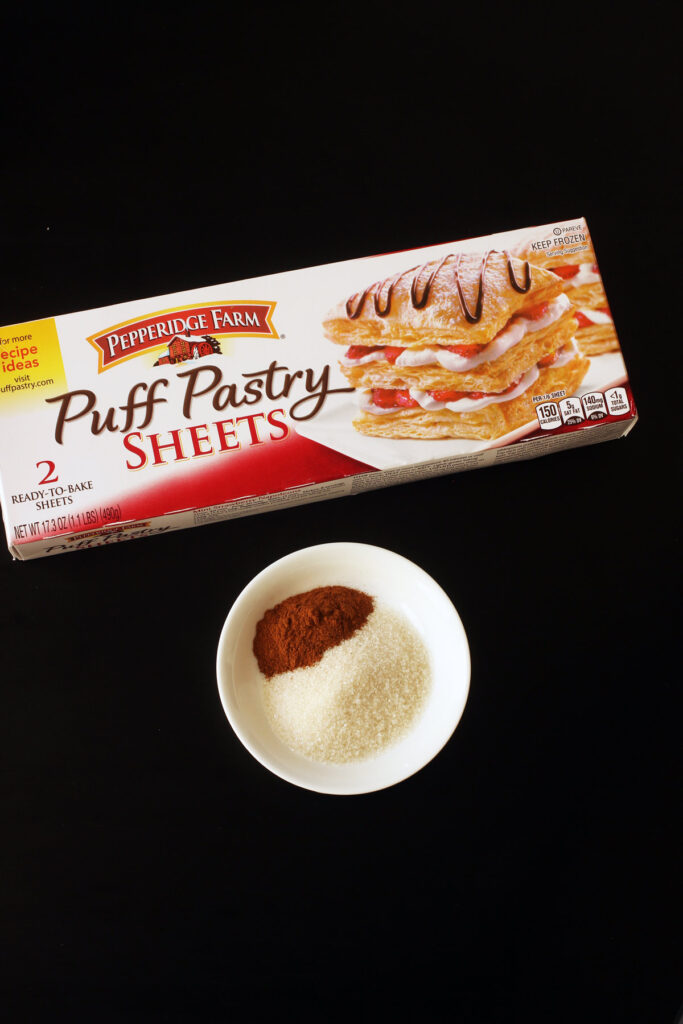 Instructions
As I said, this recipe is super quick and simple!
Mix the sugar and cinnamon together in small dish.
Line a baking sheet with parchment or a silat mat. Preheat the oven to 400 degrees.
Unfold one sheet of puff pastry on the parchment. Sprinkle it generously with cinnamon sugar.
Cut the pastry along the fold lines, this is about 2-inches.
Cut each third into ½-inch sticks.
Spread the sticks out on the tray so that they have about ½-inch space between them.
Bake until golden and puffy.
Cool on a rack and serve.
Storing leftovers
Cinnamon puffs are best eaten within a few hours. Once they go cold, the butter in the pastry tends to change the mouthfeel.
However, they should be good for a day or two in an airtight container if you need to store them.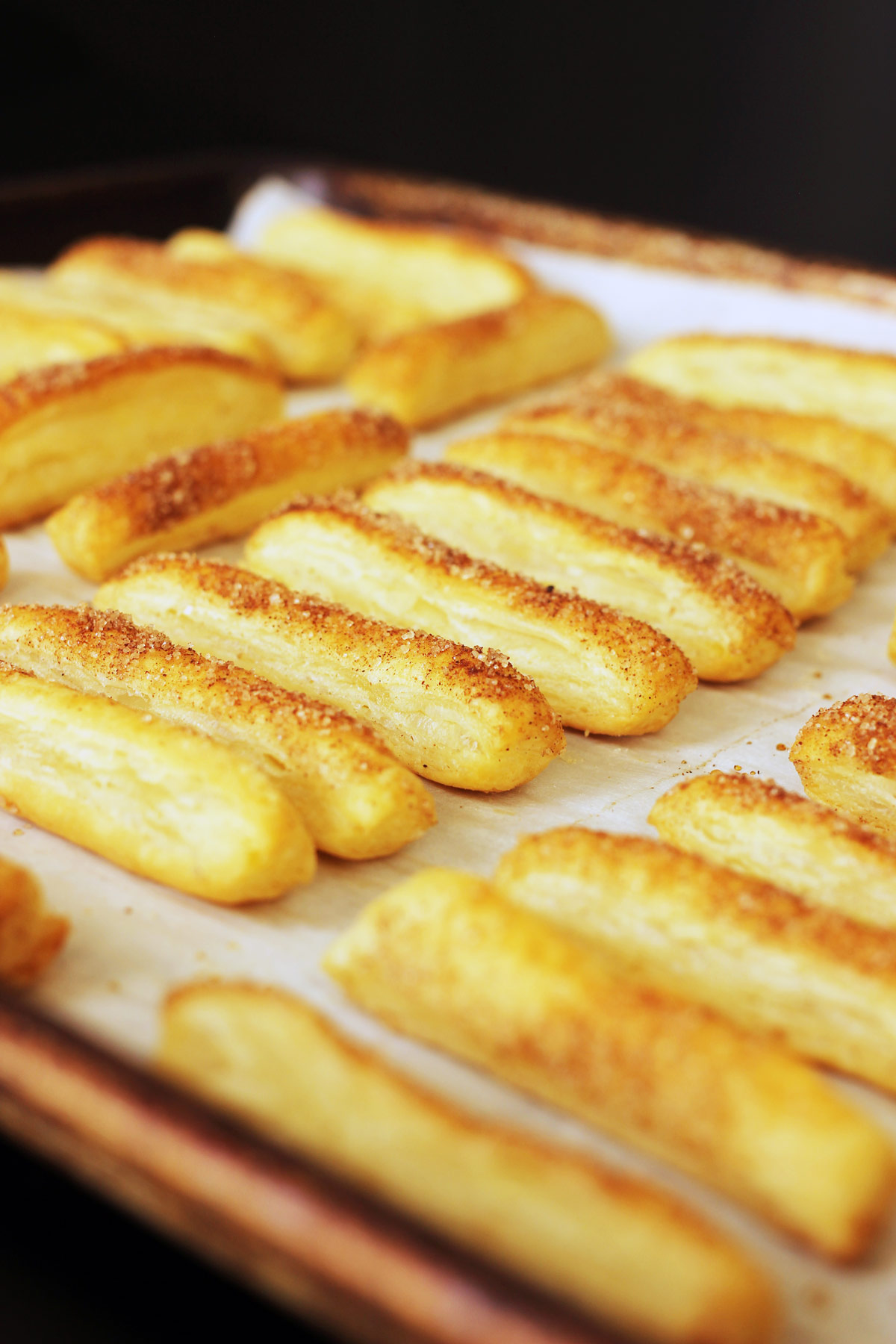 Recipe costs
Knowing how much it costs you to prepare a recipe can help you decide if it's the type of recipe to make regularly or one you might want to save for special occasions. Let's crunch some numbers and see how this recipe pencils out.
sugar – $0.03
cinnamon – $0.05
puff pastry – $2.23
A batch of cinnamon puffs costs about $2.31. While serving size is a bit subjective —who can eat just a few?!—this accounts as a fun cookie/dessert for about 4-6 people, making the cost per person roughly about 60 cents.
By contrast, a 26-count of small Palmiers from the grocery store bakery can run about $5.94.
Homemade will be fresher and tastier!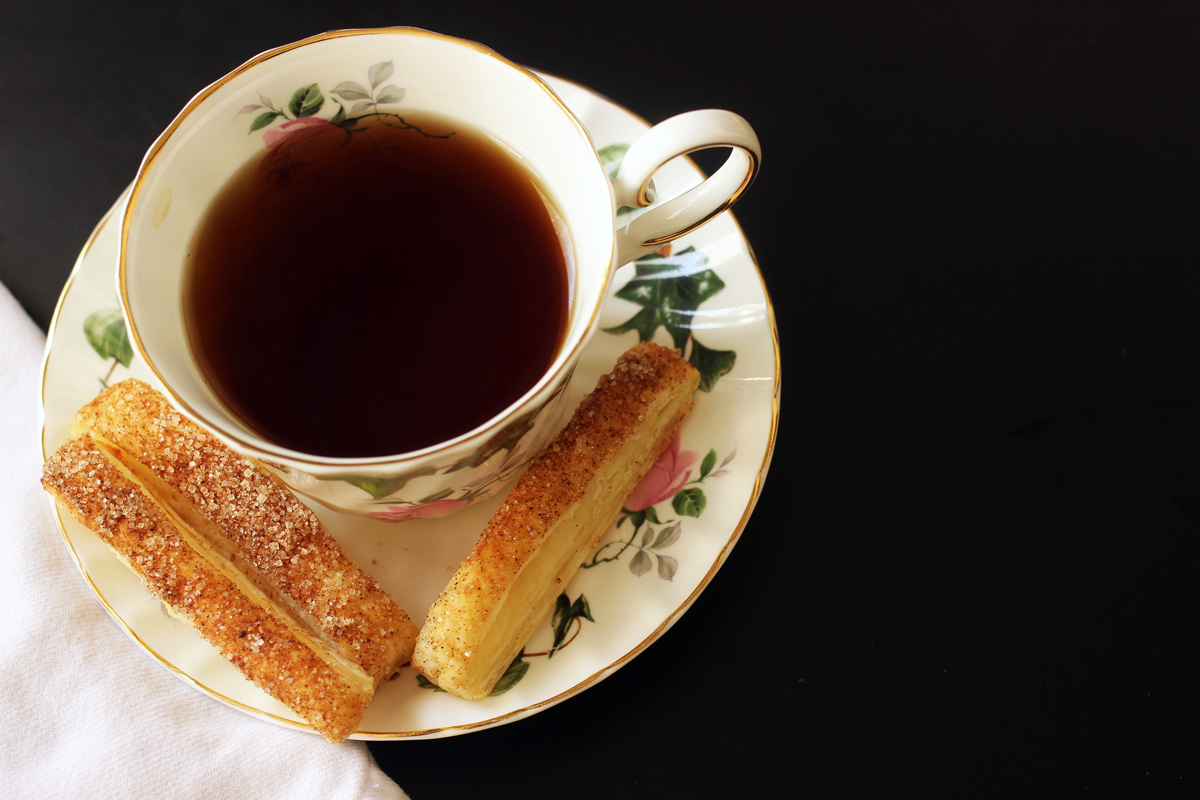 How to save even more:
You can save more with the Good Cheap Eats System, namely these specific strategies:
Make a plan for leftovers – You will likely have leftover cinnamon sugar, depending on how generous your sprinkling is, as well as extra sheet of puff pastry. Keep that extra pastry frozen and make a plan to use it, either in more cinnamon puffs or in another recipe using puff pastry.
Visit the store with the best prices – Puff pastry is the big ticket item here. Get your cost down by buying it at the best store.
Check the sales and clearance – Likewise, when you find a sale, buy extra to store in the freezer.
Cook from scratch – If you buy butter at a good price, making your own puff pastry can bring the cost point down.
Kitchen equipment
This recipe really couldn't be easier than it is, but having the right kitchen tools can really make your time in the kitchen more enjoyable. Over time, I've honed my collection so that they are perfect for my needs.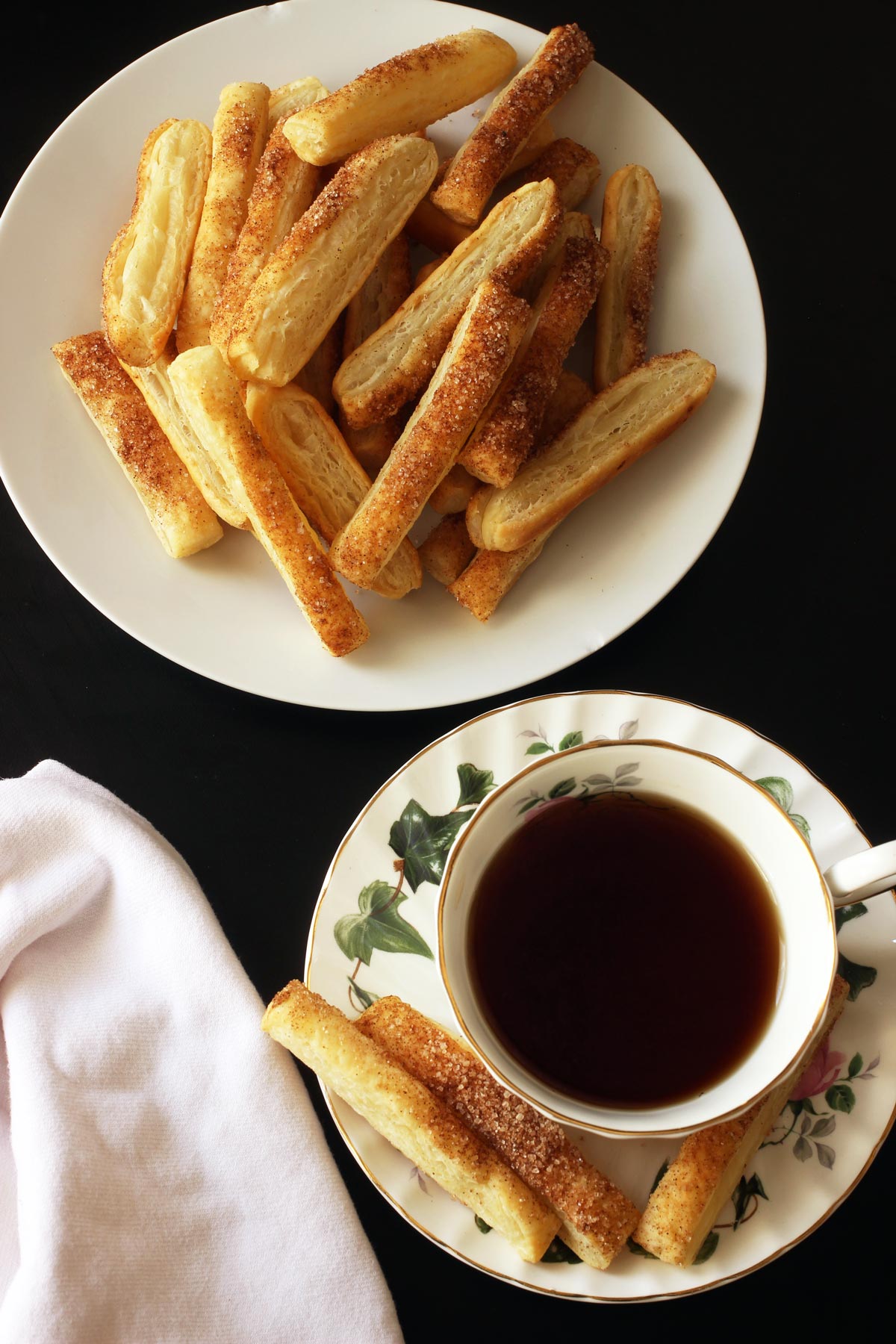 If you prepare this recipe, be sure to share a picture on social media and hashtag it
#GOODCHEAPEATS
. I can't wait to see what you cook up!
Cinnamon Puffs
Cinnamon Puffs come together easily with commercial puff pastry and cinnamon sugar. They are delightful with tea, but even better dipped in chocolate.
Ingredients
2

tablespoon

cinnamon sugar

1

sheet

frozen puff pastry

½ package, thawed according to package directions
Instructions
Preheat the oven to 400°. Line a large baking sheet with parchment paper.

In a small bowl, combine the sugar and cinnamon until well blended.

Unfold the sheet of puff pastry and sprinkle it generously with the cinnamon sugar. With a sharp knife, dough knife, or a pizza wheel, cut the puff pastry into 2-inch long x ½-inch wide sticks. Spread the pastry pieces out over the baking sheet so that they have at least ½-inch space between them.

Bake the puffs for about 10 minutes or until puffy and golden brown. Cool on a rack.
Notes
Store the puffs for a day or two in an airtight container.
Nutritional values are approximate and based on 1

 puff.
Cinnamon Sugar: combine 2 tablespoons granulated sugar and 1 teaspoon ground cinnamon. Stir well to combine. Store leftover in an airtight container.
Nutrition
Calories:
31
kcal
|
Carbohydrates:
3
g
|
Protein:
1
g
|
Fat:
2
g
|
Saturated Fat:
1
g
|
Sodium:
13
mg
|
Potassium:
3
mg
|
Fiber:
1
g
|
Sugar:
1
g
|
Vitamin A:
1
IU
|
Vitamin C:
1
mg
|
Calcium:
1
mg
|
Iron:
1
mg
This post was originally published on May 5, 2015. It has been updated for content and clarity.