One of the easiest desserts you can serve is a Chocolate Dessert Board. Set out an array of chocolates, fruits, nuts, and popcorn for an elegant and simple sweet touch to your evening.
The internet will surprise you sometimes. It will make something super simple look NEW! FRESH! DIFFERENT!
You'll come across a food image on Pinterest or Instagram that really wows you, you know. So much so that you have to try it at home. Sometimes that turns out to be a total, time-wasting flop.
But, other times it's a revelation. Who knew that something that pretty and inviting could be that easy?!
This is one of those kinds of posts. I guess I'm on a roll with my Real Food Real Easy recipes. I think it's because I'm realizing that we don't need to spend hours in the kitchen to make great food.
Even at the holidays.
Take this post as an invitation to take things easy this week. If you're responsible for dessert in the coming weeks, can I recommend the Chocolate Dessert Board?
Chocolate Dessert Board
A Chocolate Dessert Board is exactly what it sounds like: chocolate served as dessert.
Now, you could just pass around a box of See's Candy Nuts and Chews at the end of the meal and call it good. That's my all-time favorite chocolate treat, so I would be more than satisfied with that option.
Unless I got stuck with those two Rum Nougats. Blech.
But since we know that you'll want to impress your guests and feel less hostess-guilt if you actually do something, let's take chocolate candy up a level.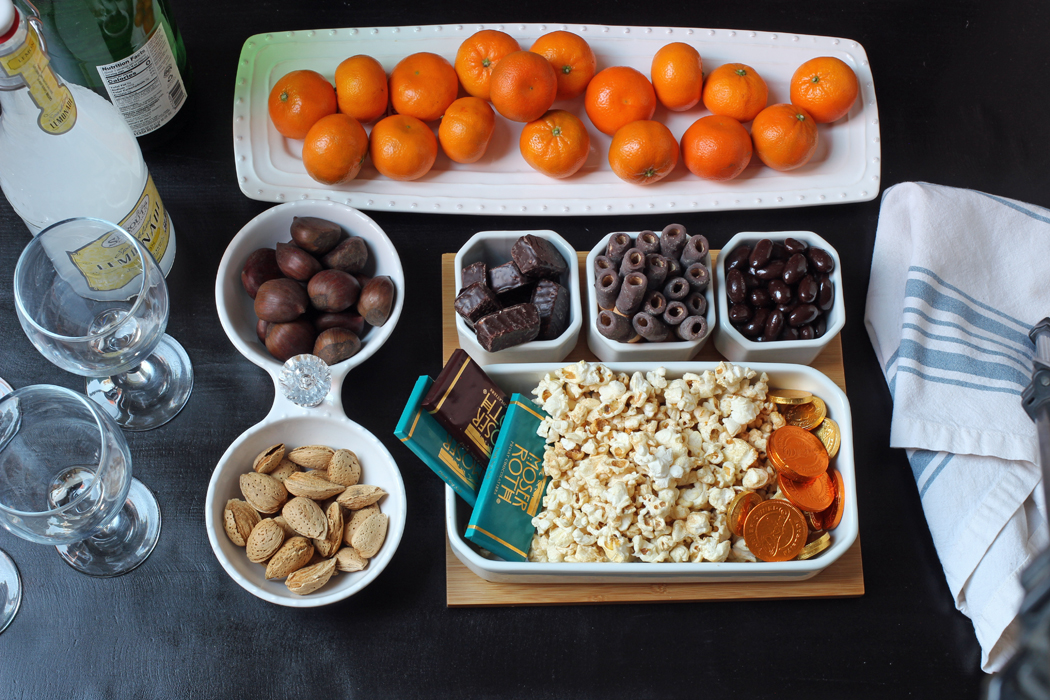 In case you didn't know, dessert boards, charcuterie boards, cheese boards, breakfasts boards, and all boards of every kind, are having a banner year. There are even half a dozen platters and boards cookbooks available on the topic.
A board is simply an array of different foods items, often around a certain theme, all smooshed together on a large platter or serving board.
Personally, I'm not super crazy about the "all smooshed together" part since I don't want my food touching if there's a chance it will affect the taste or texture or if I might want to save leftovers.
What goes on a chocolate dessert board?
A chocolate board is super fun to make! My girls and I had a great time wandering through the store, choosing items to add to a our chocolate dessert board.
Now, you'll notice that there's more than just chocolate here. We found that adding fruits, nuts, and popcorn rounded out the selection and cut the sweet in a very nice way.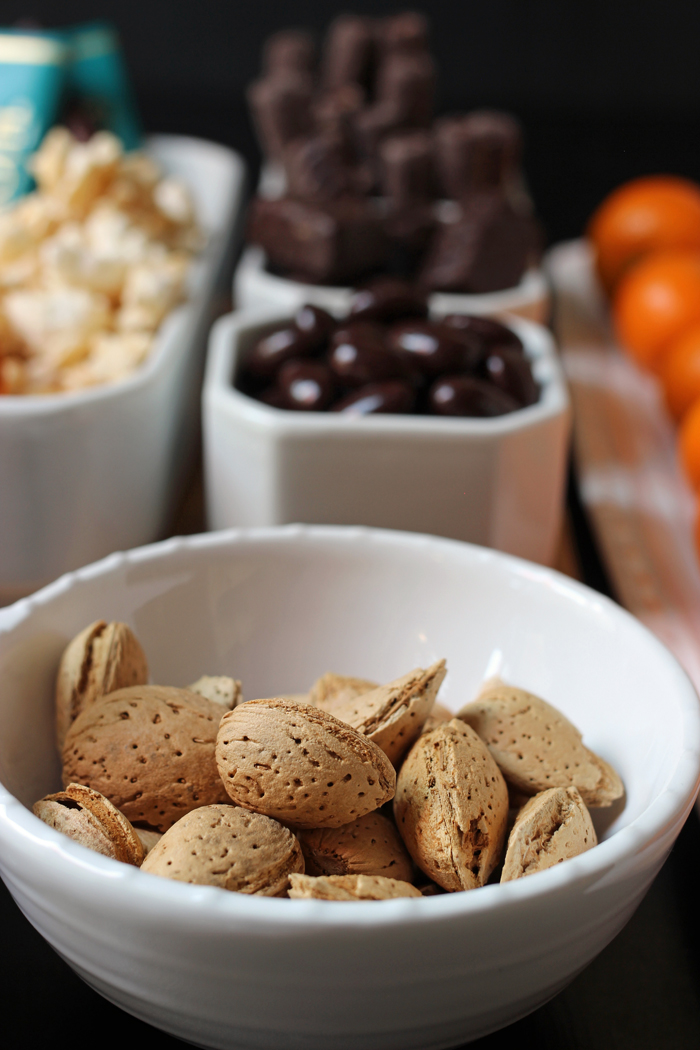 Think about including any or all of the following in your chocolate dessert board:
Chocolates to include:
chocolate covered marshmallows
chocolate dipped cookies (homemade or store-bought)
chocolate coated almonds
chocolate bars (vary the types and sizes)
candy-coated chocolates
chocolate coins
any chocolate candy you like!
Other items that complement chocolates:
nuts, in the shell or not
popcorn, flavored or not
fruit, especially winter fruit if you're near the holidays
chocolate cookies, such as Magic Bars
Can you make a chocolate board allergy-friendly?
Accommodating for food allergies can be tricky. And honestly, chocolate is a loaded gun since it's often manufactured in a facility with allergens such as peanuts and tree nuts. And a lot of chocolate is prepared with dairy or soy.
That said, there are allergy-free chocolates available. Paired with fruit and popcorn, this would work well. Alternatively, you can prepare your own chocolate candies, if you so desire.
As with anytime you're preparing food with an allergy in mind, read the packaging carefully. If you're serving guests with food allergies, save the packaging so they can read it for themselves.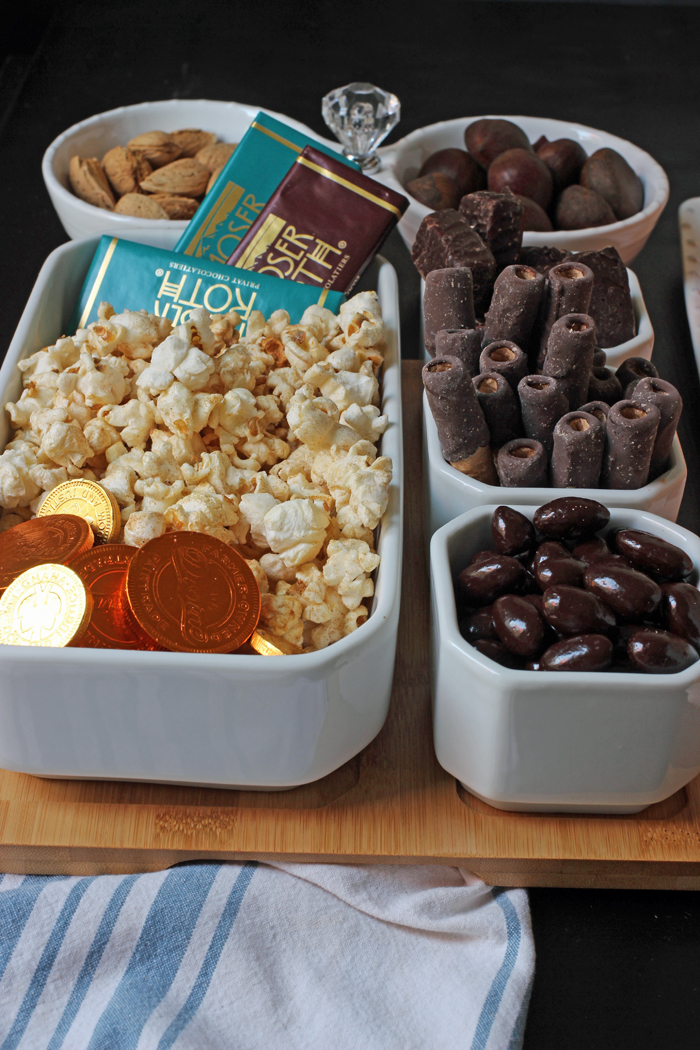 Where can you buy chocolate affordably?
The beauty of a chocolate dessert board is that you don't need a lot of any one item to make it work, so you can vary the quantity and quality of the chocolates you choose to fit your budget.
ALDI has a tremendous chocolate section offered at great prices with lots of variety. Sprouts a huge selection of bulk bin items that feature chocolate.
You can further stretch the board by including the aforementioned popcorn and fruit which are very affordable items.
How do you make a dessert board pretty?
This is where the power of the internet comes in. Who knew that a few handfuls of chocolate could look pretty? Scan Pinterest or the #dessertboard hashtag on Instagram to find lots of inspiring items and designs.
For my purposes, I leaned on the same dishes I use for my relish tray as well as these tips for better food presentation.
Vary the types and textures of items on the board. This adds visual interest.
Choose a variety of complementary colors. Chocolate, of course is brown, but you'll notice my orange clementines match the wrapping of the chocolate coins and the blue cloth coordinates with the wrapped chocolate bars.
Smoosh or not, that's up to you. As I mentioned, I like to have the elements separated to preserve taste and texture, but if you prefer, you can pile it all on a board and call it good.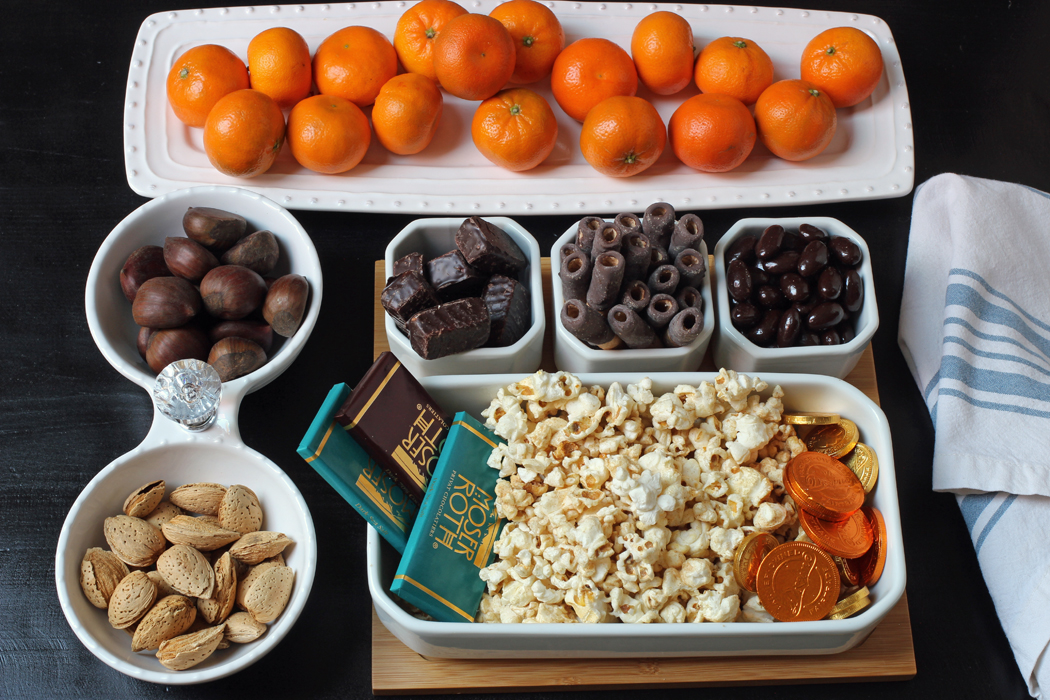 If you prepare this recipe, be sure to share a picture on social media and hashtag it
#GOODCHEAPEATS
. I can't wait to see what you cook up!
Chocolate Dessert Board
One of the easiest desserts you can serve is a Chocolate Dessert Board. Set out an array of chocolates, fruits, nuts, and popcorn for an elegant and simple sweet touch to your evening.
Ingredients
4

chocolate candy bars

12

oz

flavored popcorn

12

clementines

4

chocolate coins

1

cup

chocolate almonds

1

cup

chocolate marshmallows

12

oz

chocolate dipped cookies

1

cup

almonds in shell

1

cup

chestnuts in shell
Instructions
Place the chocolates, fruit, nuts, and popcorn in various bowls and platters and arrange in a n attractive way.
Notes
Nutritional information will vary tremendously depending on what elements you choose and which brands you serve.
Nutrition
Calories:
445
kcal
|
Carbohydrates:
67
g
|
Protein:
7
g
|
Fat:
18
g
|
Saturated Fat:
5
g
|
Cholesterol:
3
mg
|
Sodium:
263
mg
|
Potassium:
434
mg
|
Fiber:
6
g
|
Sugar:
36
g
|
Vitamin C:
41
mg
|
Calcium:
87
mg
|
Iron:
3
mg