The Ploughman's Lunch, aka Ploughman's, is the UK version of the Snacky Lunch. What was once a laborer's meal now looks like a very posh cheese and meat platter. Make your own at home for less!
You're looking for an easy, no-cook meal but you want it to feel a little special.
You're tired of the same old dinner options, but you need a quick meal that satisfies.
You long for simple meals with little fuss. Without resorting to cans and boxed mixes.
Well, any day of the week, I'd say that the fancy-pants-though-not-difficult-at-all meat and cheese boards that have been filling your instagram feed for a couple years now (aka the Snacky Lunch) is a go-to solution.
Not only does this answer your quick fix dilemma, but it also allows you to take a meal on the go, serve a crowd, and even appease a little wanderlust at the same time.
Wanderlust? Whatchoo talking about, Willis?
Think about it. A Mezze platter lets your tastebuds explore the Mediterranean while the traditional Charcuterie board takes you to France and the antipasto plate to Italy.
The Ploughman's Lunch? Why it's a quick ticket to jolly old England, isn't it?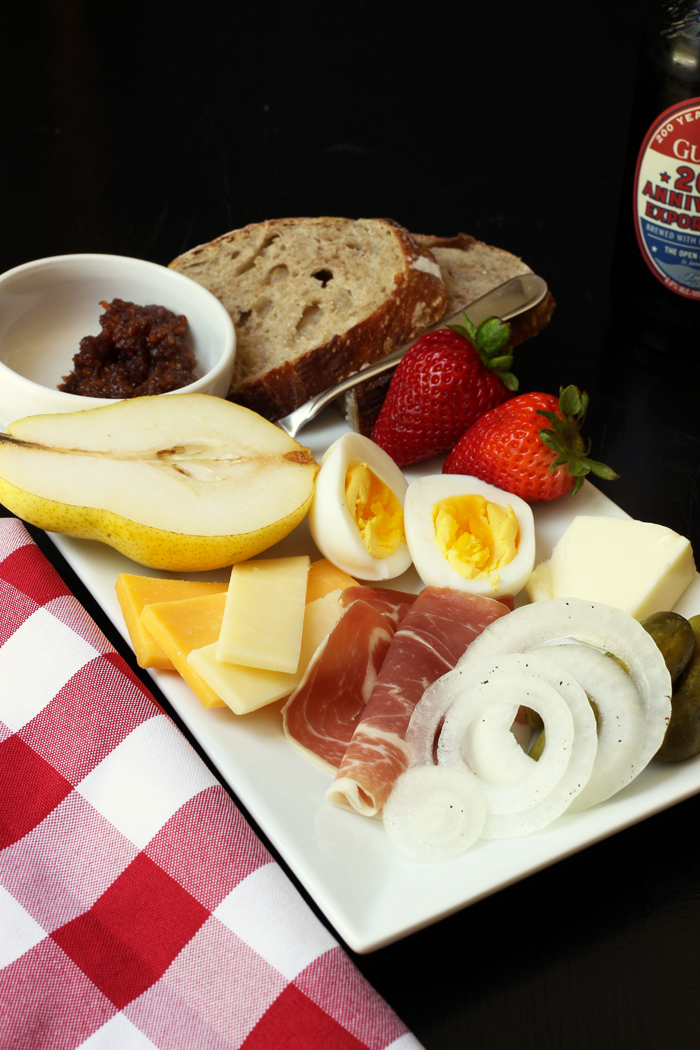 Pretty much every culture has had its own version of the Snacky Lunch, long before Lunchables were ever devised. And England's version is quite tasty, indeed.
What Do You Have In A Ploughman's Lunch?
According to Wikipedia,
A ploughman's lunch (often abbreviated to just ploughman's) is an English cold meal which is based around bread, cheese, and onions, usually accompanied with butter and some form of pickle. Additional items such as ham, green salad, hard boiled eggs and applecan be added. As its name suggests, a ploughman's lunch is most commonly eaten at lunchtime. The meal is particularly associated with public houses and is often accompanied with beer.
In our travels in England, many a pub menu featured some version of the Ploughman's Lunch, though it is no longer a pub staple. The pubs that do offer it might differ in their offerings, but there are some commonalities.
The Staunton Arms — where I had one of the best meals of my life — offers ham and stilton with crusty bread and pickles. The Bath Brew House — where Bryan says they make the best burger in England — mixes up their "sharing boards" every season along slightly different themes but with the heart of the Ploughman's Lunch. The Sherlock Holmes offers potted ham hock, sticky pickle sausage roll, cheddar, apple & date chutney, pickled onion, a mini loaf, and butter
The Ploughman's Lunch is quick to assemble and easy to share, making it a great no-cook option for your own meals at home. And because this is the 21st century, you can play with the bread to meat to cheese to vegetable/fruit ratio as much as you like.
In today's version, however, I've included some basics: good crusty bread, ham, cheese, hard cooked egg, fruit, pickled onions, butter, and English pickle. You can lay out all the fixings and let folks assemble their own or divvy it out on individual boards for a more pampered service.
You can cook the eggs and the English pickle yourself, up to a week in advance, or buy both at the store ready to go. (Psst. Some say that Scotch eggs are traditional in this platter, but good luck finding good ones, if any, in the States.)
It goes without saying that if you indulge, beer or ale is the drink of choice with this meal.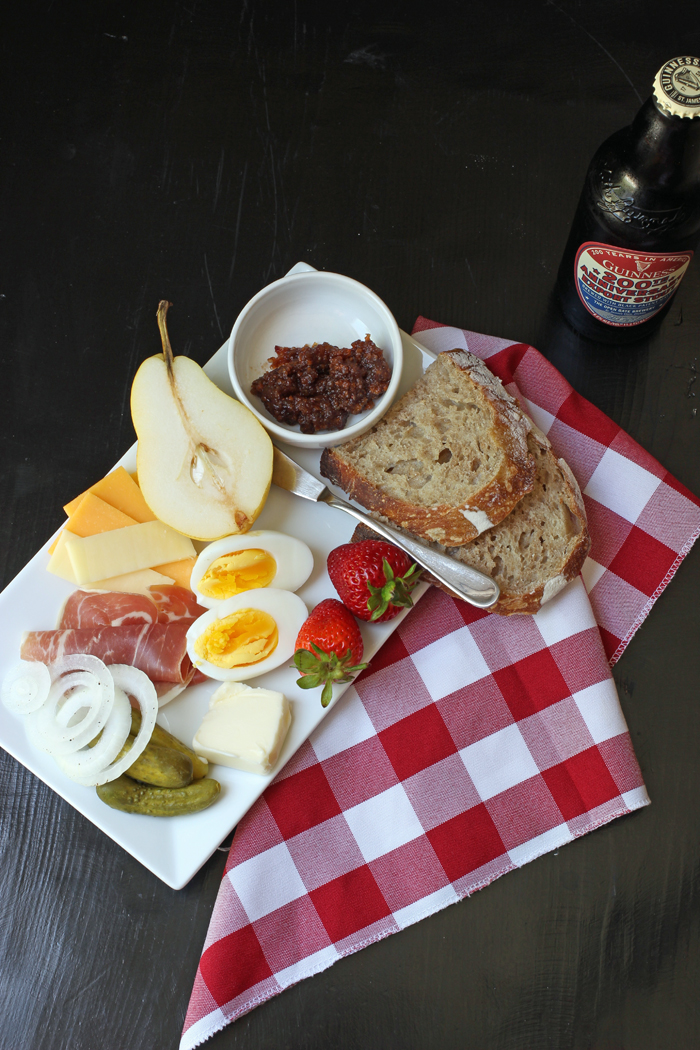 How I make this good:
Whenever possible I like to cook with plain old ingredients. While the convenience of mixes and canned sauces is nice, I feel better about feeding my family just real food whenever possible. (Go here for some of my reasons on all that.)
The fact that this recipe for a Ploughman's Lunch is generally no-cook doesn't mean we can't be picky about ingredient quality. If you can bake your own bread or buy a good quality bread, do. If you can make your own English pickle, yes! It's a good call if you can pickle your own onions — takes just minutes! — or buy pickled cucumbers without dyes and preservatives.
How I make this cheap:
Here are some of the strategies I use to make this recipe more economical:
Do a price comparison. I know that Costco is the best place to buy ingredients in bulk, especially sliced meats and fancy cheeses. I keep track of prices so that I know who has the best deal where.
Stock up on ingredients when they are on sale. For instance, when I see a great price on ground beef at the grocery store, I buy a lot.
Stretch the more expensive items with less expensive counterparts. Sure, the meats and cheese might be pricey in this dish, but you can use in-season fruit and bake your own bread to offset the costs.
After you've enjoyed your own Ploughman's Lunch at home, I'd love for you to come give the recipe a starred review. Thanks in advance for your feedback. It helps me make sure I'm helping you to eat well without freaking out or going broke.
Ploughman's Lunch
A Ploughman's Lunch is the English equivalent of a Snacky Lunch. Quick to prepare and easy to share, it's an ideal no-cook meal and excellent for packing on the go.
Ingredients
1

onion

sliced into rings

2

tablespoon

white wine vinegar

salt

black pepper

4

egg

, hard-cooked, peeled and cut in half

8

oz

sliced ham

or other favorite cut meals

4

oz

sliced English cheese such as Cheddar, Stilton, or Wensleydale

8

slices

sourdough bread

or bread rolls

4-8

pieces

seasonal fruit

4-8

cornichons

½

cup

English pickle

4

tablespoon

butter

, cut into pats
Instructions
In a small bowl, place the onion slices. Pour over the vinegar. Season to taste with salt and pepper. Allow to sit to allow the onion to marinade. This also removes some of the bitterness and heat from the onions.

Meanwhile, divide the eggs, ham, cheese, bread, fruit, and cucumber pickles among four platters, boards, or dinner plates.

Divide the English pickle into four small dishes or ramekins. Place a ramekin and a pat of butter on each plate.

Divide the pickled onions among the four plates and serve immediately.
Notes
If packing for take-away, use divided trays and keep the wet ingredients separate from the dry. Wrap the bread well in plastic wrap. Chill until ready to serve.
Promptly store leftovers in an airtight container in the refrigerator, for up to 3 days.
Nutritional values are approximate and based on ¼ the ingredients.
Nutrition
Calories:
630
kcal
|
Carbohydrates:
38
g
|
Protein:
34
g
|
Fat:
38
g
|
Saturated Fat:
19
g
|
Cholesterol:
282
mg
|
Sodium:
1309
mg
|
Potassium:
803
mg
|
Fiber:
5
g
|
Sugar:
10
g
|
Vitamin A:
1110
IU
|
Vitamin C:
11.6
mg
|
Calcium:
362
mg
|
Iron:
4
mg