Dessert will be fresh and easy when you serve a Winter Fruit Tray, laden with seasonal fruit. Follow these serving tips to make it simple for your guests.
Remember last week when I said that food doesn't have to be so complicated. Food is food. And while it's nice to spend time preparing a lavish meal or dessert, the truth of the matter is that…
sometimes you don't have to.
This is important to remember. We're all sooo very busy. Getting to the table is sometimes almost as difficult as getting food on the table.
So, it's perfectly okay to take things easy. Yes, bake up a storm this holiday season! You have my permission to bake 12 different Christmas cookies if you want! But know that if push comes to shove, you can make a beautiful dessert tray with very little work. Dare I say, NONE.
Winter Fruit Tray
A winter fruit tray is a great alternative to heavy holiday desserts. What it may be lacking in sprinkles it makes up for in fresh, sweet, juicy deliciousness.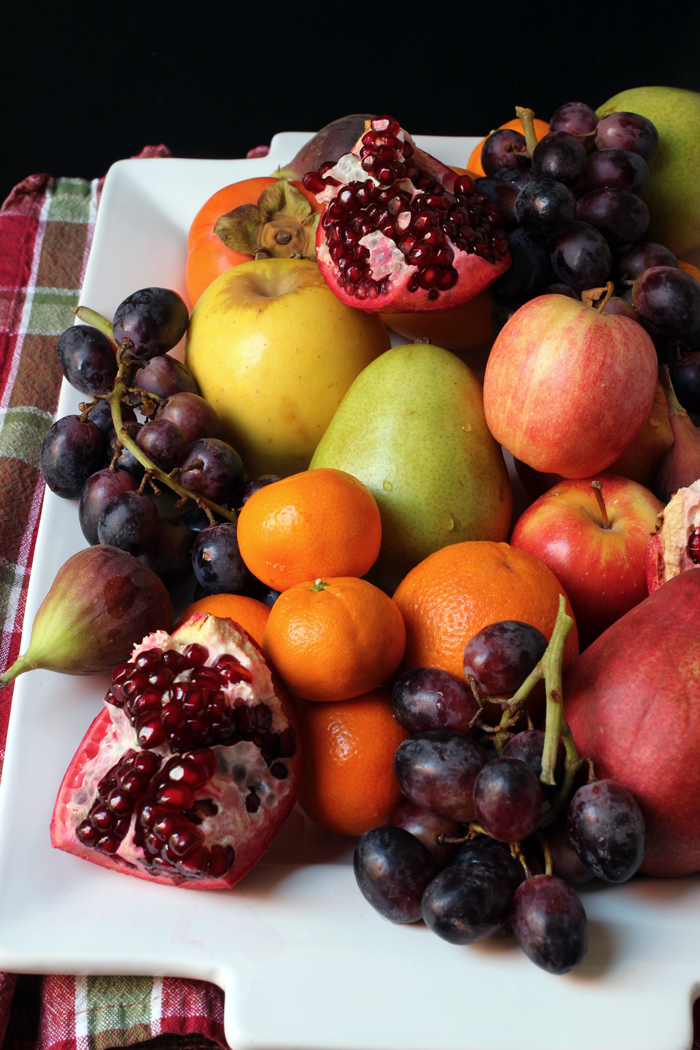 What are winter fruits?
Winter fruits are not necessarily those that grow in the winter, though some do in moderate climates. Winter fruits often include fruits that are harvested in late fall and stay good through the winter.
Yes, apples and citrus keep for quite a long time under cold storage as do persimmons and pomegranates. This means that you can keep on hand easy dessert fixings without any fuss.
Consider purchasing any or all of the following:
oranges (don't forget the beautiful blood oranges!)
pears
cranberries
pomegranates
persimmons
clementines and other mandarin oranges
grapefruit
figs
apples
grapes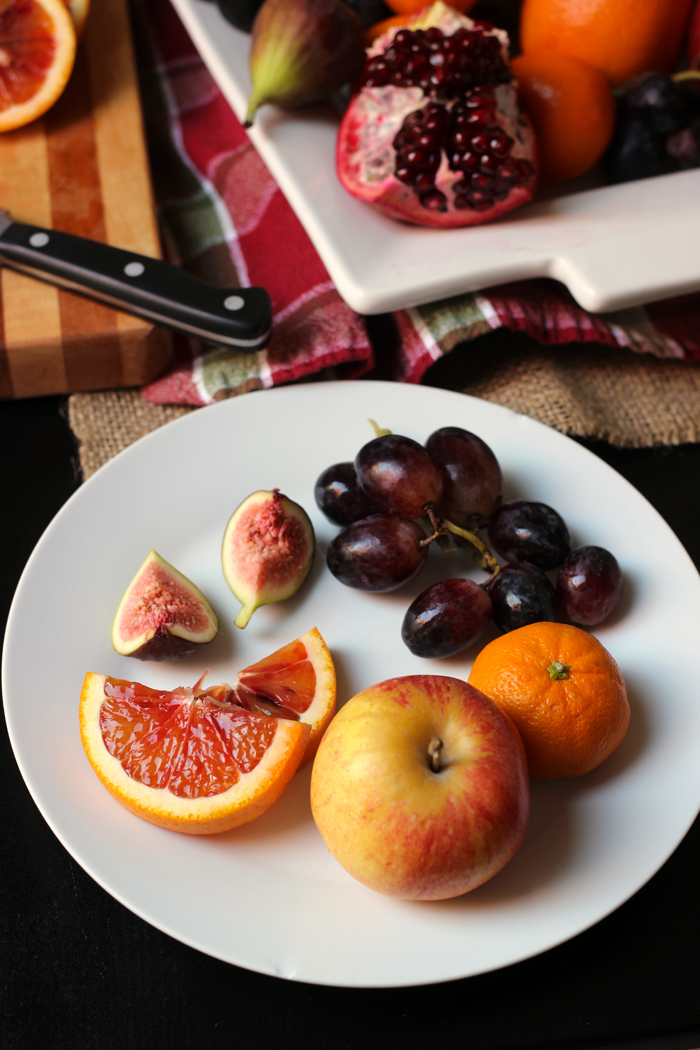 Fruit for Dessert
Fruit has been served as a dessert for quite some time in many cultures. When I lived in France, home of the most decadent pastries in the world, a fruit platter was often passed at the end of the meal.
We saved our pastries for breakfast! 😉
What are the best fruits for a fruit tray?
The best fruits for a dessert fruit tray are the ones that you and your guests like!
Typically, you'll see melons and berries on commercial fruit trays because they are so brightly colored and pretty on a tray. However, their flavor is fairly lackluster, especially in winter.
Luckily, there are lots of winter fruits, that can be tasty and beautiful on a fruit tray.
The vibrant colors of fall and winter fruits are so eye-catching! Check out the oranges, greens, yellows, reds, and purples! We don't need no melons and berries around here.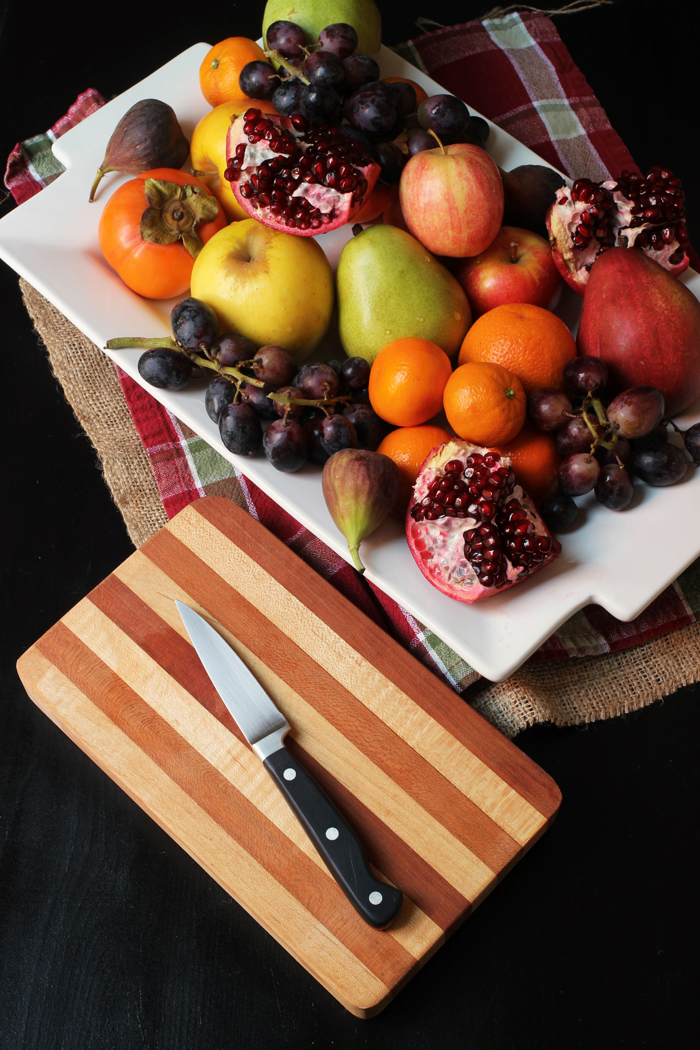 How do you cut fruit for a fruit tray?
When serving fruit on a tray, you're going to want to do it in a way that makes it easy to eat as well as beautiful.
Be sure to read –> How to Make a Fruit Tray
Many winter fruits are best eaten out of hand, rather than sliced for serving. Cut pears and apples tend to brown and look ugly on a tray.
That's why for this winter fruit tray, I recommend serving many of the fruits whole and providing a small knife and cutting board for folks to cut the fruit themselves to make the fruit easier to eat.
Fruits to leave whole:
apples
oranges
pears
persimmon
figs
Fruits to break into serving sizes:
pomegranates – slice off one end, score the skin into fourths and break apart into chunks
grapes – cut them into serving size clusters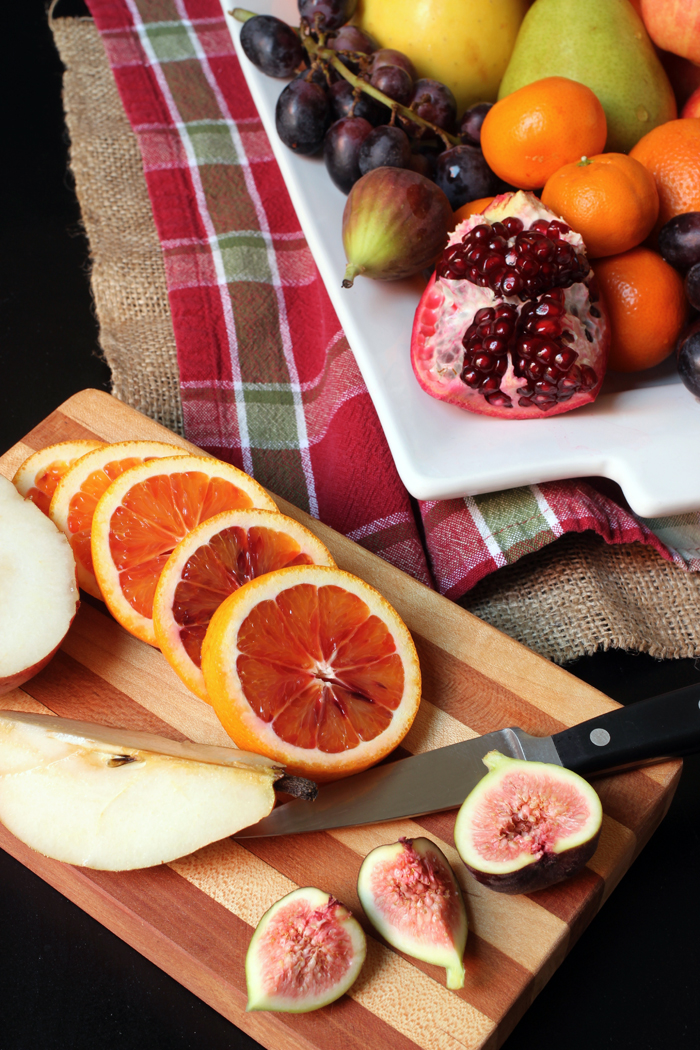 How do you cut winter fruits?
Oranges can be peeled and eaten as sections or they can be sliced into wedges or rounds.
Apples, fuyu persimmons, and pears can be cored and sliced.
Figs can be sliced or cut into wedges.
Grapes can be cut into serving-size clusters.
Pomegranates can be split into chunks with the arils exposed.
How can you save money serving fruit for dessert?
So, the point of Good Cheap Eats is to:
Enjoy great food.
Spend less.
Not go crazy in the kitchen.
This dessert fits the bill on all counts. Preparing a simple fruit tray is elegant and easy so you won't go crazy making it.
But, can you save money?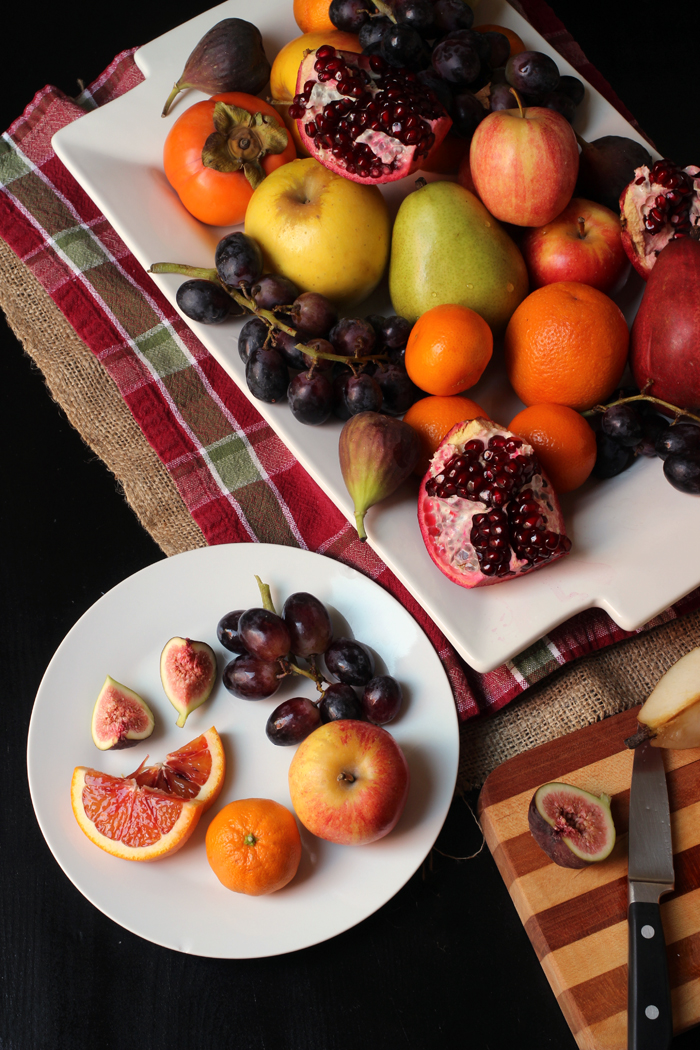 Choose a variety of in-season produce.
The point of a winter fruit tray is to serve fruits that are in season. Seasonal produce is typically more abundant and affordable than stuff that is imported out of season. Usually.
To make this an affordable dessert, be sure to load up on the fruit that is on sale. Focus on a variety of color so that it's appealing to the eye. Apples and pears both come in red, yellow, and green, so be sure to mix things up.
Blood oranges will be more expensive than cuties or navels, but they add great visual interest. Adding one or two won't break the bank, but will add to the beauty of your tray.
Specialty fruits like pomegranates, persimmons, and figs will be more expensive than apples, oranges and pear. Even grapes can get pricy depending on the climate. Choose a smaller portion of these fruits to add color and interest to your tray without jacking up the cost.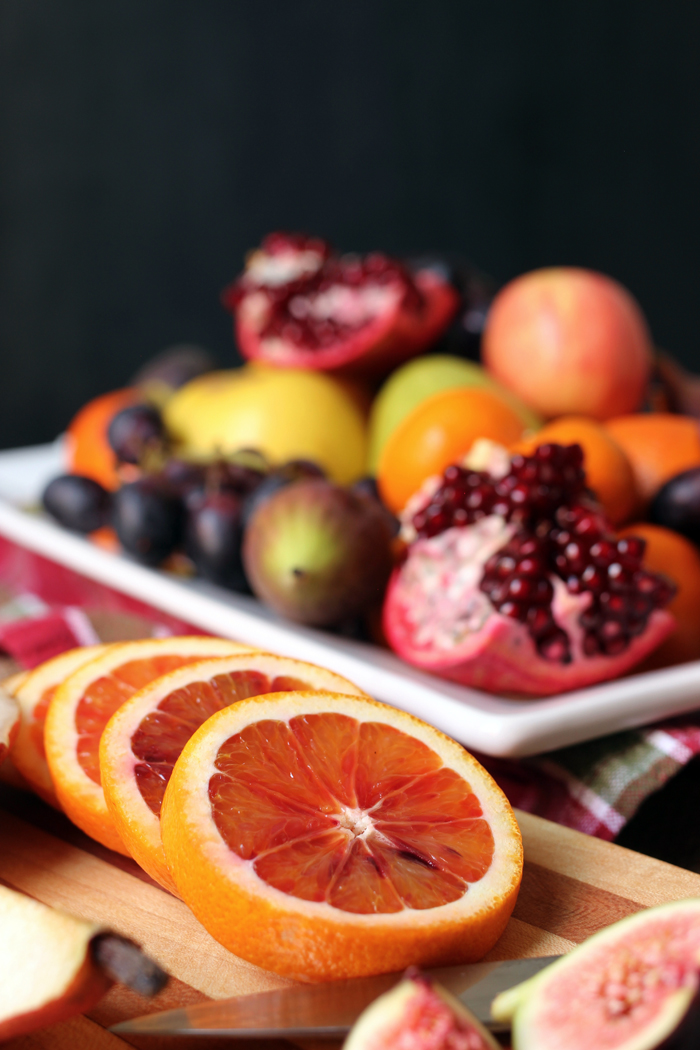 If you prepare this recipe, be sure to share a picture on social media and hashtag it
#GOODCHEAPEATS
. I can't wait to see what you cook up!
Winter Fruit Tray
Dessert will be fresh and easy when you serve a Winter Fruit Tray, laden with seasonal fruit. Follow these serving tips to make it simple for your guests.
Ingredients
8

clementines

4

apple

vary the color

4

pears

vary the color

4

figs

1

blood orange

1

fuyu persimmon

1

pomegranate

1

bunch

grapes
Instructions
Spray the fruit with white vinegar and rinse well. This removes surface debris and bacteria.

Place the clementines, apples, pears, fig, persimmon, and blood orange on the tray, spreading out the colors.

Slice off the top of the pomegranate and score the skin into fourths. Insert your thumb gently into the top and break the fruit apart into chunks. Distribute the chunks around the fruit platter.

Cut the grapes into serving-size clusters and place around the platter.

Serve cold or at room temperature.
Notes
The fruit platter can be prepared up to a day in advance. Cover and refrigerate until serving. 
Nutrition
Calories:
184
kcal
|
Carbohydrates:
47
g
|
Protein:
2
g
|
Fat:
1
g
|
Saturated Fat:
1
g
|
Sodium:
4
mg
|
Potassium:
483
mg
|
Fiber:
9
g
|
Sugar:
34
g
|
Vitamin A:
107
IU
|
Vitamin C:
49
mg
|
Calcium:
50
mg
|
Iron:
1
mg