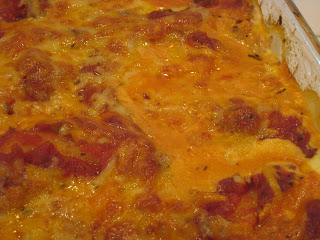 Sounds like a mixed metaphor, doesn't it? I mean, lasagna is Italian, not Mexican. However, I decided to use what I had instead of rushing out to the store for a few ingredients. That's one of the principles behind frugal cooking: making do.
That means, my family were guinea pigs. And I lived to tell about it. In fact, my husband loved it. It was a little too spicy for some of the kids, and one of them couldn't get over his lasagna associations. If I had called it "Salsa Casserole," he might have been fine. But, it was good.
I took my favorite lasagna recipe and tweaked it. Instead of mozzarella and parmesan, I used pepper jack and cheddar. And since I already had several cups of meat sauce (made with turkey) I used that instead of adding ground beef to prepared tomato sauce. I threw in some salsa to give it some kick and to increase my amount of sauce.
I love this recipe for its flexibility and simplicity. Here's my adaptation, in all its glory.
Recipe: Mexican Lasagna
Ingredients
2 cups pepper jack cheese, shredded
2 cups cheddar cheese, shredded
1 pound ground beef or turkey, browned and drained
3 cups spaghetti sauce
1 cup salsa (I used Pace medium)
1 cup chicken broth
8 ounces cream cheese
6-8 lasagna noodles, uncooked
Instructions
Preheat oven to 350F. In a mixing bowl, combine cheeses.
In another bowl, combine meat, sauce, and salsa.
In a medium saucepan heat the chicken broth. Add cream cheese and whisk until smooth. Set aside.
Spray 9×13 baking pan with nonstick spray. Spread half the salsa-meat sauce in the pan. Sprinkle with 1 cup cheese. Place 3-4 lasagna noodles. Pour cream cheese mixture over noodles. Sprinkle with 1 cup cheese. Place remaining lasagna noodles. Spread the rest of the salsa-meat sauce over the noodles. Sprinkle on the remaining cheese.
Bake for 45 minutes until brown and bubbly. Allow to rest 10 minutes before cutting.
Make-Ahead / Freezer Cooking Instructions: This is a very make-ahead dish. Just don't bake it. Once it's assembled, cover and pop it into the refrigerator or wrap for freezing and freeze. Thaw the dish overnight before baking according to the recipe directions.
Here's the price breakdown:
grating cheeses $1.50
salsa – free after coupon
meat sauce $1.50
chicken base $0.15
cream cheese $1
served with hawaiian rolls $1 and salad $1
Total cost $6.15 to feed seven people. (There were 1-2 servings of lasagna and some rolls left over.) For more budget meals, check out Erin's $5 Dinner Challenge.