This Mexican lasagna recipe is a great twist on a traditional lasagna recipe that your family is sure to gobble up. With pepper jack cheese and salsa, this spicy Mexican lasagna is sure to please all.
They weren't kidding (whoever they are) when they said, "Necessity is the mother of invention." When you need something, it's amazing what you can dream up.
Quite a few of the recipes in my bag of tricks started out that way. I didn't have certain ingredients on hand to follow a recipe, but I needed to make dinner. So I started making swaps, using what I had.
And voila!
New and delicious eating opportunities were born. This lasagna recipe is one of those opportunities.
Mexican Lasagna
Mexican Lasagna. Sounds like a mixed metaphor, doesn't it? I mean, lasagna is Italian, not Mexican.
However, it's worth the confusion. One day I decided to use what I had instead of rushing out to the store for a few ingredients. That's one of the principles behind Good Cheap Eats: making do.
That means, my family were guinea pigs on your behalf. And I lived to tell about it. So did, they.
In fact, my husband loved it! It was initially a little too spicy for some of the kids, and one of them couldn't get over his lasagna associations. (If I had called it "Salsa Casserole," he might have been fine.)
But, this dish is good, any hesitations from 2009 have been completely obliterated today, 10 years later.
I took a favorite lasagna recipe and tweaked it. Instead of mozzarella and parmesan, I used pepper jack and cheddar. And since I already had several cups of meat sauce (made with turkey) I used that instead of adding ground beef to prepared tomato sauce. I threw in some salsa to give it some kick and to increase my amount of sauce.
And here we are. A Mexi-Italian mashup that has stood the test of time.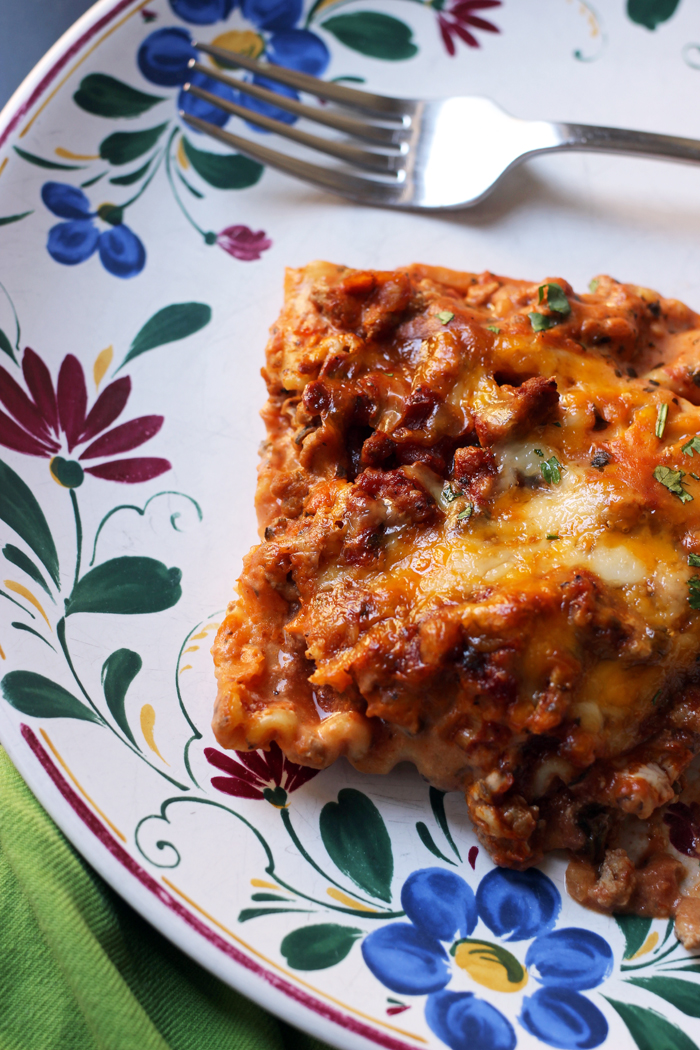 What do I serve with this Mexican Lasagna recipe?
Since this recipe is a mash-up of two different flavor profiles, the world is your oyster when it comes to side dishes. I like to serve it with a large green salad, steamed veggies, and bread or rolls.
Since I grew up going to Marie Callender's where they used to serve cornbread as a lasagna accompaniment, I also have no qualms in serving cornbread with this dish as well.
How do I make Mexican Lasagna?
This process is pretty simple.
Lay out your ingredients so you don't forget anything and so that you can assemble this quickly and easily.
Combine the two cheeses and have those ready.
Cook the meat and add the pasta sauce and salsa.
Combine the cream cheese and chicken stock in a small saucepan and heat until the cheese dissolves, creating a quick and easy white sauce.
Preheat the oven to 350 degrees. Grease a 9×13-inch baking dish and spread half the sauce in the bottom of the pan. Sprinkle with ⅓ of the cheese.
Lay down uncooked lasagna noodles to cover. (Don't worry, the noodles will cook in the sauce!)
Pour over the cream cheese sauce. Sprinkle with ⅓ of the cheese.
Add another layer of noodles, the rest of the sauce, and the rest of the cheese.
Cook until hot and bubbly, about 45 minutes, uncovered.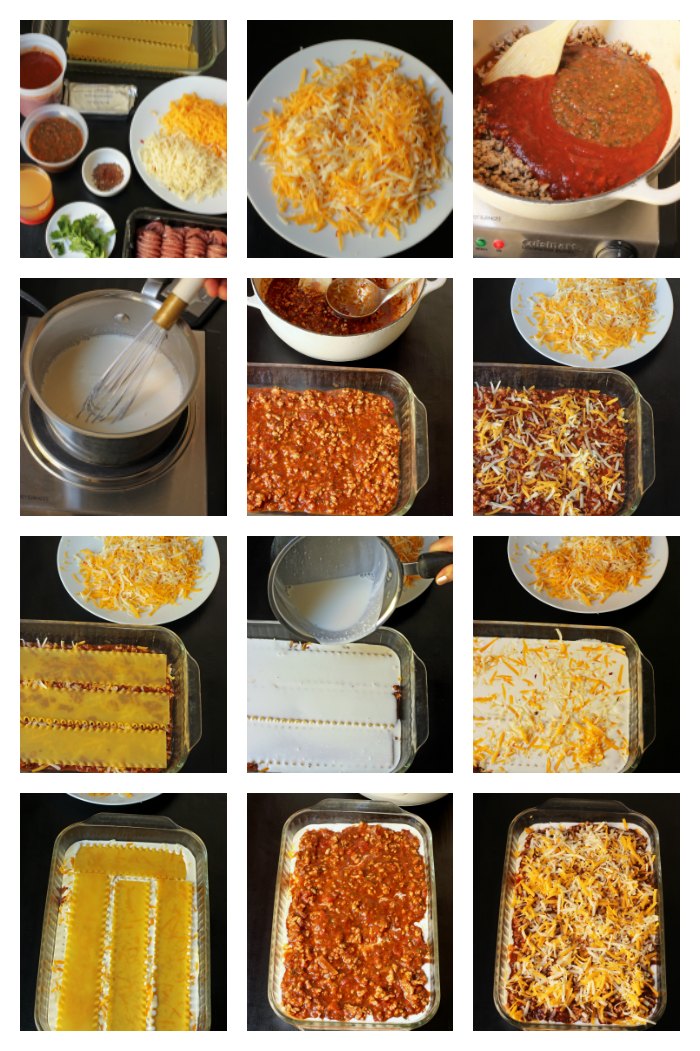 How many layers should lasagna have?
The number of layers in a lasagna really depends on you, how much sauce you have, and how pasta-y you like your lasagna. I usually do two to three layers.
How do you know when lasagna is done baking?
You'll know the lasagna is done when the sauce is bubbling and the cheese on top is golden brown.
Can I freeze lasagna?
Lasagna for the freezer is one of my favorite things to make! It's so easy to assemble several casseroles and stash them away for later.
Keep in mind, it's best to freeze lasagna prior to baking. This allows best taste and texture when serving.
If you're assembling the casserole with cold ingredients, you can place it in the freezer right away, covered and labeled. If the ingredients are warm during assembly, cover, label, and refrigerate until the casserole is completely cold. Then stash it in the freezer.
How do you reheat lasagna?
Leftover lasagna is a treat! Definitely worth fighting for. Store leftover baked lasagna in a covered container in the fridge for up to 3 days.
To reheat, place a portion on a microwave-safe plate and nuke it for 60 to 90 seconds until hot. Watch for hot spots!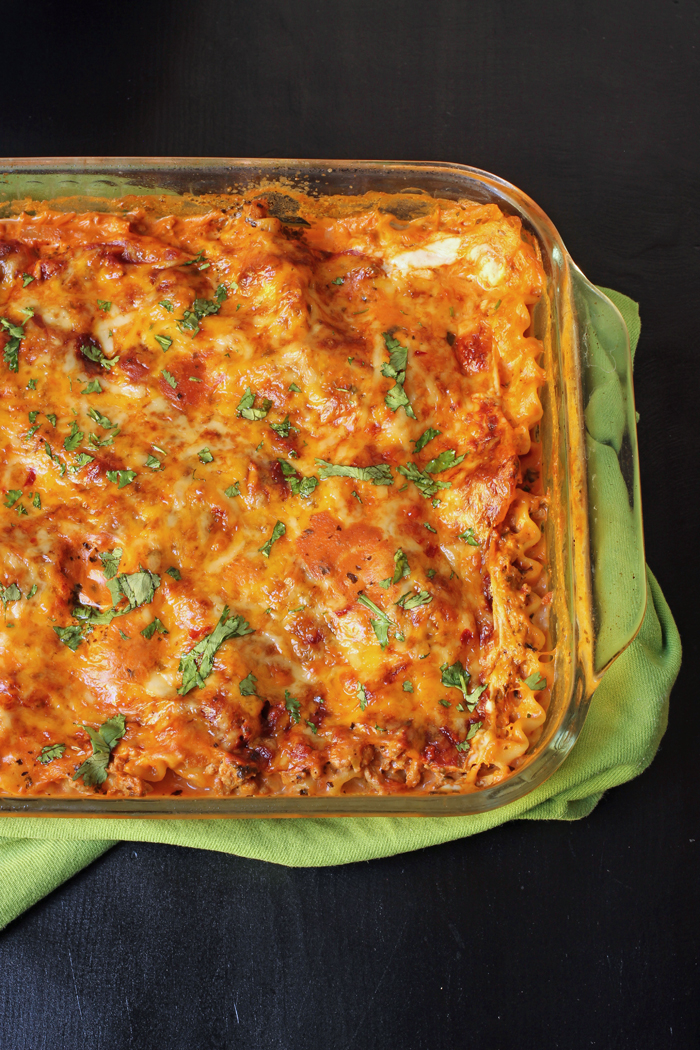 How I make this cheap:
Here are some of the strategies I use to make this recipe more economical:
Do a price comparison. I know that Costco is the best place to buy ingredients in bulk, like mozzarella cheese, and tomato products when there isn't a great sale elsewhere. I keep track of prices so that I know who has the best deal where.
Stock up on ingredients when they are on sale. For instance, when I see a great price on ground beef or turkey, I buy a lot.
Cook in bulk. It saves so much time and money to make more than one lasagna and stash the extras in the freezer. It also helps me avoid pricey convenience foods or take-out on the nights when I just don't want to cook.
Stretch the more expensive items with less expensive counterparts. Ricotta, what is normally used in Lasagna is pretty expensive. Cream cheese is a more affordable alternative and makes a nice cream filling in this casserole.
Tools I use to make this recipe easy:
Having the right kitchen tools can really make your time in the kitchen more enjoyable. Over time, I've honed my collection so that they are perfect for my needs. Here are the tools that I like to use in this recipe.
chili pot – I bought this pot which is a great size for making sauces.
box grater for cheese – if you don't buy the cheese already shredded, a box grater is a handy tool to have on hand. We've had this commercial model for almost 25 years!
9×13-inch Pyrex with lid – I love these pans! I'm slowly building a collection of them.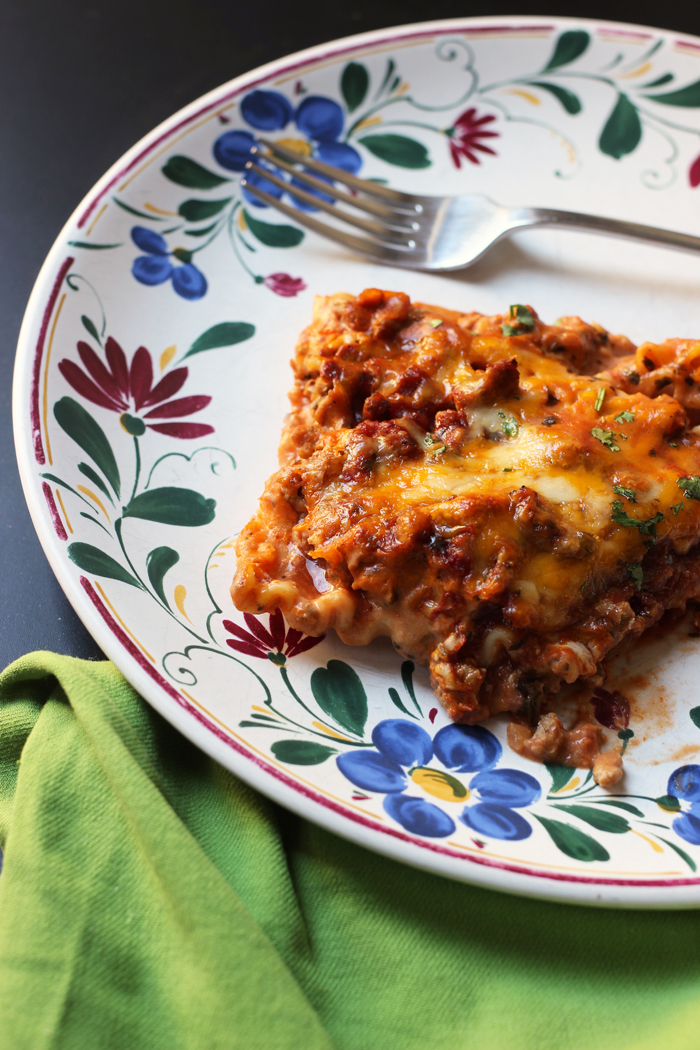 If you prepare this recipe, be sure to share a picture on social media and hashtag it
#GOODCHEAPEATS
. I can't wait to see what you cook up!
Mexican Lasagna
This Mexican lasagna recipe is a great twist on a traditional lasagna recipe that your family is sure to gobble up. With pepper jack cheese and salsa, this spicy Mexican lasagna is sure to please all.

Ingredients
8

oz

pepper jack cheese (shredded )

(2 cups)

8

oz

cheddar cheese (shredded)

(2 cups)

1

lb

ground beef

or ground turkey, browned and drained

3

cup

marinara sauce

1

cup

salsa

I used Pace medium

1

cup

chicken stock

8

oz

cream cheese

6-8

lasagna noodles

uncooked
Instructions
Preheat oven to 350F. In a mixing bowl, combine cheeses.

In another bowl, combine meat, sauce, and salsa.

In a medium saucepan heat the chicken broth. Add cream cheese and whisk until smooth. Set aside.

Spray 9×13 baking pan with nonstick spray. Spread half the salsa-meat sauce in the pan. Sprinkle with 1 cup cheese. Place 3-4 lasagna noodles. Pour cream cheese mixture over noodles. Sprinkle with 1 cup cheese. Place remaining lasagna noodles. Spread the rest of the salsa-meat sauce over the noodles. Sprinkle on the remaining cheese.

Bake for 45 minutes until brown and bubbly. Allow to rest 10 minutes before cutting.
Notes
Make-Ahead / Freezer Cooking Instructions: This is a very make-ahead dish. Just don't bake it. Once it's assembled, cover and pop it into the refrigerator or wrap for freezing and freeze. Thaw the dish overnight before baking according to the recipe directions.
Nutrition
Calories:
381
kcal
|
Carbohydrates:
16
g
|
Protein:
20
g
|
Fat:
26
g
|
Saturated Fat:
14
g
|
Cholesterol:
84
mg
|
Sodium:
850
mg
|
Potassium:
473
mg
|
Fiber:
2
g
|
Sugar:
5
g
|
Vitamin A:
957
IU
|
Vitamin C:
6
mg
|
Calcium:
320
mg
|
Iron:
2
mg