Freezing lasagna is a great way to make it ahead of time and have one of your favorite meals at the ready. This homemade lasagna recipe is a delicious one-dish dinner that can be made ahead and frozen. And this recipe for making lasagna allows you to customize it to suit your tastes.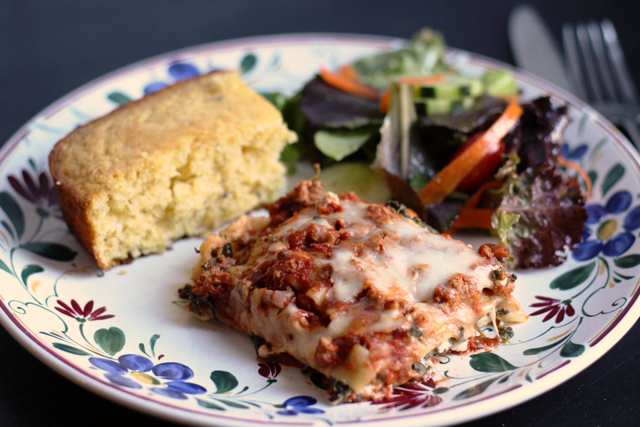 Lasagna has always been one of my favorite meals to make and freeze. It's filling, and it can be doctored up with veggies to make it a one-dish dinner. My kids have gone through seasons when they've been picky about lasagna, but with my current method and go-to recipe, a 9×13 pan disappears in a flash.
Making homemade lasagna.
Lasagna is total comfort food. When served with salad, garlic bread, and a nice glass of wine for the adults, it makes the perfect company dinner.
Sure, you could go buy a frozen lasagna at the store, but making your own and freezing lasagna is so much better! Plus, it's really not difficult at all.
Making homemade lasagna more affordable
Growing up, our lasagna had a cottage cheese filling. I upgraded that to ricotta when I became an adult. And I love lasagna made with a cream cheese filling like this easy lasagne recipe.
But, sometimes those cheeses can be pricey, especially if you're buying a large quantity.
Nowadays my go-to method is to use a white sauce instead of a cheese filling. It's super cheap to make with pantry staples and it tastes great!
Freezing lasagna
If I'm going to make lasagna, it's rare that I'll make just one pan. It's so easy to make several casseroles at once and stash the extras in the freezer for later! It's worth it to make extras and have dinner all ready to go.
How to make freeze lasagna – step by step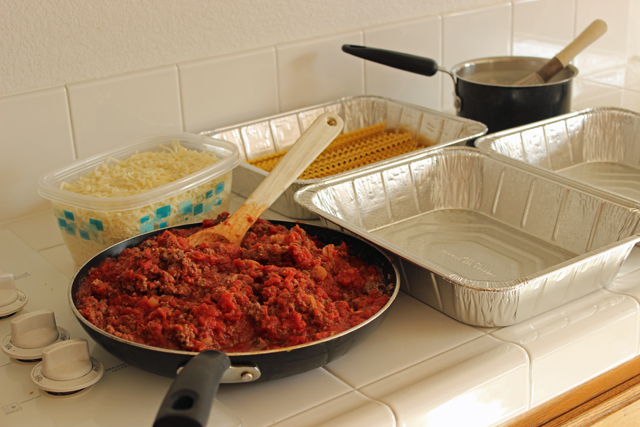 I lay out all the components, making a meat sauce and a white sauce in two separate pans. I have the cheese and the uncooked noodles ready at hand.
When I want to add vegetables, I usually do so via the sauce, making a veggie-rich bolognese or using this roasted vegetable sauce with browned ground beef. You can also add some chopped spinach to your favorite spaghetti sauce and call it good.
I haven't cooked my lasagna noodles before assembly in years. If you add enough sauce to the dish, the noodles will cook in the sauce while the casserole bakes. This saves so much time — and you don't have to clean another pan.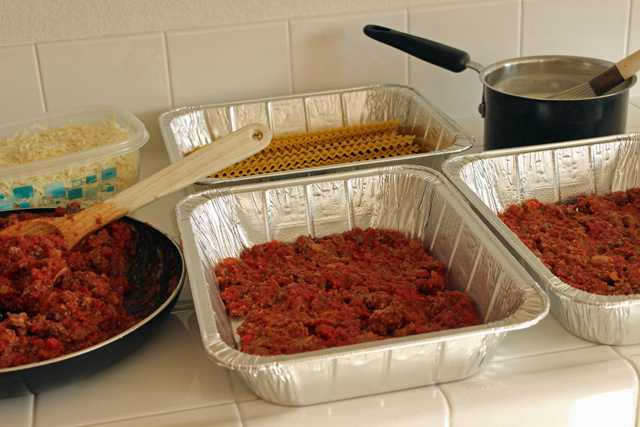 Start with a layer of sauce. Well, spray the pans first and then the sauce. I know it sounds weird to have the sauce on the bottom, but it works. And no, this isn't very saucy looking sauce because the meat was cold when I stirred it in. Sorry.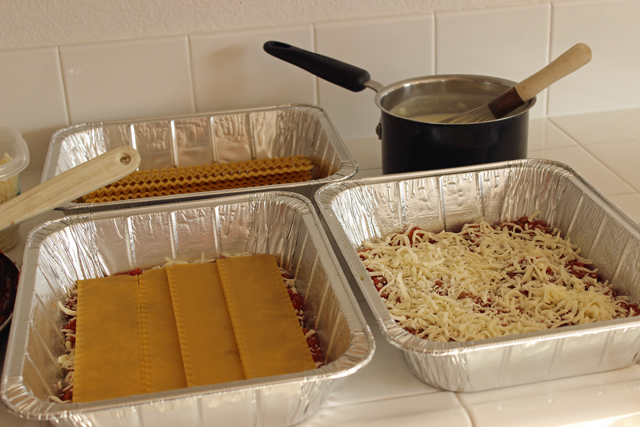 Once you've got the sauce, add a layer of cheese and a layer of noodles. Again, don't cook the noodles. I've been making it this way for almost 20 years. It will be fine. Promise.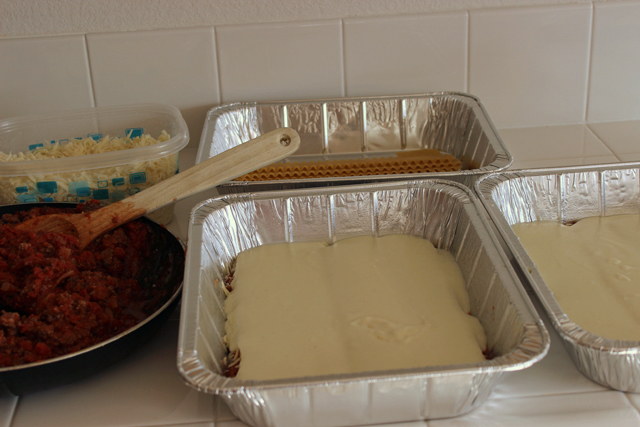 Then add the white sauce that you made yourself. I usually stir in about 1/4 cup shredded parmesan or asiago cheese to dress it up a bit.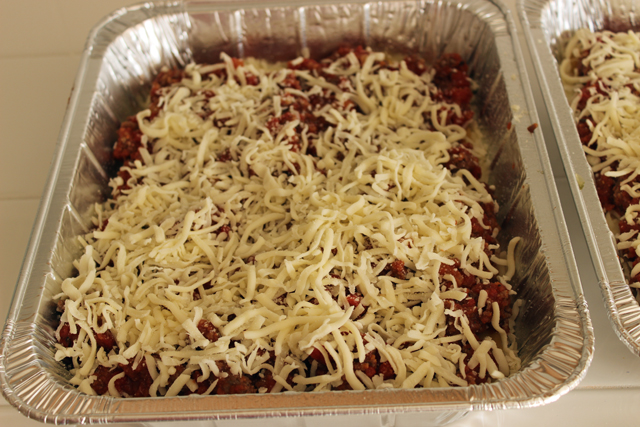 Repeat with layers of noodles, sauce, and cheese. I have a kid who doesn't love lots of melted cheese, so I go light on the cheese on one end of the lasagna.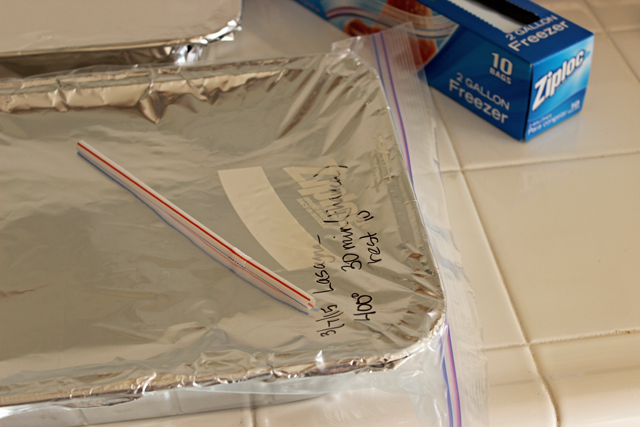 Tip for freezing lasagna
Last cover the pans. If they come with lids, great. If not, heavy duty foil works. I also bag the casserole dish in 2-gallon size Ziploc bags. A whole casserole dish fits! I suck out the air with a straw so that there's no air left in the bag to condense and create ice crystals.
I chill the casseroles in the refrigerator for several hours before I put them in the freezer. This helps them freeze quickly which in turn reduces the risk of freezer burn.
Tools I use for for freezing lasagna:
Print Recipe
Homemade Lasagna for the Freezer
Homemade lasagna is a delicious one-dish dinner that can be made ahead and frozen. This recipe for making lasagna allows you to customize it to suit your tastes.
Ingredients
1

lb

ground beef

turkey, or sausage

3

cup

marinara sauce

16

oz

mozzarella cheese (shredded)

(4 cups)

8

lasagna noodles

1

batch

white sauce

1

oz

Parmesan cheese (shredded)

(1/4 cup)
Instructions
Grease a 9x13-inch pan. In a large skillet, brown the ground beef. Add the spaghetti sauce and set aside.

Spread half the meat sauce in the bottom of the 9x13-inch pan. Sprinkle 2 cups of mozzarella cheese over the sauce.

Lay 4 noodles across the cheese.

Add the parmesan cheese to the white sauce, whisking to combine. Pour this mixture over the noodles in the pan. Top with the remaining four noodles.

Spread the rest of the meat sauce over the noodles. Top with the remaining cheese.

Wrap and label the pan with baking instructions. Chill completely before freezing. The dish can be frozen up to 3 months in a refrigerator's freezer compartment.

To serve: Thaw completely in the refrigerator. Bake in a preheated 400° oven for 30 minutes. Allow to rest 10 minutes before serving.
Nutrition
Calories:
330
kcal
|
Carbohydrates:
19
g
|
Protein:
22
g
|
Fat:
18
g
|
Saturated Fat:
10
g
|
Cholesterol:
81
mg
|
Sodium:
892
mg
|
Potassium:
404
mg
|
Fiber:
2
g
|
Sugar:
4
g
|
Vitamin A:
534
IU
|
Vitamin C:
4
mg
|
Calcium:
228
mg
|
Iron:
2
mg