Skip the bottled pasta sauce. You can make your own marinara sauce, simple enough for everyday, yet tasty enough for all your favorite dishes.
When I was a starving college student and poor newlywed, I thought the only way to buy spaghetti sauce was to buy the jar from the grocery store. Even back then, it was several dollars a jar, a little less if I bought the multipack from Costco.
If I only I knew then, what I know now….
It's incredibly easy to make your own pasta sauce at home! And I can make about four times as much for the same price. Who knew?
Homemade Marinara Sauce
Over the years, I've played with different homemade sauces. There are those I simmer all day in the slow cooker and those that get extra oomph from sausages simmering in their depths.
But, sometimes, I don't have a jar of one of those long-cooking sauces in the freezer, and I need sauce pronto. That's when I whip up a batch of this marinara sauce that's simple enough for everyday, but tasty enough to work wherever it's needed.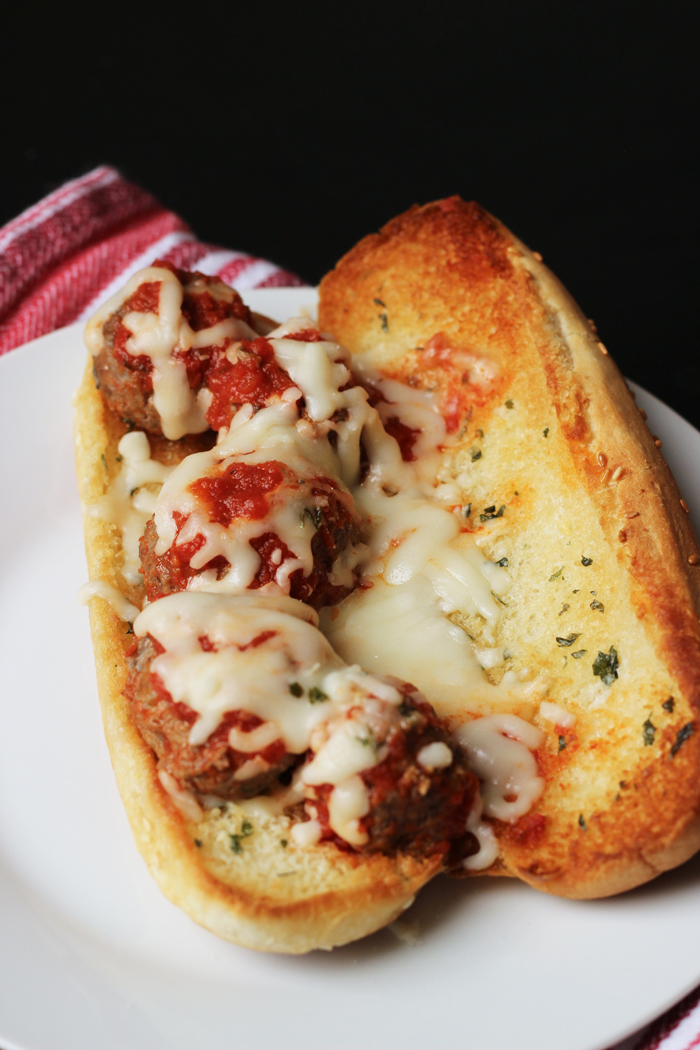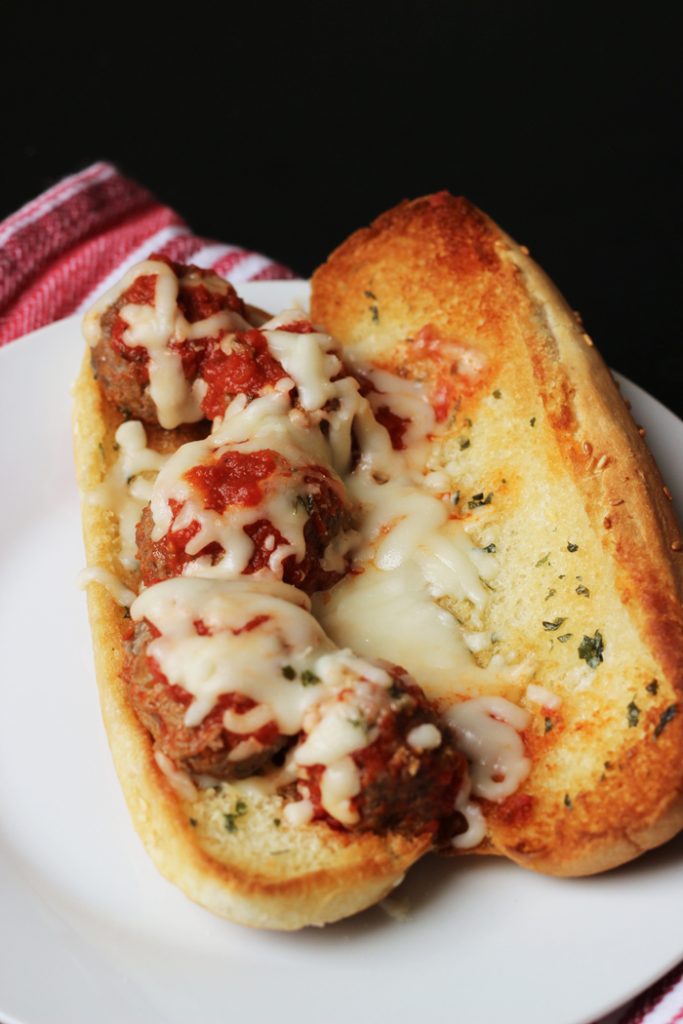 What do you use marinara sauce for?
Over spaghetti, atop stuffed shells, layered in lasagna, or dousing a meatball sub, this sauce plays fair. And while it doesn't make the mondo batch that my other sauce recipes do, it's still extremely affordable.
What's the difference between marinara sauce and spaghetti sauce?
Marinara is a simple seasoned tomato sauce. You can definitely use it for topping spaghetti.
Spaghetti sauces can vary, depending on what you add to the tomato sauce, such as cooked beef, turkey, sausage, and vegetables.
How do you make marinara sauce from scratch?
Marinara Sauce is super simple to make from scratch!
Heat some olive oil in a saucepan. Add chopped onion and cook until the onion starts to turn translucent.
Stir in a can of crushed tomatoes as well as oregano, basil, thyme, and red pepper flakes. Season to taste with salt and pepper.
Simmer the sauce for 20 minutes, and you're good to go!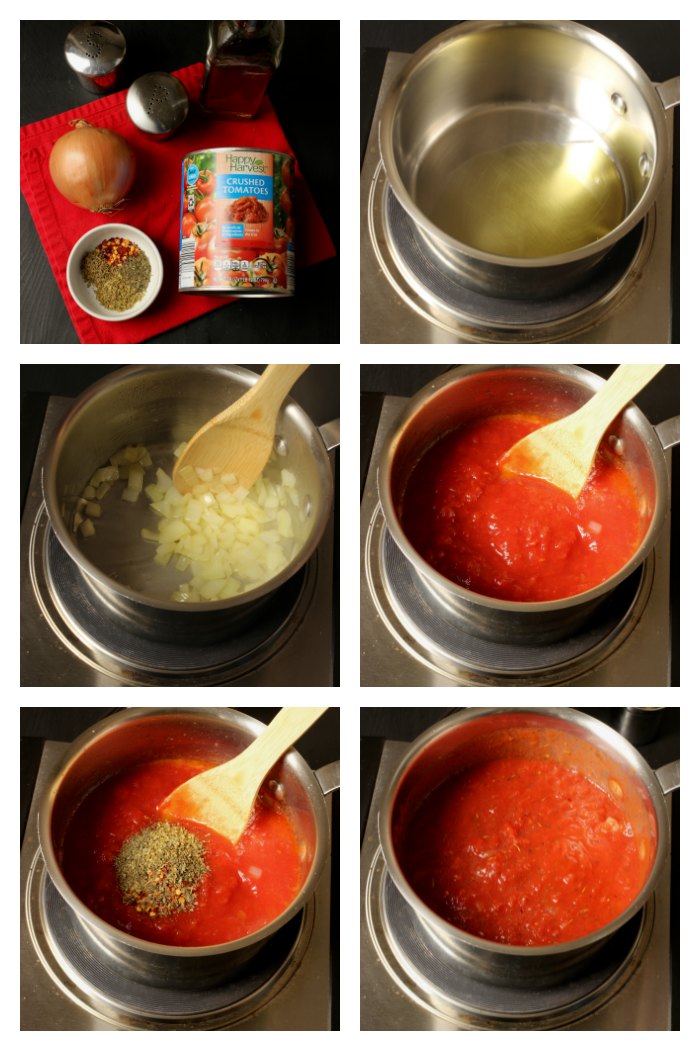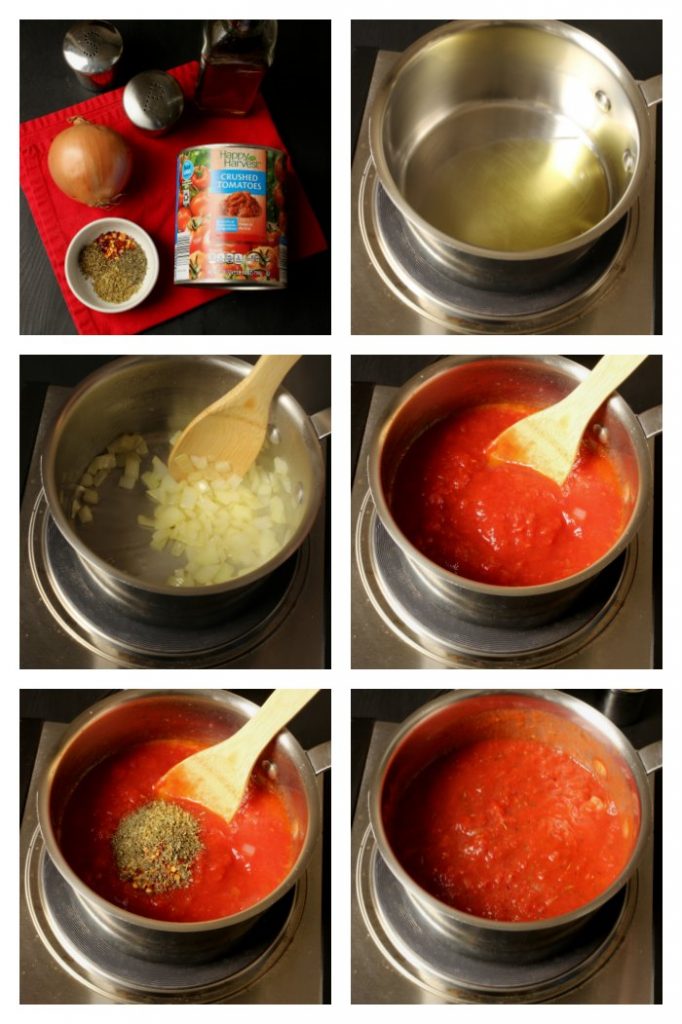 How much does it cost to make homemade marinara?
It would be a bummer to spend time making homemade marinara sauce only to find out that buying a bottle were cheaper. Let's break down the cost of the ingredients and see what it really amounts to.
The following are non-sale prices from a mid-range grocery store:
olive oil – $0.21 ($6.49/16oz)
onion – $0.40
crushed tomatoes – $1.79/28 oz
spices – $0.25
This adds up to $2.65 for about 30 ounces of sauce, or 9 cents an ounce! A 24-ounce jar of name brand marinara sauce costs $3.69 or 15 cents per ounce.
Without really trying, homemade is cheaper than the commercial brand, but you can save even more!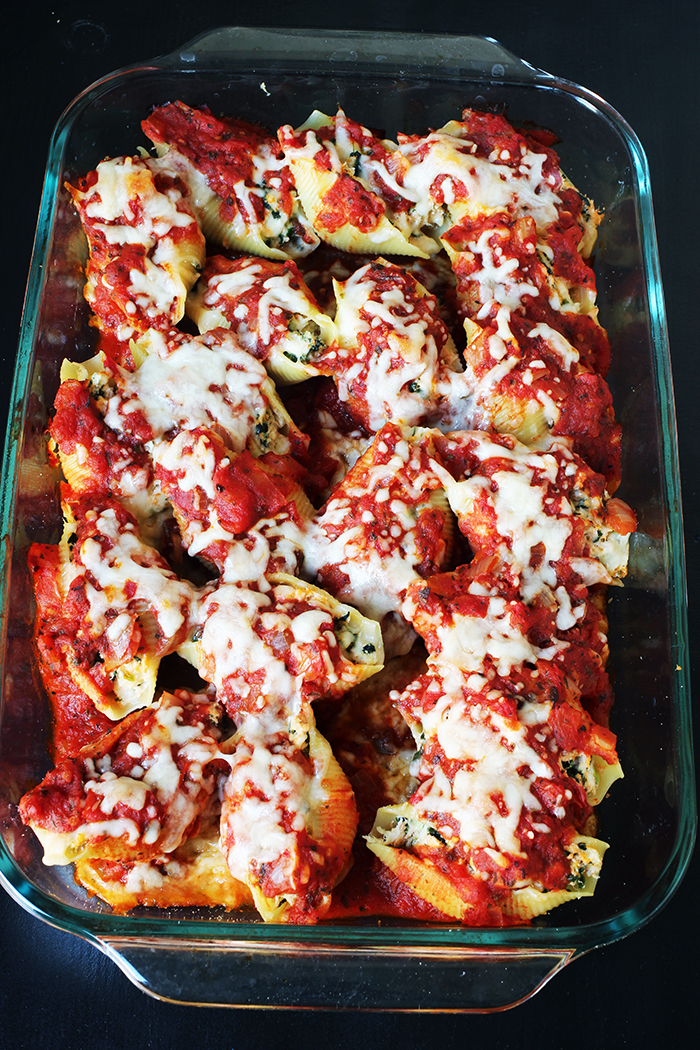 How to make this even more economical
Here are some of the strategies you can use to make this recipe more economical:
Shop the cheapest store for your area. There's a big difference between Whole Foods and ALDI, in what they provide as well as what they cost. Where homemade marinara is concerned, you don't need to go to a fancy pants store. I've found that ALDI has very competitive pricing on crushed tomatoes. $0.79 for a large can is a steal in these parts, so I buy a lot every time I'm there. In the case of this recipe, that cuts the cost dramatically.
Shop the sales. Wherever possible, stock up on olive oil, onions, tomatoes, and spices when you see a great sale.
Buy in bulk. Large containers of basil, oregano, and thyme cost a lot less per ounce than those small jars. Go big and store the extra in the freezer.
Cook in bulk. Likewise, a food service can of crushed tomatoes costs less than $3. You can make a lot of sauce with that 108 ounces and freeze the extra sauce for homemade convenience.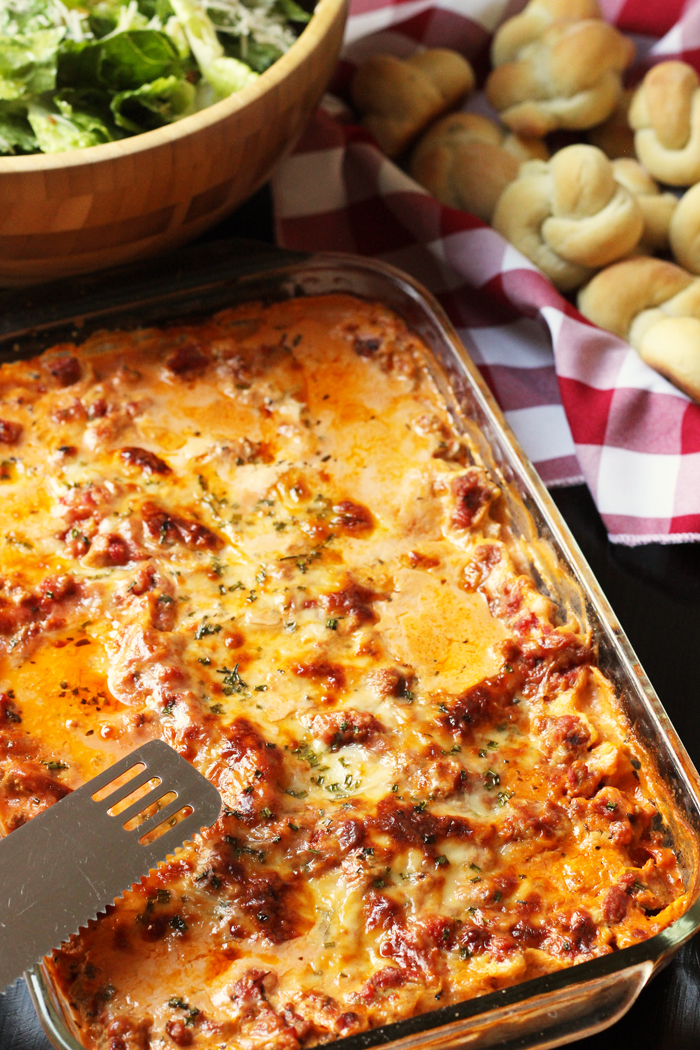 How I make this recipe easy:
This recipe really couldn't be easier than it is, but having the right kitchen tools can really make your time in the kitchen more enjoyable. Over time, I've honed my collection so that they are perfect for my needs.
Here are the tools that I use for this recipe: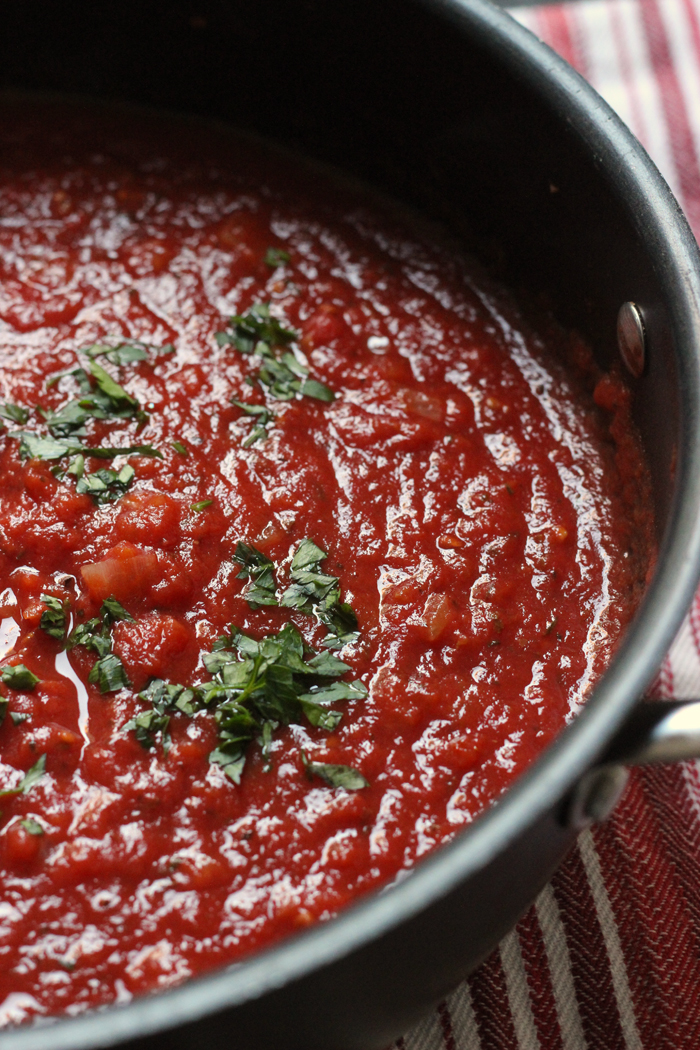 If you prepare this recipe, be sure to share a picture on social media and hashtag it
#GOODCHEAPEATS
. I can't wait to see what you cook up!
Marinara Sauce for Everyday
Skip the bottled pasta sauce. You can make your own marinara sauce, simple enough for everyday, yet tasty enough for all your favorite dishes.
Ingredients
1

tablespoon

olive oil

½

onion

chopped, about ½ cup

1

28-ounce can

crushed tomatoes

1

teaspoon

dried basil

1

teaspoon

dried oregano

1

teaspoon

dried thyme

¼

teaspoon

red pepper flakes

salt

black pepper
Instructions
In a large sauce pan, heat the oil until shimmering. Cook the onion until it starts to go clear. Add the tomatoes, herbs, and pepper flakes. Season to taste with salt and pepper.

Simmer the sauce for 20 minutes, covered, stirring occasionally. Serve over pasta or use as you would any marinara sauce.
Notes
Note: to freeze, divide the sauce into meal-sized portions, chill completely, and store in the freezer for up to 3 months. To serve, thaw and reheat.
Nutrition
Calories:
105
kcal
|
Carbohydrates:
17
g
|
Protein:
4
g
|
Fat:
4
g
|
Saturated Fat:
1
g
|
Sodium:
265
mg
|
Potassium:
611
mg
|
Fiber:
5
g
|
Sugar:
10
g
|
Vitamin A:
464
IU
|
Vitamin C:
20
mg
|
Calcium:
90
mg
|
Iron:
3
mg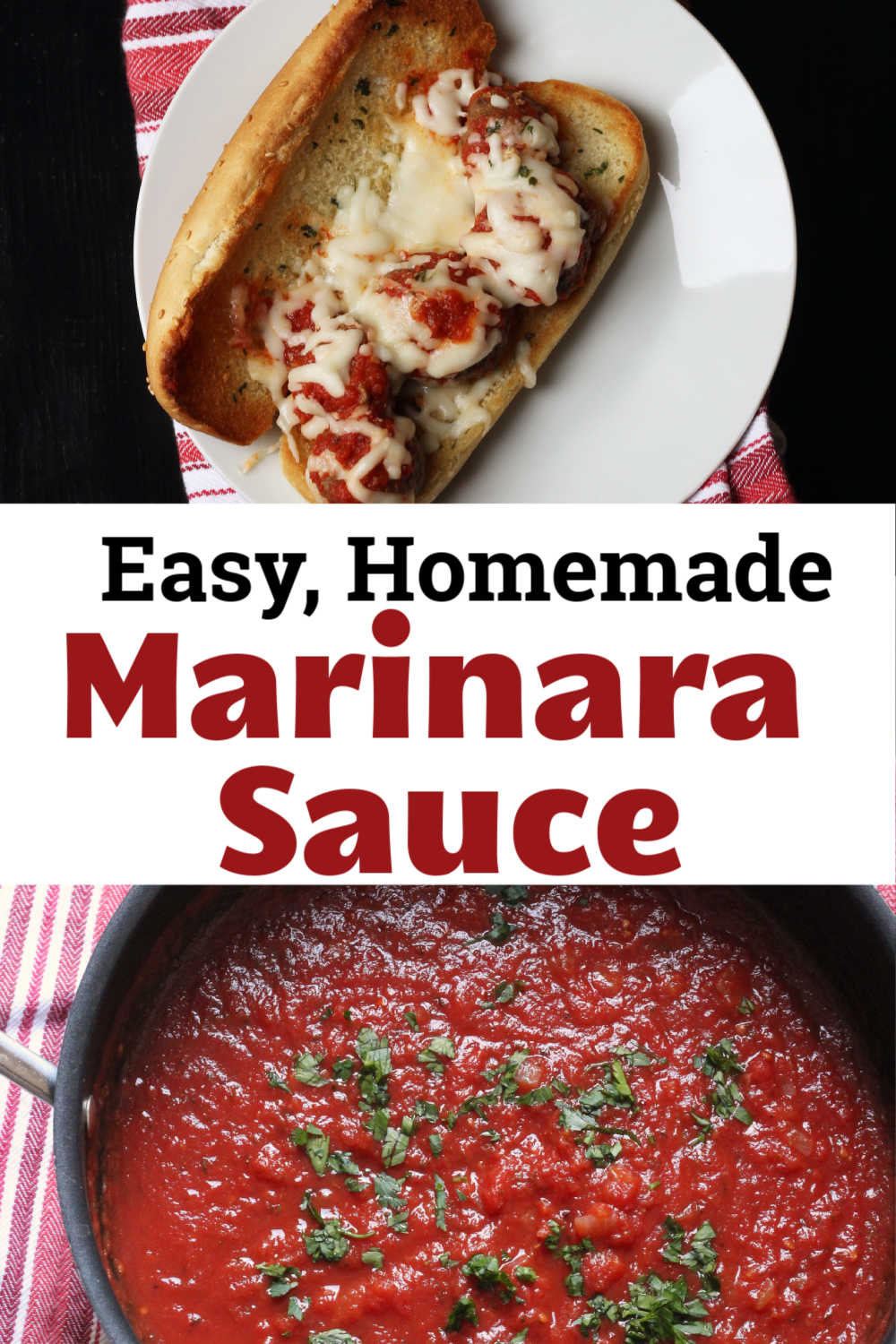 This post was originally published on February 6, 2017. It has been updated for content and clarity.