A creamy, cheesy, chicken filling accentuates these Creamy Chicken Stuffed Shells. Make a double batch to freeze for another time. Such a great comfort food!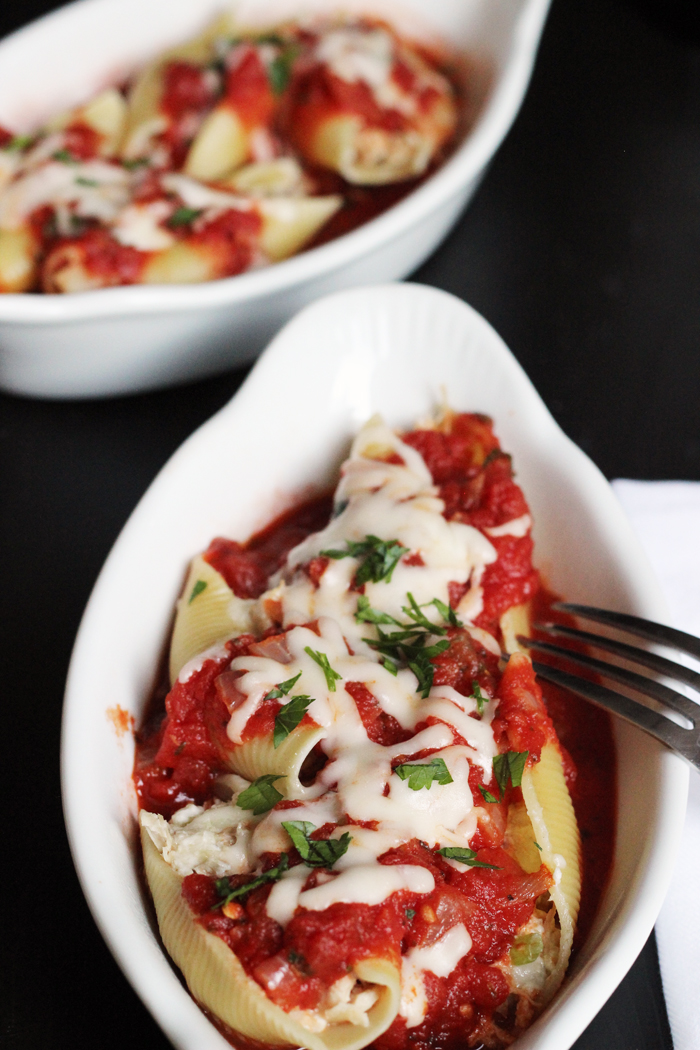 Pasta is one of our family's favorite comfort foods. I don't make it as often as I once did. You know, that whole carb thing. But, I refuse to reject a food group completely; we'll just enjoy it as a once-in-awhile treat.
And these Creamy Chicken Stuffed Shells are a nice treat to have! Don't they look fancy?!
(Anytime you want to make good old fashioned comfort food look fancy, serve it in individual baking dishes. That notches up the fanciness really quickly.)
The filling is a luscious cream cheese, chicken, mozzarella concoction, specked with green onion and an herbed seasoning mix. I swear just that alone is worthy of licking the bowl clean. Bonus: you can even use leftover turkey in these succulent little gems.
These Chicken Stuffed Shells are super for freezing. The beauty of shells is that you can easily freeze them in smaller portions to accommodate for whatever size table you're serving. I've even frozen them unsauced in a bag and pulled out just as many as I want. Super versatile and a lot easier to divvy up into portions than a lasagna.
Shells are actually a perfect vehicle for your favorite lasagna fillings without making a huge casserole. Keep that in mind for future reference. 😉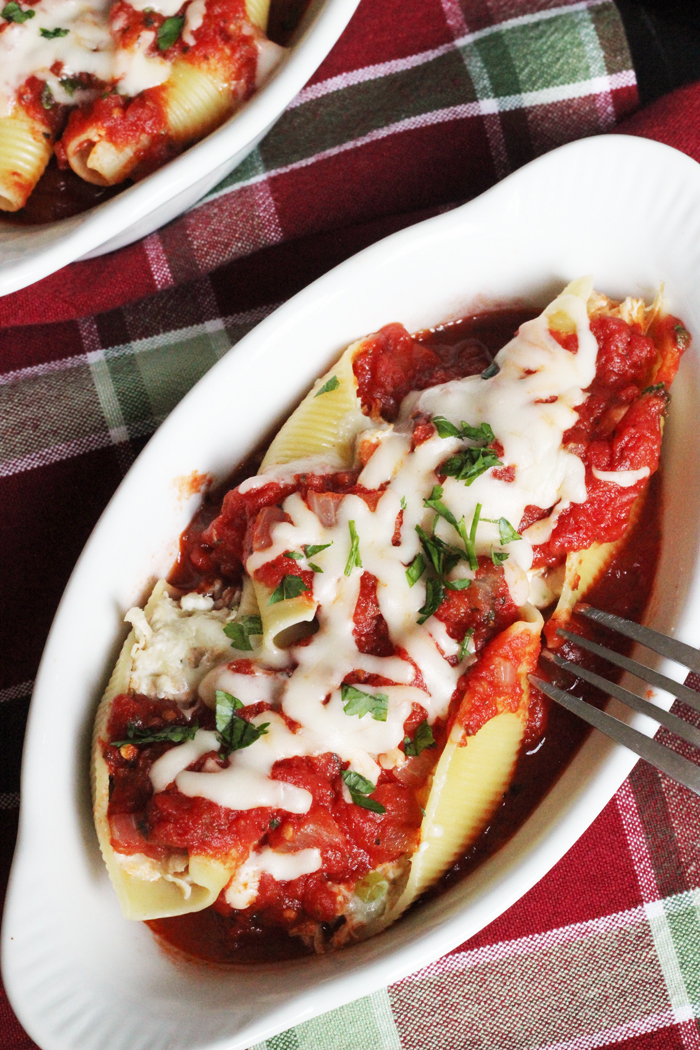 How to make this good and cheap:
Here are some of the strategies you can use to make this recipe more economical:
Stock up on ingredients when they are on sale. For instance, when I see a great price on pasta, cheese, or chicken, I'll buy lots of those items and plan my meals around them.
Use a whole chicken! Cooking a whole chicken (or buying one that Costco roasted for you) can be more economical than buying chicken pieces. Plus, you can use the carcass to make homemade stock. You can easily make this dish with turkey when the whole birds go on sale at the holidays, too.
How I make this recipe easy:
Having the right kitchen tools can really make your time in the kitchen more enjoyable. Over time, I've honed my collection so that they are perfect for my needs. Here are the tools that I use for this recipe:
Creamy Chicken Stuffed Shells
A creamy, cheesy, chicken filling accentuates this simple pasta dish. Make a double batch to freeze for another time.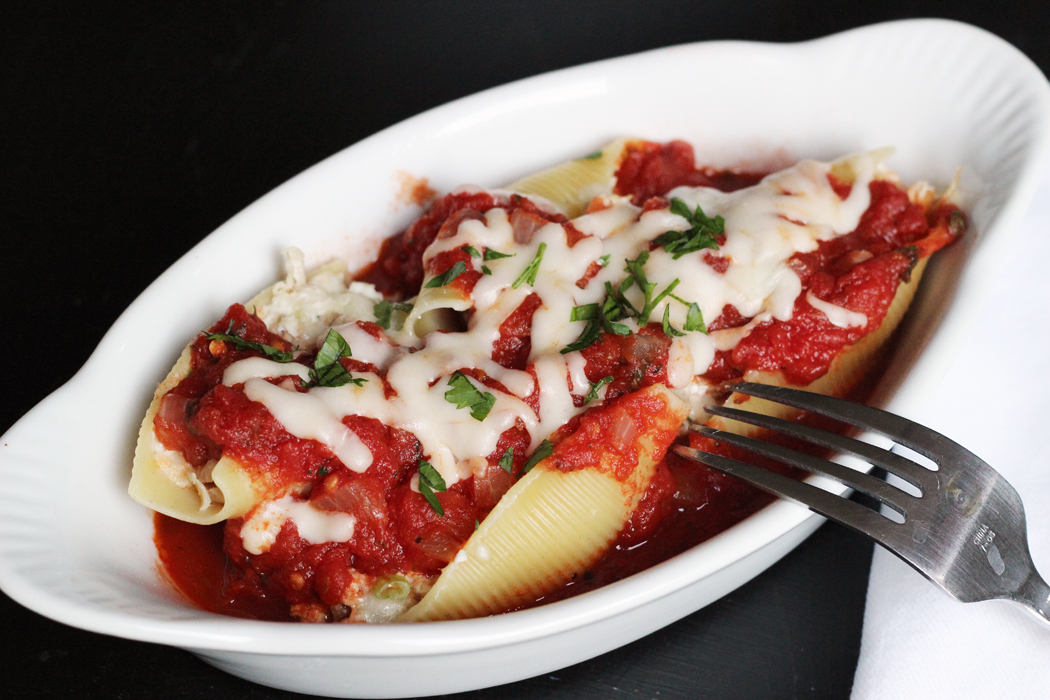 Preparation Time:20 minutes
Cook time:30 minutes
Total time:50 minutes
4 to 6 servings
Ingredients:
half of a 12-ounce box of jumbo shells, cooking according to package directions

2 cups cooked and chopped chicken (you can use turkey as well)

4 ounces cream cheese, softened

2 cups mozzarella cheese

1 tablespoon chopped scallions

1/2 teaspoon Herbed Seasoning Mix

2 cups favorite red sauce
Instructions:

In a pot of salted, boiling water, cook the noodles, according to package directions until al dente. Rinse and drain well. Set aside.
Preheat the oven to 350 degrees. Spray a 9×13-inch baking pan with nonstick cooking spray.
Combine the chicken, cream cheese, 1 cup mozzarella cheese, scallions, and herbed seasoning mix. Mix until the ingredients are well incorporated.
Divide the chicken mixture among the cooked shells. Place the shells in the prepared pan. Pour the sauce over all and sprinkle with the remaining cup of cheese.
At this point, you can wrap and label the pan, if freezing. Chill completely before freezing.
If baking fresh, bake for 30 minutes until hot and bubbly. If baking from frozen, thaw the shells in the refrigerator before baking.